The Stanchies: Canucks turn in 'terrible' performance, lose 5-1 to St. Louis at home
Photo credit:© Bob Frid-USA TODAY Sports
On a night in which the Vancouver Canucks lost 5-1 yet again on home ice, you just had one thought running through your mind: Thank god for those digital advertisements on the boards.
Without those digital ads entertaining and adding to your enjoyment of the game, you might have noticed the Canucks defensive structure resembling a Wassily Kandinsky painting instead of actual NHL defending. Without wondering about the latest food offerings in your local area, you might have watched as the Canucks gave Jordan Binnington, a well known nervous Nellie, one of the easiest nights of his career. Without those ads giving you a variety of automotive options to choose from, why, you might have seen that life without Elias Pettersson resembles The Road, minus the comedy.
In fact, at times you were actively praying the Canucks would get enveloped by the boards so that it would make everything just sort of go away.
Sure, everyone in the arena without the digital ads had to resist the urge to gouge their eyes out, but at least for the people at home, they had boundless digital ads at their fingertips to guide them through the Canucks latest dreadful loss. The only thing more embarrassing on the night was Kevin Woodley's fantasy football performance, but we will save that tale for another day.
And to be fair, the weather forecast did warn Vancouver of unsafe icy conditions, so I am a bit confused as to what you expected out of this game.
A win? More than one goal? Isn't the point of the holidays supposed to be about giving, not taking? I'm not sure how you can go to a Canucks game nowadays and expect to see such things as a "deep and well-built roster" and "solid, consistent hockey" and "actual clear and concise planning from management."
No, no, instead you will be happy with what the emperor gives you. Scraps of food thrown over his shoulder, onto the ground where you get to fight over them with the other hopefuls still watching this team. Who needs a plan when you have hope?
Did somebody say Just Eat?
Ding-dong, ring-a-ding-ding-ding-dong
Did somebody say Just Eat?
Best too long, did not read
If you want to save yourself some time, Schenn and Horvat summarized the game pretty efficiently.
If you want to help me make some sweet sweet gif money, continue reading.
The Canucks rolled out a Dries/Aman/Studnicka line, which to Vancouver fans, there's nothing odd about that. Dries seems like a pleasant chap, Aman has been perfectly cromulent this season, and Studnicka has a fun name that is just dying for him to score a goal and then wave his hand over himself and make a beeping noise and say "I just found the Stud…".
To fans outside of the team, they're going to see that line and think that someone simulated their EA Sports NHL franchise 20 years and these are the latest draft picks from the draft.
"Okay, so the game says Jack Studnicka is a 5″3 and 215 pound prospect from Albania, and is ranked as a top five pick, got it."
You bring in Christine Sinclair and you put on this kind of performance?
The good news is Christine is from Burnaby, so she knows how this stuff works. Look at her drop the puck with one hand in her pocket, because she knows she's about to watch a casual effort from the Canucks: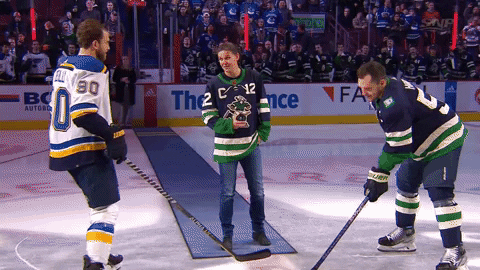 You can almost see Bo Horvat whisper to her "I'm so sorry" and she just nods knowingly.
Fun fact: That ceremonial faceoff is the last thing the Canucks won on the night.
This is like when you beg a leprechaun to grant you a wish and he's all like "Well, Binnington fought the weather on the way to the arena, tee hee, count it!" and you realize you've made a huge mistake.
Best it could have been so much better
Believe it or not, at one point the Canucks weren't losing 5-1 in this game, and they looked surprisingly competent early on.
Not only did they actually outshoot the Blues 7-1 to start the game, they actually came out on the ice looking like a team that was dead set against losing 5-1.
They also drew a penalty 20 seconds into the game when the Blues attempted to cheat by using their hockey sticks as modified weapons of death, because in St. Louis The Running Man is the blueprint of how hockey is meant to be played: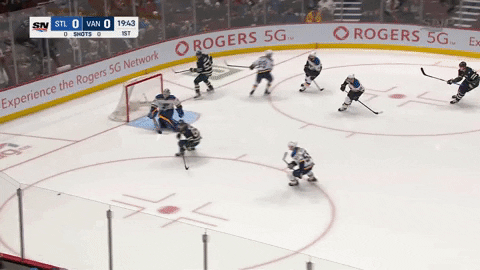 "Hey Killian! Here is Sub Zero! Now, Plain Zero!" is what I imagine Colton Parayko screamed at Gary Bettman while tripping Ilya Mikheyev, launching the Canucks onto their first power play of the night.
And again, the Canucks power play looked like a team resolutely refusing to lose 5-1 on the night. They moved the puck with purpose and tried to generate shots on Binnington, the best one was probably the point shot from Quinn Hughes:
Is a point shot from Quinn Hughes threatening? Probably not. It's akin to threatening someone breaking into your house with the tickle monster, but Bo Horvat tips a lot of shots, so, you know, things can happen.
The point is, the Canucks at least looked like they had a pulse and again, I cannot overstate this enough, were not losing 5-1 at this point.
Sometimes I want to write these recaps as if someone missed the game and heard nothing about the outcome, so they live through each paragraph of The Stanchies like that Chris Farley gif. Hopefully optimistic before the horror of reality dawns on them.
Alas, we are firmly stuck in reality, and the reality is the Canucks actually had some high danger chances on the night: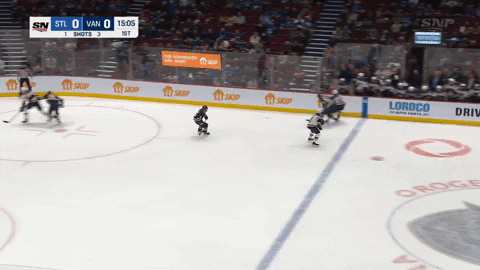 Brock Boeser tries to go sneaky like Kuzmenko and slides down low beside Binnington, but can't get the shot off quickly enough and by then Jordan has seen everything.
Fun fact: Natural Stat Trick had the Canucks edging the Blues 14 to 10 in high danger chances, which is just another solid reminder that sometimes stats are dirty liars that don't provide enough context and you need to watch the game to realize that this game could have in fact ended 12-1 for the Blues.
And again, I must insist, please remember that the game was not 5-1 at this point. There was a time that existed in which the Canucks were not losing 5-1 on home ice.
Because Drance is a monster who wants you to suffer in a world without Elias, he quite enjoyed the Canucks power play on Monday night.
And honestly, the power play looked pretty zippy, so you can see why he enjoyed it. They moved the puck quickly, they tried generating shots from different areas on the ice and they generally looked like a team that might not lose 5-1.
They also ran their classic hits, trying to hit the one timer in the Petterzone and then getting the puck back and moving the puck down low to try their hand at Bumpin' Bo: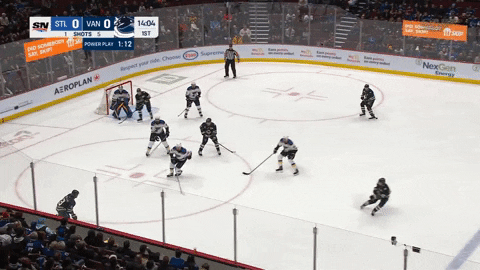 Look at that puck bounce past the Panago ad! Who doesn't want a pepperoni pizza and a solid 3-1 win from the home town boys? Who isn't absolutely jacked watching this game now knowing about your dinner options?
As Cody astutely points out, it just feels like the Canucks are on borrowed time in every game. That all it takes is one little kerfuffle in their own zone and suddenly they all start racing around the ice, screaming like they just woke up out of a 10-year coma and have no idea who the president is or what year it is:
Watch the clip. Watch as four Canucks converge on the puck at once, and that's when you know it's over. You can physically feel the players' confusion on the ice as they try and figure out what to do with their hands.
The Canucks often utilize a baffling combination of everyone chasing the puck, along with coming to a stop and just setting up shop in the middle of the ice and watching events unfold. There is no in-between, no no, it is either all hands on deck, or set up shop like your camping an exfil spot in DMZ.
Watch the clip again and pay attention to Tyler Myers. Amongst the chaos, he of course realizes the most chaotic thing he can do is become unchaotic. So he sets up shop in the middle and misses a pass, and proceeds to do a 360 twirl in front of Spencer Martin before coming to a stop and defending theoretical quantum physics. Martin then gives up a bad rebound, to which Myers then lunges over to block the impending shot, but spoiler alert, there was no shot, and now he's out of the play.
The Canucks are lucky a goal was not scored on that play, but it's a nice summary of how they often defend their zone. I don't know if Trent Cull just points to a giant piece of paper with a hastily scribbled "stop goals?" written on it, but if your team plays with the energy of Louis Bloom, then it feels like there are fundamental issues at play.
All of this chaos led to a Blues power play, in which Brayden Schenn hit the crossbar as if to warn Luke to leave now, quickly, before it gets worse:

Again, the game was not 5-1 at this point.
On bad teams, everything gets scrutinized. Everything is put under the microscope as a potential "big issue".
Playing video games in the hotel room? That could be an issue.
Too many small defencemen? That could be an issue.
Too many players with names that have an "s" in them? Not talked about nearly enough in the NHL as a clear issue.
But on the other side of the coin is you get to grasp at straws and complement a solid fourth-line shift because the bar is so low: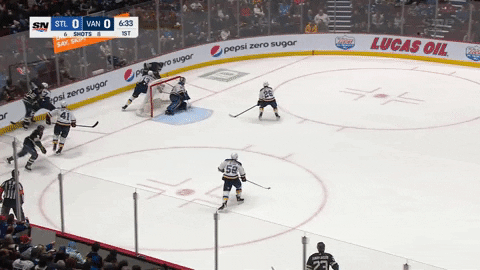 Honestly, that's the kind of shift you watch, with no expectations, where you turn to your buddy and nod and go "solid shift". It's the equivalent of watching your dog stretch and you're legally obligated to say "Oh, look who's having a big stretch!"
In 2011, at the height of the Canucks powers, it's the inverse of this. You watch Tanner Glass not score a goal and you wonder why he exists. You wonder why a 20 goal scorer isn't slotted in the fourth line in his place. To this day you still wonder how he missed that pass from Chris Tanev.
With this current Canucks team, you see the fourth line cycle the puck down low, punctuated by a soft OEL shot that whispers sweet nothings to Jordan Binnington as it flies wide of the net, and you know what? That's not a bad shift.
This is where we are now.
Best it was still not 5-1
The Canucks issues are many, but one of their favourites is for forwards to get caught watching the puck down low and simply forget that the other team exists.
On this play Brock Boeser, pulling upon the energy of Prince Valium, points at the puck to let you know that yes, he as a human man, understands the puck exists as a real object in this world, but is in fact not prepared to do anything about it. It's the only thing that can explain him just standing still as a Blues forward screams by him to unload the kind of one timer normally reserved for road hockey: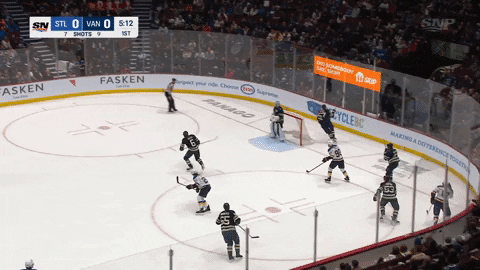 Ilya Mikheyev also sees the puck head toward a dangerous spot on the play, but for reasons still unsure to me, he chooses to skate closer to Quinn Hughes for moral support and/or rebound support? All we know is this team must have a strict buddy system policy in effect.
Ethan Bear also gets caught when he covers for a forward, and doesn't switch off his check to defend yet another dangerous pass in the slot that Spencer Martin has to make a big save on: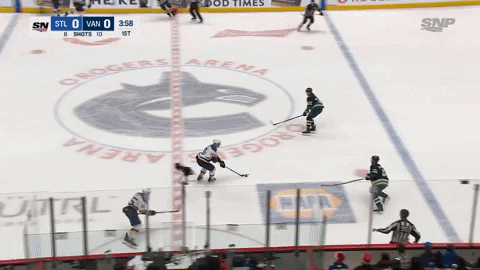 Remember that 7-1 shot advantage the Canucks once held? The Blues were outpacing the Canucks 12-10 at this point.
Winter is coming.
One of the oddest arguments I've seen has been against Bo Horvat and how maybe he's "stat chasing" this season. How maybe he isn't defending well enough to deserve a big payday.
Which you know what, if stat chasing puts you in the top ten in scoring, go for it? Like if Spencer Martin starts stat chasing shutouts, have at it?
I don't think anyone can reasonably suggest Bo Horvat is cherry-picking or playing worse hockey to try and score his goals. He's always been miscast as an elite defensive player, he's just a guy who puts in a solid effort on the back check, but he's not going to break an appointment to meet his defensive assignments.
He also doesn't think the game on an Elias Pettersson level (not many do), so he's not going to generate a lot of takeaways by outthinking his opponent and anticipating their next move before they even know what they're going to do. Bo is going to make defensive plays with effort and energy. If Elias is going to checkmate you in five moves, Bo is going to flip the table over and call the game a draw.
Horvat's style can work (just look at Curtis Lazar) but it can also put you out of position as you race to close the gap at a guy and take a wild stab using a lunging poke check.
The point is, the team is bad, so even Bo Horvat's goal-scoring prowess this season is being put under the lens of "are we the baddies?" as people try and tear down everything looking for answers.
For me, there is a world of difference between JT Miller's defensive issues, and Bo Horvat's.
On this clip, Bo isn't doing anything special, he isn't anticipating some high level pass, but you know what he is doing? He's skating back into the slot and cutting off a pass down low: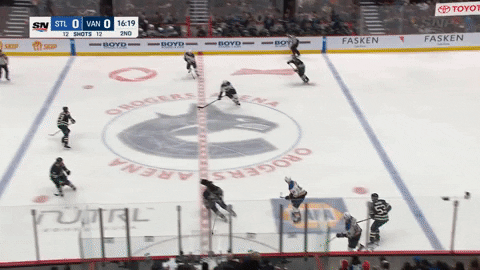 You know what else he's doing? He's not spinning around and firing off a blind no-look back pass. He keeps it honest and simple.
So if this is a stat chasing Bo Horvat, have at it.
The Canucks best chance was off an OEL stretch pass that brought to mind those glorious Juolevi passes from yesteryear, which led to Brock Boeser, looking like a young Sergio Momesso, almost getting the tap in goal: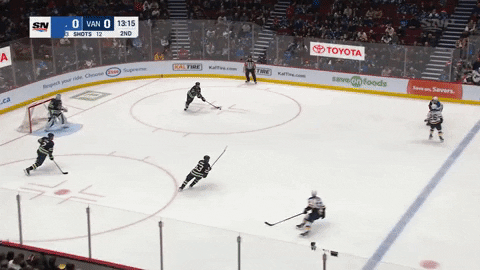 Was Binnington nervous on that shot? Of course not. Does he look nervous?
I know many of you were probably too entertained and emotionally invested in the Toyota advertisement to notice JT Miller skating back like he's about to place a bet with PlayNow Sports, but this actually happened: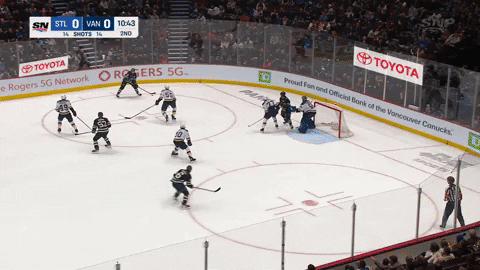 You know what's even crazier? It was at the end of a long shift.
This clip is the perfect example of why you skate back hard. Maybe you don't cut off a pass, but it puts you in position to delay a shot or pass, and lets you be in a spot to try and handle a rebound or whatever other chaos is coming your way.
That's the kind of shift you can turn to your buddy and nod and say "solid play" too.
Sometimes Twitter can summarize things quicker than I can, so yes, they are all correct.
Spencer Martin wishes he didn't summon the spirit of Dan Cloutier by kicking the puck directly into the slot.
The Canucks defending on that play is best described as Toby Maguire's Spiderman, ie the worst. At one point Luke Schenn drops to a knee like it's the end of practice and coach is about to give a big speech.
And Oliver Ekman-Larsson does proceed to attempt one of the worst shot blocks ever recorded. He straight up recoils like he saw a giant spider beside the toilet and manages to make himself about as small as one possibly can in front of your goalie.
Best hard questions need to be asked
Sometimes the tweets don't have to be about hockey. It's a great question, why didn't the Undertaker use his powers to turn off the lights and occasionally shoot lightning at the stage?
Regardless, the Canucks almost scored mere moments later when JT Miller tried the ol' Cornwall to Fourth avenue maneuver, before sliding the puck wide: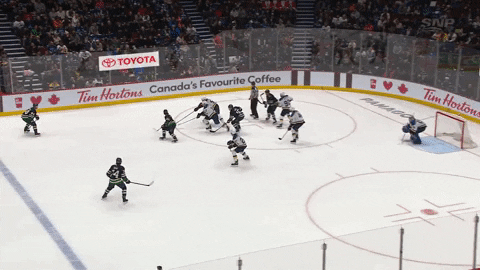 The Blues then answered with a chance of their own that just went wide, despite Kyle Burroughs celebrating like he just kicked the game winning field goal in the snow against the Dolphins: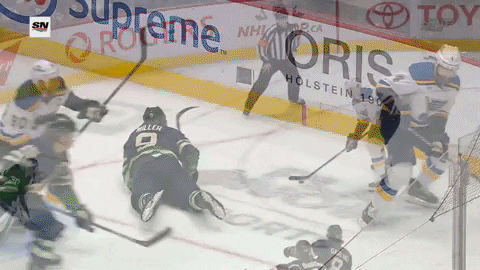 The good news is the Canucks were still generating good chances at this point. And that the game was not 5-1.
After watching JT Miller attempting to steal his patented move, I assume Ilya Mikheyev wanted to show him how it's done properly: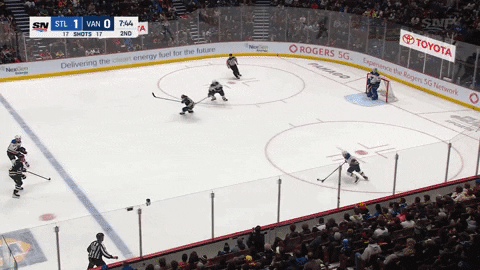 That's a great pass from Quinn Hughes, who despite being that teammate in Warzone who can never make his shots, is still clearly the Canucks best defenceman. His passes are elite and his hockey IQ and skating are top level. There is a reason the Canucks leaned on him for 25 minutes on the night.
It's just, he plays for the Canucks. He is straight-up the only top-level defender on the team, and the Canucks are asking him to do everything.
He's got all the pressure of a divorced Dad trying to not ruin Christmas for his kids at his new apartment that isn't even furnished yet.
The Canucks went down 2-0 after OEL decided that sides of the ice are just a construct of the human imagination: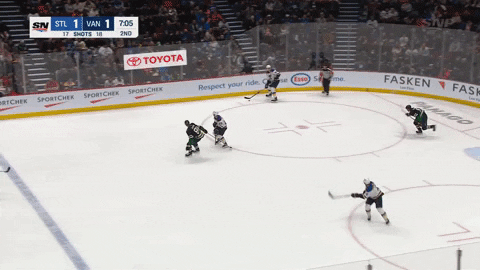 If you watch the clip it's literally just one pass to exit the zone, the one pass to a wide open Nathan Walker. If it looks and feels like you're watching a clip from the ASHL I wouldn't blame you. Except even the Vancity Villains Brendan Burscough knows you can't give up that much open space to anyone. There is straight up nothing clever or skillful about this goal, it's simply two passes and a well-placed shot, in which Walker had around 3 hours to set up and pick his spot.
Take out the salary cap, and maybe you give OEL the benefit of the doubt. Maybe he bounces back at some point and starts playing better.
But for the money he makes, it's kind of mind-blowing the amount of space he gives up night in and night out. His gap control is non-existent, and his passive play gives so much room to the opposition. Take away his name power, and his salary, and it honestly feels like you would be hard-pressed to have him in your top four right now. He in fact only played 15 minutes on the night, which again, he gets paid way too much money to not be able to lean on to eat up minutes.
Down 2-1, the Canucks still gave up odd man rushes.
JT Miller gets caught covering for a Tyler Myers pinch, and the Blues get a breakaway out of it: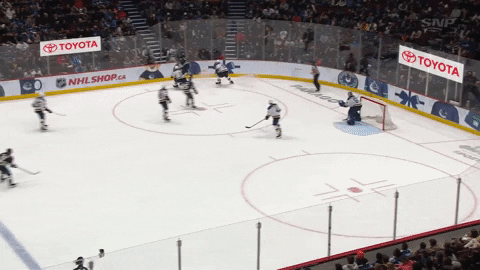 Give credit to JT Miller, as even though he stops skating to watch the breakaway play out, he resumes back checking once he sees Barbashev skating hard to the net for the follow-up.
This is very much a stark reminder of all those people who said "But what if the Canucks don't get Vezina-level goaltending?" during the years Bubble Demko and Jacob Markstrom were providing said services. Those brave souls who dared to ask what if the world was round and not just a giant square.
Or else forget about it: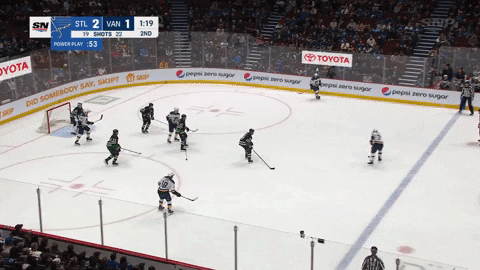 The Canucks used the string of pearls formation on this penalty kill, which as we know, looks beautiful, but is extremely unstable.
For some reason, this Vancouver hockey team likes to overload one side of the ice, which usually gets them in trouble on their historically bad penalty killing units. This time they changed things up by lining up single file like they were waiting to get back inside the classroom after recess.
Again, when teams start passing the puck, this seems to really confuse the Canucks. They get scared, they don't know why this is happening, and they just want it to stop.
Now, is that a fantastic shot from Rob Thomas? Man, it's a hot one. Like, seven inches from the midday sun.
But you know who looks like Alex Ovechkin when you give them that much time and space to shoot the puck? Almost every single NHL player in the league.
Give Quinn Hughes that much time and space and he's going bar down like it's Cody Hodgson in game 8. Instead, Quinn Hughes is backing out of that lineup like he knows he's about to be pointed out by the witness.
I once watched Mason Raymond terrorize the Canucks in a practice. I have never seen someone ether the souls of so many hockey players in one practice. This is the beauty and joy of having all the time in the world to make your decisions in life.
Let a player have that much time? They stay patient and score a goal.
Take away their time and space? They get a Hudson Bay credit card and spend way too much money on the fifth floor.
I can barely remember that, it was so long ago. You have to move on, Wagner. That was like, days ago, man. We've all changed since then. We have snow now.
The Blues scored another power play goal, this time when the Canucks, perhaps inspired by the World Cup, lined up to form a wall in front of Spencer Martin: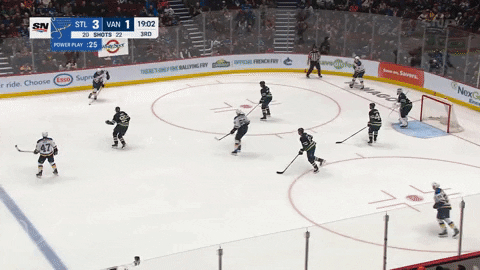 Alas, Jordan Kyrou bent it in perfectly, giving the Blues a 4-1 lead. Important to note that the game was not 5-1.
The worst part about this is not just that the Canucks were unable to block the shot. It's the fact they formed a giant 3 man screening unit giving Spencer Martin little to no chance against a gifted shooter in Kyrou.
Watch the clip. Watch as all four Canucks collapse down low, and then Bear slides to block an imaginary passing lane, then Burroughs, Aman, and Joshua just stop moving as all three of them attempt to stop Mbappe.
It's honestly games like this where the team looks like it has no idea of sound defensive hockey that makes you wonder if Bruce's time is at an end in Vancouver.
And let's be clear, Bruce isn't the problem in Vancouver. But he certainly looks to be A problem right now, and this team is all about the quick hits.
Bring in a defensive-minded coach, grind out some wins (or closer losses), and maybe you can keep pretending this team is deeper than it is.
This is what hell looks like by the way.
I feel like the coaching staff just needs to point harder at the "stop goals?" sign at practices.
At one point I clipped a Tyler Myers tip shot that was clearly not a threat to go in, but I was so desperate to have an offensive chance in the third period from Vancouver that I am now including it: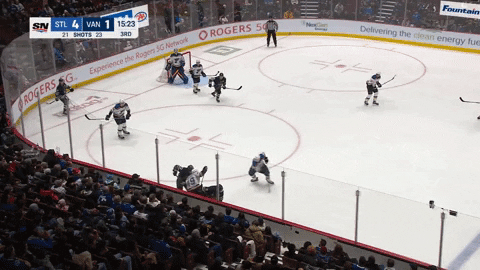 Is this proof that Tyler Myers should be a forward? Maybe. Maybe.
Best Natural high danger chances
I assume this is the majority of the Canucks high danger chances in the game, both of which are legitimately good shots: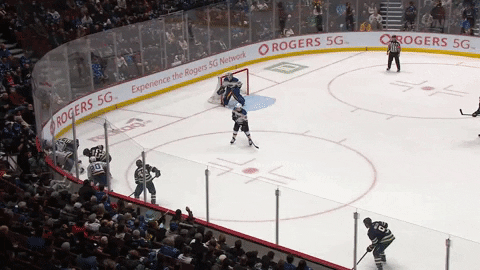 Brock Boeser gets the first shot, and while part of you knows to the core of your soul that rookie Brock Boeser buries that shot, you just accept the fact he at least got a shot off.
Lane Pederson got the second shot off from a similar spot as Brock, and despite the hopes that having someone with a name that sounded kind of similar to Pettersson in the lineup would be enough, alas, it was not.
At one point OEL simply fell over while skating and the Blues got a two on nothing out of it:
At this point, we're not even blinking at this sort of thing, which is either acceptance or apathy, but our therapist will clear it up for us in the morning.
Hey, look at that: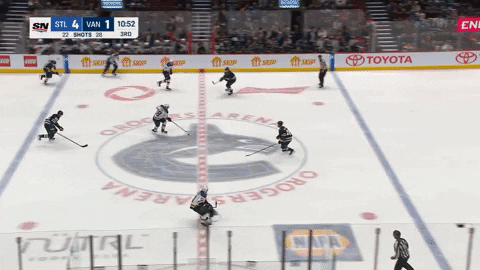 5-1.
Vlad Tarasenko shaking off two Canucks to start off the passing play is all you need to know about the state of the Canucks at this point.
Again, that's a nice play from the Blues, but you would hope pride alone would make you want to make sure Jordan Kyrou isn't dropping hat tricks on home ice.
Much like the penalty kill earlier, the Canucks are in an okay spot to start the play. But then the Blues start being sweat hogs and start passing that puck, and if there's one thing we know about Vancouver it's that they sure hate teams that distribute the puck around.
At one point the Canucks actually have all three Blues down low covered. and even have an extra player to boot because at this point I think the Blues realized they could just send four guys onto the ice and still win.
But then Tarasenko shimmies and shakes his way around Joshua and for inexplicable reasons, the Canucks all line up like it's Blair Witch and they need to stand still in a corner. It's incredible, everyone on the ice converges in a straight line towards Tarasenko, allowing the Blues time and space to work the puck down low and make Spencer Martin's life a living nightmare.
This was bad hockey. All of it was very bad. People paid money to watch this game. They drove in the snow to go watch this.
At this point giving someone Canucks tickets feels like a threat, not a gift.
It's like someone who kind of remembered watching the Mighty Ducks movies tried to coach a hockey team.
"It was a flying something. Some letter. A flying I? That's a thing right? Yeah. Let's use that."
With a minute left Quinn Hughes missed a puck in the middle of the ice so the Blues got one last dangerous chance on net: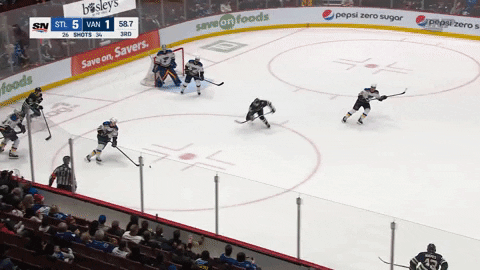 Just in case you were worried there was some pushback from the Canucks, I want to assure you there was not.
At this point in the game, it was 5-1.
Honestly, getting a lot of ice time away from this team might not be the worst thing in the world. In a meritocracy world it makes no sense. I don't know how you watch Höglander play so well just mere games ago and decide to not lean into that. But alas.
Tryamkin always gets in. Tryamkin reminds us of a simpler time when throwing body checks and being forced to watch Chris Pronger videos were the worst of our controversies.
Joey Pitt, the silky smooth voice of the Surrey Eagles, is raising money for a great cause in Wigs for Kids. He has set high goals because damn it, he has one of the best flows in the lower mainland, and that is something worth cheering on as he eventually lops it all off for said charity in mid-March. Joey is honestly one of the nicest fellows I've come across and this donation drive from him is just par for the course for him.
You can check out 
Joey's donation page
and should you feel inclined, can throw a few dollars his way. You can also witness the hair removal March 19th against the Victoria Grizzlies, in which the Surrey Eagles will certainly smash their way to victory off of the back of a Jake Bongo hat trick.
How certain am I that Jake Bongo will score a hat trick that game? So certain that I will donate $100 to Joey's cause if Bongo doesn't get the three goals.
See you there.