The Stanchies: The Canucks got outscored in the third again, but that's not the worst part
Photo credit:© Bob Frid-USA TODAY Sports
'Cause you had a bad day
You're taking one down You sing a sad song just to turn it around You say you don't know You tell me, "don't lie" You work at a smile, and you go for a ride You had a bad day The camera don't lie You're coming back down, and you really don't mind You had a bad day You had a bad day
Yes, it was indeed another bad day for Canucks fans out at Rogers Arena.
That being said, it was a slightly less bad day, I suppose?
I don't know, this is exhausting. The time for moral victories should have ended years ago, but here we are.
Let's simplify things.
The Canucks lost tonight.
And again, they lost a game due to their refusal to show up for third periods. Bo Horvat used the word unacceptable. Okay, we're all set now, so grab your beverage of choice.
Leaky defence? Check.
Leaky roof? Also check.
"What do you mean the roof needs to be repaired? This guy over here told me that I could just patch up the hole with some scotch tape and that it'd do the trick way quicker, and for way cheaper. This seems a hell of a lot easier than what you're suggesting. I'm going to listen to this guy. You're fired."
Jalen Chatfield — yes that Jalen Chatfield has a role on the Carolina Hurricane's blue line, and is in the lineup over Ethan Bear, who has been a healthy scratch for the Canes so far this season. Yes, that Ethan Bear, who the Canucks were reportedly interested in trading for this offseason.
Chatfield played in 18 NHL games for the Canucks after being compared to the departing Chris Tanev ahead of the 2020-21 season.
He didn't do much at all to impress, and by those lofty Tanev standards, disappointed. He was let go by the Canucks in free agency and nobody batted an eye.
Jim Benning knew.
Best oh yeah, the penalty skill still isn't great, is it?
With all the hoopla surrounding the Canucks' abysmal third period performance in their home opener, punctuated by boos and multiple jerseys thrown on the ice, it feels like the Canucks' penalty kill stopped being as big of a point of discussion recently.
Now, that's probably because the Canucks have given up just two PP goals over their last three games, but just as soon as you forgot about one of the many problems facing this team, the Canucks were there to remind you as painfully as possible that their PK still isn't great.
Dakota Joshua took a penalty and put the Canucks on the penalty kill early on.
Less than 20 seconds into the Canes' power play, this happened:
That's Andrei Svechnikov that's being left wide open, as in, has literally scored seven goals in six games Andrei Svechnikov.
For those that aren't sure yet, the Hurricanes scored here.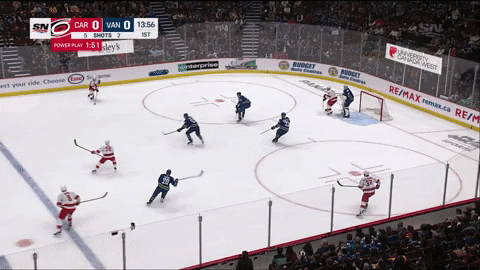 Best don't you forget about me
We're going to do our best to predict the future here.
The year is 2033.
35-year-old Guillaume Brisebois has just been called up from the Abbotsford Canucks as the big club prepares their "injuries got us this year, but we're going to try REALLY hard to make the playoffs next year" message to fans for the 21st year in a row after Quinn Hughes goes down with injury after playing 32 minutes a night all year with 43-year-old Luke Schenn as his partner.
On his annual drive westbound on Highway 1 from Abbotsford, a drive Brisebois knows like the back of his hand at this point, with Life is a Highway blasting through his speakers, Brisebois waves to all the fans who recognize him as they pass by him on the road.
He's always been a man of the people, and after all, he's the longest-tenured Canuck by a wide margin, thus, he's the most recognizable face in the city.
He's been the 9th defenceman of multiple generations of Canucks fans at this point, and more and more kids named Guillaume are entering the public school system in the Lower Mainland.
He drives with the top down so that he can feel the breeze through his hair.
That's right, the man commonly known as Breeze-bah enjoys feeling a nice breeze, even more so than most people.
Snapping back to the present, Brisebois deserves this kind of love after his performance tonight where he was virtually unnoticeable, which means he did exactly what he needed to do while on fill-in duty.
Not since the 2018-19 season has Brisebois appeared in just more than one NHL game in a season, but Bruce is hoping — yes you heard that right, hoping — just like the rest of us that Brisebois sticks around beyond just tonight.
"I thought Brisebois was pretty good for his first game," said Boudreau. "Hopefully it's not a one game thing, but I thought he played well."
Best you shouldn't have challenged that one Rodert
The Hurricanes chose to ride hockey's greatest rollercoaster when they were penalized with a bench minor after challenging the ref's original call of goaltender interference on this disallowed goal: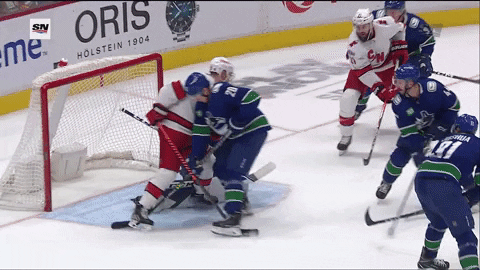 This delayed the game, and because the call was confirmed, the Canes were penalized for it, which came back to bite them.
It wasn't pretty per se, hell, it was only their fifth shot of the game (the Hurricanes had ten already at this point) but they all count the same.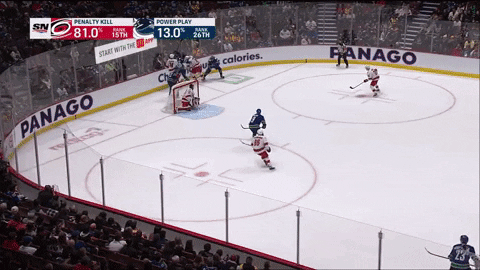 Miller was frantically tapping his stick on the ice after noticing that the Canes' veteran defence PK pairing were doing their best Canucks PK impression in leaving a man wide-open in front.
Nikita Tryamkin sees that play, thinks about the Chris Pronger highlight reel that still haunts his dreams, and really isn't sure where the defenders are supposed to be here, but takes his best guess and correctly assumes that the answer is not behind the net: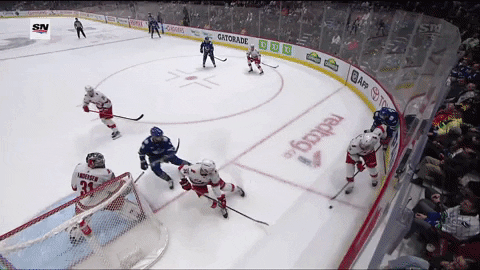 And yes, we know this goal is largely the fault of Teuvo Teravainen, who must have thought the linesman was actually Sami Salo coming out of retirement getting ready to lean into a one timer from the point.
Nonetheless, that's Miller's first of two on the night, and tonight, he looked more effective and engaged than he has all season. He also played on the wing — not centre — for the first time this season tonight.
Best it gets the fans going
If there's one thing — and spoiler alert, there's a lot more than one — that Canucks fans can be upset about, it's the effort level and overall give-a-s*** meter of this team's players in some of these losses, especially Saturday's.
Doing their best impression of the WWE's Bollywood Boyz, noted high-effort, high-character individuals Elias Pettersson and Vasily Podkolzin pulled off the tag team move of the ages on the forecheck after Miller tied the game up.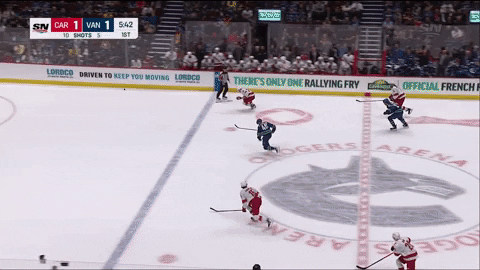 Oh you thought you'd spin out of Pettersson's check into the boards?
Podkolzin is very sorry to inform you that he simply cannot let that happen.
It may seem like a small thing, but it's a stark contrast to what fans saw in the third period on Saturday's home opener, when the Canucks looked like they legitimately didn't care what happened, and were instead just happy to be skating on NHL ice like the pros do.
Bruce Boudreau said he expected a bounce back tonight, maybe not a win, per se — those have been really hard to come by for this team — but at least a solid effort against one of the best teams in the league and some sign that the players on this team at least give a damn.
He told us that his players were upset by the loss, and that they have pride, and as they have all season, Pettersson and Podkolzin did their best to lead the charge.
But more on what that actually amounted to later.
Best he's the fastest freaking kid alive
You've heard it before. When Elias Pettersson is on, he's drawing penalties simply by keeping his feet moving and making opposing players commit some type of infraction in order to stop him from making them look silly.
Aho, not much of an athlete, the moment's too big for him, can't keep up, and takes down Pettersson, giving the Canucks their second and final power play of the night.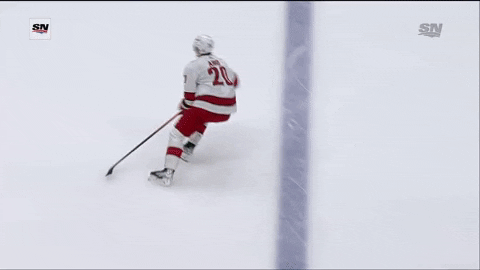 Best this is how you repay me?
It's true, the Canucks' ensuing power play wasn't great, as both units struggled to even get set up.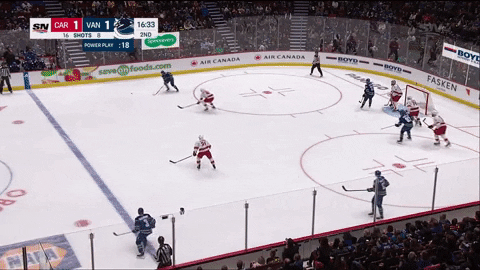 We're not going to spend a bunch of time analyzing the Canucks' power play failing to get set up, but Jack Rathbone is literally sitting right there on the second unit.
Rathbone's ability to create offensive chances seemingly out of nowhere is special, and with Quinn Hughes out week-to-week, Rathbone's got to be given a chance to quarterback the first power play unit at some point, right?
Right?
Narrator: The Canes did not in fact mail it in.
Instead, they came out and got a goal from their top line just seconds into the third.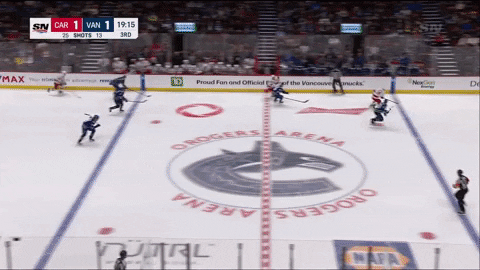 And seconds after that, Jesper Fast f***** kicked redirected the puck fair and squarely with his skate into the top corner behind Thatcher Demko.
You tell us. Is this a kick?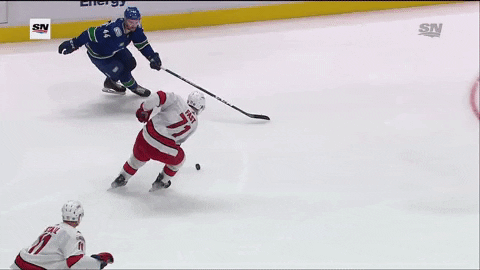 Regardless, it's another day and another Canucks third period collapse.
"Here you are, tied with Carolina, one of the top five teams in the league going into the third period and we did the same thing [we did] last game," said Boudreau post game. "We came out like we're afraid to push… It's like they're standing around and looking like 'oh, what's going to happen now?'
"And it's unfortunate because I think they all care."
Best you need your stars to be stars
It was quite the sequence on this goal for J.T. Miller to pull the Canucks within one late.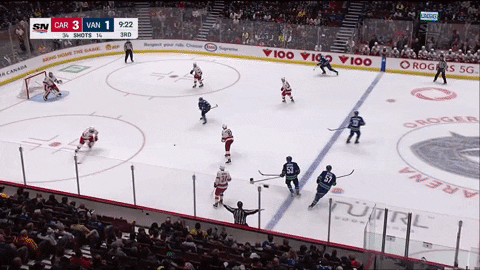 First, the puck goes in off Jesperi Kotkaniemi's face, and second, well, Miller found the puck and just absolutely wired it home: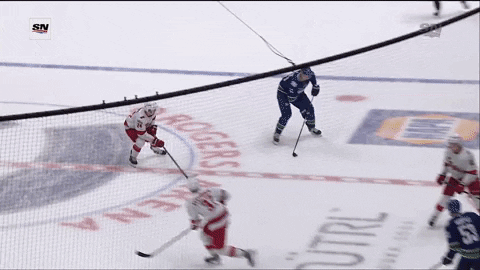 Who knew that moving Miller to the wing would be all it would take to get him going?
That was a rhetorical question. It was me. I've been saying it for weeks on Canucks Conversation (livestreamed at 1 PM Pacific Monday through Friday on
The Nation Network's Youtube Channel).
And now, Miller isn't "back" just because he scored two goals tonight, but it's certainly something to build off of.
"I felt good today," said Miller of his move to the wing. "I just could skate so much more, it gets me into the game, I was physical, I was on the puck a lot more. I definitely felt better today and I had a feeling I would.
"Instead of just being the low and slow, just kind of reacting and initiating the play — I just felt good skating today."
Best get me the whiteboard
You don't often see an NHL head coach look as eager to get his hands on the whiteboard and draw up a play for his team during a timeout as Boudreau did here: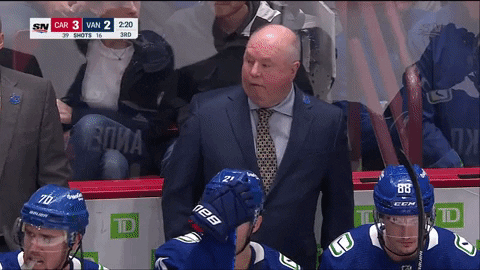 Taking the board from Jason King — the power play coach who would normally be communicating the gameplan in this situation — is the ultimate power move.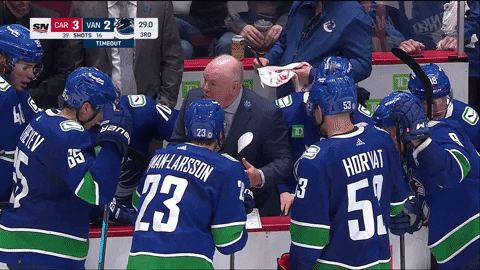 That's a passionate coach, folks.
Unfortunately for the Canucks, Bruce's plan was all for naught as their efforts with the goalie pulled amounted to zero shots on goal.
I'm guessing that Bruce's whiteboard didn't have "don't shoot the puck
under any circumstances
" written anywhere on it.
"I had something distinctive that I wanted them to do," explained Boudreau. "I wanted to get a message across about faceoffs and how to get the puck back and be deliberate."
Welp.
Burroughs — 78.90
Joshua — 74.46
Brisebois — 65.80
Myers — 59.55
Miller — 58.21
Pettersson — 53.99
Horvat — 48.81
By our count, that's the highest DAWG rating of the season for Miller, and for good reason.
It's true, the Canucks' penalty kill did get better as the night went on after the early PK blunder.
But it wasn't enough.
Something about completing a full game and putting in a 60-minute effort…
Fresh off getting called the Canucks' second best player behind the aforementioned Elias Pettersson, Nils Aman was given a shot to centre the third line with Conor Garland and Andrei Kuzmenko tonight.
The line was working hard all night long, and Aman was getting some love from fans for his dogged — not to be confused with DAWG — effort tonight.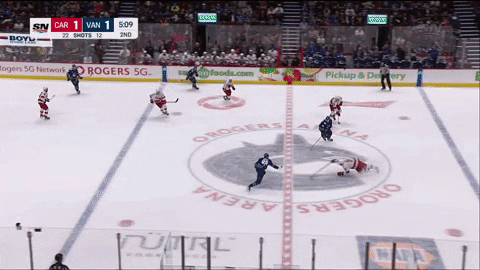 Instead of doing a fly by here, Aman stops up right in front of the net, which actually got a cheer from the Rogers Arena faithful. They appreciate hard work.
Speaking of which…
Best the fans are smarter than you think
The Canucks have a well-informed and in-tune fan base.
They want to learn about the salary cap. They want to know how LTIR works for Pete's sake. They care about the inner workings of an NHL team, and the majority of them just want you to give it to them straight.
Most of all, they want to know why this team hasn't had any real success for the past ten years.
So when Jim Rutherford went on CBC's After Hours and reminded folks that rebuilds can take longer than people think and can be riddled with demoralizing losses, there was a good amount of pushback from this fanbase.
This team has gone seven games without a win this season.
Not one.
And we all know how this story ends, because it's not just seven games. This isn't people panicking over seven games, no matter how badly some people want that to be the case.
It feels like Groundhog Day watching the Canucks stumble out of the gate with their flaws on full display, only to storm back into the conversation after getting elite level goaltending for a good chunk of the season (this part hasn't happened yet this year, but rest assured, it's coming) to then miss the playoffs by just a small margin.
"But look at this heater we went on! We'll be back next season, and next season will be different! We can build off of this!"
They're not going to be bad enough to land Connor Bedard or likely even select in the top five of this stacked draft class, and despite sitting just four points out of a playoff spot after tonight's loss, are likely going to come up short on qualifying for the playoffs again, repeating the seemingly never-ending cycle of mediocrity.
When someone repeatedly shows you who they are, there comes a point where you have to believe them.
This is what fans are upset about. Not the past seven games, but the knowledge that a good stretch of play will almost certainly lead once again to dismissing the deeper issues that plague this team annually.
Teams are a lot like roofs. You can spend all the time you want patching holes to keep the leaks out, but after a while, you simply have to admit that there are deeper problems, bite the bullet, and admit that the guy who built this spotty roof for you in the first place really messed up.
Sure, it's impossible to speak for all fans, that's just silly to suggest.
But as the losses stack up and history repeats itself — and with a seemingly miraculous season turnaround almost certainly just weeks away — more and more fans are becoming open to the idea of a full teardown and rebuilding this team around players like Thatcher Demko, Elias Pettersson, and Quinn Hughes.
And honestly? It's hard to argue that there's a better long-term option for this team right now.