The Stanchies: Canucks fans used to pray for times like this
Photo credit:© Jessica Alcheh-USA TODAY Sports
I can see clearly now the rain is gone
I can see all obstacles in my way
Gone are the dark clouds that had me blind
It's gonna be a bright (bright)
Bright (bright) sunshiny day
It's gonna be a bright (bright)
Bright (bright) sunshiny day
I think I can make it now the pain is gone
All of the bad feelings have disappeared
Here is that rainbow I've been praying for
It's gonna be a bright (bright)
Bright (bright) sunshiny day
Ever since Bo Horvat was traded by the Vancouver Canucks, a sense of clarity has seemingly descended upon the fanbase.
Sure, the Canucks might still be trying to win in a year or two, chasing that vaunted retool we hear about on an annual basis. But one thing almost everyone can finally agree on is that winning is no longer the desired outcome this season.
No, none of the players are going to be quitting in the games. Nobody is losing on purpose, as much as Oliver Ekman-Larsson's defensive zone coverage says otherwise. And should the Canucks go on a statistically insane run in which Tyler Myers turns into a 50-goal scorer after being put in his proper position as a forward, and somehow they sneak into the playoffs, sure, have at it. Who wouldn't want to see the showdown the NHL deserves when the Islanders face off against the Canucks in the Stanley Cup Final nobody saw coming?
But having games in which a spirited effort is shown in a losing cause? That's honestly the perfect Vancouver Canucks game the rest of the way. This is the kind of game Travis Green would have been enamoured with. "That's a good team they have over there," you can almost hear him say, followed up with "this is a tough league to win in", along with that trademark booming Thomas Drance laugh.
The end result is officially a 4-3 loss to the New York Rangers, but unofficially, this is what the fan base will be praying for most nights. There might be some allowances (a dramatic 8 goal game from Pettersson against the Islanders would be acceptable) but for the most part, the Canucks need to ride this season out with gutsy effort losses.
Now, will Rick Tocchet embrace this lifestyle? No, of course not. He's here to prove that he can turn things around. The Canucks will grind and grind and grind until they hit those 2-1 losses that they can put up on a pedestal as "learning to play the right way" and showcasing how next year this new defensive structure will be something to build on.
Until then? We sit back and watch as the most exciting draft race in Canucks history continues. Canucks luck will tell you that they have no chance at Bedard. That even if they had a 100% chance to land the number one pick overall, somehow Chicago would end up with it due to an old hockey rule from 1894 that gets enforced in which "No Connors shall play in cities that rhyme with Bamcouver".
But until we hit that reality, we get to sit back, watch, and see how this all unfolds with a sense of harmony we haven't had around here in quite a while.
All the while making some sweet, sweet gif money.
Let's do this.
Quinn Hughes started his era of leadership by donning the "A" against the Rangers, which he celebrated by shooting the puck and tumbling JT Miller out of the air like he was duelling him in a secret underground fight club at Hogwarts: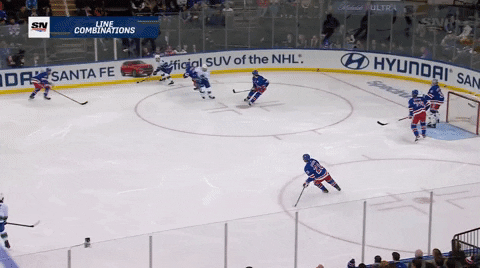 It's Wingardium Leviosa, not Levioso.
Spencer Martin got the start for Vancouver, a man who has been dead to me ever since he ditched his chrome mask. Once the top of the NHL fashion chain, he gave into the worst of hockey's culture by claiming he didn't deserve to be flashy at the NHL level or something.
No, seriously, he wanted a mask that wouldn't "take anything away from the team", as
chronicled by Quads at the start of the season
, something he could only do at the AHL level because he earned that right. Now, Martin assures us this had nothing to do with Ian Clark, but this situation has big "my 'Ian Clark had nothing to do with this' shirt is creating a lot of questions already answered by my shirt," energy.
I can only imagine the Rangers seeing Martin all flashy and being like "take a look at this guy, who does he think he is? We better score 10 tonight." followed up by a 10-minute rant from Pardon the Interruption as they discuss how one mask almost took down a franchise.
Look, it's a pleasant thought that Martin is going to extremes to be a team player, and it's not like it's malicious in its intent, but anytime I think to myself "Lou Lamoriello would approve of this" I know someone has made a terrible mistake along the way. Just be you boo, embrace the chrome lifestyle.
Despite his lack of chrome, Martin looked solid early on, stopping a variety of one timer attempts from the left side, even though a crossbar had to step in at one point to save the day: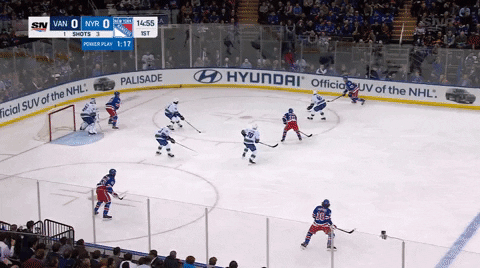 You know what would have made that save better? Martin whispering "welcome to the chrome dome" as he headbutted the puck away with a chrome mask.
I've run the math, and 70% of Canucks goals against come off of a shot from the point, and 40% of the goals are on OEL just being blissfully unaware of offensive threats. OEL is that guy who drives down a one way street the wrong direction and wonders why people are screaming at him that he's going the wrong way, because how could they know where he's going?
Now add those two together and you've got yourself some Steiner math probabilities of seeing an automatic goal: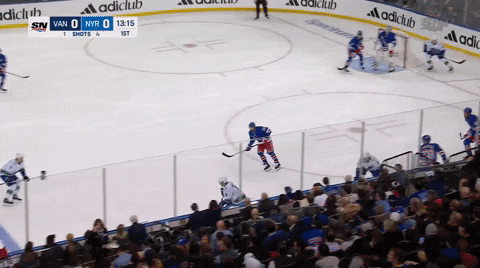 I'm not saying coaching was the problem in Vancouver, or that coaching can save this roster.
But I will say a very Travis Green Rick Tocchet approach to hockey is working the boards and finding your d-man at the point to take a thoughts and prayers shot and hoping you can cash in a rebound or tip a puck on net.
It's greasy hockey, and it's often not very effective offensive hockey, but man alive does blue-collar old-school hockey love it.
The bad part is when it doesn't work, oftentimes you get hit with a counterattack when your forwards are in too deep or your defencemen have pinched up to make a play. Or in OEL's case, you're just out there vibing and not worrying about Vincent Trochek skating behind you.
The end result? A tap in backdoor pass that Luke Schenn can't quite catch up to, as team speed isn't exactly an asset for the Vancouver Canucks.
Sometimes I don't know how to end paragraphs so why don't we just take a moment to remember Brian Noonan and the gum he always chewed.
The Rangers quickly scored their second goal of the game when Filip Chytil scored his 19th goal of the season after he slid into soft coverage between Brock Boeser and Sheldon Dries: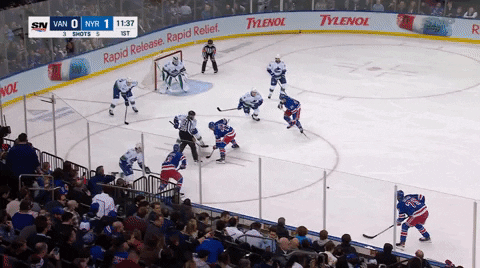 Brock Boeser does take that one stride attempt to let you know that HE knew there was something afoot at the Circle K, but he assumes Sheldon Dries will step up. Dries unfortunately tries to block a possible backdoor pass to Tyler Myers, which fair enough, but Chytil just walks in all alone and goes backhand top shelf where Mom keeps the university application she never submitted because you derailed her life.
Again, down 2-0 early, this is not a bad result at this point. It sets the stage for a scrappy attempted comeback that you can point to and say "effort was shown!"
Best moving on from the ex
Nobody gained more from teams keying in on EP40 on the power play more than Bumpin' Bo Horvat. It allowed him to get open for a ton of goals from the bumper spot, and allowed him to head to the net and try and get his stick on shots from the point.
The end result was Bo would get the PP goals, while EP was usually shuttled into a set up man role, because teams constantly closed the gap on him. This, more than anything, is the reason those infamous goals from the Petter-zone just don't happen anymore. Teams know if you give EP40 time and space with the extra man, he will slaughter you.
So now the Canucks need to find a way to produce without a keyed-in contract chasing Bo Horvat, and see if Quinn Hughes or JT Miller can fill in the blanks.
JT Miller, playing the role of net front Bo Horvat, almost got a handle on this point shot, but ended up fluffing it wide: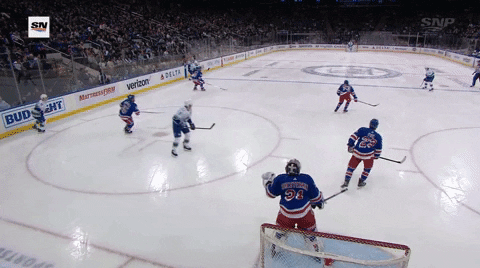 Fluffing is an odd verb to choose, but it's the one I went with, and I trust Quads to keep it in.
Best looking for the small things
Much like watching any scene with Beth Dutton in it, during many Canucks games, I look away from what's happening on screen and try and dissolve myself into the background. Anything to distract from the repetitive scene unfolding in front of me in which the only question is whether Beth is screaming (or whispering) at Jaime with a speech that hits hard if you're in grade 10, or if she's insulting the size of someone's genitals because they happened to be standing near her.
While doing this, sometimes you find yourself noticing a really nice cowboy hat, or sometimes Phillip Di Giuseppe finding ways to drag the puck towards the net: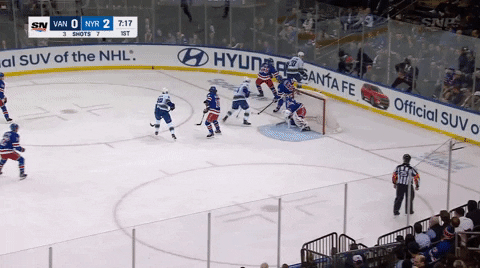 As we know, half of these Canucks won't be on the team in a couple of years' time. NHL careers are a fickle beast, so all you can do is appreciate moments like this. And while I'm not sure what kind of NHL career Phil is going to have, I will say I enjoy his willingness to create space with spins, and then follow that up by driving hard to the net.
Did it result in a goal? No. But did it result in a potential shot down low? Yes.
I will take this kind of play over a soft shot from the point any day of the week.
Best personne n'échappe à mon regard!
Future potential captain Luke Schenn continues to chase a career high in points, and it's happening because of plays like these: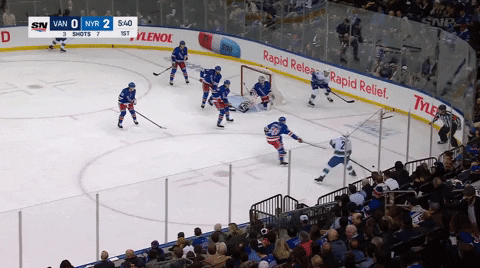 He doesn't just panic and shovel the puck on net like I would, followed by a quick whimper and a glance at the bench to know if I did good or not.
No, he takes his time and realizes he has room to move in closer as the Rangers have stopped skating, so he stutter-steps his way to the net and takes a nice solid shot that creates a rebound that someone could potentially cash in.
The Canucks should of course trade Schenn for picks at the deadline, but should they keep him for leadership/locker room reasons, give this man a letter on his jersey as soon as possible.
Beauvillier continued to play with Elias Pettersson, and as we talked about last game, this is perfectly fine. Give the kid a good look with your best player and try and gauge whether you can draw another level out of him.
That being said, I still dream of a world in which Elias has a natural sniper with wheels playing with him.
On this play Beauvillier tries to feed the puck back to EP40, but can't quite feather it through:
The choice to pass is fine, but you do find yourself wondering if a guy with a quick release might have gotten a shot off there instead of trying to force the pass through two players.
Playing with Kuzmenko and Elias, two players who tend to love an overpass, having a shoot-first mentality would be my preferred choice for the third winger on that line.
Players like Elias and Quinn Hughes are so good because they draw the other team in, which opens up all the room in the world for their linemates. This is why Todd Bertuzzi and Markus Naslund were such magic together. The amount of times Bert would draw double or triple coverage only to find Naslund all alone to unleash his laser beam of a wrist shot, that was the stuff of legends.
That kind of hockey stands out even more for this current Canucks hockey team because they are not very good at zone entries. It takes a nice rush from Elias or Quinn to usually pull them off, and when they do, sometimes they draw in the entire team's focus: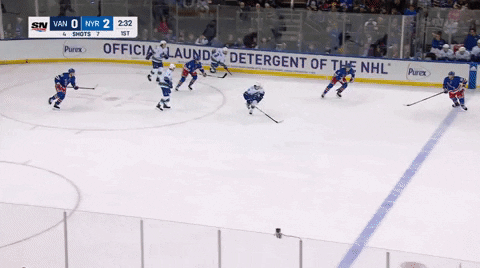 Quinn casually drawing the eyes of five New York Rangers, allowing Conor Garland to skate in uncontested for the goal.
Kudos to Garland for the fantastic shot, but you can't help but marvel at the way Quinn Hughes set this goal up.
Best driving a hard bargain
Greasy hockey is going to be on the menu under Tocchet, and a big part of that is getting pucks on net.
Curtis Lazar was the first one to drive to the net like a free hamburger was on the line as he pulled a Giuseppe and spun his way to freedom, only to follow that up with a nice wraparound that tried to tuck the puck in on the far post: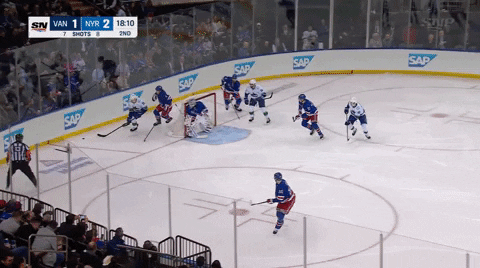 Then Beauvillier and Boeser took turns taking simple hard shots on net, which hey, nothing wrong with that: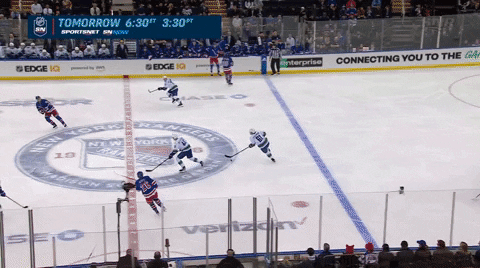 Cycling the puck only for it to end up with a shot from the point is always the worst outcome, so give me these types of plays any day of the week.
The Rangers made it 3-1 when a point shot double deflected and went in, aka my worst nightmare because it makes NHL coaches think point shots are a viable resource: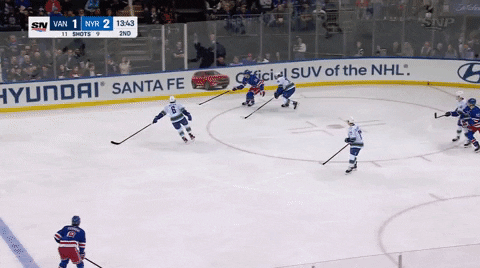 The best part about this goal is Alex Lafreniere reaching out to snake the goal from Trouba in true Rocket League fashion. That is straight up my favourite beer league move to pull, and I make sure to hunt down the guy who had his second assist taken away and ask them why're the so selfish and don't pass the puck more.
I will say the one thing about this goal (aside from the bad luck) that stands out is the amount of time and space the Canucks constantly give other teams at the point. There is a world of difference of a player trying to hurry a shot off from the point with someone right in front of him versus a player having a solid look at the net and getting a chance to to put the puck right where they want it. This usually happens when the Canucks start chasing the puck and start double-teaming a player, only to realize they've left a guy at the point open, but by then it's too late, they've seen everything.
Best becoming a real cowboy
It's hard to remember those 20 games Jimmy Vesey played for the Canucks back in 2020, but he almost gained a measure of revenge when he returned from the 6666 ranch and rejoined the Rangers and fell just short of scoring in the second period: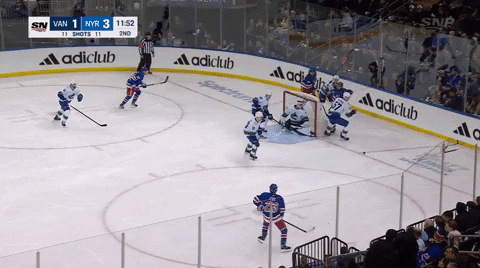 This has been sort of a constant thing for the Canucks, where someone summons their inner Brett Hull and slips into soft coverage where seemingly nobody sees them, allowing them to get a high-danger shot off in the slot.
I will give kudos to Tyler Myers for summoning his inner Alex Edler though by going into the crease and dropping into the butterfly position the second he saw the puck was loose in the blue paint.
Best catching them with their drawers down
Again, points from the shot end up killing you, especially when you have a slow team.
Here is another chance for the Rangers in which the Canucks send a hurried shot from the point and it gets countered into a breakaway: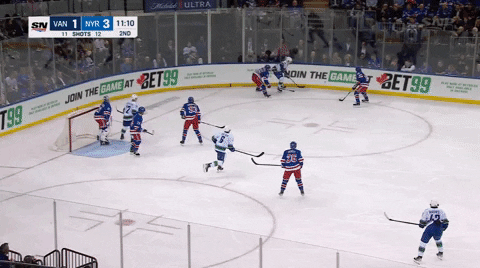 Luckily the Canucks one fast skater on the backend in Quinn Hughes was there to force Panarin to go to his backhand, who ends up putting it wide. But it's just a constant stream of teams knowing they can burn the Canucks on the backend if they pressure them into flinging the puck from the point without thought.
Vasily Podkolzin's return to the team has been most notable for the physical play he has brought with him. Whether it's finishing a check or playing heavy along the boards, he has been strong on the puck whenever he gets a chance.
So it's nice to see that rewarded with a nice goal, even if it required a bit of luck on the deflection: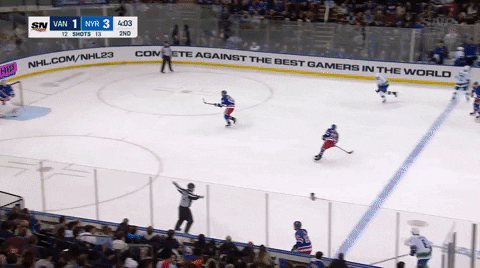 First off, this entire goal happens because of JT Miller. That's a nothing play until JT Miller get's on his horse and forechecks hard and cuts off the outlet pass in the corner. Then he spins and sends a perfect pass to Podkolzin who ends up scoring the goal.
That's the JT Miller we've seen in the past. The one who will hunt down pucks and make risky, but effective, plays, in the offensive zone. JT Miller has quietly had himself a stretch of solid games in which he isn't being put on blast for poor backchecking, and he's chipping in with offence. This is Jimothy Timothy, the guy who smashes his stick and we squeal with childish delight. Not JT Miller who smashes his stick and we start checking the local laws to see if he can be put in jail.
As for Podkolzin, it feels like his game is suited for a Rick Tocchet era, so it wouldn't shock me to see his ice time continue to rise under the new coach.
Luke Schenn left the game briefly with an injury, which as John Garrett reasoned was most likely a back issue: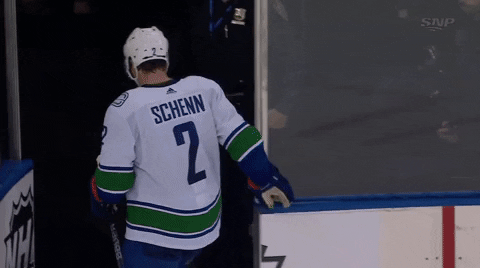 Schenn would return to the game but spent the majority of the time standing up at the bench, which either makes him an overly involved dad watching his kids play hockey, or someone trying to deal with a sore back.
Quinn Hughes followed that up by taking a puck to the bridge of the nose, so he too had to leave the game, and would later return with a face shield: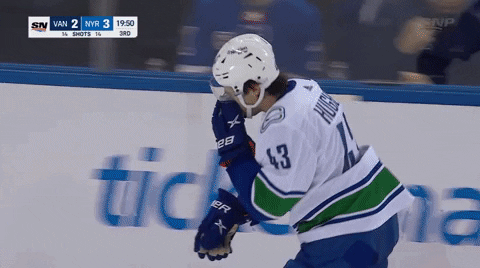 And to finish up our hat trick of injuries, Trochek and Kreider collided at the blue line, but luckily neither had to leave the game: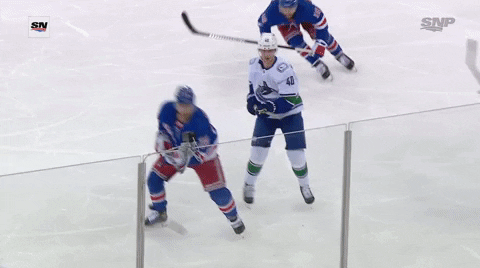 My favourite part about Luke Scenn, aka Bad Ass Daddy, is the minute he gets back into the game, he tests his back out by throwing a huge hit: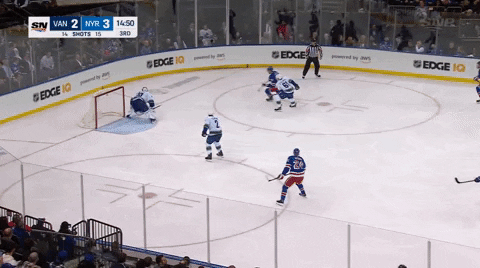 He follows the Deadpool mantra; Never let them see you bleed. He's out here trying to put his back into place like Riggs setting his shoulder.
That's why he deserves a letter on his jersey.
With New York on the verge of a win and Vancouver on the verge of a loss, both teams slowed things down for the last period.
You want an ok shot from the slot? Boy do I have an ok clip for you: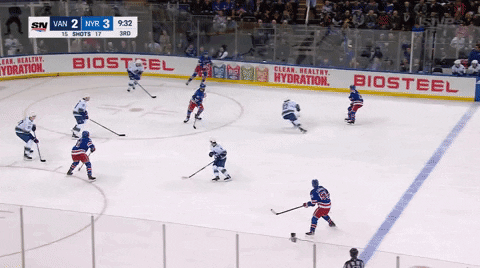 The best shot halfway through the third was taken by Shesterkin and the best save was made by Halak, so that about shows you how both teams parked the bus: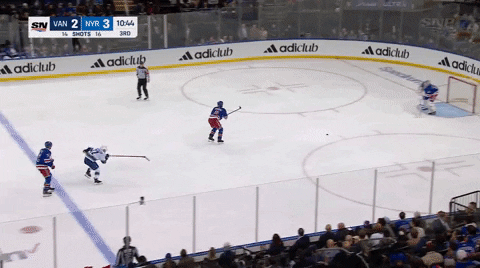 Best staying focused on the plan at hand
OEL is one of the tank commanders, so leave it up to him to mishandle the puck behind the net, leading to a turnover that leads to a crossbar making the save on Panarin: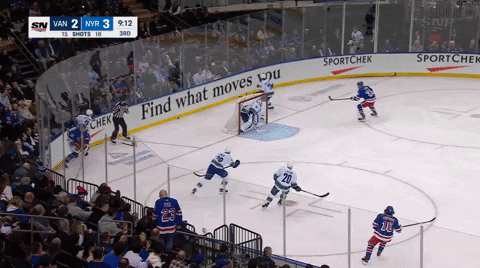 Best race to the finish line
Riley Stillman has played better offensively as of late, and seems more confident in picking his spots in rushing and attacking the net. Podkolzin took advantage of this by cycling up the boards and finding him down low for a nice attempt at backdoor skullduggery, which just went afoul when the puck went off Stillman's skate.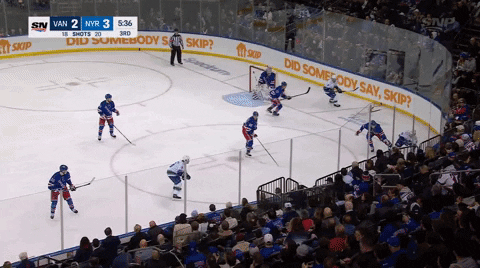 This is how the Canucks will win or get points out of games like these. Keep things close, clamp down in the third, and hope you can find a bounce or two to score a goal.
Best better put a ring on it
The Rangers seemingly iced the game when they, of course, scored a goal from a point shot: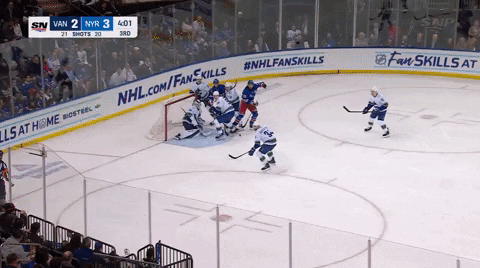 Again I must point out that I still loathe point shots and that should be the absolute last option you take in hockey. That being said, Vancouver makes those shots seem more palatable because of the time and space they afford other teams. Trouba, time and space, and a healthy dose of luck all combine to score a goal for the Rangers.
You can't even fault Myers and Stillman on that goal because they at least were battling with their checks. Maybe they box them out a bit more efficiently, but for these two, that's downright Norris defence from them.
It's a race between Hughes and Pettersson about who can make the smartest play in a game, and on Wednesday night, it was EP40's turn to take the trophy: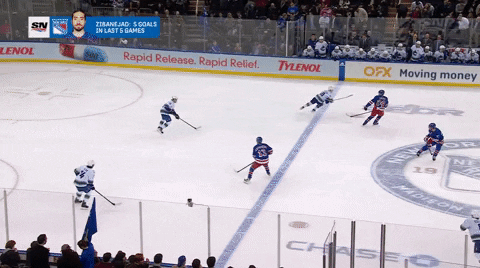 Quinn Hughes pulls the Sedin icing pass and Elias beats the Rangers to the puck as everyone on the ice seemingly assumed it was going to be called down for icing.
The angle Hughes uses to make that pass work is just a chef's kiss of a pass by the way.
And Elias barging in to tap the puck in on a surprised Shesterkin is simply beautiful.
Losses in which the Canucks put up a good effort, and have notable goals from their stars and young players? It doesn't get much better than that the rest of the way.
Best of the J-Pats stat hammer
If ever you wanted proof of how badly this team suffers with its defensive depth, watch them try and play without Quinn Hughes.
Zone entries, finding open forwards, maintaining possession in the offensive zone, it all evaporates the minute Quinn Hughes isn't in a game.
Anytime an old time hockey guy mentions something along the lines of "playing the right way" I worry about any offensive-oriented Russian player in the vicinity. The Goldobin Effect, if you will.
When asked about the game, Tocchet mentioned he thought 5 guys were bad in all facets of the game. When asked if Kuzmenko was one of them, Tocchet confirmed this to be the case.
Now, Tocchet isn't wrong in that this team has bad habits and they can do a better job of battling and making life harder on their opponents. And nobody is going to argue that Kuzmenko can't find another gear to his game on the defensive side of things. And when a team is this bad for this long, you kind of have to be open-minded about any attempts at changing things around.
But I will say that I do worry that the offensive juice in Kuzmenko will be squeezed out of him to the point where he becomes a middling offensive player who is just scraping by to try and be an average defensive-minded player the coach can be proud of, just after you've awarded him a new contract based on his offensive prowess.
Again, this is early days. We have to give Rick time to cook and see what he does with this roster. Maybe he unlocks the inner beast in Kuzmenko and he stops smiling and gets a buzz cut and does nothing but practice breaking up zone entries and winning board battles with angry screams.
But I would be lying if I didn't hear tiny alarm bells going off in my head about the potential to limit Kuzmenko's game in the pursuit of something that might never happen.
If anything, I will just hope that the new trend of correcting mistakes and adjusting ice time applies to everyone on the team, no matter how big their contract is, or what number 23 they wear. That's all I'm saying.
Best the jerk store called
Just a reminder to kids, never meet your heroes.
Feud on Dan. Feud on.