The Stanchies: The Canucks can't keep getting away with this
Photo credit:© Geoff Burke-USA TODAY Sports
Don't leave me in all this pain
Don't leave me out in the rain Come back and bring back my smile Come and take these tears away I need your arms to hold me now The nights are so unkind Bring back those nights when I watched you score on TV
Un-break my heart
Say you'll win a game again Undo this hurt you caused When you let the other team score And walked out of the win column Un-cry these tears I cried so many nights Un-break my heart My heart
The Canucks managed to blow yet another multiple goal lead, making it three straight games to start the season performing this feat, this time in the form of a 6-4 loss to the Washington Capitals. It's like that guy in college telling everyone he can jump off the roof and land in the pool but nobody asked him to. And to make matters worse, there is no pool, and instead of jumping off the roof, he's just throwing bricks at you screaming about chemtrails.
The good news (stick with me here) is that it wasn't all special teams that let the Canucks down Monday night.
The bad news is, the Canucks' defensive game finally reared its ugly head to let you know that it still exists and will be a problem. But not in the fun "Connor Bedard is a PROBLEM" way Cam Robinson might tweet, but in the "No, seriously guys, the Canucks are not doing very well, they need help," kind of way.
On a night when Kyle Burroughs played 24 minutes of hockey, it's pretty easy to point that out as a sign of impending trouble. The rattle in the engine of the Canucks car as it were.
"But Wyatt, you idiot, they have injuries! It's not every night Noah Juulsen and Riley Stillman will be in the lineup!"
Hey, that's accurate. But the eventual return of Tyler Myers and Tucker Poolman is not going to fix what is a very shaky back-end of this Vancouver Canucks team.
And to the Canucks' credit, they did an admirable job through two periods of this game. They had a lot of issues exiting their zone with control, and had too many turnovers as a result of this, but they skated hard and did their best to minimize the damage. I honestly don't think effort was a problem in this game. Stamina? That's a different story.
Unfortunately, by the time the third period rolled around, the Canucks looked gassed. "Blown up", if you're a wrestling fan. At the end of the game the Canucks looked like Hulk Hogan stuck in a Brock Lesnar bear hug. The only thing missing was Ovechkin wiping blood over his chest and letting out a surprisingly falsetto scream.
Those earlier turnovers the Canucks defended so well? In the third period, they turned into goals, as the defensive coverage loosened and opened up time and space for the Capitals.
Now add in a night in which Thatcher Demko was not performing the heroics he has in the past, and, baby, you've got a stew going.
So now the Canucks sit 0-3 to start the season, and panic is setting in. You can feel the tension in the city, not just about the losses, but in how the team is losing. But this is the world the Canucks have created by setting their bar as making that next step, and becoming a perennial playoff team with this roster. Like it or not, their window starts now with the way they've constructed this team.
As I always say, though, things can change in a hurry in sports. Perception is a hell of a drug, and a couple of wins can stem the tide of consternation currently flowing through the Burrard inlet. Maybe in two weeks we're all talking about how crazy it is that JT Miller has 20 goals in 5 games, and nobody saw Arturs Silovs stepping in and getting 6 straight shutouts, except for Quadrelli.
But for now, it's safe to say it's hard to think up a worse three game opening season salvo than the one the Canucks have gone with.
Best Canucks Nation temperature test
Honestly, it kind of felt like it?
Like, this is where we are now.
Prophetic.
This Arizona real-estate guy needs to learn his hockey.
Best good, bad, and the ugly
Give the Canucks credit, they didn't blow the lead straight away, instead they waited until later in the game, which was a nice change of pace.
The Capitals power play, which occasionally utilizes Alex Ovechkin shooting from the left, utilized Ovechkin shooting from the left: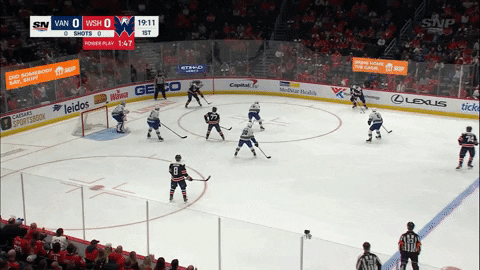 My favourite part of this goal is Curtis Lazar going full Ryan Johnson on the shot block attempt and just sort of spiralling off into space in what I assume is an attempt to slingshot himself back home to earth.
This was a bit of an odd goal because the puck gets stuck under Demko's pad, so when he kicks his leg back to move in the crease, he ends up sliding the puck into the net. Which to be fair to Demko, it's nice to score the own goal yourself instead of watching a parade of d-men getting to do it themselves over the years.
Spotting the Capitals an Ovechkin goal isn't end of the world stuff, and feels inevitable anyhow, so maybe by getting it out of the way early you hope Alex slows down for the night?
Okay, it says here Ovechkin ended the night with four points.
Carry on.
Henrik and Daniel Sedin made the dump-in pass fetch, so it's not shocking to see Quinn Hughes utilize it with Elias Pettersson, who each and every day is turning more and more into a third Sedin: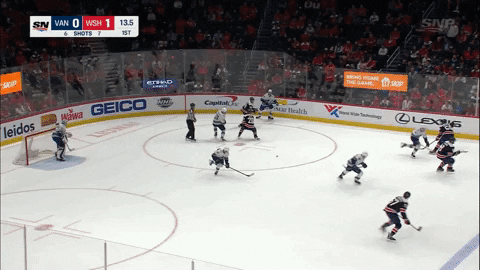 Clearly luck plays a part here as Darcy Kuemper misplays the puck, then spends several seconds pondering if he should obliterate his stick over the crossbar, before finding his inner Zen by remembering the Colorado Avalanche won him a Stanley Cup last year.
The fact Elias Pettersson skated towards the puck just in case something happened kind of showcases the mentality he has right now, as he is doing all the right things on the ice to start this season. If that's Steve Bernier, he circles off for a line change, but EP40 is staying near the puck, trying to make things happen, a trend we will see later in this article.
Best anything you can do, I can do better
Like Larry Bird calling his bank shot to win a Big Mac against Michael Jordan, the Capitals one upped the Canucks bounce off the backboards with one of their own: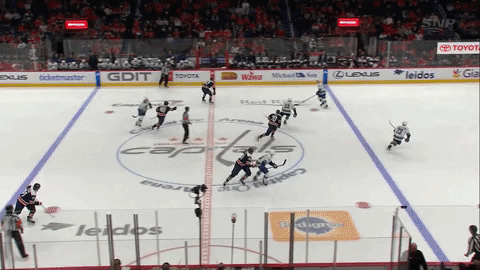 "Lively boards" as they say.
Again, tough to really lean into Demko on this one, as it's a bit of an odd bounce that shoots the puck directly into the slot, but part of you wonders if Bubble Demko would have stopped that one (he would have).
Luckily for the Canucks, this would be their best period, as they didn't let that goal rattle them.
Unluckily for the Canucks, NHL hockey games appear to be 60 minutes long.
Bo Horvat, one of the many veteran leaders on the team under heavy scrutiny, managed to get on the board after a nice counter rush from fellow knowing-look enthusiast, Tanner Pearson:
That's kind of the Pearson and Horvat dynamic at play right there. Generate a rush, head hard to the net, and try and bang in some rebounds. Nothing fancy about it, but it's the kind of hockey you'd want your son or daughter to marry.
Just, you know, let your son or daughter know this line isn't terribly fast. And that speed might be an issue with them. They'll get you to your appointments, don't get me wrong, it just might not be on time.
Ironically in what was the most offensively noticeable game for Pearson and Horvat was also their worst analytically. But what's a good hockey article if we can't scream and debate over who had a good game or not?
For the record, Boeser, Pearson and Horvat finished dead last on the team in Corsi, but first in manners.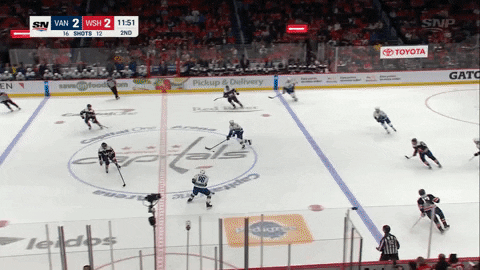 Curtis Lazar is the man with the tip so drip it makes the city clip. I'm not quite sure what the means, but it feels right.
Honestly, that's a really nice tidy piece of business on that deflection, as Kuemper is still going through his save animation before he even realizes what's happened.
Before we dive into the power play goal from one JT Miller, let's show how the Canucks got there: Attempted stick-ular homicide:
Evgeny Kuznetsov, angered by the fact he fell to the ice(?), unleashed a wicked slash in the general direction of Kyle Burroughs' face.
I assume he knows Burroughs has that DAWG in him, so he feared for his life, but I have to admit I would hope the NHL would look at this for a suspension. If you're watching a replay and wondering if it's the Nationals or the Capitals, something has gone very wrong.
The Canucks would cash in on this power play when JT Miller curled around and — wearing Lubomir Viac's old number nine — simply shot the puck past Kuemper: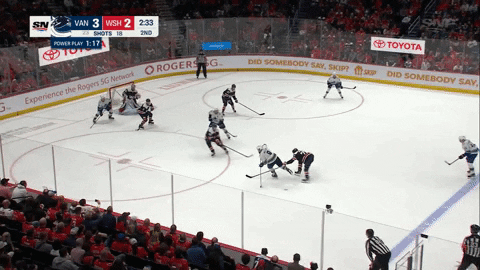 Please note the DAWG like effort of Kuzmenko on his goal, as he runs back and forth in front of the Capitals goalie trying to be as annoying as possible.
That was the lone power play opportunity for the Canucks this game, meaning they went 100% on the night. Quality not quantity and all that.
As for Kuznetsov, his beef with Burroughs apparently didn't end there as he would go full Masakazu Imanari later in the game: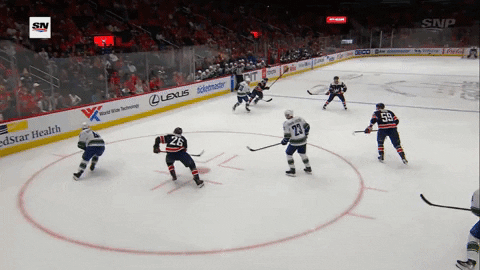 I'm not sure why Kuznetsov is so angry at Burroughs, but here we are.
Best breaking the paywall
The Canucks started the third period off as they often do, by immediately surrendering a goal: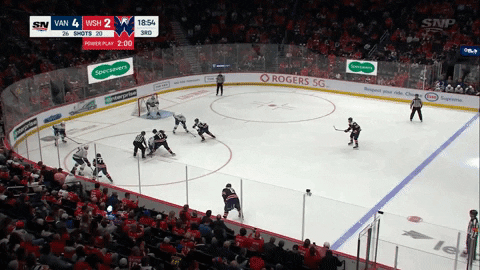 With Bo Horvat in the box for owning a hockey stick, the Capitals crashed the net on the power play and banged home the goal.
I don't know what to tell you, the Canucks' penalty kill is all over the map this season, with little to no structure on display. The Caps ended the night 2/3 on the power play, once again leaving us to wonder if maybe Jay Beagle was the penalty killing cheat code all along.
Now I know what you're all thinking, why don't they simply sign Carrie Nation to a contract because who's better at shutting down shots than her?
The answer is I simply do not know.
We'll go over more examples later in the article, but the Canucks could not leave their own zone with any consistency on the night.
Even when Noah Juulsen had more time than Marty McFly on his hands, he still ends up sending a pass that gets intercepted: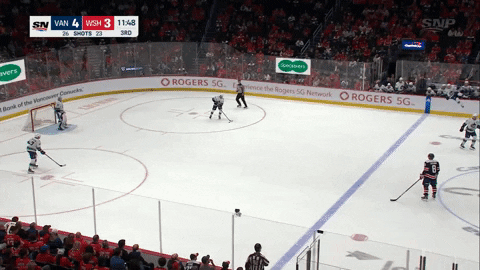 I bring this clip up because eventually that turnover led to another turnover, which led to John Carlson sniping this goal from a bad angle: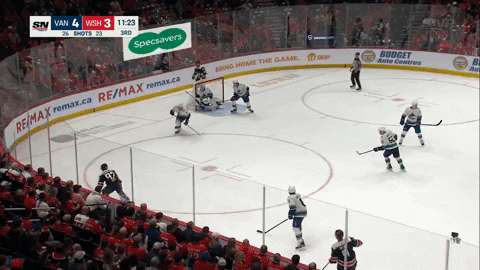 Normally Demko is very good at making himself look large in net, but here he goes full Felix Potvin mode and almost dares John to go top shelf where Mom keeps the pictures of her happy life before she had kids.
It's tough to rail on Demko when he's been one of the best Canucks players for several seasons, but when he's not on top of his game, all of a sudden those mistakes and turnovers this Canucks team is prone to make are going to haunt you.
AK96 continues to impress as he adjust to the North American game. There is something so straight forward about him because he honestly just seems to enjoy taking the puck into the zone and figuring out when he can shoot as soon as possible: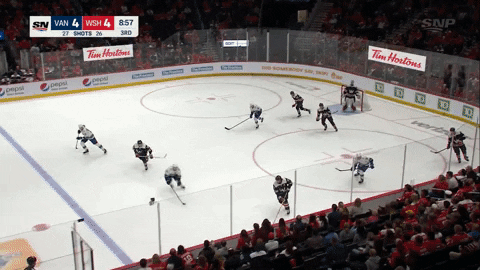 Of course the minute he hit the post in the third period, you knew the Capitals were going to quickly score. Such is life.
Best why fight the inevitable
This was probably the ugliest goal of the night from the Canucks' perspective, as they had their two best defencemen in Quinn Hughes and Oliver Ekman-Larsson on the ice, and they got carved up like it was US Thanksgiving: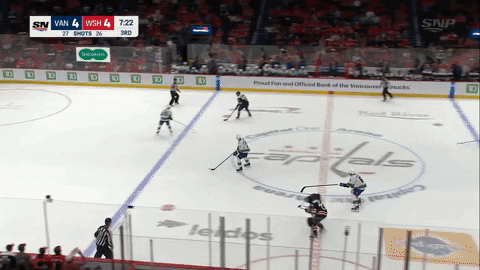 Quinn Hughes, for whatever reason, does not look dialled in this season. Add in the fact the Canucks are asking him to play top minutes, and the fact he's the guy who skates with the puck the most, and that's a taxing burden on him. If he is tired, or hurt, or mentally not in the zone, that burden is going to show up on plays like this, where he looks a bit behind the play, and in this case, where he completely lets Conor Sheary skate in behind him to tap in the game winning goal.
Part of playing so many minutes means you will get scored on and have more chances to be burned, but put me down as someone who thinks something is slightly off about Quinn Hughes right now. It also doesn't get any easier with a game Tuesday night, in a back to back situation.
As for OEL, he is firmly in late stage Alex Edler gap control there where he backs up 20 feet so at least nobody can skate by him, even if he is essentially defending a collection of ghosts. That goal could have easily have been John Carlson's, as the Capitals have two guys playing Rocket League trying to tip the puck into the empty net.
Spoiler alert: They did.
Kill it if you have to.
If you want examples of the Canucks looking exhausted, the last five minutes of this game gave you plenty of options.
You could almost hear the notes of An der schönen blauen Donau in the air as the trailer waltzed into the Canucks' zone untouched and almost put the game away with minutes left: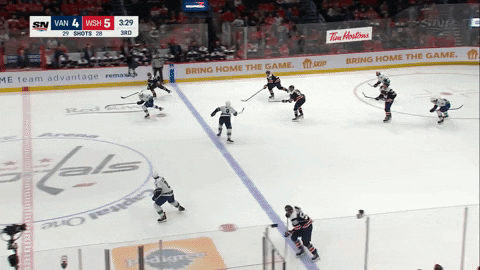 It would only take 30 seconds longer, however, for the game to be officially put away: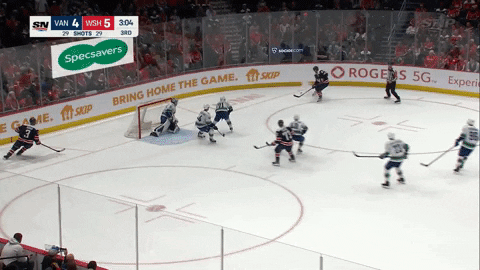 I mean.
Alex Ovechkin literally glides into the scene, barely moves his stick to redirect the puck in, and then bowls over Elias Pettersson, who for reasons unknown to all of us, barrel rolls on the spot.
It's like someone performed an upper cut and then all of a sudden here's Dan Forden on the screen shouting "Toasty!" and scoring a goal.
I cannot get over how easy Ovechkin makes this look on that second angle.
And that was it.
Game over.
Canucks lose.
Another blown lead.
Three in a row.
That's the kind of start that makes a team have players only meetings, to be honest.
That's the kind of start that makes you think a coach would never say they've been the best team every game.
Best DAWG
Just a reminder of what a DAWG play looks like, here's Kyle From White Rock, essentially the Canucks' number two d-man now, cutting off a two on one pass with a perfectly executed slip and slide: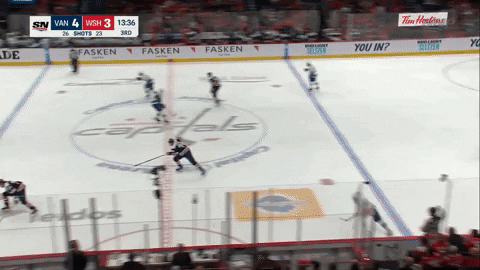 Chris Faber sent over the stats, and once again we see some trends continuing.
Top DAWGS:
Kyle Burroughs – 96.45
Curtis Lazar – 81.11
Nils Höglander – 80.41
Tanner Pearson – 80.19
I have to remind everyone, you don't need everyone to be a DAWG, and having a team full of DAWGs doesn't guarantee wins. You don't need everyone to be going raw DAWG out there.
I will say that Kyle Burroughs being the top DAWG two games in a row is not surprising. What is surprising is that apparently it's Kyle Burroughs season, and we're just here for the ride.
As for the middle of the pack guys:
Vasili Podkolzin – 69.61
Dakota Joshua – 64.98
Elias Pettersson – 56.09
Luke Schenn – 56.06
Andrey Kuzmenko – 48.02
Bo Horvat – 46.63
Quinn Hughes – 42.71
The only thing really surprising about that list is Luke Schenn, someone who usually has more DAWG in him, but it makes sense on a night in which I thought was his worst of the three games this season. If he isn't being a DAWG, then odds are he is having an average game because that is who he is. That is what he does. Without his inner DAWG he's nothing.
The worst on the team?
Connor Garland – 25.00
Brock Boeser – 24.54
JT Miller – 22.73
JT Miller once again the bottom of the team in the DAWG ratings, which is again, a surprising start for Jimothy. He has that DAWG in him, we know he does, but for whatever reason it hasn't been unleashed yet. Even worse, it's been sent to live on a farm and we haven't seen it in a while, so now people are starting to worry.
Elias Pettersson was by far the best Canuck player on the night. One of the major reasons? He can skate with the puck and run a Houston James Harden ISO-offense: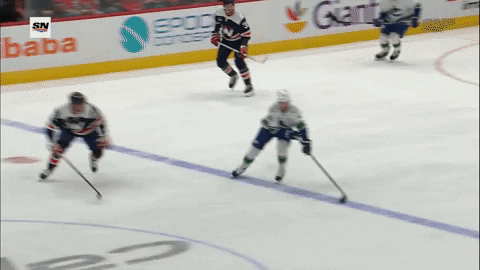 On a night in which the Canucks struggled to exit the zone cleanly, and resorted to an awful lot of dump and chase in the offensive zone, EP40 stood out head and shoulders above all of his teammates.
Even collecting the puck in the neutral zone, Elias was able to make a move to beat his man and generate a zone entry: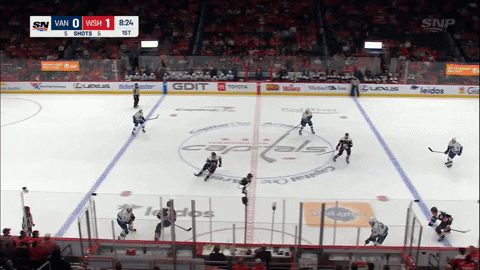 Aside from his puck skills, Pettersson was constantly hounding the puck, and he made sure that no puck was easily taken if he was in the vicinity:
And like we saw on the first goal, EP40 stayed engaged and skated near the puck and always tried to be an active participant in the play. Even if it was just him skating near the puck and waiting to see if he could jump in and steal it, it was noticeable all night long:
Again, he is not doing anything magical there. He is not going full Tyler Motte mode and just skating around like a maniac. He is simply staying engaged with the play and waiting to see if he can step in and make a play on the puck.
That's just good hockey.
Best show examples of your work
Okay, let's get to the ugly part of the game.
Remember those unforced turnovers we mentioned? Yeah, those happened. A lot.
Here's an example of Bo Horvat flubbing a pass, leading to a zone entry and a shot on net: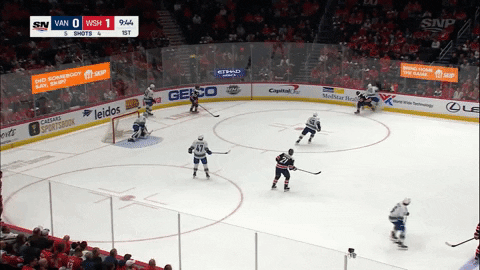 If that's Brian Rolston, that's a goal, but luckily, it was just Sheary.
Here's a clip of Garland, not much of an athlete, the moment's too big, forcing a soft back hand lob into three Washington Capitals like he's Daniel Nestor playing a singles match: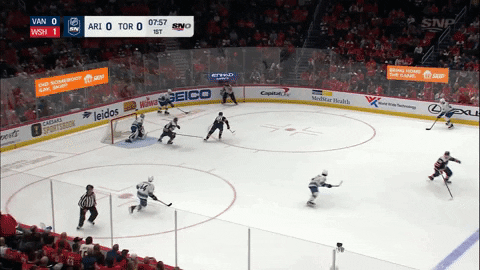 Riley Stillman is up next as he throws the puck around the boards for an outlet, but there is zero help from the Canucks' forwards, so it just ends up being a turnover: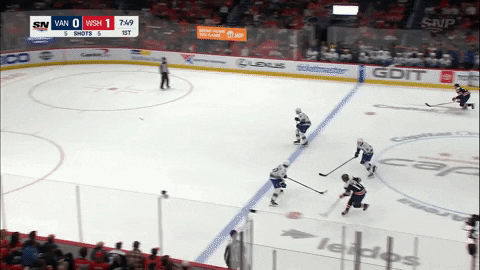 Luke Schenn wasn't immune to it either, as he banks a pass off the boards and watches as it gets intercepted: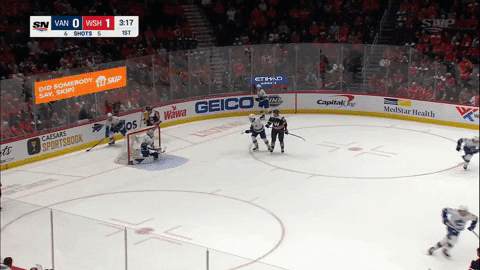 As I said, give the Canucks credit. During the first two periods they skated hard and did their best to minimize the damage of these types of plays. But it goes back to that old adage, work smarter, not harder, and if you're running around the ice all night trying to stop the boat from leaking, eventually it catches up to you.
Now there were some good things in this game as well. The veterans who have been in the spotlight had some good moments, aside from the goals.
Bo Horvat was driving hard to the net early and was going to the rough areas of the ice: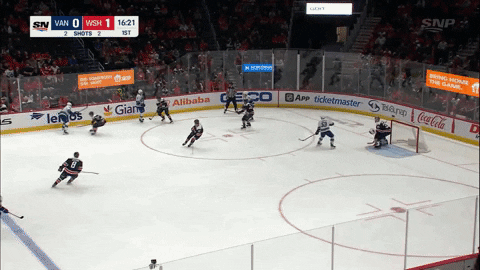 Bumpin' Bo also showcased his ability to generate good north/south rushes as he once again took the puck hard to the net, despite white balancing nightmares: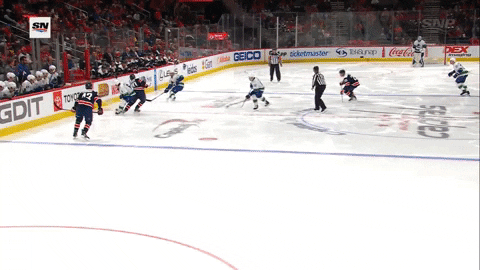 JT Miller, who openly discussed his desire to be better at back checking and the defensive side of the game, was trending in the right direction.
On this play JT Miller starts at the back of the line but this time keeps his feet moving and ends up getting the puck back: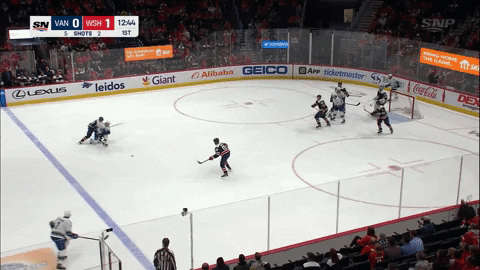 This is a great example of how it's not always about getting back and making a play on someone, sometimes it's simply about being in the right area so you can make a play on the puck or pressure someone into making a mistake.
Later in the game, JT once again made a good defensive play, back when leads were sacred and there were Starbucks on each corner of Robson: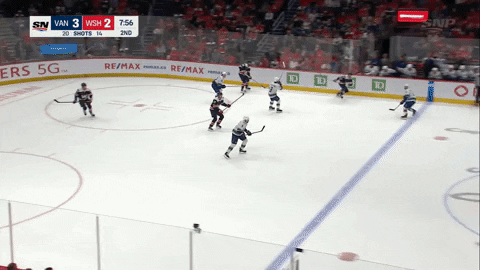 And while we don't have audio evidence of it, something tells me JT Miller was dropping some f-bombs in the scrum:
An engaged JT Miller is a good JT Miller.
As for Pearson, he almost tucked the puck in around Kuemper like he was Darren McCarthy on a mission: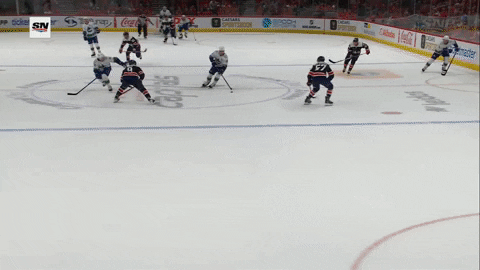 And Brock Boeser, well, he hit a post?
I know after an 0-3 start with three blown leads it's hard to see a lot of positives, but it did feel like the Canucks' hearts were in the right place in this game, even if their bodies weren't.
I'm including this so you don't accuse me of being a filthy liar, and e-mailing Quadrelli to demand I be fired for dare suggesting Quinn Hughes looked tired: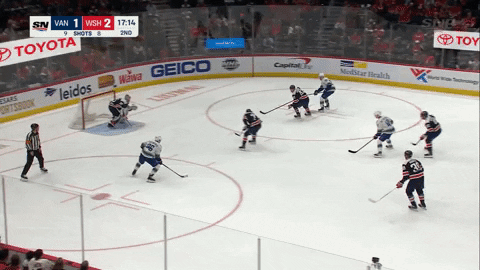 Give credit to Hughes for "accidentally on purpose" falling on top of Jensen at the end of that play.
Not that it was just Hughes, mind you. On this play Garland stops dead in his tracks and then Quinn Hughes once again resorts to the spinning lunging riposte, last utilized by a left-handed Dread Pirate Roberts: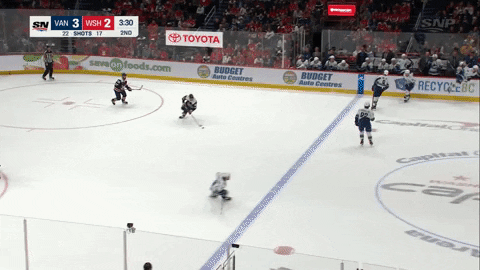 And just because JT Miller looked better this game, he still made sure to have one no look pass to nobody, leading to a rush against (which was thwarted by a back-checking Boeser!):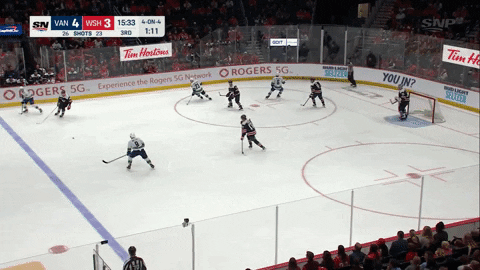 And despite being the best player for the Canucks, EP40 got into the action with a drop pass to Gerald Diduck: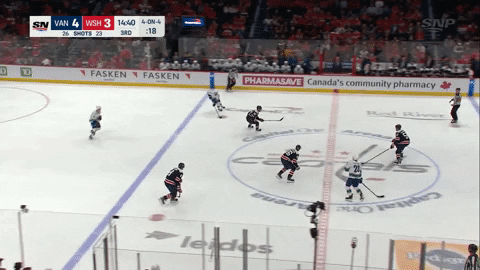 It was not a pretty game at times.
Best looking into the future
All the debate about Lazar or Höglander playing on the second line is probably a pretty moot point, since it's been set aside for a returning Ilya Mikheyev.
That being said, Nils Höglander has a bundle of skill, and if he gets going, the Canucks could have a pretty solid fourth line on their hands:
Höglander also almost scored on this two on one but because you aren't allowed to have happiness in your life, he couldn't convert it: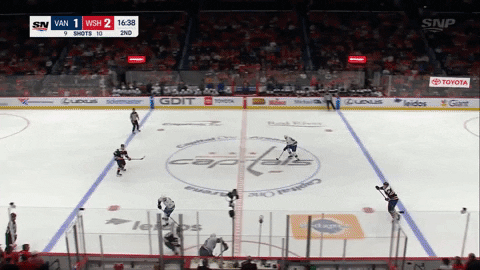 The Canucks' fourth line also had a shift of over two minutes in the Capitals zone at one point (with Luke Schenn looking off around a hundred shots, as is his way), so they've definitely showed some potential for that bottom line.
Best working for that Lady Byng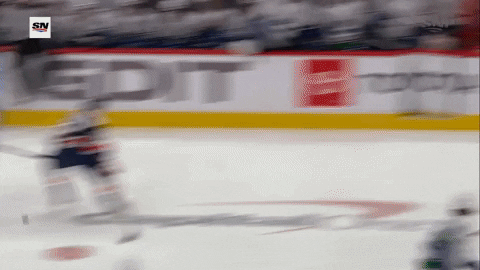 Good guy Elias Pettersson helping Connor Brown to the bench after being injured, give him the trophy now.
Since I am endlessly entertained by the fact Garland can make teams hate him so easily, here's a clip of Garland making another team hate him very easily: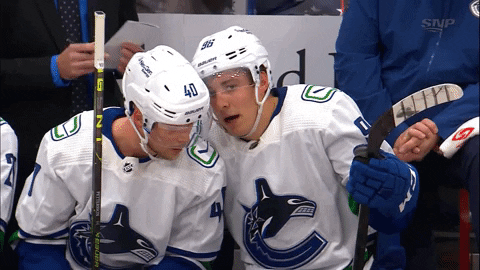 "Every year cherry blossom trees bloom and every year people take pictures of them? Why do people do this? The trees always look the same? I don't get it."
Best Bingo Bango Bongo goal
The Surrey Eagles will not be stopped.
Jake Bongo and Aaron Schwartz are the Crosby and Malkin of the BCHL.
There's something amusing about the Canucks' previous slogan of "Unfinished Business" disappearing two losses into a season. Which to be honest, full credit to them for getting rid of what was already a disastrous slogan to begin with, standing right behind the time No5 Orange tried using it.