The Stanchies: The Canucks Bear-ly eke out a thrilling victory over the Avalanche
Photo credit:© Isaiah J. Downing-USA TODAY Sports
Watching the Vancouver Canucks games recently has been a lot like watching a Jesse Eisenberg movie. I know what to expect from it, I just don't know what setting it's going to play out in.
Will the Canucks be an anxious, smirking arrogant magician? Or will they be an anxious, smirking arrogant social media founder? Or maybe an anxious, smirking arrogant pizza delivery guy?
The games have sort of melded together, which tends to happen when you watch a team blow multiple leads over the course of a season. You can't even mentally prepare for a winning hockey game, because the Canucks could be up 7-1 with 5 minutes left in the game and part of you would be like "ok hold on, they can still blow this."
And you wouldn't be wrong to think that! This team has excelled in finding multiple ways to lose games they should by all rights have won. They've seen a lot of 'shops in their time, they're somewhat of an expert in them.
So color me surprised when the Canucks did what looked like the impossible on Wednesday night by defeating the mighty Colorado Avalanche to the tune of 4-3.
Sure, The Point Maker Spencer Martin almost guarantees you're walking out with some victory sauce, but even then, the idea of Nate MacKinnon not trouncing the Canucks and making them a part of his personal YouTube collection seemed slim.
But win they did as the Canucks came together a game after losing in demoralizing fashion to the Vegas Golden Knights and pulled out an impressive two points. Made even more impressive by the fact they survived a 2-for-6 night power play by the Avalanche, and went scoreless on their own five power play chances.
So how did they pull it off, you ask?
Well you see, Elias Pettersson led a team of talented illusionists, and through a variety of trickery and hypnosis, end up stealing from the rich and giving to the poor, eventually leading to the Canucks stealing the lead from the Avalanche, but in fact, the lead was never stolen, it was behind a giant mirror the entire time, and you know what, just keep reading to find out.
The Canucks can't help themselves, they're still out here trying to get leads, and hold on to leads, and win hockey games.
The first goal of the game was a mere 21 seconds in, with barely enough time to get Dan Murphy's name bar off the screen as Ilya Mikheyev popped in a nice pass from Elias Pettersson: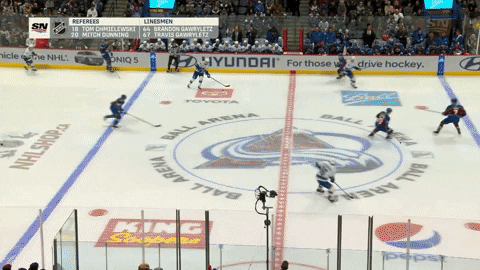 The Treaty of Värälä line has been the Canucks most consistent line all season, so it should be no surprise that they partook in the taking down of the mighty Avalanche, a team that Pat Quinn once called out for having a marshmallow defence, mere days before Colorado kicked Vancouver out the 1996 playoffs. This has been your "Remember that random insult from Vancouver management?" sponsored by Big Star Sandwiches.
That was partial sarcasm, Big Star didn't sponsor this segment, but I digress.
As for the goal, you could throw a bag of candy flaming knife with VX nerve gas globes attached to it (pearl formation, naturally) at Elias Pettersson and I would safely assume he could handle it and then somehow help score a goal with it.
Kuzmenkshow gets the assist doing what he does best, which is pulling up and buying time to locate EP40. And then Elias Pettersson does what he does best, which is to do something that at first glance appears to be lucky, but on second viewing is extremely calculated.
Again, if Elias Pettersson ran me over in his car on Robson street, I would assume he had good reason for doing so and that it would either result in a goal or someone's life being saved. He is without a doubt the smartest Canucks hockey player at the moment, carrying the Henrik Sedin badge with honour and I cannot count the amount of clips I have gone over where it ended with me whispering "oh that son of a bitch MEANT to do that" as if he personally set out to dupe me.
All of which leads to Ilya Mikheyev's shot which is decent and gets the job done. It's the Zombieland of his shot repertoire if we're being honest.
The best part of that goal wasn't the goal itself but the fact the Canucks almost ran the exact same play minutes later: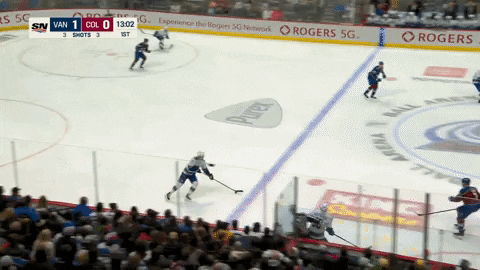 There's Kuzmenko pulling up and buying time until he can get the puck to Pettersson behind the net.
There's Elias dangling around and flinging a nice pass out in front to Mikheyev.
And then Ilya takes an average shot, which again, it's fine, but much like Zombieland 2, we're not sure it was needed?
Mikko Rantanen who scores against the Canucks more than Quadrelli does on third party Lego websites, tied the game up on a bit of a lucky play:
The luck part is when OEL goes to tip the puck away from the corner, and it squirts right by a surprised Aman and Joshua, allowing Lehkonen to sneak in and pick up the puck.
At this point the Canucks defensive pairing of Bear and OEL is in recovery mode, so Bear slides to help cover the closest open man (OEL's man), and then when OEL gets back into position Bear tries to skate back to his side, but by then Toews finds Rantanen in front of the net for the tap in.
OEL needs to lock down his man better than he does here, as he gives up the crease to Mikko and aside from having the ability to scream mean things into proximity chat, can't offer much else up in the way of defence.
Again, OEL initially is just trying to keep the puck away from the Avalanche in the corner and his wild stab at it surprises his two forwards near him, and then before you know it, Patrick Stewart has seen everything.
The Avalanche got their first power play goal of the game when Mikko Rantanen struck again, this time after the Canucks attempted to deal with Nate MacKinnon shooting the puck in their general direction: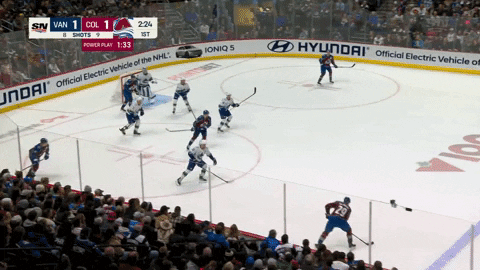 The Canucks penalty killing is what the Italians call "not very good", and the Avalanche power play is what the French call "very very good", so it's not shocking that this combination led to a couple of goals on the night.
The Canucks penalty kill at its worst is when it shrinks into a tiny cube and gives up room all over the ice but then somehow also manages to not be able to retrieve the puck when it ends up in their tiny little box of denial.
I mean, there is no dishonour in watching the Avalanche get power play goals, this is sort of their jam, but it's also been a season of watching the Canucks kill penalties and actually finding yourself wondering if Jay Beagle was underpaid during his time here.
Best throwback since the Sabres goathead jerseys
The game of "Which current Avalanche player matches up with a player from the early-mid 90s to mid 2000s Avs player that regularly murdered the Canucks" is a dark path.
Before you know it you're 8 players deep and you find yourself talking about Val Nichushkin being the the Wojtek Wolski of his time.
The only way to stop Luke Schenn from winning the Norris and Art Ross trophy is for the NHL to blatantly disallow goals in which he partakes in: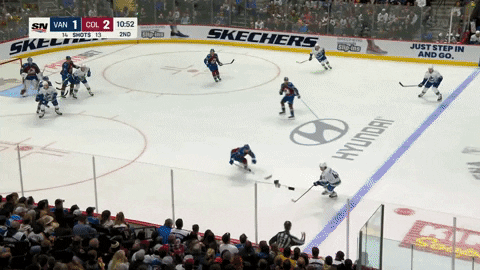 Once again Luke Schenn's offensive motto of "get the puck on net so I can safely retreat to centre ice and ready myself to staple someone into the glass" proves effective, as his toss on net results in Conor Garland making the kind of deft tip last seen by Mr. White.
At the end of the clip Avalanche goaltender Pavel Francouz heads to the referee to tell him how impressed he was by the hand-eye coordination of Conor Garland and to ask if there is somewhere where he can vote on goal of the week.
Alas, the goal was disallowed because the earth isn't ready for Luke Schenn to win multiple trophies in one year: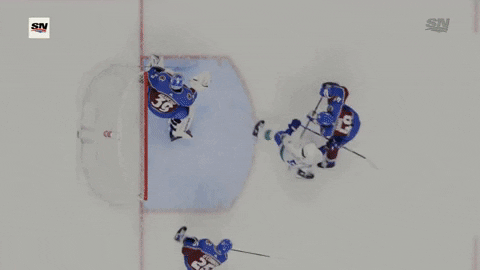 The call on the ice? Goaltender interference!
If you're confused, don't worry, that's par for the course on goalie interference. I've seen Roman Reigns spear Jordan Binnington and the goal was allowed, so it's not too surprising that on a play where there's debate on who initiates contact, the NHL deems what Vancouver did highly suspect and very illegal.
And this isn't a Canucks conspiracy angle, don't get me wrong, I save all of that for 2011. All I am saying is I have no clue what the NHL considers goaltender interference and I don't think they do either.
I will say to their benefit they've called this kind of play before, however:
It's the same sort of idea, the goalie goes to the top of his crease and it feels like Jarry initiates contact, but the NHL deemed it highly suspect and very illegal and waives the goal off.
So there is some sort of consistency there, even if it's hidden amongst a variety of calls where it feels like pirate guidelines are being used more so than rules.
The end point here is Luke Schenn was robbed of an assist.
Unfortunately for Canucks management, the last guy they needed to get the next goal was Bo Horvat:
Bogilny scores but not in the way Sam Bankman-Fried Garland did, as his path was ethically sound.
Once again Bo Horvat raises the value of his next contract to near Vancouver housing levels. It has been an incredible start to the season for Bo Horvat, as he continues the sizzling scoring streak he ended on last season.
We're now getting to the point where we have to ask the question: Does he score 60 goals, or merely settle for 50?
It's a fascinating scenario for a guy that was drafted more under the idea of his intense compete level and potential to be an elite third-line centre.
Izzy is correct, Tyler Minors has been in control most of the season, but as we saw last game, that Chaos Giraffe is starting to show up more and more.
Case in point? Tyler Myers giving the clearest textbook example of what a double minor for high sticking should be: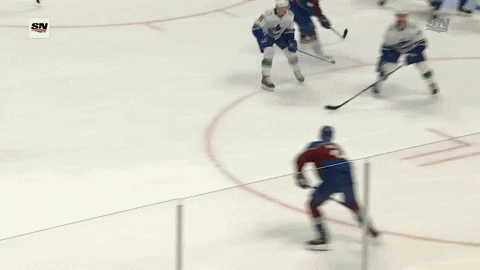 There is belief in yourself, and then there is CG57's belief that he is going to lift nothing but stick on that play. We should all be blessed to one day know what it's like to truly believe in something as intensely as Tyler Myers did in that stick lift attempt, in which he both completely misses the stick and instead absolutely jackhammers Mikko Rantanen in the face.
He tries to lift Rantanen's stick like there's a small child stuck underneath a car. I feel like I have to make it very clear as to how much power the Chaos Giraffe invested in this play. He actively engages on this play like he's battling Juan Sánchez-Villalobos Ramírez.
As a result of the well-earned four minutes of power play time, the Avalanche did everything they could to score. The only problem?
Spencer. Point Maker. Martin.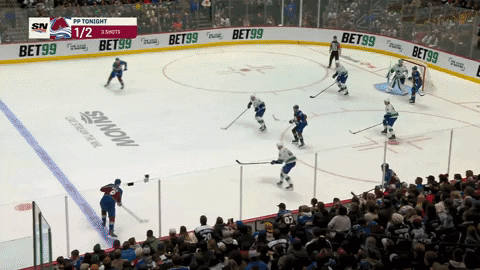 Every shot they took, every breath they took, he was watching them. And saving them. And stopping everything they tried to do. Goals? Stopped. Taxes? Stopped. Meaningful relationships in which you have deep conversations instead of guarded superficial small talk? Stopped.
If you ever hear an angry mob of people screaming every time Spencer Martin wins a game, it's because for years under Jim Benning people begged the Canucks regime to stop spending money at the bottom of the roster.
Brayden Holtby? Not needed.
Jaroslav Halak? Not needed.
A player on a cheap contract that Ian Clark can mould into becoming another cyborg robot goaltender soldier? Needed.
If you're a young tall guy who hates having delightful-looking goalie pads and are open to doing anything Ian Clark tells you, odds are you can have a job on the Canucks at one point.
Best you can only go so far
After killing off the first Myers penalty, the Canucks MMR was raised accordingly, and the Canucks were then given a two-man disadvantage after JT Miller gently tugged in the general direction of Lehkonen's gloves: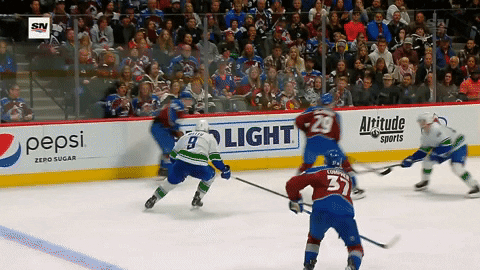 Look, I get it, the NHL has been calling this penalty over the last few seasons. Every time it happens I roll my eyes, but I get it, they really want to discourage sore fingers.
But in a league in which "game management" feels like an active part of the NHL officiating playbook, it feels mean-spirited to make this call. It's the kind of call you can make multiple times during the game if you should so choose, which gives it that ticky-tack feeling to it.
That being said, JT Miller needs to actively skate there instead of just using his vaunted thoughts and prayers approach to defensive hockey and no-look passes, as he transitions from a half-hearted one-handed poke check before transitioning into the two-handed finger tickler approach.
The Avs would then score their third goal of the game on a Cale Makar shot, who it turns out, is okay at hockey: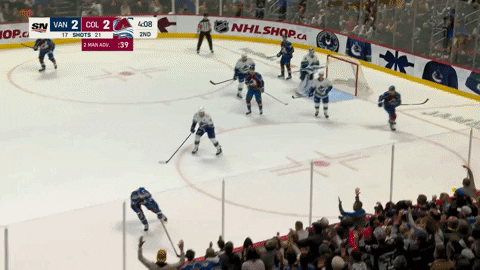 The Canucks' penalty kill gets enough grief that I don't need to admonish them for not killing off a 5 on 3 properly, as you can just chalk that one up to the fact Nate MacKinnon and Cale Makar are on the ice, so you're lucky they didn't get two goals.
Speaking of which, Nate almost got the second goal when he skated right through the entire Canucks team: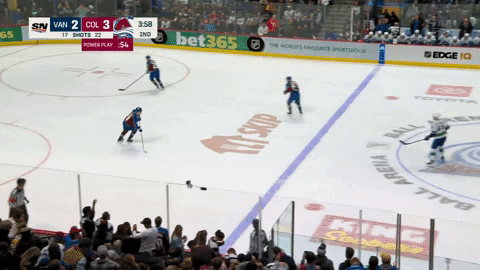 Again, one part of you wants to scream and point out everyone on the ice failing to make a play. The Canucks' defensive forward savant himself EP40 is left in the dust like someone waiting for Mike Paris to bring back the eggnog latte to Starbucks. The Canucks' best skater on defence Quinn Hughes is turnstyled so badly that he starts spinning out of control like a down helicopter, complete with a blade flinging off into the distance.
But then another part of you just wants to applaud the skill level of Nate and go "holy hell, this guy is good at hockey."
Best would you like Dries with that?
Speaking of revenge games, Spencer Martin wasn't the only one with money on the board against the Colorado hockey club.
The Green Bay Gambler legend himself Sheldon Dries, who spent several seasons with the Avalanche, returned to show his former club up when he managed to convert a rebound into a goal in the third period: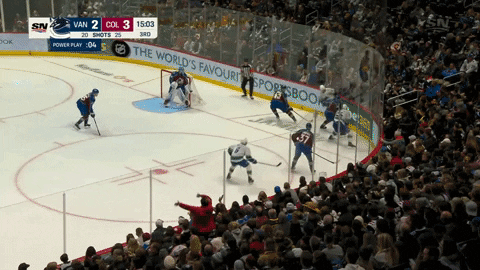 OEL gets an assist on this play even though it's an Avalanche deflection that sends it into the lap of Dries. Still, Luke Schenn approves any method of getting the puck to the net that is both safe and allows you enough time to skate to centre, so this assist is a worthy one.
Dries then sets up shop in the crease, lifts a stick without taking a baseball bat to the face of his opponent, and spins and wins into a goal.
That's what the Germans call a "good hard-working goal".
Before we get to the game-winning goal, we must point out why the game was being played four-on four at the time.
It was because Elias Pettersson got called for touching skates with another player: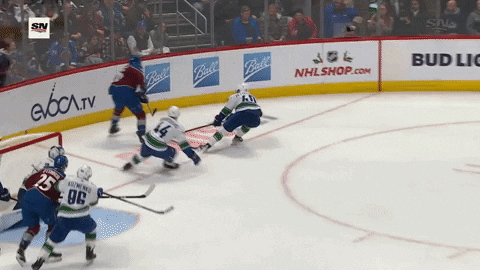 That's straight up just a battle of two men trying to slowly kick each other to death with Orange Cassidy-like power, but sure, let's call a penalty.
Luckily for Vancouver, the officials would even it out for the "I'm just walking here!" Cale Makar interference on Dakota Joshua: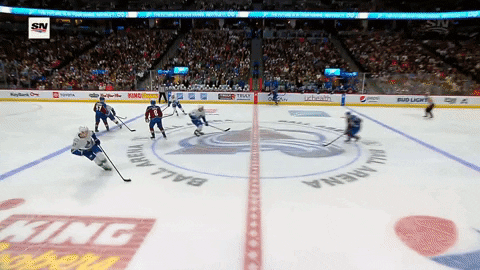 We in Vancouver know with full certainty that nobody shoulder checks like Joshua does, so he certainly knew where Makar was, but that's our little secret.
The end result? Ethan Bear dropping an absolute Sami Salo bomb on Francouz: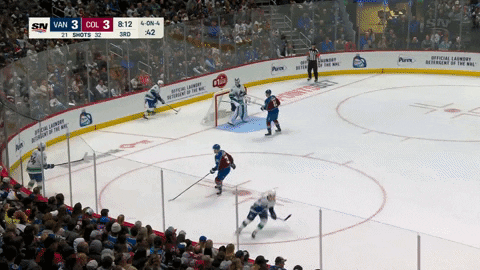 I assume it was later argued that the puck interfered with the Avalanche goaltender, but the goal stood, and Vancouver had the lead.
It must be said that Mikheyev's entire selling point was "he's the fastest kid alive" so seeing that put into action certainly helps sell his contract to this fan base. He beats out the icing in a way not seen since the days of Loui Eriksson, and then makes sure the puck gets over to a teammate, leading to the eventual clap bomb from Ethan Bear.
He didn't get an assist on the goal, but spiritually, he did. Statistically, Sheldon Dries got the assist instead, giving him a two-point night on his revenge tour.
Best look at the stars, how they shine for you
The only thing left in the game was the annual "How will the Canucks blow THIS one" event, except there was a wrench in that plan: Spencer Martin.
You want fantastic spread-eagled pad saves? You got it: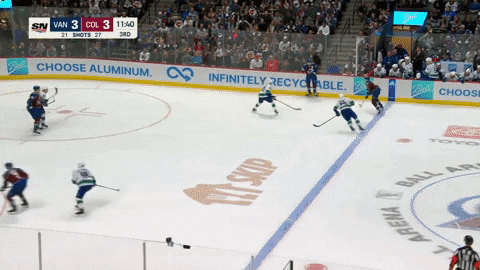 You want Tom Barrasso-like wandering from the net but with Bill Ranford-like recovery?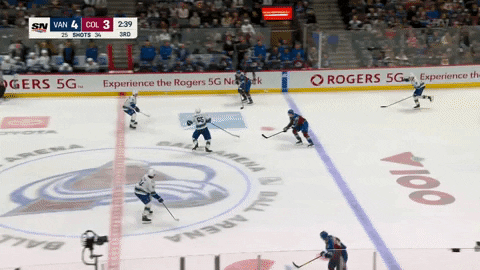 As pointed out to me by rugby legend Patrick Johnston, not the mayor of New West, but the guy who writes for The Province, that's Elias Pettersson throwing himself face first to try and block the eventual shot.
That's the kind of play that John Tortorella would give a rousing speech about as he rallied his troops from the nearest tax haven. It's wildly impressive but also, it kind of makes you want to talk about shot-blocking techniques with Elias?
Regardless, the will to win is there, which is something Spencer Martin showed when he stuffed the Avalanche's last real attempt at tying the game up:
Overall a fantastic game from the Canucks backup goaltender, and overall, an impressive win against a top opponent.
Even when Lehkonen went full Jim from the Office after getting a penalty with around a minute left in the game, part of you wondered "But what if…."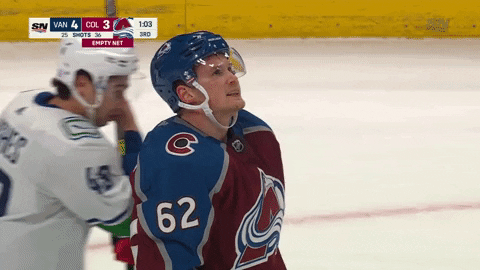 I like how the first thing people wondered was if the candy in question was Swedish based: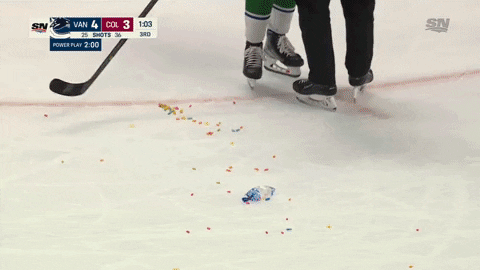 I want Brock Boeser to have the most unheralded 30-game point streak of all time.
Nothing but secondary assists and empty net goals here and there.
Best so you're saying there's a chance?
Best for your Hart consideration
Give Bruce credit, under his coaching, we have seen Elias Pettersson and Quinn Hughes take on penalty-killing roles and excel at it.
Not only does their high IQ allow them to help out with the penalty kill, it also helps keep them engaged in games in which the team might be mired in penalty troubles. No more sitting on the bench for 20 minutes while the Gravy Train Tyler Graovac steals your thunder.
And it's not just the penalty kill that has seen Elias Pettersson's defensive merit on display, it has been all over the ice at 5 on 5 that has showcased his brilliance. To the point that, yes, you honestly want to see him get those top match-ups against the opponent's best players.
His puck pursuit is relentless and if he doesn't have the puck, he's constantly in motion to try and make a play on it.
Here he misses the puck but makes sure to move his legs and get a stick in on Rantanen to make sure he doesn't get an easy shot off: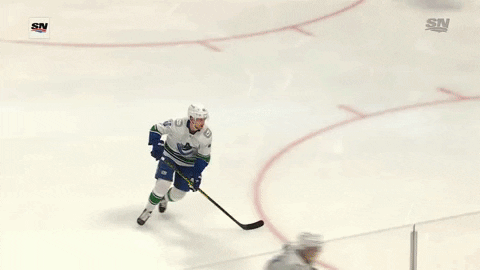 How many times do we see people just sit back and watch a play like this and hope the goalie makes the save? Elias Pettersson is always an active contributor to his team's defence.
In this clip he fails to clear the zone because he makes a soft no-look pass that gets easily taken by the Avalanche, before getting the puck back over to OEL, who promptly ices the puck: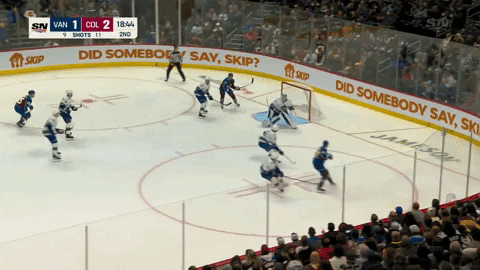 Oh my gosh I am sorry, that is a JT Miller clip, I don't know how this got in here.
Okay, this one is Elias Pettersson, and it shows why he is such a threat on the penalty kill. He knows where the puck is most likely going to be, so when he makes a play, it's a highly calculated situation. He is like Sherlock Holmes. By the time he's introduced himself to you, he knows why the kind of cologne you're wearing is clear evidence that you murdered four people a couple of days ago.
This is why his active stick is so lethal, because he can make good reads on the penalty kill which can lead to breakaways like this: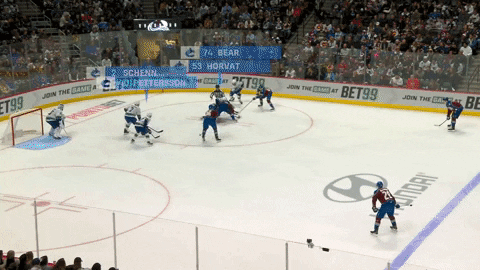 Other people guess, whereas Elias Pettersson deduces.
In this clip Elias Pettersson gives up a lot of room to the point and covers more of a general area than any player, and luckily clears the puck after it hits the post: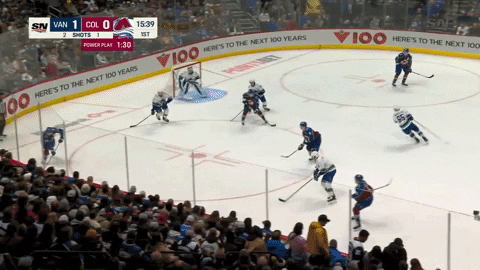 Oh my goodness, I do apologize, that was a JT Miller clip again. I have to fire our IT person, this is not acceptable.
Okay, here is EP40 on the penalty kill and in the time it takes JT Miller to set up shop in the middle of the ice so he can watch people pass the puck around him, he's hounded three players with the puck and turned it into a rush the other way: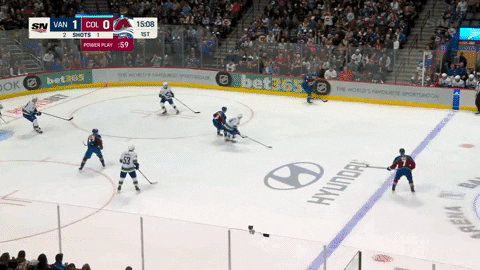 The main thing that stands out about Elias is he does not make life easy for any opponent he plays against. He isn't often giving you room to make a play at your leisure as he's often actively chasing you down and hunting you. He is Predator, yes, you read between the lines correctly.
If you give people all the time in the world, even the worst of players will be able to make the nice play. The practice squad players thrive in those scenarios. Take away time and space? That's what separates the skill levels in the NHL.
And one last great example of the Treaty of Värälä line's effectiveness:
Once again you see their endless puck pursuit, but you also see their puck support. If one guy gets beat, there's another lined up to jump in. They hound the Avalanche the entire time they're in the Canucks' zone and eventually it leads to a clean zone exit because, and this is important, the puck support is there. Nobody blows the zone early, nobody is taking it easy, and everyone is pitching in to play solid defence.
That, my friends, is what the Australians call "the good stuff."
Yes because it's clear when he drops to one knee that he's making an oath to protect the realm from enemies, both foreign and domestic.
Best bombing it from the point
Blocking shots comes with a simple price: Pain.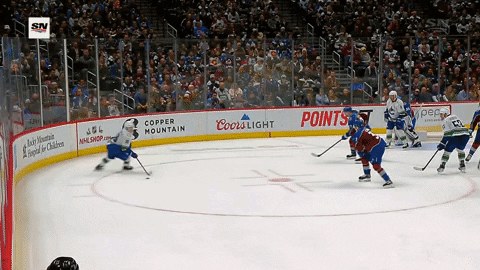 Hughes doesn't inspire fear in the way that Sami Salo's shot did, but any NHL shot to the inside of your knee is going to be a painful journey.
Besides, why shoot when you can walk the line like young Quinn can?
Best Gordon Bombay theorem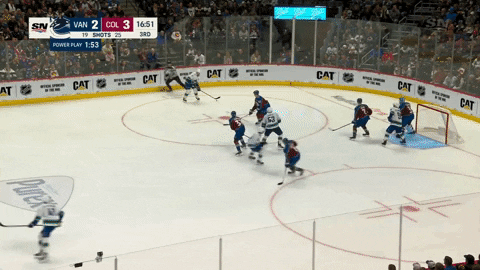 Best much ado about nothing
Look, that doesn't always happen-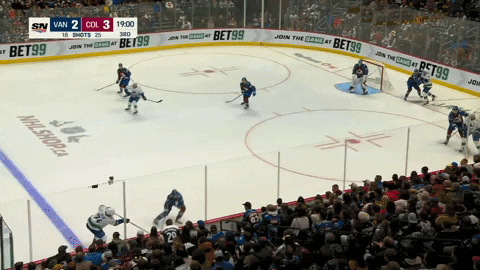 Ok ok, but to be fair, Höglander's pass to the point was solid, it's just OEL couldn't do much with it.
What about here when-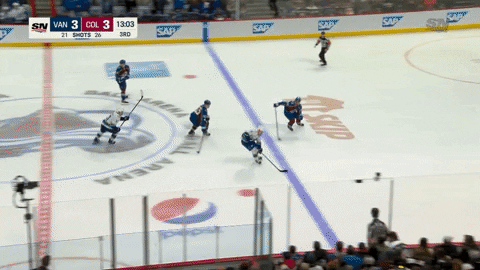 Okay, fine, fair point.
I remain committed to the idea that hiding in plain sight of Tyler Myers is the NHL forward he is meant to be.
I never see him be more effective than when I watch him crash the net and cause havoc in the crease: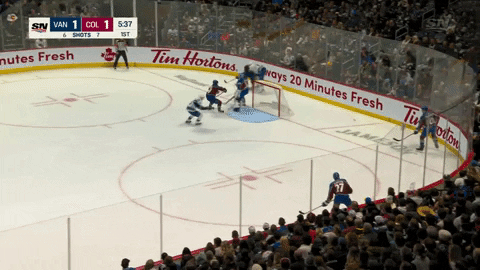 It makes sense, he's a chaotic giraffe, why not park that in the other crease instead?
The DAWG ratings, let's keep it short and simple.
First, admire and take in that Curtis Lazar hit.
Second, here are the top DAWGs:
Kyle Burroughs – 88.69
Sheldon Dries – 80.70
Elias Pettersson – 72.98
Yes, you read that correctly, Kyle Burroughs played and Riley Stillman sat out, which explains why I had no video clips of someone trying to bomb it down the middle of the ice through five opponents.
Mid range DAWGs:
Ethan Bear – 66.77
Ilya Mikheyev – 55.81
The CAT:
Oliver Ekman-Larsson – 16.02
Biggest shock of the night? Luke Schenn at a paltry 39.34.
Next game? The re-match against Vegas.
Can the Canucks do the impossible?
I will see you then.