The Stanchies: Bumpin Bo's effort, Garland's scratch, and the rise of EP40 as the Canucks' first line centre
Photo credit:© Russell LaBounty-USA TODAY Sports
"Oops, I did it again
I played with your heart, got lost in the game Oh baby, baby Oops, you think I'm in love That I'm sent from above I'm not that innocent
You see my problem is this
I'm dreaming away Wishing that heroes, they truly exist I cry, watching the days Can't you see I'm a fool in so many ways But to lose all my senses That is just so typically me"
Folks, the Vancouver Canucks lost another game.
Not just that, they blew another multi-goal lead en route to their fourth straight loss to open the new season.
Like the Canucks, we're giving our starter Wyatt Arndt the night off for load management purposes, so tonight, you get me (with help from Chris Faber and the Gif Master General himself Lachlan Irvine).
Best this was a coaching decision
Before the game even got underway, we had some lineup related drama as every reporter in attendance at Nationwide Arena rushed to tweet out that Conor Garland and Kyle Burroughs weren't on the ice for warmups.
Shortly after those initial tweets, PJ reported that Garland's absence was a coach's decision, and wasn't injury related.
Our only question is, how could Patrick do this?
As you may have guessed, folks weren't too pleased with Garland being out of the lineup for this one.
The actual man behind the decision, Bruce Boudreau, spoke about the thought process behind sitting Garland out for this game.
"We've just got to be accountable," said Boudreau. "The way we played [in Washington] I could have taken a lot of guys out, and I chose him."
Yup, yup, okay, this is fine.
Vasily Podkolzin, folks.
First shift of the game.
First hit of the game.
Here. We. Go.
Best Å-man that's a bad pinch
This pinch from Nils Åman early on wasn't great.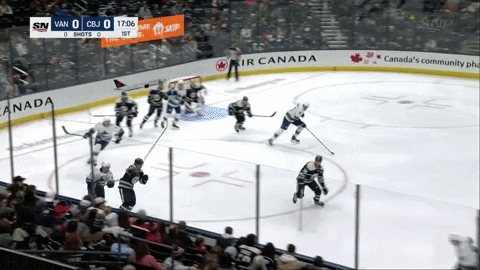 Åman did the right thing by covering for the defence — something you always need to be ready to do as a forward when Tyler Myers is on the ice — who had jumped up to help out the offensive efforts.
Once there, though, he — in the words of John Shorthouse — gambled and lost.
And, folks, Nils Åman lost big time.
If it weren't for Spencer Martin's Demko-like first save of the game, we may be talking about Åman in a similar way we're going to be talking about Mathieu Olivier shortly.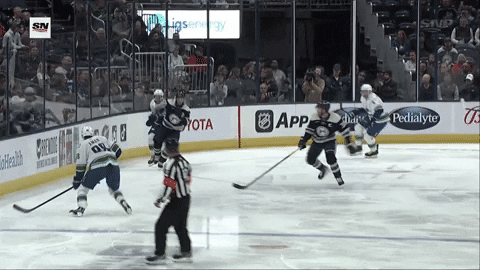 Best sorry, who got the penalty?
The Canucks' coin-flip penalty kill hopped over the boards for the first time early in this one after Dakota Joshua was dumped to the ice and went headfirst into the boards.
Curtis Lazar's Salmon Arm insticts took over and he was quick to jump in to defend his teammate who was slow to get up.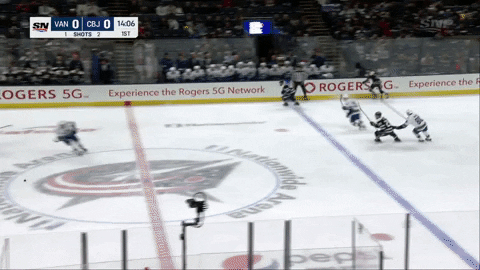 Lazar was the only player assessed a penalty on the play, which was confusing, not because it was the wrong call per se, but because the whistle didn't go when the Canucks gained possession of the puck. In fact, Nils Åman even managed to get a shot on goal before the whistle went.
Anyway.
Best change your PK personnel, change your life
The Canucks' penalty kill has been bad to start the new season.
And yes, the date we're writing this is October 18th, 2022, not 2021.
As Rob the Hockey Guy astutely pointed out this morning, the penalty-killing duo of JT Miller and Curtis Lazar have been on the ice for the most power play goals against of any Canucks forwards.
And tonight, they were split up, and it immediately led to a shorthanded goal FOR the Canucks.
That's right, the Canucks SCORED a shorthanded goal.
While on a PK pairing with Bo Horvat, Elias Pettersson led the Canucks' efforts up the ice on a 2-on-1, and made the absolute perfect pass right onto the captain's tape.
Horvat, desperate to not have to tell media that the Canucks losing their fourth straight in Columbus is just as "unacceptable" as the previous three games when they blew leads were, made no mistake and pulled the trigger right away to beat the agile Latvian goaltender Arturs Silovs Elvis Merzlikins glove side.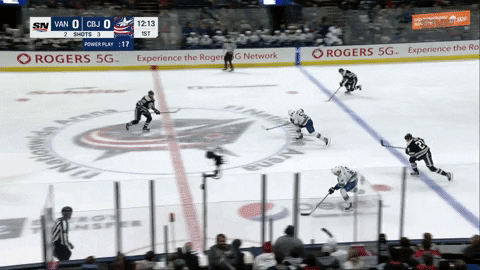 Best just get it towards the net
Vasily Podkolzin, who as mentioned, was engaged right from the get-go in this one, worked hard along the boards to force a turnover, found the loose puck in the slot, and instead of waiting too long, lets a shot rip wide.
But you know what they say.
Get pucks on in the vicinity of the net, and good things happen.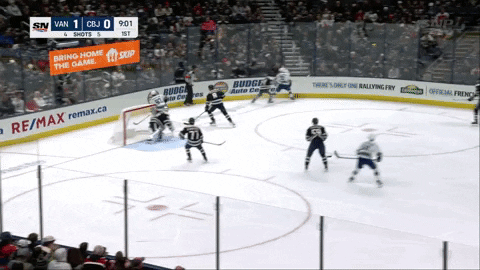 That's Elias Pettersson with the goal, for those keeping score at home.
But more on him later.
Best no doubt about it, I am ready to get hurt again
Alright, it's time for me, Chris Faber, to tag in and handle the DAWG ratings.
Without Kyle Burroughs in the lineup, there was an opening to be filled with a player showing that they had that dawg in them.
Tonight, we saw a few players show extremely well after being run through the DAWG formula.
Coming in as the top dogs:
Curtis Lazar — 95.71
Vasily Podkolzin — 85.91
Elias Pettersson — 68.36
Luke Schenn — 65.11
Lazar wasn't spending a lot of time with the puck tonight as he was on the ice for seven shots for and 15 against at five-on-five. In his short time spent in the offensive zone, he was able to generate some high-quality scoring chances and blocked a few shots while also getting involved physically. He took some bumps along the way but that's what a dog does. His 95.71 came in as a bit of a surprise after running his numbers through the formula but he did have a pair of shots on net as well as a couple of scoring chances during his 9:49 of five-on-five ice time tonight.
Vasily Podkolzin had a strong game and I expected his name to top the list in the game. His 85.91 is very respectable and it comes from how physically involved he was. Yeah, he might have taken the worst of a couple hits but that'll happen to even the best DAWGs.
Luke Schenn was Luke Schenn. He's basically an automatic 60+ every night.
As for Elias Pettersson, I though he could have found himself in the 70+ range tonight. It's tough for Pettersson to really get that high of a DAWG rating because of being more of a skilled player. Seeing him come in around 70 is actually very impressive. You don't need Pettersson to be your top in the DAWG ratings, but tonight, it did feel like he was as engaged as we've seen him this season and was one of the top dogs for the Canucks.
The mushy middle had some notable names:
Bo Horvat — 56.47
Tyler Myers — 45.65
Nils Höglander — 43.09
Brock Boeser — 41.00
Ilya Mikheyev — 40.00
Both Mikheyev and Myers had fine showings in their season debuts. I thought that Mikheyev might have scored a bit higher than a 40.00 but the formula doesn't lie.
It was great to see Horvat have a higher rating in the game. He played his best game of the season in my eyes and deserved the bump from the DAWG formula after being a bottom-feeder through the first three games.
Dogs who don't get a mention:
Dakota Joshua — 34.64
Andrey Kuzmenko — 33.55
Tanner Pearson — 33.55
Riley Stillman — 31.81
Quinn Hughes — 31.76
Nils Aman — 31.74
These dogs were pretty meh.
Bottom of the barrel dogs:
Tucker Poolman — 31.34
J.T. Miller — 30.99
Oliver Ekman Larsson — 26.00
OEL came in pretty low tonight but has been a surprise over the rest of the season. It wasn't a great day for him but I don't know if he was necessarily the worst DAWG tonight.
J.T. Miller is consistently finding himself at the bottom end of this formula and honestly, I built the formula, and Miller should be scoring much higher when I see the stats that I'm tracking and mathematizing to get to the final rating. He's been bad and the DAWG formula is backing it up here.
Tucker Poolman likely won't score very high in this formula. He has simply not proven to us that he has that dog in him since he's come to Vancouver. That's just what's up. I don't make the rules, I just made the formula.
Now, back to Quads for some 2018 throwback mention of iCarly.
Luke Schenn is taking no prisoners on his quest for 3000 hits (this season alone).
Mathieu Olivier, not much of an athlete, the moment's too big for him, found himself on the receiving end of a hit from Schenn and immediately got up and grabbed onto Schenn's jersey.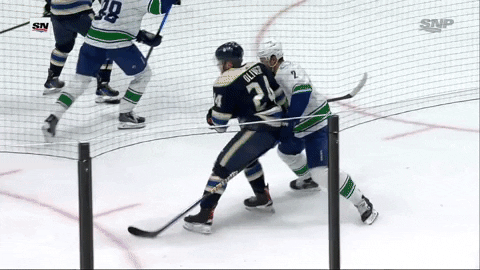 The two exchanged words after the fact, and eventually dropped the gloves:

Best just don't blow another multi-goal lead, please?
Heading into the third, the Canucks held on for dear life to a 2-1 lead.
Columbus came out firing early, and again, Spencer Martin was up to the challenge early.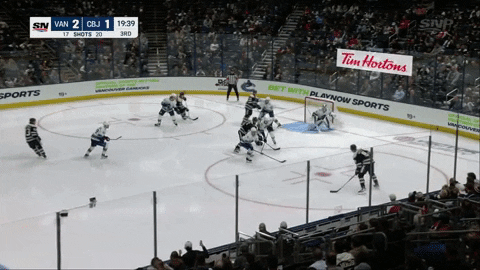 More on that later.
Best oh f*** oh f*** oh f*** no no no no
It's 2022.
Tyler Myers is in the second-to-last year of the highly-criticized five-year contract Jim Benning signed him to in 2019.
Not only were Canucks fans absolutely ecstatic to get him back in the lineup, they held their collective breath at the thought of him having to miss more time after he was hunched over from blocking a shot early in the third period.
Imagine reading that sequence of words in 2019.
Myers got right out to the point to challenge the shot, and appeared to take the puck off his wrist.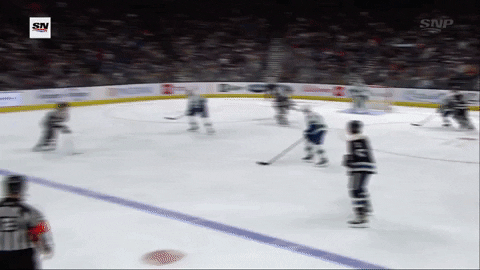 Thankfully, and we mean VERY thankfully for this team's hopes of ever winning a game again, Myers was right back out there and appeared no worse for wear.
Best the refs don't know the rules and neither should you
The Blue Jackets pulled off the inevitable and tied the game in the second period.
And as you may have guessed, they did it on the power play.
What was interesting is that basically everyone in the building and those watching  from home picked up on the fact that the puck hit the netting about a minute before the goal.
We had all the hits.
Players pointing up to try to tell the referees what had happened? You bet.
The broadcast team wondering why play hadn't been stopped? Check.
General confusion? Oh yeah, lots of general confusion, baby.
Anyway, here's the goal, that ended up counting: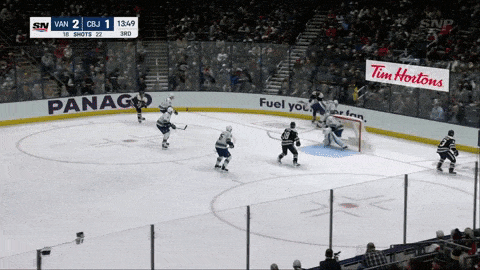 Doing his best impression of Clay Stevenson in 2019-20 with the Coquitlam Express, Martin closed off the bottom of the net with ease all night and generally looked incredibly calm in his crease.
His ability to quickly get his left skate to the post here illustrates that calmness quite well: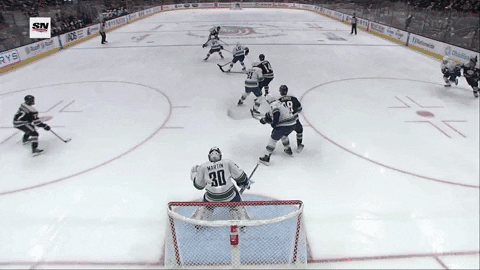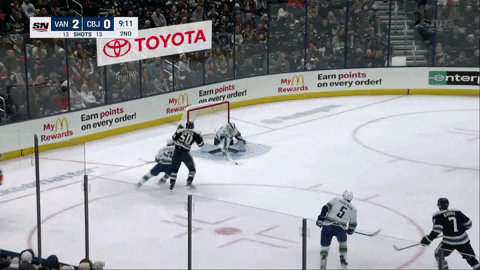 Martin completely revitalized his crease movement last season, and looked solid tonight.
Fans and the Canucks alike are hoping that Martin can provide adequate goaltending on nights when Thatcher Demko needs a day off.
And tonight, he had a pretty good night.
Best I don't think Ian Clark will like that
Spencer Martin is still relatively unproven at the NHL level, and is determined to prove to everyone that, after a season of reimagining his game under Ian Clark and Curtis Sanford out in Abbotsford last season, he's ready to be an NHL backup.
What you don't want to do is kick a rebound out right in front of your crease so that it's juuuustt out of your reach.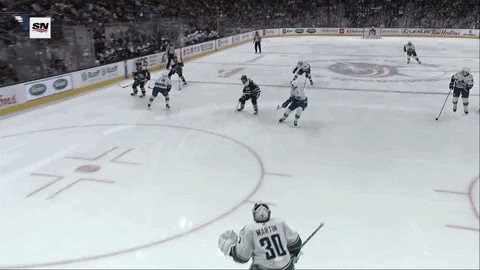 The good news?
That was one of Martin's only mistakes on the night.
The bad news?
The other one resulted in a goal.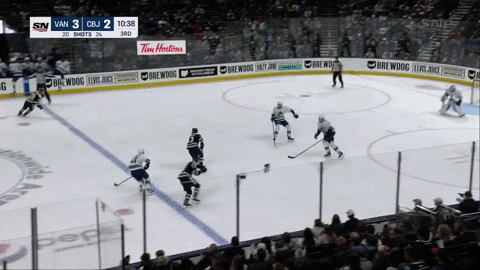 Looking like Alex Burrows against Boston in overtime, Johnny Gaudreau drives wide and just like everyone in the building at Rogers Arena did back in 2011, everyone knew what was coming next.
The Burrows goal was a nice goal, but goaltending has evolved plenty in the past 10+ years.
It's evolved to a stage in which these types of goals aren't super common.
Anyone who's anyone knows that post integration and sealing off tight spaces in the net is all the rave, and Martin's, by his own admission here, knows he screwed up.
"Yeah, that's an error by me, I lose my footing, try to make up for it, and he ends up beating me to the far post," Martin said post game.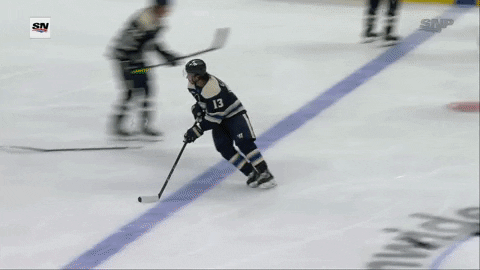 It's a tough goal for Martin to allow in what was otherwise a strong start for the Canucks' new backup goaltender.
Bumpin' Bo is tired of your criticisms that he hasn't been working hard this season.
While battling for position in front of the Columbus goal, Horvat inadvertently redirected a Tucker Poolman point shot into the net, allowing Canucks fans to believe in something again.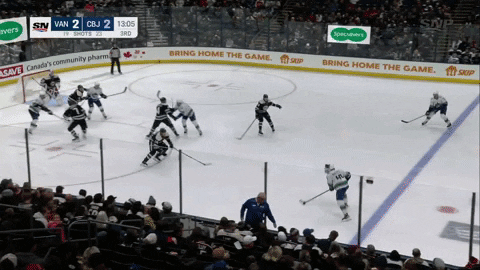 Sure, it's a lucky goal to some extent, but you've got to be good to get lucky.
Later in the period, with the game still tied, Horvat displayed the exact kind of hustle you'd expect from the captain of an NHL team.
I mean, look at this back check that Horvat immediately turns into an offensive chance: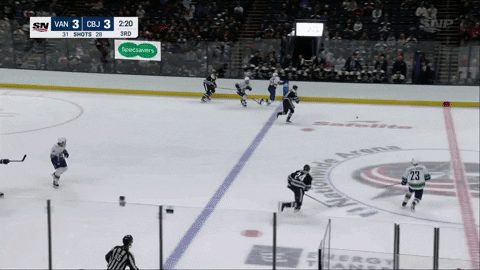 Horvat was one of the Canucks' hardest working players tonight, as he should be on most nights.
Bumpin' Bo's two goal effort tonight was a perfect representation of leading by example, and should silence his critics, who were getting louder and louder after each of the Canucks' first three losses this season.
Best Luke Schenn bulletin board material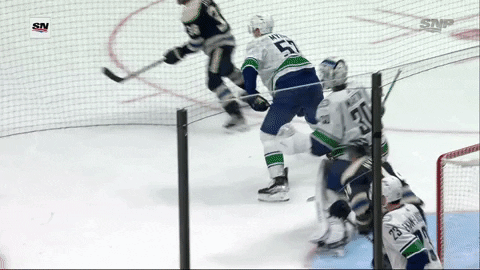 Luke Schenn will find you, and he will hit you.
It's inevitable for most, but you practically guarantee your chances of getting hit by Schenn when you so much as breathe on a Canucks goaltender or Quinn Hughes.
That bump on Martin by Gustav Nyquist earned the Canucks a power play late, but despite multiple chances, the Canucks' man advantage personnel couldn't solve Merzlikins or the Columbus penalty killers.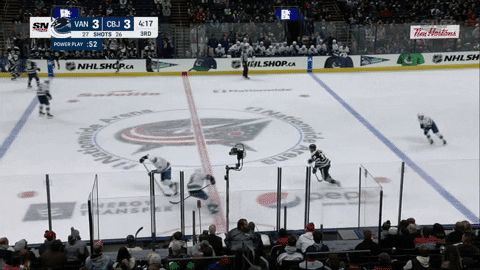 Best opening sequence of overtime
It all started with Elias Pettersson and the speedy Ilya Mikheyev bursting into the Columbus zone on a 2-on-1.
With shades of his first career goal, Pettersson wheels in on the right side and shoots high blocker, trying to beat Merzlikins far side. Technically, he does but Pettersson's shot finds the wrong side of the iron and quickly sends the Blue Jackets back the other way.
Columbus managed to turn that into a 3-on-0, and somehow couldn't convert as Zach Werenski shot the puck over the goal.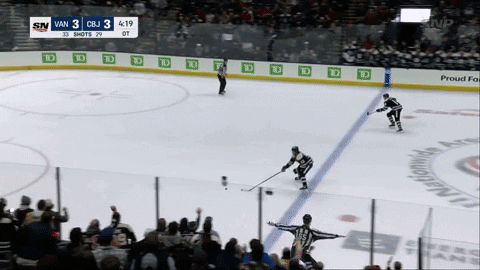 They did, however, capitalize on this one just a few minutes later.
After Monday night's loss to the Washington Capitals, the Canucks became the first team in NHL history to lose their first three games of the season by blowing multi-goal leads in each.
Clearly not wanting their record to ever be broken, tonight, the 2022-23 Canucks became the first team in NHL history to start 0-3-1 after blowing multi-goal leads in each game.
That's four losses and no wins in at least two very winnable games, for those keeping score at home.
We don't know what the answer is, and if anyone out there finds it, they should immediately tell the Canucks what it is, because they certainly haven't found it yet.
Best yeah, I'm thinking I'm back
Elias Pettersson being quick to pick up the scraps on the wide Podkolzin shot resulted in his second point of the night as EP40 continues his torrid start to the season.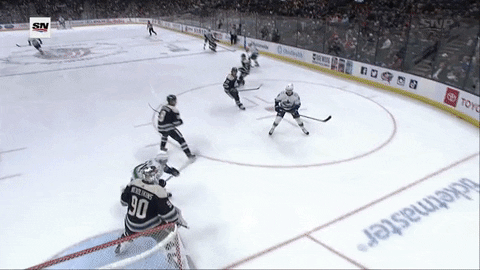 In a season where basically everyone, Pettersson included, talked about the importance of getting off to a good start given the events of last season, Pettersson has certainly held up his end of the bargain.
That's three goals and three assists through four games for EP40, as he drags this team into the fight.
And more interesting and telling of just how on Pettersson is right now was his deployment.
Tonight, Pettersson spent 10:12 of even-strength ice time against Johnny Gaudreau and the Blue Jackets' top line alone.
The total ice time for the Canucks' three top centres tonight?
J.T. Miller: 18:15
Bo Horvat: 20:42
Elias Pettersson: 21:25.
Make no mistake about it. Elias Pettersson was this team's first line centre tonight.
Best life comes at you fast