The Stanchies: Bogilny's sustained run, Pettersson's save, and Luke Schenn rides again
Photo credit:© Bob Frid-USA TODAY Sports
Just gonna stand there and watch me burn?
Well, that's alright, because I like the way it hurts Just gonna stand there and hear me cry? Well, that's alright, because I love the way you lie I love the way you lie
The Vancouver Canucks' 5-4 loss to the Vegas Golden Delicious Knights on Monday night was a perfect example of the framing of context. No, not framing context for a murder it didn't commit, but how context can help shine a light on the DNA of a moment in time.
For example, the Canucks had a wildly entertaining game against one of the top teams in the NHL. They had multiple leads, they had a camera lens go rogue, and they looked like they might beat the mighty Vegas hockey team. Without context you might think that's a plucky effort from a young team trying to put it all together. It's the old "well hey, we can learn from this loss, and become bigger, badder, and stronger than ever. Soon we shall be the one who knocks." sort of deal.
But the last time the Canucks were a good team with a solid core was 2011, and if we're being generous, the rotting corpse of 2011 in 2012. That President's Trophy still counts, baby!
My point is, and I proudly quote Staind here, "it's been a while" since the Canucks have had a good team. Or a good future. Or a management team with a cohesive long term plan. Or been able to hold their head up high. Or stand up on their own two feet again.
And during that lengthy stretch of time, the Canucks have lost the benefit of the doubt. The benefit that they know what they're doing. The benefit that they have a plan that is going to work. The benefit that they will actually turn this team into a consistent Stanley Cup chasing team.
Which is why a game like the one against Vegas is fun in theory, but instead is just another shining example of how this team keeps going in circles.
Remember the year 2000? Not only did it give us the greatest Canadian song of all time in B4-4's Get Down, but the Canucks were also finally clawing their way out of the dark years of he who shall not be named.
It felt fresh and exciting to see that young core push for the playoffs. The original West Coast Express of Bertuzzi/Cassels/Naslund was leading the charge, and Bob Essensa was doing his best to warn the city that he was their last good hope in net until 2006. Artem Chubarov's car was still parked peacefully in GM Place. The Sedins were just starting the rise of their cycling career, and even though there were bumps in those early days, it was still exciting to see what they had in store for us. And Mike Stapleton, man, I don't even have time to get into the era of Magniloquent Mike. The fact he doesn't have a statue in this city yet is an article for another day.
I still get chills thinking of Richard Loney singing the American anthem in game three of the 2001 playoffs, only to rip off his jacket to reveal a Canucks jersey on as he sang the Canadian anthem. The crowd cheered louder than if a goal had been scored. The city was INTO this team, they couldn't get enough of them. Even when the Avalanche swept the Canucks right out of the playoffs, that 4-3 overtime loss in game three was the kind of game that made fans believe. The kind of game that made fans think "hey, maybe we have something on our hands here!"
Fast forward to today, and the Canucks have something on their hands, but it's a pile of garbage. And instead of well constructed team, it's a pile of garbage. And instead of the end of the game, it's the end of time, and garbage is all that has survived.
Because there is no future to sell to the fans. The current future is busting his ass being one of the best two way players the Canucks have ever had, and all you can think about is if Pettersson's counting down the clock until his contract is up. Instead of thinking about how you can surround Quinn Hughes with talent, you're straight up debating the salary benefits of trading Myers for Zaitsev. Not the sort of the thing that really inspires hope and confidence in the future.
Which is why in a vaccuum, honestly, Monday night's game was a hell of game. I had a ton of fun watching it and I will have a ton of fun writing about it. The camera goal alone is going to become the stuff of legends in Canucks lore, and I love that stuff.
But then you think about the next game against the Avalanche. And then the game after that against Vegas again.
And you can't help but wonder, what is the end game here?
Are the Vancouver Canucks here to win a Stanley Cup?
Or is this fan base just lining the pockets of a rich owner who once openly bragged about the champagne problems of having too many good players?
Or, and this is a solid back up theory, is this fan base just lining my pockets with gif money, because gifs don't care who wins or loses?
We shall see.
Listen to this while you read this article. You can thank me later.
Or you can get down on me, whichever you want.
The Canucks' fourth line with Curtis Lazar back in the mix has been an intriguing line to watch as of late. And even though Vegas dumpster trucked the Canucks' fourth line, the Knights did the same to basically the entire Vancouver team on the night, so at least they weren't alone in that regard.
But Dakota Joshua in particular has stood out to me, not just for his solid forechecking acumen, but because of his ability to make sneaky good passes on the sly when everyone thinks he's already in bed.
First up, though, is his forechecking on the goal that didn't count because the Canucks were offside back in like 2018: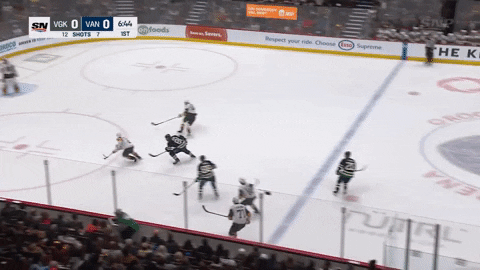 He hounds the puck and makes sure to keep a close gap on his check. As a result he's able to keep the puck deep in the Vegas zone which eventually leads to him making a delightful pass to Curtis Lazar for the goal the Canucks ordered on Wish.com :
I've talked about it before, but Joshua is the king of quick shoulder checks. He doesn't just fling himself into traffic and merge into other lanes when "he's feeling it" — he does a quick shoulder check, makes sure his blind spots are covered, and makes a nice little sneaky pass like the one he made to Curtis on a goal so fake it could be a plot point in a Thomas Crown affair sequel.
Faber asked Dakota if he's aware of the players or just praying it goes to someone, and he said it was a mix of both.
"I think it's a little bit about a little bit of both. Just depends on the situation and times you just want to get pucks to the net and then other times yeah, there's times to make plays. So just reading off of that."
Daniel Wagner then really turned the screw and asked, and I am heavily paraphrasing here, if life has any meaning anymore when your goal gets called back.
"We found the success and what worked in that 30 seconds. That didn't count but it gives you something to build off but obviously a little deflating when it gets called back there for the opener."
JT Miller is the polar opposite of this, because his passes are certainly fueled by hopes and dreams, and the last time he checked in the first period, Quinn Hughes was at the point, so he's pretty sure he's still there. He's the contractor that quotes you $200 but charges you $2000 because decimals are confusing.
That being said, JT Miller is a fantastic offensive player, and I have no issue with players who are highly skilled trying the risky highlights out there, because hey, when it works, it looks fantastic. Quinn Hughes can pull things off that I think are scientifically impossible, so have at it good sir.
But I will say that when a team is losing, sometimes you just want to tighten up a little bit on those mechanics, especially when your team doesn't have the defensive structure to handle a lot of issues.
Best can't argue with facts
He pulls in, one try, under five seconds.
Unless his car gets called back for being offside, which is a thing that happens downtown.
Best for the greater good
Bruce Boudreau has been incredibly gifted at calming down the Chaos Giraffe and leaving us with simply Tyler Myers, tall hockey man.
But you can only do so much to hold in someone's true character, which is why the return of the Chaos Giraffe was a welcome one for me, because it's very fun to write about.
Up first is more proof that Tyler Myers is in fact, an NHL forward, and not a defenceman. It's the "Ben Simmons is a righty" of the NHL. It's clear as day, yet here we are, arguing for people to see the truth of the matter.
Want video evidence? Here is CG57 charging the net not once, but twice in the same play, setting up shop in the crease, eventually leading to a Kuzmenkshow goal: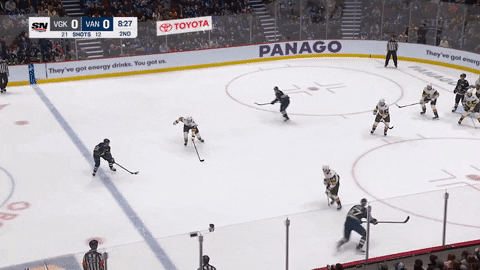 Vegas has no idea what is going on at this point, all they know is a chaotic angry giraffe has shown up in front of Thompson and they have no idea how to handle it. The end result? Nicolas Hague confused, frightened, and alone on the ice while the Canucks have two players ready to tap in the goal: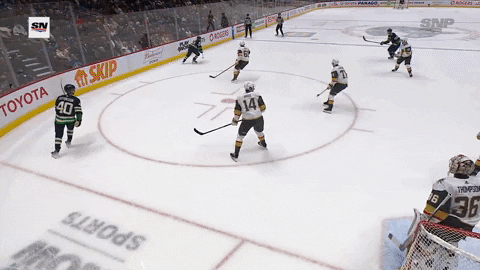 And this is without us even getting into Brock Boeser's delightful dangle to get around Whitecloud to make the fantastic backhand sauce over to Kuzmenkshow.
Tell me why this can't happen on the second unit power play? Tell me why Tyler Myers can't just go for a rip or two as a forward and bring all that chaos from the backend straight into the opponent's front yard?
CG57 is a forward. We all know it.
Best checking the science
Best it's not a matter of if, but when
The Vegas Knights tied this game up, and if you didn't like reading that statement, I have some bad news for you.
First, though, is the goal from Mark Stone, yet another player that an expansion team unfairly has way too soon because the NHL is dumb.
In the NBA, you get a player from Arkansas, and are forced to take on a general manager who would struggle to staff a banana stand properly, much less a basketball team.
In the NHL, you have the Senators trading away one of the best two way players in the league for Oscar Lindberg (out of the NHL), Erik Brannstrom (offensive d-man stuck who hasn't evolved out of the bottom pair), and Egor Sokolov who is the wildcard here of maybe turning into a productive player.
The point is the NBA screwed the Vancouver Grizzlies so incredibly hard and it should never be forgotten.
But back to the Canucks. Mark Stone tipped in a shot after getting position on Ethan Bear, because Mark is incredibly good at this, and Bear is 5″11: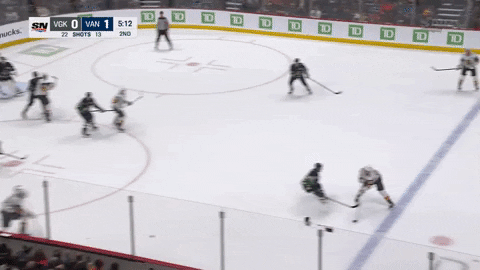 You will notice Oliver Ekman-Larsson giving up some solid distance to Jack Eichel, which is like telling Jack Bauer you have a bomb in your backpack, so what is he going to do about it?
He will end you. This is what Jacks do.
And again, I hate to do this spoiler alert business, but if you like people giving room to Jack Eichel for no reason, the chaos giraffe will see you later.
Best Sombra play of the game
It took Vegas less than a minute to score their second goal of the game, as they went all in on the river on this Jack Eichel shot: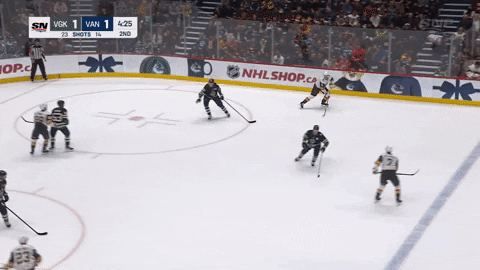 I apologize for the poker reference, I just want the people in the comments who don't like my pop culture references to know I can do bad puns as well. I am a man of many talents.
After knowing when to hold them, and knowing when to fold them, the Canucks had to look in the mirror and ask what happened here.
Well, Tyler Myers is front and center as he directs traffic to make sure everything down low is accounted for. As the Chaos Giraffe is a forward now, he is set to match up with Jack Eichel at the point, as forwards often do.
Alas, in the time that he pointed to his team and turned his attention back to Eichel, Jack reversed direction and found a path to the net to unleash a wicked wrister that found the back of the net.
To CG57's credit, he recovered and tried to use his 12 foot stick to block the shooting lane. The problem is when you're playing catch up with Jack Eichel, you're probably already dead.
To quote Jack Bauer, "I'm federal agent Jack Bauer, and today is the longest day of my life."
I would also be remiss if I didn't point out that with all of this chaotic energy flowing around, JT Miller achieves an almost Zen like state of inner peace as he sets up shop in the middle of the ice and covers absolutely nobody.
It's actually kind of endearing to watch him float to the front of the net, stop skating, and just watch Martinez skate right by him. No panic, no anger. Just a simple acceptance of whatever life is going to bring his way.
To quote Tony Almeida, "Some people feel more comfortable in hell."
The Canucks realized that if they are going to lose a game, it damn well better be after they blow a two goal lead, so they began the process of climbing out of the hole they dug themselves.
Up first was Thatcher Demko making a huge save after OEL of all people turned the puck over right into the slot:
If you're trying to guess what the high danger chances were in this game, they were 19 to 6 in Vegas' favour. Just thought we should get that out of the way early.
Mere moments later — Brock Boeser playing in the spot of Conor Garland — helped cause a turnover that led to Quinn Hughes feeding the puck to JT Miller who found Bogilny in behind the Vegas defense: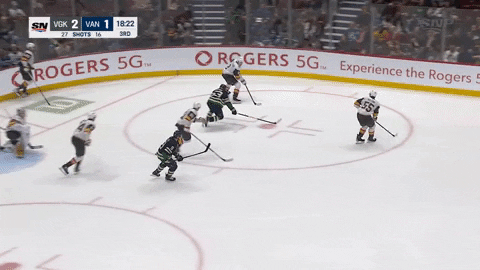 Folks, you didn't read that incorrectly. That right there is JT Miller's first five on five assist of the season!
And it's a nice play. Any play that feeds the puck to Bumpin' Bo is probably a good one because he is on fire this season as he does his best to earn so much money on his next contract that Vancouver can't find a way to keep him, allowing him to escape and sign with a playoff team.
Nobody wants to be Shane Doan.
Nobody.
Best in-house advertising
Nobody on the Canucks is better with safe shots than Luke Schenn.
He isn't out here trying to rip the puck top corner. He isn't out here taking shots into shin pads.
He has one job, and that is to get the puck on net. And should it go in? What can you do: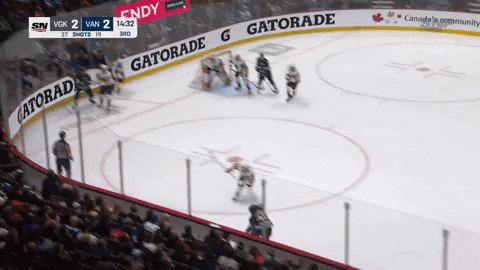 I don't think anyone was planning on this being a goal, but life's like this, you know? Why try and make things so complicated? The way you're acting like somebody else gets me frustrated.
Life's like this.
You fall, and you crawl, and you break, and you take what you can get and you turn it into goals.
Just chill out, what are you yelling for? Lay back, it's all been done before.
And if you could only let it be, you would see.
Best it's clobbering time
Elias Pettersson is the number one reason you should buy a ticket to watch a Vancouver Canucks game.
Not just for the goals, but for the high level of hockey IQ he brandishes night in and night out.
But okay, it's also for the goals: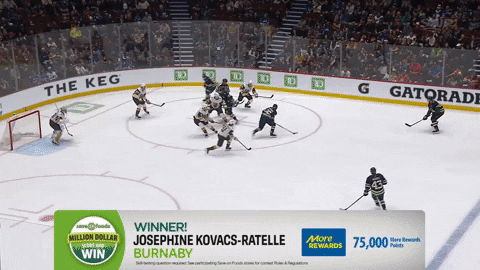 Going down on one knee like he's pledging allegiance to Malcom Alexander MacLean, and then when that doesn't work, he simply gets his own rebound despite the attempted rear naked choke.
At one point there looks to be about four Vegas Knights trying to stop EP40 from scoring and you can honestly ask yourself "Is that enough? I don't think that's enough players to stop him."
Quite simply, this is the best line on the Canucks and it's firmly because Elias Pettersson is on it. In his own end, in the offensive end, or even dealing with Romulans in the neutral zone, Elias Pettersson is constantly making plays that either amaze you, or make you nod your head solemnly like you're in a meeting with John Dutton.
The Canucks played one quarter mile at a time on Monday night as they celebrated the chance of once again blowing a two goal lead, but this time in a neat new fun way: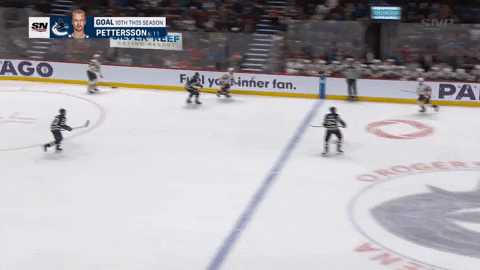 You'll notice a constant theme of the Canucks giving up large amounts of real estate to Vegas, which seems in bad taste in this market of all places.
Once again Vegas had around four minutes to decide what to do with the puck at the point, leading to a shot on net that Demko stopped, followed up with a rebound Demko stopped, followed up with another rebound that Demko didn't stop.
If you're wondering what Vancouver was doing during all of this let me answer for you.
1 – The Chaos Giraffe was doing a 360 spin on the play, followed up by making kick save attempts in the crease. I would explain this but I don't have to because chaos theory needs to explanation.
2 – Riley Stillman's controller disconnects after the first rebound and he just simply stares at what happens next, as there's no fate but what we make for ourselves or something.
3 – All three forwards collapse down real low and the only one who has their stranger danger radar go off is Bo Horvat, who does his best to race to the point, but is too late to stop anything.
To summarize, it looks an awful lot like there's some bad structure on this play, or maybe it's just a case of a good team making a bad team look foolish.
Or if you want the simple answer, ask Luke Schenn.
"Like I said, I think I've said it in training camp and I'll stick to it. It comes down to defending and we have more than enough goals to win games. It comes down to competing when your battling in the corner. Being strong in front of the net, being assertive in the D zone, and not letting guys have the inside. It's just, you know, sometimes it's just way too easy. And that's why we lose games."
Best getting in on the action
Perhaps tired of watching his team turn over the puck, Demko got in on the action when he decided that taking the puck down the middle of the ice with Vegas players beaming in on him was a good choice to make: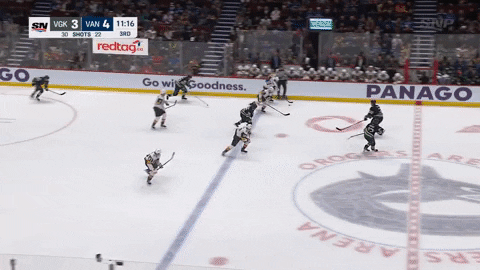 Part of me hopes Riley Stillman saw this and whispered "see? It happens", but either way that's a pretty big mistake to make from a goalie who knows just how easily his team gives up two goal leads.
Once again the goal is finished off when the Canucks lose track of their checks and Reilly Smith walks over from the boards untouched and pokes in the rebound. Once again three Canucks forwards find themselves doing a whole lot of nothing as all three of them manage to let the one guy who needs to be covered, walk in all alone.
This is decidedly the opposite of what Luke Schenn was talking about when he discussed the idea of making things hard on your opponents.
I'm somewhat of an expert of on random objects trying to win hockey games so let me summarize:
Passes off of the stanchion: Legal
Passes off of the camera poking through the hole in the glass: Illegal.
Still, it made for a pretty interesting moment when Vegas scored the go-ahead goal only for the NHL officials to huddle together and figure out what to do about the lens that was rolling across the ice: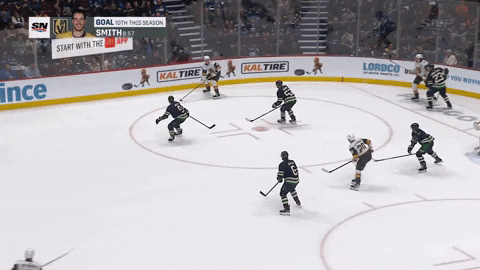 Even though the goal didn't count, please note that once again three Canucks forwards are working on their dreamboards instead of covering the point or covering anyone in the middle of the ice. It's actually becoming impressive how a team can both not cover the point but also not cover down low at the same time.
Brock trying to make a play on the lens and then giving the "wtf is going on here" hand gesture was a high point for me: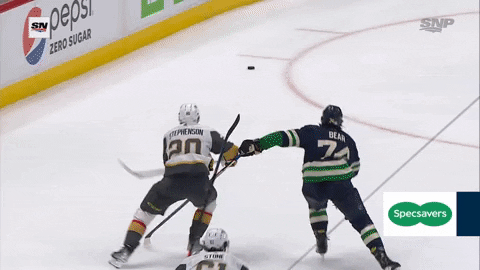 Despite all the tomfoolery, the NHL called the goal off.
And made Vancouver wait a few minutes before they officially blew the game.
JT Miller was on the ice for four even strength goals against.
This is not a good stat.
This is a very bad stat.
And it's because no one is better at setting up shop in the middle of the ice covering absolutely nobody: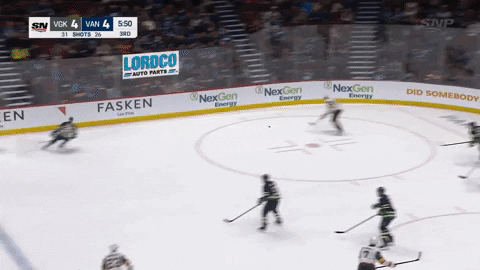 Again, there's a lot that goes wrong on this goal.
One, Brock Boeser does not make life hard on Vegas and completely lets Pietrangelo skate right by him to tap in the goal.
It goes without saying that Dakota Joshua shoulder checks in Brock's spot and sees his man coming in, but I digress.
Two, Tyler Myers who at this point may have realized Riley Stillman never has any idea who he is or what he's doing with his life, needs to be told where to go. So he valiantly points to Stillman to cover the guy in the corner and it honestly looks like Brock Boeser is caught up in this Jurassic Park raptor management moment as he is also looking over in Stillman's direction instead of the incoming Alex bomb.
You'll also notice ONCE AGAIN, that the Knights have so much time at the point that Ben Sanderson actually leaves Vegas this time. There's a token effort to race to the point, and then there's JT Miller. JT Miller just circling like he's trying to find a parking spot, using a defensive scheme more based around philosophical ideas than any sort of concrete evidence.
Honestly, watch the clip. Watch him just kind of circle and give up all the room in the world to Vegas. He never skates hard to close down gaps. He never tries to put pressure on someone in the hopes of forcing them into making a mistake.
He just watches. Always watching. He is the Keanu Reeves of this team.
You can argue all you want about Demko coming up with some saves, and I am here for that, I get it.
But at the end of the day, this team's defensive identity is just mangled. An absolute mess. You'd be hard-pressed to find any goaltender who would succeed behind it.
Whether it was a positive spin or not, Elias Pettersson thinks the team has been fine defensively, it just has issues with getting hemmed in their own zone at times.
"I mean, we play good defensively most of the time. And sometimes when we don't, we really get stuck and they get long shifts and we get tired and they get momentum. So when those situations happen, we just got to find a way to kill the play quicker."
Not since a young Alex Edler walked onto the scene have the Vancouver Canucks seen such an exciting back up goalie on their team:
Nice solid push off in the crease combined with a pad save? That's just a plus goaltending right there.
Vegas had the ice pretty heavily tilted in their favor but it won't surprise you to know that the most dangerous line the Canucks had was the Treaty of Värälä line:
Horvat and Miller generate offence with shots, and it works, but there's something about the creativity and IQ of Pettersson that is just absolutely must-watch hockey.
Quinn Hughes set up one of the best last gasp chances for the Canucks with this absolute laser beam of a pass to JT Miller who oddly found his legs when it came to skating hard in the offensive zone: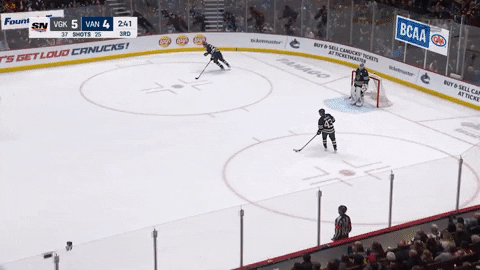 Remembering how the Canucks defence in 2011 had so many tools, you just wish you could see Hughes playing with a higher skill set of partners in the future to really see what his ceiling is.
Luke Schenn wasn't the top DAWG, though he did come in at 84.90. The top DAWGs on the night were:
Joshua – 99.38
Lazar – 98.31
Elias Pettersson – 88.11
The CAT of the night was Tyler Myers by the way, coming in at 21.62.
That being said, Luke Schenn is marching towards 3000 hits because this is all he knows. How to punish the opposition for daring to think they can score against his team: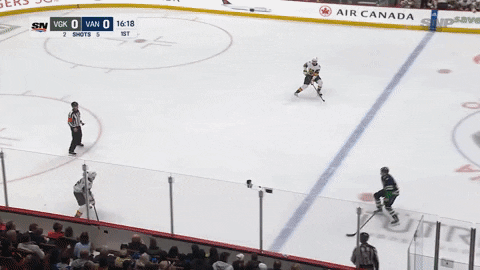 Even if he's not hitting you, he's going full tilt and trying to murder the glass. There are no half measures with Schenn:
And dangles, don't you worry, he can work himself out of a jam when need be, and get a clean zone exit: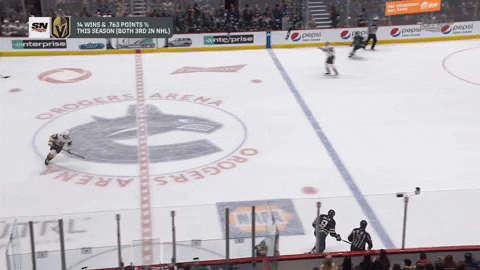 And even if you shoot him in the head with the puck, he's going to skate off under his own power, and return to the game later: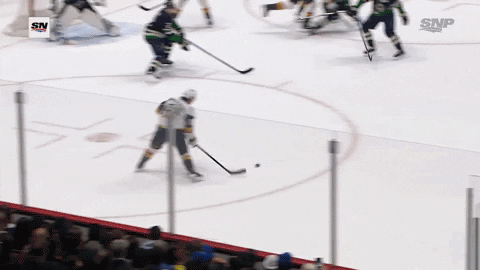 There is no quit in Luke Schenn. Tampax probably has some wildly intense thoughts on this, but the point remains: From an outsider's perspective, it feels like he represents someone who should have a letter on their jersey on this team. If only for the fact that nobody can question his battle and compete level, something this team seems to be in need of in their own end.
OEL had himself a DAWG rating of 60.18 and honestly he had an ok game? Which I know is not great to be talking about a contract of that size, but he did what he could, especially on a night in which Ethan Bear put him in some rough spots.
I've been a critic of his strange on-ice fencing poke checks he does in which he stops skating and instead tries to win on points by striking his opponent, but Monday night when he tried to jab, he at least kept skating and made a nice recovery breakup: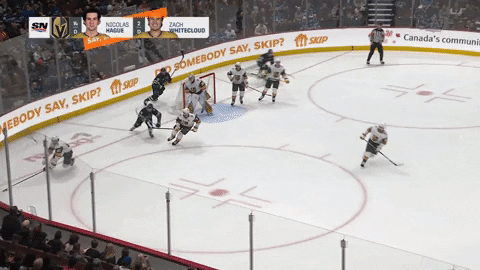 Speaking of Ethan Bear, he misjudges his check and goes full Juolevi, leaving OEL to do a slip and slide save:
The key point in that play is that OEL turned around after the initial slip and slide and it's the recovery swing of his stick that breaks up the play. No quit on that slip and slide.
Bear once again loses a battle on the boards and OEL has another two on one that he plays absolutely perfectly: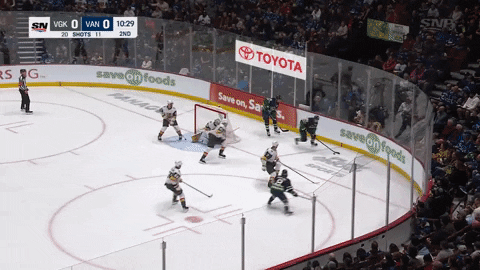 Knowing there isn't much time to make a pass because a Canuck forward is back checking for once, OEL does the slip and slide and forces the shot, which Demko stops easily.
And after another neutral zone turnover, OEL once again has to slip and slide his way to victory which he does by closing the gap and break dancing in front of his opponent: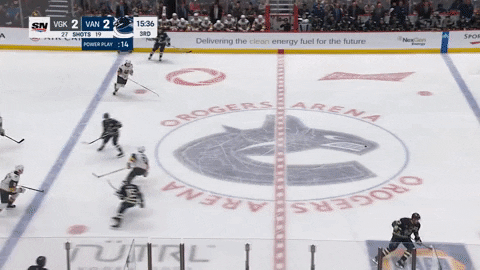 Again, no one on the Canucks had a great night, but when you're standing around looking for effort levels, OEL stood out in those regards.
Best now you're playing with power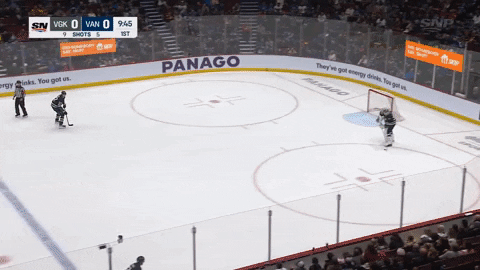 I feel like taking a full out pass from Tyler Myers would be like trying to stop a car with your chest.
Don't forget, for every bad chaotic thing Myers does, he has a good one, because he is chaotic neutral.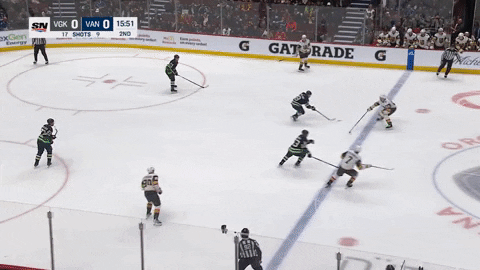 Conor Garland dumping the puck into the zone with a between the legs dump in is the most mini-sticks hockey thing of all time. The dude lives that life.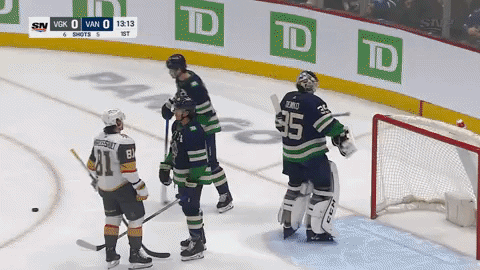 Quadrelli just paid me $6.50 for this gif.
I remain firm in my belief that the Sprite jersey is a good jersey.
Even if it's weirdly a Jordie Benn jersey.
Hey, this is the wrong article for this jersey.
An autographed Game 8 Bar Down jersey? That's the good stuff right there.
Why.
And that right there is a delightful throwback to a more innocent time.
Beautiful.