The Stanchies: Boeser's two goal night and Elias Pettersson's march for the Hart propel Canucks to victory
Photo credit:© Bob Frid-USA TODAY Sports
Gotta get up, gotta get out
Gotta get home before the mornin' comes What if I'm late? Gotta big date Gotta get home before the sun comes up Up and away, got a big day Sorry, can't stay, I gotta run, run, yeah Gotta get home, pick up the phone I gotta let the people know I'm gonna be late
There was a time when we could dance until a quarter to ten
We never thought it would end then We never thought it would end We used to carry on and drink and do the rock and roll We never thought we'd get older We never thought it'd grow cold, but now
Gotta get up, gotta get out
Drew Doughty, the man who inspired hundreds with his "team like that" comment many moons ago, rolled into town with his LA Kings trying to defeat your local heroes, the Vancouver Canucks.
Alas, Drew was firmly booted down the stairs of Rogers Arena all the way to the Blenz a couple of blocks away, but not far enough away to roll into International Village, which is comprised of a movie theatre, a cat cafe, and then a variety of stores that look like what Craigslist would be if it had a physical location.
That being said, the Canucks' 4-1 win over the visiting monarchy was one of their best efforts of the season, and with those two points, the Vancouver Canucks now stand two points out of a playoff spot.
The only question we have left to ask, then, is how much is Nate MacKinnon going to cost the Canucks to bring in at the deadline to be the final piece of the puzzle?
The Canucks have always been better than early season results showed, but not good enough to go all in for the Cup, so we once again find ourselves in that middle ground of "get in and see what happens?" with that question mark doing an awful lot of heavy lifting there. That is the most resigned statement you will hear from Canucks fans as they prep themselves to wave goodbye to the Connor Bedard sweepstakes and instead read up on who will be a solid pick at the 15th spot of the draft.
But, we have had enough gloom and doom the last several weeks to last us a lifetime, and we all know where this team stands, so let's just enjoy the fact that Drew Doughty lost a game of hockey and openly had a tantrum over a quick whistle.
Sometimes it's the little things in life that get you through the week.
After a very good showing from Will Lockwood, he was a victim of the numbers game, and I have to say, that always sounds so menacing.
"We found Lockwood this morning. The room was locked from within and we don't know how it happened. But what we do know is it's clear he's another victim of the numbers game."
Curtis Lazar, who I straight-up forgot existed, would play in his stead. And I don't mean that as an insult like "oh who is this Lazar guy? Never heard of him!"
No, I just mean this season has felt so long that it feels like I haven't heard Lazar's name in years. It's like telling someone a story about that time
Gerald Diduck went toe to toe with Scott Thornton
and snuck in an extra punch on the ground — it's from a different era.
Nonetheless, Lockwood made a good showing for the Canucks and you have to assume he is at the top of the list for any future call-ups.
As Will Turner once said, "I make a point of avoiding familiarity with pirates."
Elias Pettersson and the Mysterious Wrist has been the latest Nancy Drew mystery in which everyone wonders if his ligaments are doing ok. That lethal one-timer hasn't been seen in a while and he's not taking those mean-spirited shots that seem to whisper the most devastating personal insults as they pass by a goalie's ear.
As is hockey tradition, we only find out about injuries in the offseason, where it's revealed his entire arm had been replaced with Apple technology, but until then, all we can do is speculate. Maybe he's just not feeling the shot. Maybe he's dealing with something. Maybe he's trying to do too much. We just don't know.
That being said, Elias Pettersson is still the best hockey player on the Vancouver Canucks. He is an absolute menace at both ends of the rink and the only thing that scares people in this province more than an Elias Pettersson rush is seeing the arrow boot you out of your lane on the Lions Gate Bridge during rush hour.
So it was nice to see EP40 unleash his wrister on the first Canucks goal, because there's nothing finer than your diner: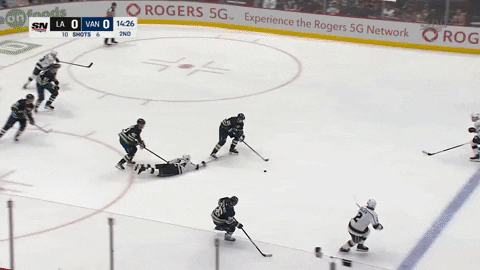 "Your last name is a terrifying piece of irony now, isn't it Jonathan?" the puck whispered as it flew by the Kings' netminder.
Now, Trevor Moore flings his stick at Elias' stick and it feels like it changes up the direction of the shot.
This would explain Trevor Moore's controller disconnecting as he simply glides into the boards after the goal and delivers a devastating body check to the glass.
It would also explain Jonathan Quick grabbing at his five-hole like the Imodium didn't work, and proceeding to stare a hole into Trevor Moore after said goal.
The end result, however, is a goal, as the line of Kuzmenkshow/Pettersson/Mikheyev shows us why they've been the most consistent line for the Canucks this season.
Before we get to Brock Boeser's first goal of the season, let's check in earlier in the game in which he had a glorious chance thanks to a top-notch Elias Pettersson pass on the power play: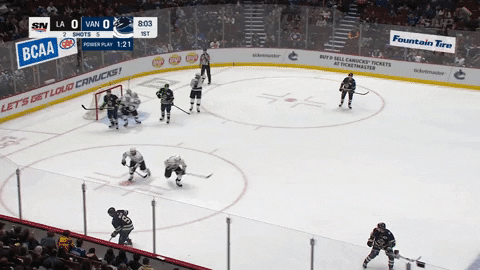 Brock missed that one and you can bet your sweet donkeys that social media was lighting into Brock. And to be honest, some of the criticism has been well-founded. We went from pre-season talk of a 30 or, dare to dream, 40-goal campaign from Boeser, and it's now game 18 and he had yet to score a goal. On top of that, three of his points have been on the power play, five have been secondary assists, and it just hasn't really felt like a banner season for The Flow.
Add in the fact he's now in a third line role (albeit still on the first unit PP) and you would be forgiven for wondering where BB fits in with this team right now.
The one thing that cures all of this discussion, however?
Goals, baby!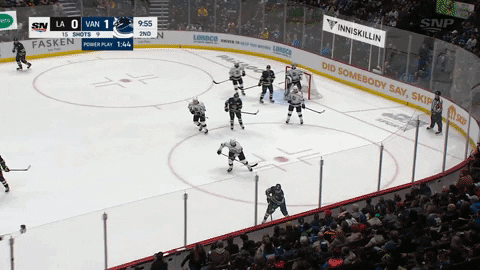 That is the Kuzmenkshow special right there, where you just line up an inch from the net and wait for JT Miller or Elias Pettersson to get you the puck, ie my dream scenario in beer league. I don't want to do any of the work, just let me sauce in the puck at the last second so I can talk about my hockey IQ on the bench afterwards.
"People think those are easy goals, but you gotta get open to get them. Did you see that sick bunny hop strafe I pulled off? Doughty skated off, Anderson had no idea I had jumped behind him, and by then I'd seen everything," is what I imagine Brock said on the bench.
And that's a big goal for Brocker (no idea where Brocker came from but let's go with it), because we all know his story from last season, and how off-ice has been a tough journey for him. On the ice this season, it's not unreasonable to suggest that a man wanting to bounce back and have a huge season would be struggling with a large amount of lack of production.
So a two goal night? Hell, Brocksy (let's see how many bad hockey nicknames I can use for him) actually smiled during the third period, a rare occurrence this season. Something about scoring goals makes everything feel good again in hockey.
Confidence is a hell of a drug (somewhere Alex Burrows is snapping a stick over his legs in agreement) and this game could be the sort of thing that gets Brockoli and Cheese going again. The kind of game that gives him his swagger back. The kind of game that makes him take his helmet off during a break in play and flip his coiffure of lettuce through the air to let Thatcher Demko know who the original flow king on the team is.
Best and then there was Riley
It's easy to become a whipping boy in a hockey market, especially in a place like Vancouver, and I fully admit I have added fuel to this fire. Riley Stillman's decision-making reminds me a lot of Tyler Myers during the glory years of his Vancouver Chaos Giraffe days, aka any game under Travis Green.
He can do some good things, he can do some bad things, but when he does the bad things, boy, are they ever highlight reel packages of what not to do. There are no small mistakes with Stillman. It feels like they're either big or nothing.
Which makes him noticeable. It makes him stand out. And add in a team losing more games than they win, it's easy to point to him and ask "why does this man want to hurt me?"
Now, Stillman wasn't at fault on this goal, but he's like the prime suspect in any crime in Vancouver right now.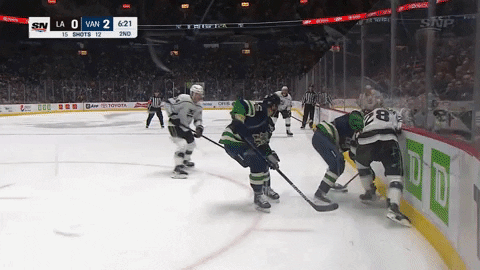 "Someone pushed Thomas Drance off the seawall into the water and threw a seemingly endless amount of shoes out of a bag at him while he swam back to shore? Let me ask you this, where was Riley Stillman when this went down?"
I will say that there are many things that make me anxious in life, and you can add a Tyler Myers (re-formed Chaos Giraffe) and Riley Stillman (new chaos apprentice) to that list. Tyler Myers gets absolutely walked around on the boards because he tries to throw a hit, and Riley Stillman's guy gets a piece of the puck for the goal, so yes, people grumbled.
Best keeping the pressure on
As the Canucks found out last game, it's okay to give up a goal when you have a lead, it's just super useful if you score more goals to keep that lead going.
Now as JABO points out, it was the work of the Canucks' fourth line that was the third star of the night for me (EP40 number 1, Brock number 2).
Whether it was Curtis Lazar throwing hits like he was defending Helm's Deep or Nils Aman using his big body to box people out, or Dakota Joshua doing all of the shoulder checks to ensure safety, this line was a noticeable weapon for the Vancouver Canucks. So it was no surprise when they ran over the LA Kings and wore them down in their own zone, leading to the line change that led to the goal: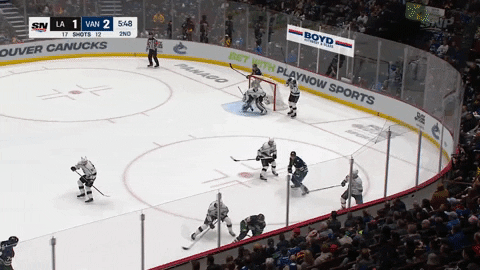 Please note Alex Edler trying to throw a hit and thus breaking his stick because there's a 95% chance that anytime he does anything, his stick breaks. We know this.
He built that legacy in this house.
So with his stick going over the rainbow bridge, Rasmus Kupari lends Edler his twig, which puts the Kings in trouble when the Canucks' top DAWGs show up: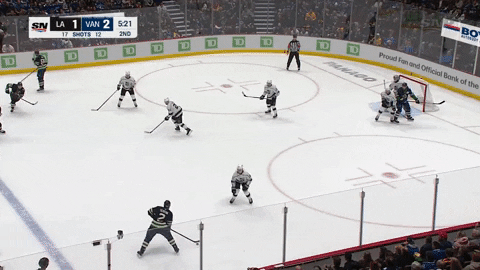 Fun things about this goal:
Quinn Hughes dancing down the boards only to cut back, and in the process, entrances two Kings into the water like the siren that he is.
This leaves The Kuzmenkshow wide open, who then proceeds to draw in two LA players himself, as the plot to assassinate the King continues. He then finds a wide-open Elias Pettersson all the way in Whalley.
At this point, Kupari (remember him?) has no stick and he straight up just watches the proceedings take place like Elon Musk destroying an empire. Elias Pettersson gets the puck, finds the net, and the regicide is complete.
This is the kind of goal that a good fourth line can help create. They can do the grunt work, wear down the other team, then when the skilled guys roll into town, they dangle and deke their way to glory.
It's like setting up a sale and screaming "RECO!" so Vin Diesel can run over and close the sale.
We haven't seen a ton of vintage Quinn Hughes rushes this season, but don't let that fool you, he is still putting in the work.
Thatcher Demko's luck has been so bad this season — whether it be bad bounces or lack of goal support — that Spencer Martin getting so many starts hasn't been an issue with the fan base.
That being said, if the Canucks are going to mount any kind of run, they need Bubble Demko to arrive again, and yes, for the Hockey Gods to maybe relax a little bit, as they did against the Kings on Friday night.
Earlier in the season, this puck would have bounced off the post and in off of Demko, then out and off the post again, and back in off of Demko, and Colin Campbell would have announced the new "two goal initative" the NHL just introduced where you can score multiple goals on the same play:
But Demko keeps it out with the help of some luck, OEL puck management, and a timely "draw me like one of your French girls" pad stack at the end.
The Kings had 13 high danger chances to Vancouver's 7, but even when LA got their shots off, Demko was in position and making the saves: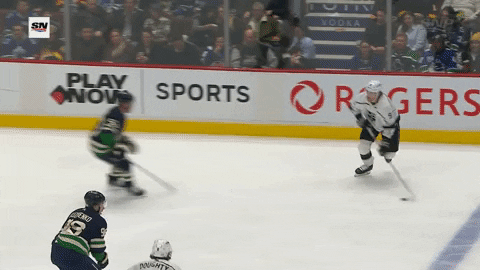 All alone in the slot? Not a problem for reverse retro Demko: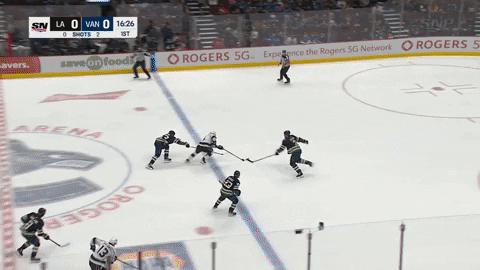 When the Kings finally did beat Demko? "In rod we trust" once again stepped in and helped the Boston College alum: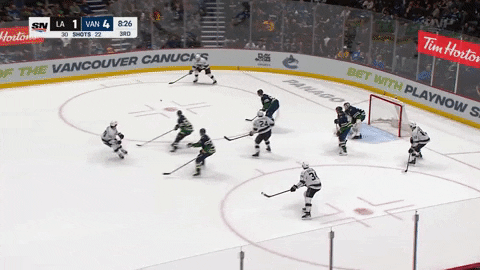 And even when the Kings resorted to Russ Tyler tactics, Demko wasn't fooled: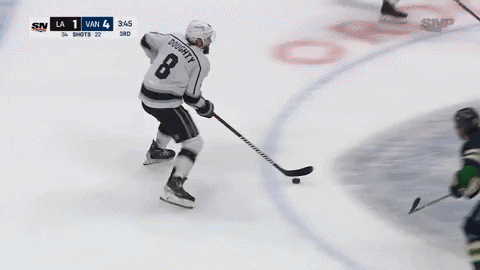 Demko ended the night with 37 saves on 38 shots for a tidy piece of save percentage business of .974%, or as Kevin Woodley calls it "Numbers so high he couldn't even dream of attaining them."
Best feeling the Flow, doing the bull dance
The Canucks vaunted third line of Boeser/Dries/Höglander put this game on ice when Boeser tipped in the rebound past Jonathan Quick who at this point was already figuring out his Warzone 2 loadout for gaming with the boys later: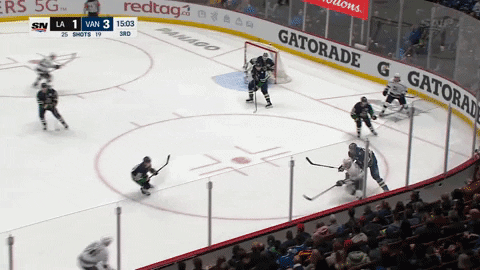 This is a nice goal because it was the Canucks being the team that countered the opposition, something that has happened to them far too often. When a team is down multiple goals, they're going to push for offence, and that is going to leave you with openings to counterattack them to hell and back.
I also found it amusing that Sheldon Dries straight up trucked Arthur Kaliyev and the refs are like "what are you gonna do?" and proceeded to skate down the ice and get the shot off that led to the goal.
Now, let's talk about this third line. I do not care for them defensively. I think they have been the worst line of the team in terms of defensive zone coverage and I am far from sold on them. In fact, before the Canucks got their fourth goal, I was busy criticizing this trio online, as one does, because they look like a liability.
It just feels like they don't bring the best out of each other and anytime the puck gets in their own zone it feels like they're scrambling and nobody is in position and there is no cohesion to their plan. They just have no identity for me.
In terms of Corsi, they were the worst line the last couple of games including tonight.
That being said, I understand it's a bit of a tough spot. You're not going to put Brock on the fourth line, and you're not going to split up EP40's line (although I would be up for Brock taking Mikheyev's spot, but the world isn't ready for that conversation yet.)
Which would then leave Boeser taking over for Garland on the JT and Bo show, which again, I would be very much open to seeing. I think Brock as a passenger can be a top level player, and Garland only has so much to give in that same spot in my humble opinion. ie You can get more out of Brock in a top six spot than you will out of then mini-sticks Garland.
It's also early and hey, maybe this line finds their groove and this all becomes a moot point down the line. Maybe we all have a good laugh about what an idiot I am, and I quit the hockey writing business in shame and take up my true passion of reviewing power wash simulators.
I guess what I am saying is I just want to point it out that I am very nervous about this line and it will be an interesting storyline to watch develop as the next few games come our way.
If you want a good example of the defensive issues I have with this line, watch this rush early in the second period where they are stuck deep in the offensive zone, then skate back and coast into a triangle formation: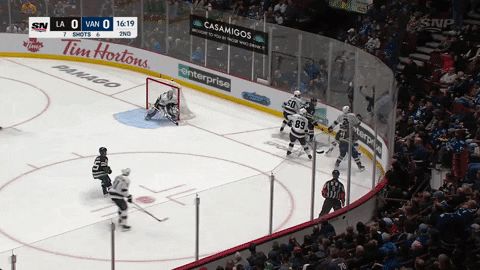 Did you see the triangle of pain this line set up just inside the blue line?
To Dries' credit, he at least swings his stick at the pass as it gets behind Death Triangle, but it's also a very clear example of them letting two players get in behind them.
I just honestly wonder if they have enough offence to overcome the lack of defence they've shown so far.
Best covering all your bases
Best pizza delivery
Speaking of those giant mistakes Stillman likes to make, I would be remiss if I didn't point out this absolute bonkers play he made, whilst on the penalty kill, with under 5 seconds to go in the first period: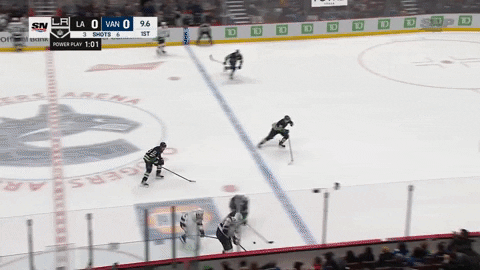 If Professor Snape doesn't make Kempe's stick fly over the net to check Kevin Fiala, that very well could have been a goal.
And it's on a play that absolutely didn't need to happen. Stillman could have pushed the puck over to Luke Schenn to his right. He could have winged it off the glass and out on his left. But instead, he chose to go up the middle in what is honestly a worse choice than what you wore to the office today. A turtleneck? Really?
And look, I get it. The Canucks forwards often do their defence no favours by blowing the zone early. The team is penalty killing and Mikheyev is floating in the middle. Bo Horvat looks like he mushroom boosts to the boards because he thinks Stillman is looping the puck in that direction. So I know there aren't as many options as Stillman would like.
But that being said, glass and out. Glass and out. You should never think to yourself "time to thread the needle here old boy" with under five seconds left in the period, in front of your own net.
He also had another turnover where he fired a pass back to Tyler Myers at approximately 200mph, who promptly missed the puck, and then promptly wandered down the ice to graze on some tall trees. All of which led to danger in their own zone: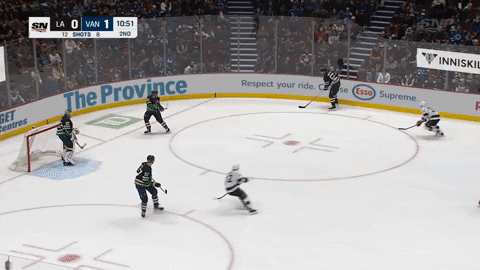 It will not shock you to know that the Team Chaos pairing had the worst Corsi of any of the defensive pairings on the night.
I'm still getting a handle on what kind of player Ethan Bear is, but the first thing that stands out to me is his willingness to make good cuts in the offensive zone, and his overall hockey IQ.
The Canucks penalty killing has been such a tire fire of regrets and mistakes this season that watching something good come out of it feels like a reward for all the pain and suffering: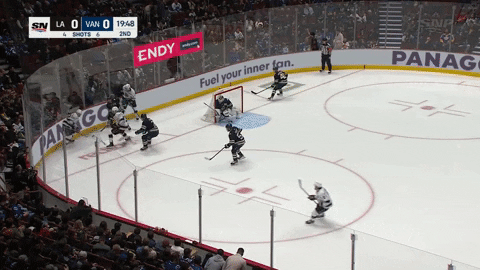 Bo Horvat has never been a particularly dominant penalty killer, as his Captain America gung-ho attitude can only take him so far when his team is down a man.
But add in the intelligence of Bruce Banner Elias Pettersson, and now you've got a stew going. With Elias' ability to take the puck from the opposition combined with Bo's ability to charge down the ice in a one-man show routine, you've got yourself a dynamic penalty-killing option.
Fun fact, Bo Horvat drew a penalty on that play after Drew Doughty accidentally on purpose skated into him to impede his progress.
Best Mason Raymond syndrome
My totem for Inception is having a player on the Canucks be so fast yet very unable to score on the multiple breakaways they create: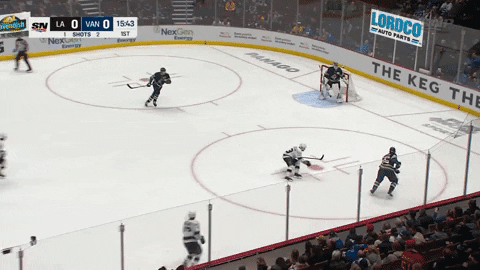 Mason Raymond, Jannik Hansen, Tyler Motte, hell, Brandon Reid for a little bit, there's always been a player on the Canucks who can zoom zoom zoom but just can't quite figure out how to be lethal with the puck on a consistent basis.
Ryan Kesler used to be that player until the infamous summer he spent shooting pucks at dragons in Westeros and figured out how to be a lethal scorer.
The point is I would rather see this player try and fail repeatedly than not have a player who can do this.
Have at it Ilya.
There was no one better at the chicken wing than the Sedins, so I have to give credit to Anze for selling this penalty on Luke Schenn:
Drew Doughty felt the whistle was too quick on this play and proceeded to have a meltdown that is usually reserved for being stuck behind the guy at the Starbucks drive-thru ordering a bunch of drinks for the office: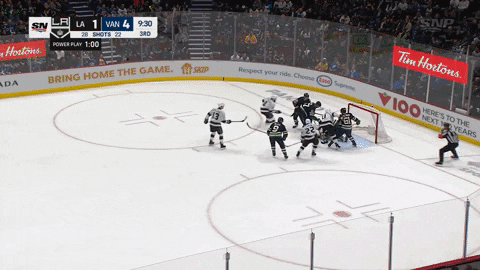 Which hilariously led to the referees being afraid to blow the whistle later in the game, which led to extended scrums in the crease when the puck was clearly covered: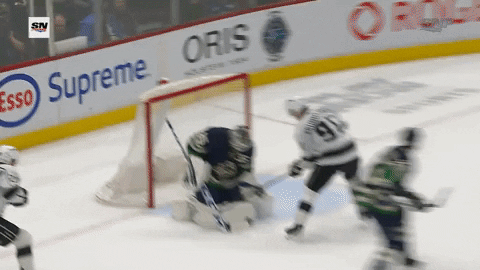 The duality of hockey.
Carlton Banks can tell you that even though you line up your shot, sometimes it doesn't go how you think it will: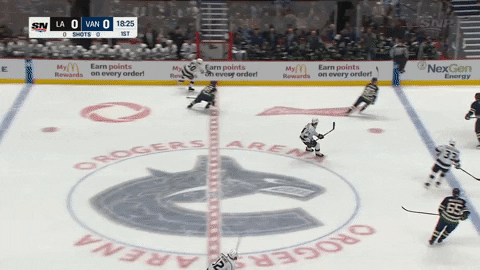 The top DAWG on the night will be no surprise, as it was Curtis Lazar with a bullet, a loaded god complex, cock it and pull it.
His DAWG number? 122.91.
It helps that he threw 7 hits on the night, 5 of which came in the first period alone: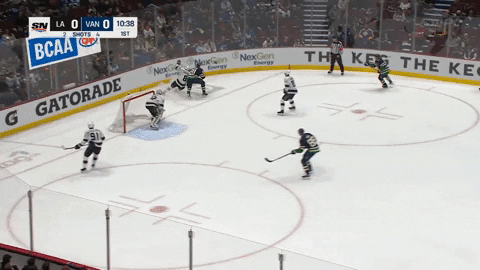 How excited was he to be back in the line-up? He had four hits just ten minutes into the game, and if you'll notice I used a combination of numbers and spelling out the numbers just to flummox Quadrelli.
The point is, Lazar brought a level of energy that seemed to inject itself into that fourth line, which as we previously noted, played a huge part in EP40's second goal.
Even when you thought you had lost him, Lazar tracked you down like, well, a DAWG, and would finish his checks: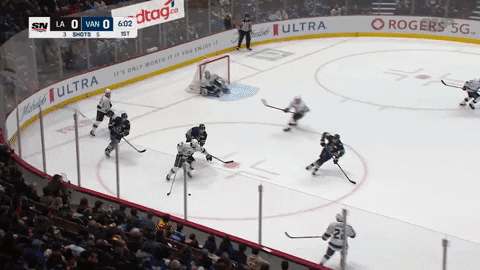 The best of the bunch, however, was when Lazar drilled Walker into the glass, and then drew a penalty when Walker got indignant that someone would dare touch him in a game of hockey: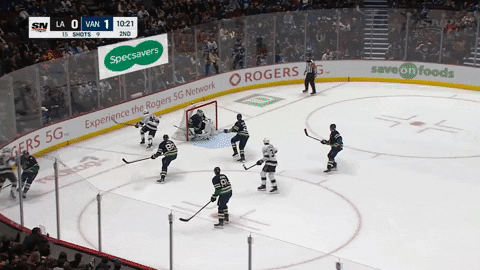 Brock Boeser would then score on the ensuing powerplay.
That's just top DAWG stuff. Bea Smith would be beaming with pride if the writers hadn't done us all dirty and written her off the show.
Other top DAWGs:
Brock Boeser – 89.11 (season high by far)
Dakota Joshua 88.14 (shoulder checks count)
Elias Pettersson 64.81
Mid-range DAWGs:
Ethan Bear – 54.95
Luke Schenn – 53.29
Sheldon Dries – 51.54
Tired DAWGs:
The Kuzmenkshow – 35.67
Ilya Mikheyev – 30.85
Bo Horvat – 30.81
The CAT:
Oliver Ekman-Larsson – 19.00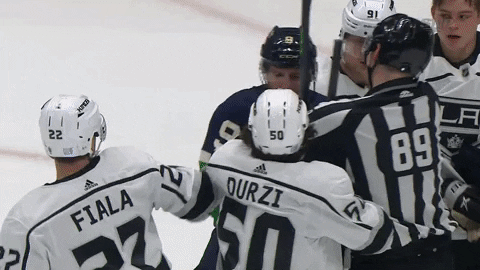 Quads has to pay me $5 for this gif.
Best sign the future is going to be ok
This kid gets it, what can I say?
Best rivalry
JPat doesn't even know the clique rivalry that exists between Toque Squad and the Beanie Boys.
This falls firmly in the "family member or won the jersey" category for me.
Don't mess with the bull, young man. You'll get the horns.