The Stanchies: Beary bad start, Miller's twofer, and the Quinn Hughes ice time thing
Photo credit:© Bob Frid-USA TODAY Sports
With Wyatt "the Stanchion" Arndt on IR, I'll be your last-second Stanchies commander for Tuesday's game! Because of the lack of adequate prep time, tonight's intro will be brought to you by Fanatics™ and ChatGPT! Two websites that get it mostly correct but are still a significant work in progress!
Good evening, folks! It's time to saddle up and giddy up for Tuesday night's Canucks vs. Golden Nights showdown in Vancouver. And let me tell you, this game had everything you've come to know and love about Canucks hockey! Shorthanded goals, terrible d-zone coverage, power play goals, Quinn Hughes' playing a concerningly high amount of ice time, and the Canucks mounting a late-game comeback facing a multi-goal deficit.
Entering Tuesday night's game on a two-game win streak, the Canucks opened the game looking cool as a cucumber, only to crumble like a tower of Jenga blocks. They needed to bring their A-game for a full 60 in order to push that streak to three. Though players like J.M. Tiller and Quinn Huge led the charge, the Canucks could not overcome the Atlantic Division-leading Golden Nights.
Despite Vancouver's best efforts, the Nights speed and depth kept them at arms reach. Despite Mark Rock still being absent with injury, wily veterans like Bill Karlsson, Phil Kessel and Alex Peterandjello came up huge in their 4-3 victory.
Don't worry, Folks. Fanatics and ChatGPT will no longer assist the Stanchies for the remainder of this game recap! Though I thought the AI did a cromulent job, I can see why some prefer the authenticity and personality only human writers can provide. Let us know in the comments if you think ChatGPT should replace Cody Severtson moving forward!
Wait, I didn't ask ChatGPT to include that last part…
Let's make some
GIF
laboriously detailed paragraph money!
Worst reason to land on IR
Look, I'm a positive guy. I believe in a brighter tomorrow. But sunglasses indoors is exactly how you wind up on IR. Being incapable of watching a 4-3 regulation loss to a division rival because you disintegrated your corneas during a mid-day Zoom interview seems like bad load management.
 Best Lineu…wait what the heck, Jack Studnicka ON DEFENCE?!
While not quite as exciting of a prospect as Tyler Myers playing as a top-six forward (please, Richard. Just once do it for the fans!), Jack Studnicka taking line rushes as a third-pair defenceman during warm-ups was quite the sight.
Kyle Burroughs eventually slotted into the lineup, confirming Studnicka as a placeholder, ending a whirlwind 22 minutes for Canucks' nation.
If you ever needed proof that grocery inflation in Canada has gotten way out of hand. Case and point: superstar forward Andrei Kuzmenko has resorted to a barter system for sustenance down the stretch. Candy, chicken, steak, chocolate, Costco hot dogs, corn, and canned goods; Kuzmenko's OnlyCans is a brilliant strategy for maintaining his dietary needs.
Oh well, it was fun while it lasted!
It was a pretty bad start, a poorly executed dump-and-chase strategy loaded with egregious turnovers. Before we get too deep into the misery weeds, let's highlight the few good plays from the early goings, like Tyler Myers going stick-on-stick to deny Reilly Smith's redirect from the crease.
Tyler Myers.
Or, how about moments later, when Sheldon Dries continued the good vibes with a knuckler from center ice that nearly gave him his 14th of the season!?
Then, the rest of the period happened…
I'm sorry if you tire of my favourite Simpsons bit of "that's good/that's bad!" Unfortunately, the Canucks alternate good and bad so rapidly that it is tough to avoid dropping Homer's bewildered phrase with such frequency. And baby, there was a lot of stupid during that first period!
The first player to receive the "that's bad!" label was Ethan Bear with his blind, no-look, backhand pass to Quinn Hughes, resulting in a giveaway to Phil Kessel, who promptly undressed Thatcher Demko for the opening goal.
You don't see Demko sprawl this early while defending a 1-on-1, so seeing him bite so quickly on a relatively slow deke by Kessel was odd.
Tough break for Bear, too. I can't imagine that full face shield is helping his peripheral vision on scanning during puck retrievals.
Though he wasn't the only player with a couple of bad giveaways on his scoresheet, Vasily Podkolzin had one of the more needless giveaways off a zone entry. First, Hughes draws in three Knights' skaters for the hand-off to Podkolzin (that's good), only for Podkolzin to immediately send the puck back onto the tape of the F1 that had trailed Hughes (that's bad).
When the Canucks weren't entering the zone with control, they elected to enter with the classic dump-and-chase. The problem was that even the team's speedier forwards were slow to the punch. Kuzmenko and Tony (not from Richmond) Beauvillier aren't burners, but relative to the Knights' half-assed retrievals, they looked like AHLers.
Best "whoa…" – John Garrett
You know a breakout is bad when Cheech lets out an audible "whoa," dripping with concern.
Kyle Burroughs went from being a scratch missing warm-ups, to starting the game at the whistle, to executing the worst breakout attempt of the season.
Brock Boeser attempted to recover, only to drop the puck off behind the goal line to no one in particular, with Christian Wolanin and Burroughs caught unawares ahead of the red line.
With Wolanin and Burroughs completely unable to react, old Wild Bill, William Karlsson, wound up the receiver of Boeser's pass to nowhere, setting up Reilly Smith for an absolute missile from the right circle.
The 2-nothing goal opened the floodgates for the Knights' attack off the rush. Unthreatened by the Canucks breakout or entries, Vegas started exploiting the Canucks lack of footspeed against their attacks through the neutral zone.
In another "that's bad" moment, Bear was caught pinching deep off an errant point shot attempt, allowing Kessel (yes, the Phil Kessel) to race down the wing alone for a shot on Demko.
Shortly after Smith's goal, Myers found himself in the penalty box off a slashing minor drawn by Vegas's Paul Cotter.
In his third "that's bad" of the period, Bear took a hooking penalty to give the Knights an extended 5-on-3 power play.
Amazingly, the Knights did not score. For the 56 seconds of 5-on-3, with Myers and Bear in the box, Tocchet leaned on a trio of J.T. Miller, Hughes, and Guillaume Brisebois.
Sure, Demko had to go beast mode on the Knights' power play to stem the bleeding. But the Canucks' PK looked solid!
But yes, ultimately, the first period was defined by the Canucks poor puck management while leaning relentlessly on Demko for a bailout.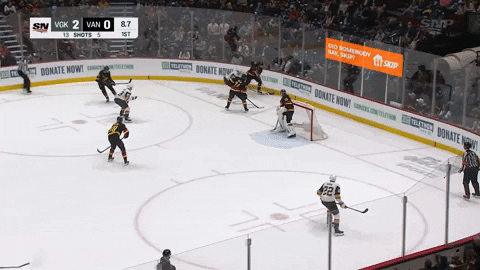 We know this point-blank stop on Michael Amadio brought up painful memories of the bubble series for Golden Knights fans everywhere.
Best Kirk McClean cosplay
It's not just the two-pad stack against Anze Kopitar on Saturday, last year's getup, or this year's flying skate mask that seals Demko's embracing of being an 80s netminder. He really could have thrived in that era as a stand-up goalie. Early into the second period, Demko's half-hearted challenge on a Vegas dump-in really cemented him as a throwback to 80s goaltending chaos.
I'm sure Ian Clark had some thoughts on this post-game.
Greatest PK in the history of the NHL
Is the Canucks PK historically one of the worst in the NHL? Up until Rick Tocchet joined the fold, yes! Since sinking his teeth into the team's special teams, the PK has operated like a third power play unit. Maybe it's the extra space? Maybe it's the encouraged aggression from Mike Yeo? Maybe it's Maybelline? Whatever it is, it's working!
Let's rewind a bit.
First, the zebras [redacted, so we don't get fined], assessing Boeser a two-minute minor for a one-handed shove of Zach Whitecloud into the boards.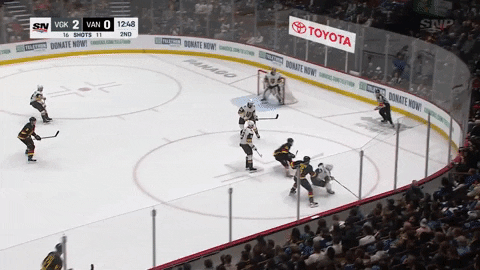 On the PK, Miller sprung himself ahead for a breakaway, drawing a slash against Shea Theodore to prompt a shorthanded penalty shot.
Miller then pulled off the exact same move on Quick as he did Joonas Korpisalo on Saturday.
The Canucks killed off their third straight power play! Silencing all doubters of their improved shorthanded play!
Worst "something something RVH-post-integration etc!"
Not even going to pretend I know anything about goalie stuff to explain how Teddy Blueger's shot filtered through Demko's pads here. I'm guessing something to do with sealing off the post, or reverse post-integration, or "not down in his butterfly fast enough."
I don't know; choose whatever In-Goal Magazine jargon you want. I'm sure it's probably appropriate for this situation.
Midway through the second period, the Canucks power play finally got to work off a hooking penalty drawn by Quinn Hughes.
Five seconds onto the man advantage, Anna Kendrick superfan Tito Beauvillier spoiled the Canucks power play with a (sus) hooking penalty against Shea Theodore.
Tocchet was not happy. Unfortunately, the reaction GIF wasn't very meme-able.
On the 4-on-4, Ethan Bear earned his first "that's good!" of the game, drawing a hooking penalty against Chandler Stephenson to hand the Canucks a 4-on-3 power play opportunity.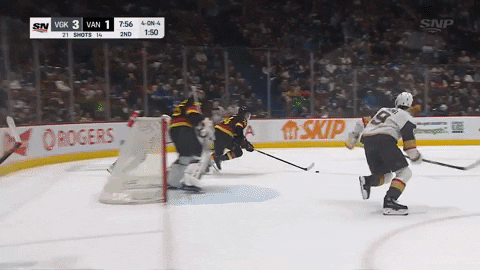 It took all of 30 seconds for Jimothy Timothy Miller to score his second of the night.
Despite featuring in 18 of the first 40 minutes of play, Hughes kickstarted the power play goal sequence with some slick moves through the neutral zone and down by the crease to shake Brayden McNabb.
Then, who else but Miller to wire a wrister past a screened Quick to put the Canucks within a goal.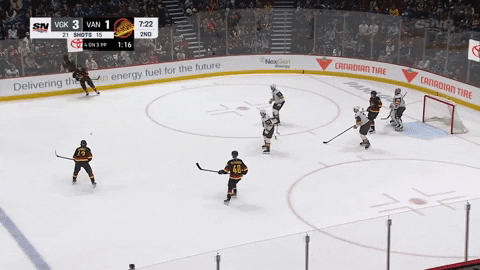 The real MVP on the goal was Brock Boeser for his impeccably timed shuffle to take away Quick's eyes on Miller's release.
Feeling some momentum off Miller's second goal, Vitali Kravtsov generated the Canucks' best chance at 5v5 off a pass from Pokdolzin at the blue line.
It was the best of times.
The momentum wasn't built to last, with Pavel Dorofeyev executing a brilliant tip on an Alex Pietrangelo point shot to regain the two-goal lead for Vegas.
It was the blurst of times.
From Healthy scratch to starting five to on-ice for three of Vegas's four goals, it was a busy and less-than-stellar night for Kyle Burroughs.
Best early-game tank update
Good news for Team Tank fans, the Columbus Blue Jackets beat the Washington Capitals in overtime, Detroit beat St. Louis in the shootout, Philadelphia beat Florida 6-3, Nashville beat Buffalo 7-3, and Montreal beat Tampa Bay 3-2. The teams below them closed the gap, while the gap between Vancouver and the few teams above them grew slightly larger.
The gap between the Canucks and the folks in the 9-15 range will likely narrow as their schedule over Vancouver's final 12 games is one of the easiest in the league. By Tankathon's measure, only Edmonton, Colorado, and Calgary have cushier matchups down the stretch.
The Canucks' tank effort is more "will they? Won't they?" than season 2 Ross and Rachel. It's too much!
Best "it's not delivery, it's Di Giuseppe."
For the first time in a long time, it was someone other than Andrei Kuzmenko making things interesting late in a game the Canucks were trailing. This time it was 'friend of ours' Phil Di Giuseppe putting the Canucks within a goal with plenty remaining on the clock.
Off a mad scramble following a point shot from Hughes, Johnathan Quick found himself swimming in his crease, opening the door for an empty-net backhander from PDG to spice things up late.
Hughes' assists on the Miller and Di Giuseppe goals helped him set the record for most assists by a Canucks defenceman in a single season. Breaking the previous record of 60 in a season set by, well…himself.
Sadly, the Canucks weren't able to complete the comeback. At the very least, it was a pretty entertaining game.
Best remembering some guys
Probably could have used that kind of production, no?
Dear Canucks Sports & Entertainment,
After the loss in regulation to the Golden Knights, the Canucks have 12 games left on the schedule. The current second wildcard spot holder is the Winnipeg Jets, who have 83 points with ten games remaining.
If Vancouver were indeed chasing a playoff spot, they would have to win all 12 of their remaining games while additionally hoping that Winnipeg, Nashville, Calgary, and St. Louis lose every remaining game on their schedule. That's how deep the hole is.
Now that we've established how futile a playoff chase is for this club, we must ask why Quinn Hughes is being run into the ground for meaningless victories.
Hughes was 25 seconds away from cracking the 30-minute mark in ice time before Jack Eichel drew a hooking minor against him in the dying seconds of the period.
Hughes is a spectacular defenceman. I do not doubt that he cherishes the ice time and his ability to break the game open for his teammates on every shift, and he relishes the ice time.
Unfortunately, there is zero short or long-term gain in playing the wheels of Hughes at this point in the season. The season is toast. At this point, it's just about preserving a top-10 draft pick situation while seeing what the low-cost expiring UFAs and RFAs can do in increased roles under the new coach. This stretch should be about seeing what gold the franchise can mine out of the cost-effective players presently on the roster.
Risking injury to the best defenceman in franchise history (I'll say it, I don't care) through inflated ice time in meaningless games is shortsighted and foolish. Especially ahead of an offseason as important to this organization as the one they currently face. A lot needs to break right for this franchise during this offseason if they plan to make hay during the final year of Filip Hronek and Elias Pettersson's contracts.
Starting next season without Hughes because of an injury sustained during games like these would be nothing short of disastrous.
Following his massive 29:35 game against Vegas, Hughes sits 12th among skaters in the NHL by all situations ice time with 1679:49 played through 66 games. Rasmus Dahlin sits 7th in the NHL among defencemen with 1690:31 played—11 more minutes than Hughes—in the same number of games. There is a good chance that Hughes finishes top 5 among ice time leaders by the season's end.