The Stanchies: Another loss, a jersey on the ice, and Miller's fun stat in Canucks' home opener
Photo credit:© Bob Frid-USA TODAY Sports
It's just one of those days
Where you don't want to wake up Everything is f***** Everybody sucks You don't really know why But you want to justify Rippin' someone's head off No human contact And if you interact Your life is on contract Your best bet is to stay away motherf***** It's just one of those days It's all about the he-says, she-says bulls*** I think you better quit, let the s*** slip Or you'll be leaving with a fat lip It's all about the he-says, she-says bulls*** I think you better quit, talking that s***
If this Canucks season was Woodstock '99, then the 5-1 trouncing they just took at the hands of the Buffalo Sabres is clearly the part where Limp Bizkit took centre stage.
At least with blown leads the Vancouver Canucks could talk about tightening things up and locking things down. About how their offence is going, but they just have to make some adjustments so they don't let games slip away from them.
Bruce Boudreau even gave that rousing speech about how the Canucks were playing some of their best hockey the last couple of games and that if they kept going that way, the results would come! It was like a scene out of a movie, with Dennis Quaid playing Bruce and, I don't know, Jake Peavy trying his hand at acting by playing the part of JT Miller.
So to go from that hesitant optimism to a blowout loss to the Buffalo Sabres at your home opener, with the biggest highlight of the night being the tongue lashing Luke Schenn gave to JT Miller at the end of the second period? You can almost smell the sewage leaking all over the field from here.
Instead of the biggest story of the season being Tyler Myers dressed up as a chef and front kicking someone to death, as it should have been, the only thing people will be talking about after Saturday night is the poor play of the team, and in particular, JT Miller.
To go from getting the big money contract, to having the start to the season he's had, to talking about how he feels really good about his game in his own end this season, to then having Daddy Schenn chew him out live on national television, you'd be hard-pressed to find anything favourable about his start to the 2022/23 season.
If body language is anything to go by, he looks listless at times on the ice. Nary an f-bomb is to be seen, nor an angrily pointed finger telling a teammate where to go.
He's always made sloppy passes and questionable decisions in season's past, but when you're rocking 99 points, that tends to get excused. Now we're just getting the poor play and none of the offence, which puts a rather large spotlight on the man once known as Jimothy Timothy. Not even the Man in Black had such a disappointing seasonal arc like this.
We're at the point where people are having discussions on who can play with JT to get him going again, something you never really want to be discussing about one of your top paid players.
Does he need to move back to the wing and let the trials and tribulations of playing centre take a back seat for a while? Do you hook the Lotto Line back up for one last ride just to see if it can rejuvenate Miller and an also struggling Brock Boeser?
You can only call so many player's only meetings before they just become regular meetings. Something needs to come from within, otherwise the boos will only get louder.
Now let's be clear, though,  JT Miller is far from this team's only issue. The questionable defence of the Canucks cannot withstand Quinn Hughes sitting out due to injury like he did Saturday night, which speaks to the construction of their back end being fundamentally flawed to begin with.
Thatcher Demko, a potential Vezina candidate in people's minds, has not stolen a game yet this season. Again, it's not his fault the team is losing, but he's also not superficially propping this team up, which I guess might be a good thing in the long run?
Fin is also clearly not doing his job either, and not enough people are brave enough to call him out. Why isn't Fin taking out a fan with a Sabres jersey on in the crowd? Where's his head at?
Everything just feels so sloppy, from the top of the organization all the way down to the soggy bottom.
It's clear this team could have used an extra 20 minutes in the oven, but now we have to see what this organization does next to try and right the ship.
Because as Elliotte Friedman well knows, this market will not go gentle into that good night.
Luke Schenn on After Hours:
"I think at times we're not playing to win, but we're afraid to lose."
If our Woodstock journey continues, then it means Jewel will play before a sullen crowd against Carolina before running back to her tour bus to flee the city.
Quinn Hughes is dealing with day to day injuries of the lower body.
Normally if you're paying your other top d-men 7.2 million and 6 million respectively, you would hope they could step up and at least look dynamic on the ice. Tyler Myers is the chaos giraffe so you never know what you'll get from him, and if Elias Pettersson is slowly turning into a Sedin, then OEL has turned into LA Kings Alex Edler quicker than anyone expected.
I know time and injuries add up, but watching OEL on the Canucks makes it hard to remember the days he would put up 55 points for Arizona. He just looks so static on the ice.
It's just an odd spot to be in when Jack Rathbone steps into the lineup and looks like the Captain Jack Sparrow of puck movement swagger compared to everyone else.
It's not often you can watch a penalty and be like "Oh nope, yep, that is 100% correct, that is a bad penalty to take" but here we are: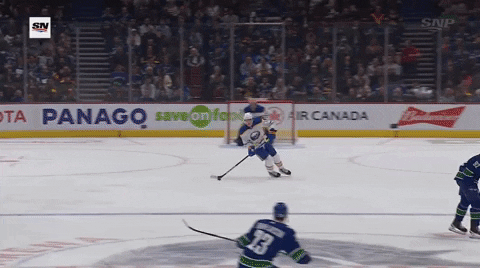 He just straight up reaches out and tries to rip the arm off of Tage Thompson to presumably try and beat him to death with it.
The good news is the Sabres only got one power play goal on the night.
The bad news is they only had one power play on the night.
The Buffalo Sabres had some luck on their side when their point shot deflected off of Elias Pettersson's stick and fooled Thatcher Demko: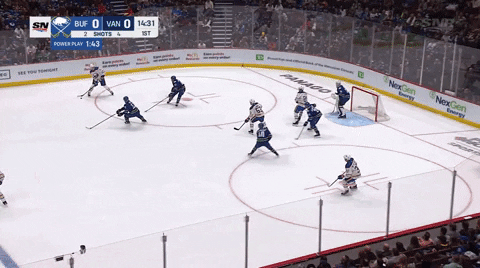 The Canucks' passive approach on the penalty kill hurts them here as they give up a lot of room at the blueline, allowing a lot of time and space for Rasmus Dahlin to do his thing.
If you're Vancouver, you have to remember you always lose the luck battle to Buffalo. The history of your entire team took a different direction because of one spin of the wheel.
In one universe the Canucks got Gilbert Perrault and won three Cups and have a street named after Brian Trottier who the Canucks drafted in '74 instead of trading away their pick.
In our universe, the Canucks ended up with Dale Tallon instead of Perrault, and traded away their first rounder in the '74 draft for Montreal's pick in '73, which ended up being? Bob Dailey.
Bob Dailey only lasted four seasons in Vancouver before being traded to the Flyers, where he quickly became an All-Star player, and was the Flyers best defenceman for the next five seasons, as is tradition.
The summary? Somehow a city that lost four Superbowls in a row still has more luck than Vancouver.
Fun fact: The Canucks got a player named
Larry Goodenough
, which is one of the most delightful names a player can have. He's good enough.
Best blame it on the rookie
As stated earlier, Oliver Ekman-Larsson ain't that guy anymore. To his credit, he doggedly tracks down his check, the problem is once he gets the puck back, the moment's too big, and he promptly goes full JT Miller by turning the puck over in a dangerous area: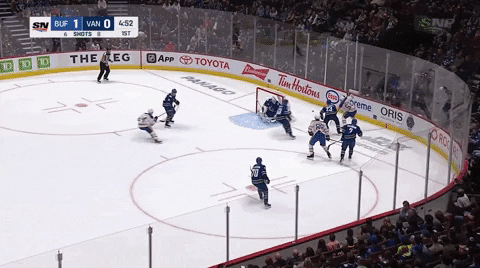 Jack Rathbone was on the ice, so old hockey logic dictates he must be punished for the sins of others, but aside from missing a few shifts, he at least finished the night with 17 minutes of ice time.
Again, when it's Buffalo vs Vancouver, they get the luck. It was agreed upon by Chiron and Hecate at an Applebee's.
This is why when OEL just tosses the puck on the net it connects with the iron like moist oxygen: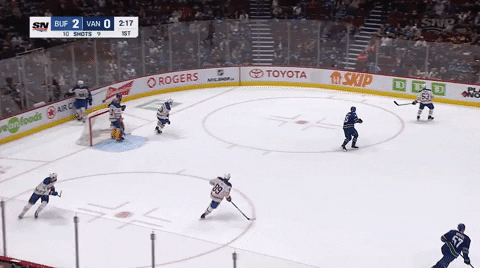 Or when even after a shift in which EP40 (or Swedish Jesse Pinkman as Instagram tells me) is locked in the way one can only be locked in when using Bose QCII earbuds, it still ends up with the the puck bouncing off of a Sabre just wide of the net:
This is just how it must be. Bob Gainey caused this.
Not since 2012 NHL Draft Pick of the Year Scott Laughton has a Flyers player impacted the Canucks so heavily.
Aside from whatever we're calling Elias Pettersson's line (Treaty of Värälä line?), Conor Garland was the best Canucks forward. He even got a rare pass from JT Miller that went right on target: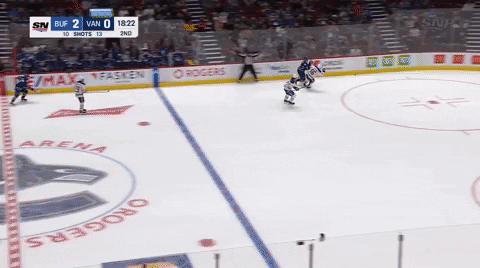 I say on target but I honestly can't tell if JT is swiping at that puck or trying to make that pass, but he had a rough night, so let's give it to him.
The end result, though? Craig Anderson, drafted the same year as the Sedins, stopped 29 shots on net to earn the victory.
Another fun fact? The Canucks eventually ended up with six players from the first round in 1999.
Henrik Sedin, Daniel Sedin, Taylor Pyatt, Kris Beech, Steve McCarthy, and the legend himself, Maxime Ouellet.
Fun fact number two, Maxime Ouellet ended his career in the LNAH, which is
essentially beer league hockey
where people actually meet up to fight in the parking lot instead of just talking about it.
If you're wondering why I am dropping so many fun facts, it's because it helps delay getting back to this game.
Also think how impressed your boss will be when you drop an Ouellet fun fact in the meeting on Monday.
Best missing the finishing touch
For my money, Andrei Kuzmenko has been one of the most fun and intriguing players to watch this season. I often give knowing glances to my dog anytime Kuzmenko swaggers into the offensive zone with a nice move.
He is constantly making things happen with the puck and is either generating or involved with plenty of scoring chances.
The problem? He and his linemates need to start converting on them.
The Canucks did have their looks in the first 40 minutes, but they just couldn't quite hit the back of the net: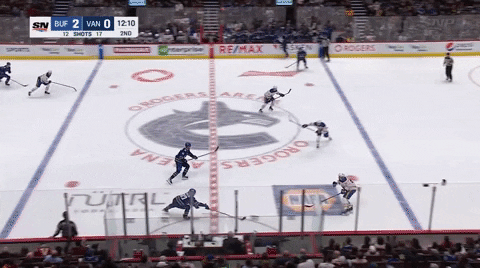 That is a Kyle Wellwood grade A pass from Pettersson right there, but Kuzmenko, much to Ian Clark's chagrin, cannot beat Craig Anderson's coloured pads.
Once again here is Kuzmenko gaining the zone then cutting quickly to his left to find an open Podkolzin who manages to at least draw a penalty:
Please take a moment to watch men get angry because a stick was slapped with another stick: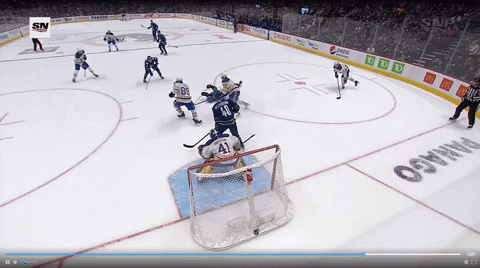 And again, the Canucks could have had a tap in and tied the game up after EP40 and Kuzmenko do the conga, but Podkolzin cannot pull the trigger on it: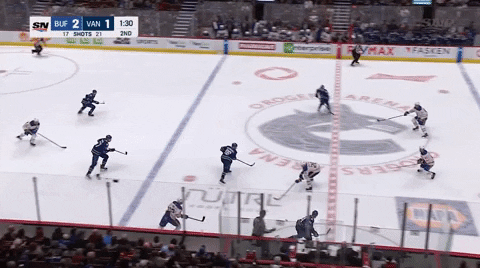 This line was fantastic for the Canucks all night long, and hey, maybe this game ends differently if they go into the third period all tied up.
Again, I have to remind you, in this universe they don't tie the game up, Luke Schenn ends up yelling at JT Miller, and Bob Dailey buys the Surrey Eagles and moves them to Memphis or something.
In some other universe, Podkolzin scores that goal and then Luke Schenn and JT Miller hug at centre ice and open up a pastry shop called "Muffin Farts".
It was pretty telling after the game about how Elias Pettersson sounded dead inside (understandably so), and was at a loss for answers.
"I don't know what the right answer is to our problems, but us guys in the locker room, we gotta figure it out."
If my Otter translation is correct, the only thing missing from their line that night was "Pockets. Imagine."
Upon listening to it, it appears his answer was "Pucks in the net."
Tanner Pearson had the play of the game for the Canucks when he 360 no-scoped this pass over to Conor Garland: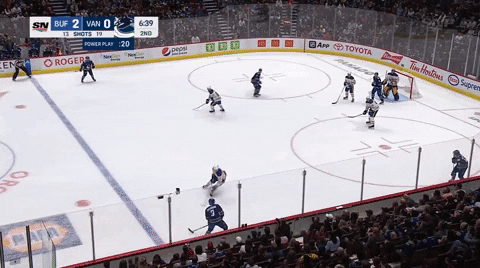 He sets up shop for the screen, collects the pass, then does a no-look flippy pass that established old school wrestlers would think was far too flashy.
Why can't Tanner just lock in an arm bar and slow things down?
Regardless, that's a pretty high DAWG play (setting up the screen, grabbing the rebound) combined with the sex appeal of a nifty high skilled pass. The best of both worlds.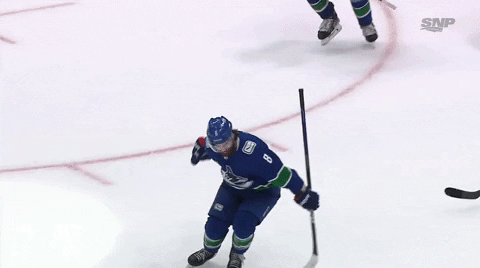 Merrick Garland has really hurt the google brand of Conor's last name, but nobody does the glove scoop quite like number 8.
That's not even an ice scoop, that's clearly him performing a Shoryuken.
While Iain lit Vancouver on fire, the rest of us gathered around to sift through the rubble.
Up first, here is the stern talking to Daddy Schenn gave to JT Miller: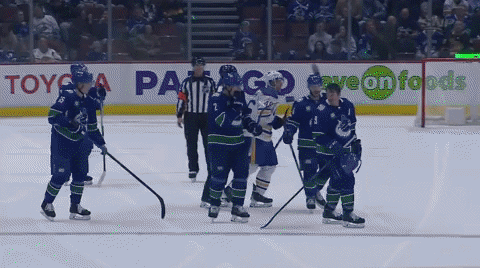 Conor Garland comes into usher Luke Schenn off the ice and ask him about his plate collection at home to end the very public discussion, but the damage had already been done.
In a battle of PR optics, top DAWG and underpaid Luke Schenn potentially calling out the play of highly paid and underproducing JT Miller, well, that win is always going to go to Luke. Fans wanting answers for this rough start are going to gravitate to the one guy who looks like he's had enough of whatever all this is.
While we have no confirmation over what was said (post-game JT Miller gave a terse "no offence, but that's none of your business," to Daniel Wagner when he politely asked about it), it could very well be this soft no-look pass JT tried to pull off through two Buffalo Sabres: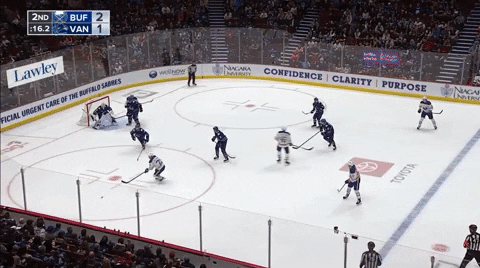 That's the kind of pass that gets young rookies taken to the train station, but for JT it's just another day.
And look, I get it, you get more leeway as the star player and the guy who produces a lot of points.
But when a team is losing every game, and you're not producing many points, those little things won't fly. Loui Eriksson is watching this and screaming at JT to play the puck to the boards and eat up that clock. Nikolay Goldobin thinks that's a solid play if he's being honest, but doesn't understand why JT was allowed to play in the third period.
As for the Canucks, you would hope that impassioned conversation would lead to a team flying out of the gates in the third period.
Instead it led to JT Miller being knocked off the puck and turning it over, leading to a dangerous shot on net: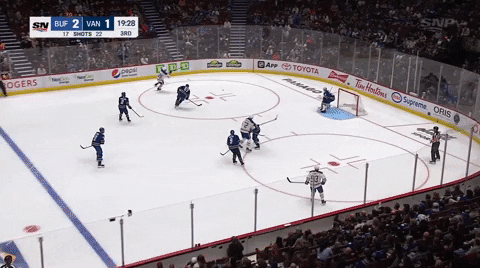 Which then lead to a double post situation that was initially called a goal (complete with JT Miller unable to block the shot in the slot):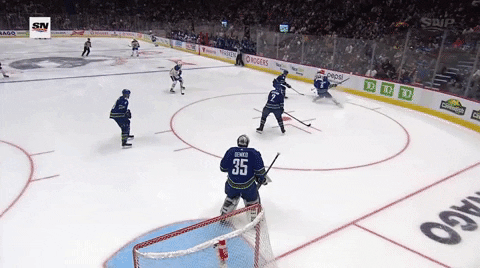 Which, you would hope at this point the Canucks would be like "well shit, we sure dodged some bullets there, let's turn this ship around boys!!" followed by a lot of hugs and high fives, but instead turned in the Sabres' third goal of the night off of a Podkolzin turnover: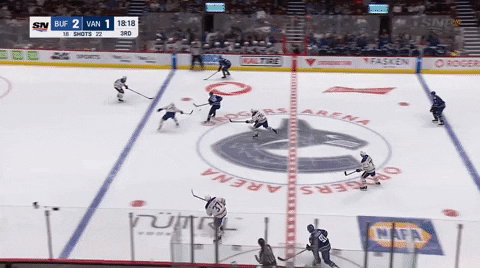 Once again the Vancouver Canucks got counter-rushed.
Once again the Canucks let a guy get open in the slot.
Once again the Canucks seemed committed to losing the game.
Honestly, this third period was the worst 20 minutes of hockey the Canucks have played on the season. They looked mentally defeated from the start of the period to the end of the game.
There was less pride from the team than there is at your 30th high school reunion. They were just there to get through it.
The Canucks' best chance of the third period? This Elias Pettersson shot:
Give EP40 credit, he is noticeably the Canucks' best player and is doing everything in his power to will goals into existence.
They should be booing this song even during the good times, but I'll take it when I can get it.
At one point, a Henrik Sedin jersey was tossed on the ice, which I mean, come on, if you're going to toss a jersey on the ice I don't think you're allowed to use one that is hanging from the rafters?
Once again I have to ask, where is Fin in all of this?
Gritty would have run down and stopped the fan from throwing a Bobby Clarke jersey on the ice with an impassioned glare.
Buoy would have, well, Buoy would have probably taken the fan out to Denny's and talked about how hard their divorce was hitting them.
Fin? He's not even there.
Best closing out the night
The Sabres got the empty net goal, which is when I thought I was done with gifs for the night: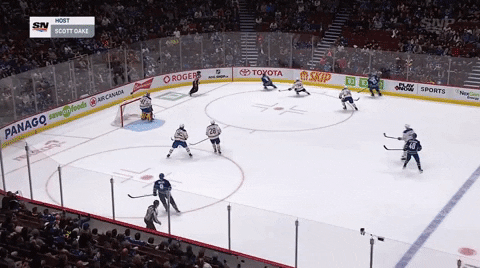 But then they got a fifth goal afterwards to really pour salt on the wound and to let Demko really stew in this loss: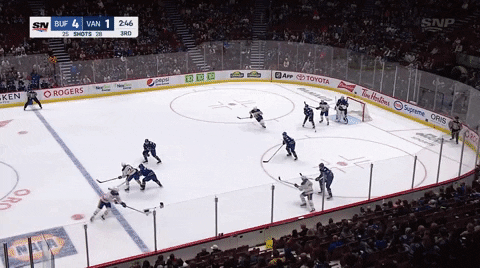 Bruce Boudreau was clearly frustrated with how things played out on the night.
"Well, my thoughts are what everybody else is thinking too. I don't get how a team that hasn't won a game, and you have a really good second period and aren't excited about coming out in third and doing the same thing as you did in the second and just look like there was very little effort. I'm seeing it and you're seeing it."
This is like when you ask the waiter if the meat was cooked properly and they say they'll talk about it when the time is right.
One of the things talked about is how the Canucks are trying too hard, and in some cases, yeah, they very much are.
Take this clip for example:
Despite a crash on the Alex Frasier, Bo Horvat skates over in time to throw a hit, but leaves a man wide open behind him.
His intention? Inflict pain.
The result? Buffalo almost scores an easy goal.
Elias Pettersson once again makes a smart defensive play by tracking down the puck in the slot and immediately turns that into a rush the other way with a brilliant bank pass: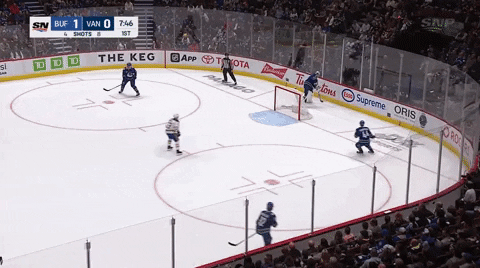 The problem? They end up looking for the perfect play and over-pass the puck until they don't even get a shot on net.
Mikheyev, who has yet to have a statement period, let alone a statement game, skates through the zone until he runs out of room: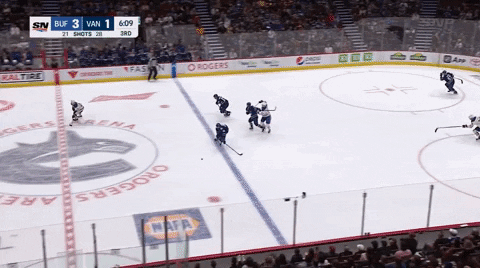 Everything just looked so difficult.
Best in need of the secret stuff
Speaking of struggling players, Brock Boeser is still trying to find his groove this season.
In this play he skates as hard as he can, but Owen Power straight up Indiana Jones' him and waits for him to finish his fancy moves before simply taking him down with one swing of his stick: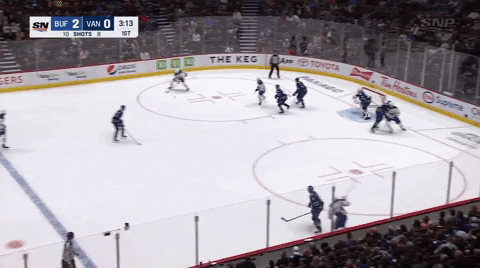 That was Anderson Silva levels of Forrest Griffin disrespect shown to Boeser's offence on that play.
Off the faceoff, Boeser tries to make something happen but Tuch steamrolls right through him. Luckily for Vancouver, Jeff Skinner triple salchow's the shot into the Planet Fitness in Surrey.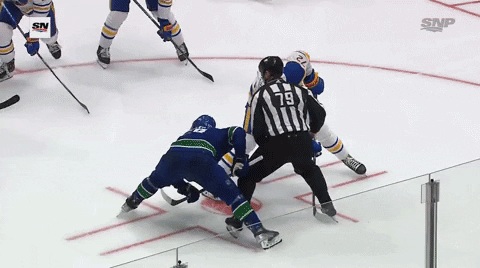 Even when he was getting a shot off, somehow the puck would end up getting by Boeser, leading to a shot on net: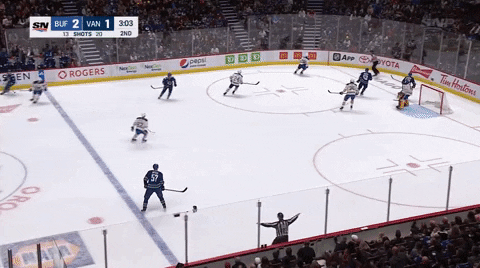 This was not a banner night for the Flow.
It's hard to do DAWG talk in a game in which the team gets blown out, but sometimes those games are where the true DAWGs shine brightest. Here's a handful of ratings supplied by Chris Faber:
Elias Pettersson: 84.05
Kyle Burroughs: 74.90
Nils Aman: 65.25
Luke Schenn: 64.51
JT Miller: 23.16
Noah Juulsen: 12.99
True to form, Elias Pettersson lead the way with his highest DAWG rating of the season. Kyle Burroughs led the team in hits so his DAWG rating is no surprise. Luke Schenn is Mr. Consistency when it comes to being a DAWG, and if the ratings took holding teammates accountable into account, he would have hit 100.
JT Miller continues his trend of low 20 DAWG ratings, and Juulsen feels more like a combination of only getting 11 minutes of ice time, plus he played the night before, so his DAWGs were barking.
A Lammikko jersey? In this economy?
I know the jokes are easy on a night when the team loses ("Why won't they put this much effort into the on ice product!") but if we can't enjoy the Canucks dressing up like movie starts, what's the point of any of this?
Highlights of the movie include:
Robin Sparkles bringing the team together for a secret mission: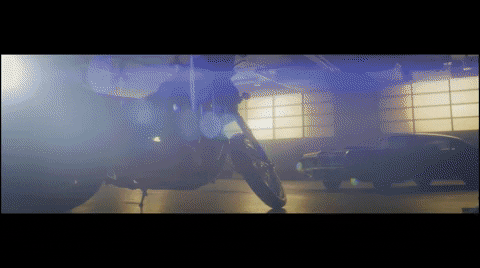 Luke Schenn being a valet and catching keys like the professional that he is: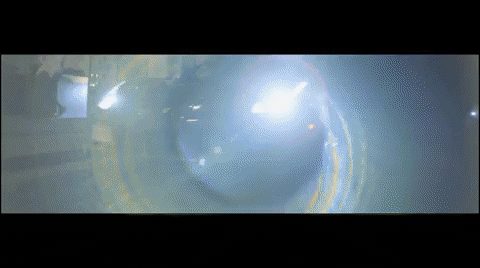 The highlight of part one is clearly Tyler Myers going full "This is Sparta!" and yeeting two dudes around the restaurant: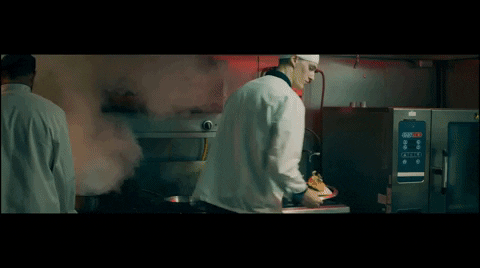 One clip showed Höglander being "assigned to Abbotsford" which clearly means he has to work in an Aquilini restaurant, with a surprised Kuzmenko wondering how he got there, before 006 Brock Boeser shows up: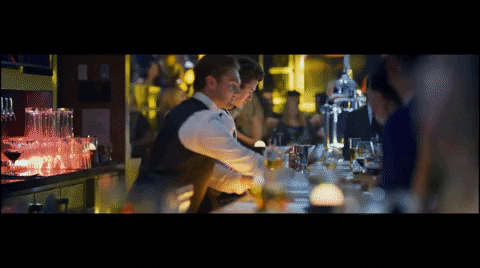 And we also got JT Miller fighting with two sticks, Elias Pettersson presumably running towards an explosion in his own end while OEL runs away from it, and Thatcher Demko accepting his fate and flying off a building backwards: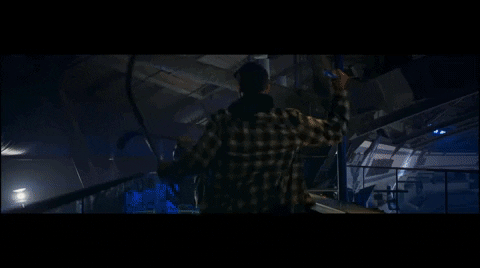 Honestly this video is a lot of fun and I know with the product on the ice being so bad it's easy to get annoyed with everything the Canucks do. But take it from me, we used to have pump up videos for like 19 years straight where it was just videos of the Canucks working out in the gym with giant text saying "PUTTING IN THE WORK" then some on ice clips from the previous season while some Black Eyed Peas song played over top.
Give me the storyline and the action and the Canucks acting like they're in a blockbuster film any day of the week.
Besides, do you know how satisfying it would be to use that Myers gif if the Canucks ever won a playoff series??
Exactly.
Bring on part 2.