The Stanchies: It turns out Quinn Hughes might be better than Seth Jones
Photo credit:© Perry Nelson-USA TODAY Sports
Quinn Hughes just had himself one hell of a statement game.
And that statement? He's here to take over this season.
Even better? The game was at 4pm, so a couple of media members in the East might have actually seen it.
Yes, the vaunted ESPN 12th overall defenceman in the league put on a clinic for the world to see as he looked like a young Pirlo out on the ice, controlling the puck and dictating the pace of play. Never has the game of hockey looked so easy as when Quinn Hughes gets the puck on his stick.
Watching Quinn Hughes play hockey is like watching someone play an EA Sports NHL game, minus the microtransactions. OK, well, one microtransaction, because someone clearly purchased goal celebrations for Kuzmenko.
But you can almost picture someone with a controller in their hand as they hold onto the puck forever, carving up the ice, going back and forth in their own zone, before racing down the ice for a shot on net, while some 13-year-old kid screams expletives at you from across the country.
Some people fall under the burden of the captaincy, and some rise up and embrace it.
And while it's still early, it feels like Quinn Hughes is going to ride that "C" and raise his game even higher.
Now, the game wasn't without its bumps and bruises, of course. This is Vancouver, and nothing can be easy here. For every dominating, fancy shift from Quinn Hughes, there's a Craigslist post offering up $3000 rent to come live in Tyler Myers' basement to equal it.
It actually took some last-minute heroics from Andrei Kuzmenko to secure the two points in a game that felt like the Canucks almost handed away the third period.
But the Canucks secured the win in the end, which if you're Rick Tocchet, you take those two points and run.
The rest of us? We continue to wait and see just what kind of team this Vancouver Canucks club is.
Until then, let's make some gif money, shall we?
It's always important not to get too hyped up on a prospect, but in this case, it's clear that Cam is telling us Hunter is a future five-time Norris trophy winner.
If this doesn't happen, it's on Cam.
The Canucks needed a better start after the loss against Tampa Bay, because if you play poorly against both Florida teams on a road trip, I'm pretty sure you get a corporate sponsorship cancelled. I'm a bit hazy on the rules, but that's how a hockey team lost their Burger King account.
The point is Philly Delight started the game off with one of those delightful high danger scoring chances your kid is always talking about, as he finishes the passing play started oddly enough by Panthers goalie Sergei Bobrovsky:
I'll let you play out Jay Onrait screaming about detectives in your head before we move on.
Screaming about detectives in your head.
That is to say,  in your head, Jay Onrait is screaming about detectives.
He isn't screaming about detectives inside of your head.
Ok, I think we got through that together.
Moving on.
Best gripping the stick too hard
The game actually started off with both team's trading chances, with the newly reformed line of Mikheyev/Pettersson/Kuzmenko caught watching in their own zone as Casey DeSmith bailed them out:
What was the point of these two gifs, you ask?
Aside from making me money, it is to set the scene. To let you know that both sides were generating chances early, and that it felt that both teams were competitive.
This is what we in writing call "fluffing." We fluff to generate excitement and to keep your interest. To get you so excited that you simply cannot wait to get to the body of the story.
We fluff because we care.
Tyler Myers' mistakes tend to be of the car crash variety, so you'll excuse Canucks fans for zeroing in on him and not noticing that the team overall has struggled to get out of its own zone the last two games.
Now it's not about making no mistakes whatsoever. No, it's about how you recover from those mistakes that tend to count for more.
Because let's face it, as Travis Green told us, that's a hell of a team they've got over there. Wins aren't easy in this league. NHL players tend to be pretty good at hockey, and they can force you into coughing up the puck from time to time.
It's how teams recover from mistakes that tend to show who will go far. Ron didn't get to come back to the Jersey Shore until he finally started learning from his mistakes, and learning to correct them.
Which brings us to this clip:
In it, we see Carson Soucy's pass attempt intercepted at the boards and shoved back down his throat. Friedman arrives on the scene and tries to pummel it out, but it needs some help from Kuzmenko.
Kuzmenko then completes the zone exit and out-waits two Panthers players (spoiler alert) before making the crisp pass back over to Friedman.
Fun fact, I wrote "crips pass" initially, which would have been an odd gang analogy that would have led to a text from Quadrelli asking me what I meant by that.
The point is, supporting the puck is a key part of recovering from mistakes, and the Canucks were showing on Saturday night that they were at the very least going to be working hard to correct any blunders as best they could.
Unless you're Quinn Hughes, and you don't need anybody's help, and you merely see teammates as human pylons in your very own mid-game skills contest:
Quinn Hughes straight-up juked Kevin Stenlund by going through Elias Pettersson and then calmly resets the play behind the net like nothing happened.
This is Anderson Silva dodging Forest Griffin punches levels of a "Oh, did you think you could do that? Silly human" moment.
Hronek comes back into the frame like the black cat in The Matrix to the point where you honestly wonder if you should start grabbing at the back of your head for a bunch of wires.
Just beautiful stuff from Quinn.
The Canucks struggled to produce offensive chances at even strength early on, but the same could not be said for their power play.
Their power play unit looked so ruthlessly clever, it felt like a raptor had come up with the game plan.
And in case you had forgotten how Quinn Hughes focused this article was, here is Hughes knocking down a clearing attempt like a young Brent Sopel: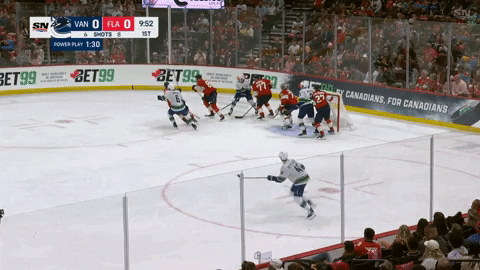 That is again, an incredible level of skill.
Like we all know, NHL players have tremendous skill. Even guys who only played a handful of NHL games could show up to your local beer league and absolutely rip you a new one without breaking a sweat, while you chuckled nervously and quietly asked the ref to check their ID to make sure they signed in.
But Quinn Hughes is playing like an elite 12th-ranked defenceman in the world right now, and it shows. The level of skill to knock that puck down, keep it onside, then slide it quickly over to start a tic tac toe tic play? That's the good stuff.
This lethal-looking power play eventually led to Quinn Hughes sending a shot home to make it 1-0: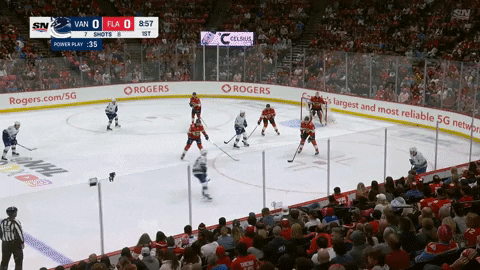 Quinn Hughes made an Inigo Montoya promise to shoot more this season, which he certainly backed up in this game, leading all players with six shots.
The more Quinn Hughes shoots, the more teams will have to try and be aggressive on him, which makes more room on the ice for everyone else.
Add in Quinn Hughes' ability to skate with the puck, and now all of a sudden, you have a d-man who can create shots, send elite passes to teammates, or skate right on by you.
Again, just a fantastic 12th-ranked defenceman in the league. Not quite the tool kit that Seth Jones has, but almost.
And yes, that is Bobrovsky claiming Elias Pettersson interfered with him, which even the Florida broadcast could only half-heartedly suggest that maybe EP40 slightly grazed his outstretched glove.
Tyler Myers is in that unfortunate situation where the magnifying glass is on him so much that any mistake is going to be amplified.
Alas, you don't need a magnifying glass for this mistake because it is front and center:
Tyler Myers just has no restraint to his game right now. It's big move after big move. He's all in on whatever he does, which on one level, you have to respect this guy's belief in himself. No matter what the play feels like, Tyler looks over, solemnly nods his head once, and softly whispers, "I got this," before going full Leeroy Jenkins on the ice.
I have watched this goal many times now, and I still have no idea why Myers overcommits to the boards on this play.
Yes, that is a delightfully sublime tip pass from Evan Rodrigues, so credit to him for that assist (or if you're the NHL, there were no assists on this play for…reasons?).
Sure, maybe there was a play there where you come in and break up the pass.
But Myers has to be aware that his defensive partner is on the complete other side of the rink, his center is pushed up, and he's the last line of defence for the middle of the ice.
Instead of showing restraint, he overplays his hand and rushes in, takes himself out of the play, and has to watch as Thomas Drance's favourite NHL player of all time Sasha Barkov walks in and ties the game up.
It bears repeating, but if a rookie defenceman had done that play, they would have been stapled to the bench while the coach talked about the player "needing some more time to understand the speed of the NHL game."
And sure, maybe if this was a one-off, you could just write it up as Myers making a risky play that didn't work out.
But this has been a constant theme with Myers, where he commits so hard on his initial read that even if he recovers to make it back into the play, he overcommits on his recovery and away he goes again.
He's like your mother's new boyfriends, coming in and out of your life at random, and you never know which way they're going, all you know is you need help with your homework.
"I love this guy. Big help for me…I like my line come back," was Kuzmenko's earnest appraisal after the game as he contemplated the reunion of Mikheyev to the Disgusting Brothers line.
And for a first game back after ACL surgery and not having played a game of hockey in many many months, despite not scoring any goals, Mikheyev's performance looked very promising:
Mikheyev's nose for the net was on display as there were several times where you could almost see the rust on his hands flaking off as he just pushed pucks past wide-open nets.
The good news is he's getting scoring chances, and it's only a matter of time until he starts putting those pucks away. An element of speed is something creative players like EP40 and The Kuzmenkshow can take advantage of, as the Disgusting Brothers looked far more dangerous with Mikheyev than they did in the previous two games.
I'm not quite sure where this leaves Mikheyev in our Succession nickname group, but we'll figure it out.
Stewy maybe?
Best actions have consequences
For those wondering, Tyler Myers ended the night with the least amount of ice time of any defenceman on the Canucks, just pushing past 13 minutes.
Best highlight reel from the 12th ranked defenseman
I know the easy thing to say would be that compared to the rest of the defence, anything Quinn Hughes does will look amazing.
But no, this is more than that.
This was the first game I have watched where I was blown away by just how much dominance Quinn Hughes can have over a game of hockey. It felt like any time the puck was on his stick, he was untouchable (yes, like Eliott Ness).
We have seen a great many solid defencemen travel through this town from Sami Salo, to Matthias Ohlund, to Ed Jovanovski, to Alex Edler, to Christian Ehrhoff, and to Jyrki Lumme.
But there is a reason there isn't a defenceman's number hanging in the rafters at Rogers Arena, and that's because there has never been a truly elite defenceman running the back end.
Quinn Hughes is that guy.
Watch as he strips the puck away from Sam Reinhart, evades a check from Paul's kid, then swings around to avoid a check from Drance's boy Barkov, then casually flicks a backhand pass as he skates down the ice to get the puck back, so he can enter the zone and then skate by Barkov one more time for good measure:
That is a man toying with his food right there.
You want more? Let's get rich off these Quinn Hughes gifs.
Watch as Hughes easily kicks the puck off his skate, then gets back into position so he can get the pass back from Hronek so he can feed him again for a shot on net:
You want more? Let's do it.
Roll out the chequebook Quads, as once again we have Quinn Hughes skating across the blue line, evading the Panthers, then cutting back with the kind of edge work that used to be featured in downtown Vancouver casinos along the water, before getting a shot off:
The best part? That's Oliver Ekman-Larsson taking a penalty on Kuzmenko for hooking.
You want one more? Still don't believe me?
Here's Quinn Hughes cutting a play dead in its tracks by taking the puck away and sending Mikheyev and Kuzemnko in on a rush that ends with a solid shot on net before getting the puck back at the point and calmly passing it over to his defensive partner:
Quinn Hughes makes everything look so casual he should be wearing a hoodie when he plays hockey.
You're going to hear an awful lot of hype about Quinn Hughes over the next few days as a result of this game. The kind of hype like in a movie where the designated outcast gets all dressed up for Prom and blows everyone away with how well they clean up.
People will whisper, "he's taking his game to the next level!" and you know what?
They're absolutely right.
The Canucks took advantage of Bobrovsky looking shaky in net as noted sniper Elias Pettersson Carson Soucy skated downhill and went top shelf where mom keeps the picture of the dream house she plans to buy the minute you move out:
The Panthers employed the vaunted "not it" defensive scheme on this play, giving all the room in the world to Soucy to walk down Bob, but give credit to Carson for taking what they were giving him.
Best of the disgusting brothers
Speaking of noted snipers, here is Elias Pettersson actually scoring a goal:
You know a pass is good when the goal scorer's first reaction isn't to celebrate the goal, but rather, find you on the ice and point at you for an uncomfortable amount of time so everyone knows this was your work, not theirs.
It's like when Cody or Lachlan knock a Stanchies out of the park and someone mistakenly credits me for it online, I am contractually obligated to go to their house and point at them and give them due credit.
Of course, you might think spinning no-look backhand passes might not exactly be Rick Tocchet's cup of tea, but the coach begs to differ.
"He can do triple salchows, I don't care what he does, as long as he does the system stuff."
I'm not saying I am now hoping for a Mighty Ducks moment in the next game, but I am not not saying that, either.
Best better than a sandwich
With the way Mikheyev looked on the line with EP40 and AK96, we might have to come up with another kitchen-based nickname for a line:
The speed Mikheyev brings to that line opens up a lot of room for the other two to play with, but Rick Tocchet thinks there might be another reason why Kuzmenko's game seemed to raise Saturday night: People pleasing.
"I don't think he wants to let [Mikheyev] down. I really don't."
I'm still partial to the calling them the Värälä line. One, because it involves so many umlauts, and two, a name based on a historical peace treaty between Sweden and Russia is a step above the lunch your Dad used to send you to school with.
But fine, let's hear your nicknames based on their initials.
"Oh the PAM line, because they're slick like cooking oil!"
The Panthers stormed back in the third period as the Canucks 100% looked like they wanted to ride their two goal lead until the buzzer sounded, offering up token resistance for much of the final frame.
Sam Reinhart got the second goal for the Panthers after the Vancouver Canucks decided watching Evan Rodrigues circle the ice was more fun than blocking shooting lanes:
Reinhart banged in the rebound, and away they went.
Now, when Tyler Myers is on the ice, people are going to want to blame him for every goal. Especially when Quinn Hughes is in on the ice, because certainly he would never make a mistake:
Honestly, to me, Quinn Hughes moves off his man either to not screen his goalie, or he thinks a rebound might be coming in that direction.
Either way, he leaves Reinhart while Myers sticks with Barkov, and that's an easy tap in for the Panthers.
A lot of people wanted to write this one up as simply another scene in the Tyler Myers experience, but for me, I can't put too much of this on him. He doesn't have eyes in the back of his head, and the last thing he saw was Quinn  Hughes tying up Reinhart, so he has no reason to think he needs to swap checks. He simply sticks with the guy he came to the dance with, which is admirable if this was an episode of Gilmore Girls.
The main issue here is when you look at the resumes. As we said earlier, if Quinn Hughes makes a mistake, you can write that one off. He does so much good on the ice that he's given some leeway when mistakes occur.
Tyler Myers, last seen being featured as the main culprit in three goals against in the last two games, will get no such favour. If you're constantly making mistakes and not correcting them, you will be graded on a different curve.
So while Chaos Giraffe didn't stab anyone on this play, when you check his apartment, it's still full of murder weapons. It's hard to grant him day parole these days.
Andrei Kuzmenko looked terrific Saturday night, and he played the kind of game that Rick Tocchet absolutely loves; One of hustle and effort.
On this play, Kuzmenko outworks Gustav Forsling and creates a scoring chance out of pure gristle:
Yes, Mikheyev missed tapping in the puck, but the important thing is Andrei didn't let him down. That's all that matters here.
The Panthers then tied the game up when Hronek fell for a feint to the boards:
I like how Hronek slapped his stick on the ice as if to trick Rodrigues into thinking someone was right behind him, but then Rodrigues cut back the way he came, right in the same direction of said stick slapping. That's like using your ult in Overwatch only to get pulled into the well by Roadhog.
In hockey, you can either outthink your opponent or outwork them. In this case, Hronek could have initiated body contact and tried to staple Rodrigues to the boards, or he could try and anticipate where the puck was going and intercept it. He chose a battle of the minds.
The problem with trying to outthink your opponent is when you fail, you can look like a big dumb lazy baby, whereas if you work hard and get burned, people look at you with sympathy brimming in their eyes, talking about how proud they are of your effort.
It's a real high risk style of play in terms of your own personal public relations.
Also Friedman gets tricked on the play too, as he leaves his spot to block behind the net, allowing Reinhart to drift to the front of the net untouched.
To me, this feels like one of those moments where you can in fact can hand it to the Panthers.
Best playing the classics
A lot has been made of OEL finding his game in Florida, playing 80 minutes a night, saving people from burning buildings, and fending off alligators at the local 7-11 or whatever it is Florida heroes do on a weekly basis. This has led to the "Watch Tyler Myers leave and become a top d-man for the Boston Bruins" conversation, but it does feel kind of early to proclaim that OEL is back, baby.
That being said, him being at fault on this goal doesn't mean his career is over, it just means like with many things in life, we need more time to investigate it:
OEL loses the puck battle with a very determined Philly Delight, who continues to bring a Burrows-like work ethic to his game. His board work ends up beating out two former Canuck defenseman in Forsling and OEL, finished off by him sending the puck out front right to Andrei Kuzmenko, who then proceeds to outwait both Steven Lorentz and Sergei Bobrovsky.
I honestly had no idea how Kuzmenko was going to work in Tocchet's system, but he seems almost too coachable at times, to the point where he almost gets lost in his head and needs to be reminded of what he can do with his high skill level. Something Tocchet echoed post-game:
"Sometimes I think he thinks systems so much…you don't skate as much…He went to the net with vengeance tonight. Like he was in front battling, those are the things we're looking for. The systems stuff will come. I don't want him to overthink it…if he has effort like that, he's a dominant player."
Kuzmenko skated with purpose tonight, and this was by far his most noticeable game. Whether it was fear of letting Mikheyev down, whether it was the team getting through to him, not getting caught up in systems talk, whatever it was, this was the Kuzmenko that is worth his contract.
I don't know if he's throwing monkeys off his back, or power-bombing them into the ice, but either way, I'm pretty confident they're off his back.
Best don't you, forget about me
This was probably the first night where JT Miller's line wasn't the best offensive line on the night, but Brocktober wants you to remind you they're still standing:
Game. Over.
So the Vancouver Canucks escape Florida with two points and have one more road game in Nashville before heading home for three games.
Do we still know what kind of team we have on our hands? Not even close.
Do we have a better idea of what kind of team we have on our hands? Maybe.
Did I get paid less money in gifs because I used less of them in an attempt to not crash your mobile browser? Damn straight.
The end point is we are only four games in, and we have a long road ahead of us, so buckle up, because this season hasn't even gotten started yet.