The Stanchies: Canucks play their balls off against the Rangers, but the refs show theirs in OT
Photo credit:© Simon Fearn-USA TODAY Sports
Sometimes, the opponents you face as a hockey team aren't who you expect them to be. Last night, the Canucks were facing three at the same time: the New York Rangers, interesting scheduling and the referees.
A Saturday night rematch of the fabled '94 Stanley Cup Final has generally been an easy sell in this market. After all, what's better than that?
Apparently lots of things, at least during Halloweekend. The number of empty seats at Rogers Arena for a usually marquee matchup was pretty surprising, especially considering the Canucks' recent stretch of great hockey.
There was even a clear lack of life on socials too, with most people electing for a night on the town at nearby costume parties instead of live tweeting during the second game of a back-to-back. With all of those factors, it seemed safe to assume that the Canucks were heading head-first into a trap game. And for the first 25 or so minutes, that appeared to be the case.
But right as some of the adult parties started to wind down — the ones where mid-30s people head home at 8:30 cause they're two glasses of punch deep and the Barbenheimer costumes they planned for months are feeling a little itchy — the Canucks found their footing.
By the time people were back at home and flicked on the TV, the Canucks was fighting like their lives depended on it for a pair of October points, an extremely welcome change of pace.
Then there's the giant black and white striped elephant in the room. A group of officials who made some absolutely galaxy-brained choices that cost the Canucks big time. They deserved a much better fate than they received.
When asked about his team's effort afterwards, Rick Tocchet didn't use it to dump on the refs. Instead, he focused on the positives and gave reporters the quote of the year.
"I'm proud of our team, they played their balls off today."
"You're gonna have these type of games where things happen. But I like the resolve of the team, I really do. I mean it's 3-2, we could have hung and been mad, but Souce scored that big goal for us. Fans were into it, overtime was great. So that's the way I look at it right now."
With Tocchet opting for the smarter, more learned approach to controversial calls, that means it's our job to care of it. After all, when it comes to breaking down the minutia of the game, here at the Stanchies, we'll always go balls deep.
It's gif money time!
The Whitecaps play in Los Angeles gave the Canucks a bit of early relief, knowing that no matter what happened in this game, they weren't going to have the worst defensive performance by a Vancouver team today.
Elias Pettersson has never shied away from contact, and he put himself right in Jacob Trouba's kitchen just to prove it. The Rangers captain has never been one to back away from a chance to take extra liberties on an opponent, and he happily obliged.
The refs certainly took notice of both players efforts, and Pettersson earned the Canucks got their first man advantage of the night.
This Canucks team is built different. This team has four lines who can create scoring opportunities and are willing to mix it up when the situation calls for it.
We'll have a bit more on Nils Höglander later, but for now let's appreciate his first chance of the game that creates a juicy rebound.
He also immediately tracks his own shot down and goes after the puck carrier instead of doing a drive-by, the type of play that earns you a gold star in the coach's book.
His linemate Dakota Joshua took umbrage with Trouba's extra shoves on Pettersson earlier, and decides more retribution is needed in the from of a hit and two-legged pulldown that would make Roman Reigns proud. (Disclaimer: Wrestling reference not cleared by Wyatt Arndt at the time of publishing.)
Did that super cool looking move result in an obvious roughing penalty? Of course it did.
Is it also a sense of the early season intensity that was sorely missing from the Canucks last season? You bet.
I like that trade off, so long as someone else doesn't take a penalty right after.
On Friday against the Blues, the Canucks got perfect play from nearly everyone in their lineup. But on Saturday, in the second game of a back-to-back, someone on the roster was due to have an off night.
The unlucky recipient? Filip Hronek.
It all started midway through the first. After picking up the puck behind his own net, Hronek found himself cornered by the Rangers forecheck and threw a soft pass right down Main Street. Luckily for him, the error was so out of character that Filip Chytil fell over in surprise at the sight of the puck landing on his stick.
Then, while killing off Dakota Joshua's penalty, Hronek sent the puck sailing into oblivion like a neighbour's frisbee that'd landed in his hydrangea bushes.
That's the face of someone who knows he just gave the other team an extended 5-on-3.
With two Canucks in the box, all the Rangers had to do was bide their time and pick their spot. And after smacking the post not once, but twice on the same extended power play, Artemi Panarin found his lane.
J.T. Miller leaves Panarin just a bit too much room above the circles while unknowingly creating a double screen with Ian Cole, and the Bread Man freezes him with a nifty little shoulder shake. As soon as Casey DeSmith looks one way around his defenceman's rear, Panarin aims for the other.
This could be a long night.
I was in the building for the 5-0 win over the Blues when they debuted this bit and, personally, I thought this was great.
Yeah, it's super cheesy at best and a little bit cringey at worst. But in a league that takes itself way too seriously when it absolutely shouldn't, I'm all for some more Canucks movie parody content.
Give me Thatcher Demko as Buddy the Elf for Christmas. Quinn Hughes and Elias Pettersson as Luke Skywalker and Han Solo. More!
Perhaps no one on either side of the ice was pushing to score a goal quite as much as Nils Höglander, and he was looking good doing it.
Like on his first scoring chance, Höglander picks up the puck near the blue line and skates down the left hand side, only this time Braeden Schneider is standing in his way.
So what does Nils do? He simply cuts around Schneider like a downtown commuter dodging through the closing SkyTrain doors and whips a quick shot that just barely glances wide.
We're slowly but surely seeing rookie Nils return to the scene, and what a huge difference it makes.
First of all, happy birthday JPat.
Second of all, why does Oscar the Grouch Cake have the same look in his eyes that I do after writing until 3 am? Get this guy some caffeine stat!
Ilya Mikheyev's footspeed is in a noticeably different place from where it used to be. You can see the foundation of his wheels are still there when he chases down this loose puck into the Rangers zone, but he just doesn't have the last gear to turn it into a proper scoring chance.
There's no telling if he'll be able to recover his full power from before his ACL tear. But even a 95% fast Ilya Mikheyev gives the Canucks an element of surprise any roster would kill for.
The Canucks power play has somehow been its most dangerous and least dangerous at the same time.
On one hand, the team's puck movement and shot quality has dramatically improved over season's past, as the team does away with patented Bo Horvat bumper shot and leans into the slightly scarier "let Petey and Quinn clap bombs from around the circles" approach.
But lately it hasn't bared as much fruit as you'd expect, which we'll get into in a second. Here on one of PP1's best opportunities after a Rangers too many men penalty, Miller's initial shot is deflected by Andrei Kuzmenko a little too sharply and the puck squirts out to Brock Boeser at the lip of the crease.
Sensing the pressure from the Rangers defenders, Boeser quickly tries to slide the puck underneath Shesterkin rather than pull it to the backhand and lift it over the fallen goalie.
Even with all the positive strides, there's clearly still some bugs to iron out.
Did I say bugs? I meant everything is perfect, cause we've got an honest to goodness power play goal!
With Miller in the role of netfront presence, EP40 works the puck to Hronek as Miller points his stick out to his right to deflect an oncoming shot.
Hronek doesn't just read the play, he lands a floater exactly where Miller wants it: just around 'Tim Hortons board' height with enough room under the crossbar that a coach's challenge won't be needed.
That Miller goal is the Canucks only power play tally across their last ten attempts, and he knows that isn't enough.
"At the end of the day our power play isn't as sharp as we want it. Let's be honest right now," Miller said after the game. "We need to be sharper and we take a lot of pride in that. We have a very high standard as a power play and even though that percentage is still okay, tonight we could have made a bigger difference in the game."
"They executed on their power play a little better than we did."
Best Hot Take Survivor Update
Technically, I said Pettersson would beat Connor McDavid for the Art Ross. But Quinn's little brother and Dylan Larkin would be fine alternatives.
I was fortunate enough to intern for Halford & Brough a couple weeks ago and they were kind enough to let me on the air during my last day there, which I used to talk about Taylor Swift and Travis Kelce. Yet somehow this tweet will prove to be an even bigger contribution to my reporting career. Thanks, Mike!
Best You Might Be Onto Something
Once the puck dropped in the third period, this game took on a whole other level. The pace of action got a lot more intense and the ice opened up enough for some offence to really break through.
Here we got some former teammate on former teammate offence as Jimmy Vesey upended Nils Höglander for a tripping penalty.
If you forgot that Jimmy Vesey was a Canuck briefly back in 2021, that's okay. I don't think he really remembers either.
On the ensuing power play, Ryan Lindgren arrives on the scene a little bit heavy handed, and Miller takes full exception. In this moment, Lindgren, Trouba and Chris Kreider are no longer humans; they're bumpers in a pinball machine, and Miller starts racking up combos, helmet be darned.
Note Igor Shesterkin leaving the scene like a broken animation in NHL 24.
Film critic Roger Ebert once wrote, "How quickly do we grow accustomed to wonders. I am reminded of the Isaac Asimov story "Nightfall," about the planet where the stars were visible only once in a thousand years. So awesome was the sight that it drove men mad. We who can see the stars every night glance up casually at the cosmos and then quickly down again, searching for a Dairy Queen."
That's Quinn Hughes' pure talent in a nutshell. He's a superstar that makes the highlight reel so regularly that his best smaller plays sometimes go unnoticed.
Here he helps Pettersson break up an odd man rush, getting in the way of Mika Zibanejad's centering pass for Vincent Trocheck.
That wasn't even the captain's first great defensive play either. Back in the first period, Hughes used his stick to shut down an Artemi Panarin zone entry attempt with a simple poke.
By the way, can you guess what movie Ebert was reviewing in that quote?
Best All the Right Things
For someone who didn't register a single point in this contest and registered only nine minutes of ice time, Nils Höglander's presence was ALL OVER this game.
And here, in his piece de resistance, he buys his linemates time to get a full change by casually knocking over Jacob Trouba in the corner.
Höglander is so clearly the kind of player that could thrive under the Tocchet system when he gets his chances. The only person who needs convincing is the coach.
Every now and then, a hockey game is defined by a moment so spectacular that it will become a mythos for both the player and the franchise.
Last night, the Legend of the Chaos Giraffe grew tenfold.
First, let's set it up. Right before a mid-third period commercial break, Phil Di Giuseppe caught Zibanejad with an arrant stick that cut his face open and put him in the box for four minutes. Not great!
With the Canucks penalty kill about attempting to kill off a double minor, Tyler Myers sends them back within ten seconds on a clearing attempt. Then, as Adam Fox and Zibanejad attempt to regroup, Myers intercepts the pass for a two-on-one with Sam Lafferty.
Fox and a trailing Panarin take away the pass option, so Myers has only one option; cause Rogers Arena to erupt.
Watching as Fox makes the move towards him, a lot of players would've likely panicked and thrown the puck away. But never the Chaos Giraffe, so sure of himself that his goes short side on one of the best goaltenders in the sport today, and beats him so cleanly that Shesterkin can only bow his head in respect after it goes in.
Tyler Myers is a mystery wrapped in an enigma. He is one of the strangest players the sport has ever seen. He is a Vancouver Canuck, through and through.
You had to know a Tyler Myers game-winning shorthanded goal was too good to be true. But the refs almost seemed determined to make sure it shook out that way.
With PDG still in the box, Dakota Joshua jumps on the ice to replace Pettersson just a shade too early. The refs, already having watched the Canucks turn three minutes of power play time into a shorty and a lead, decide now is the time to call a ticky tack too many men penalty. Rick Tocchet has a few choice words for the ref because of it, which according to my lip reading has to do with pucks and fit?
Now an already gassed power play unit has 50 seconds of 5-on-3 to kill off, and they're no match for Adam Fox sitting backdoor behind Casey DeSmith. And does it with 20 seconds to go on the first power play, meaning you still have a whole other one left to kill.
The NHL's script writers must not have liked all the happy outcomes Vancouver got in the last few episodes.
Things go from bad to worse just over a minute later, when a Panarin blue line shot creates havoc in front of DeSmith that Zibanejad pounces on.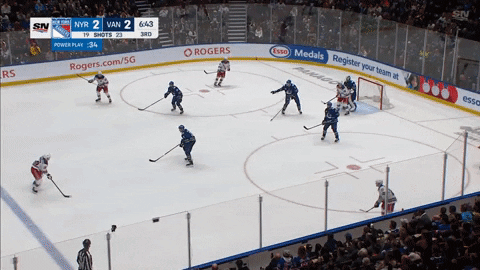 So to recap: in the span of a minute, the Canucks have watched a 2-1 lead entirely evaporate thanks to an unnecessary too many men call late in the third. In the past, that's usually been a crushing blow for the Canucks. Adversity has never fit this group well, and all we can expect them to do is let the clock run out and come up short.
But these aren't last year's Vancouver Canucks. This is a new team in a new era.
And Carson Soucy is about to drive that point home with an absolute bullet of a shot.
Soucy took a gamble with Anthony Beauvillier, Conor Garland and a sea of Rangers swarming in front of the net. But somehow, someway, he found a lane past Shesterkin's outstretched glove.
The final four minutes solved nothing else, meaning this game was headed for overtime. Surely the refs couldn't get in the way of overtime, right?
Very few teams have had goaltending on lock quite like the Rangers.
Benoit Allaire has been the Blueshirts' goalie coach since 2005(!), and is part of a family tradition when it comes to teaching NHL netminders. His brother Francois coached Patrick Roy and Jean-Sebastien Giguere to Stanley Cup championships, and is now a goaltending consultant for the Panthers.
But Benoit has had plenty of success in his own right, having been Henrik Lundqvist's mentor right from his first day in the NHL and trained every Rangers goalie since. Cam Talbot, Antti Raanta and Alex Georgiev were all Allaire pupils before becoming regular starters elsewhere.
So it says a lot that Igor Shesterkin might be his best project to date. And last night he showed why, with game saving series of stops on fellow countryman Andrei Kuzmenko.
Kuzmenko had had success with the patient deke before, having outwaited Sergei Bobrovsky in Florida on a similar chance. This time, he deked out Vinny Trocheck with a beautiful between the legs pass to himself!
But Shesterkin notched one of his six extra frame stops with a gorgeous diving glove save near the post.
He also got in front of an Anthony Beauvillier scoring chance that he steered into the corner, the Canucks 30th shot of the evening.
One of the best Canucks games in quite some time could only end in the most unsatisfying ending. The Rangers taking both points would've been a tough outcome regardless, but at least if they had done so in a non-controversial way this game would've still been enjoyable for all parties.
Instead, the referees decided to insert themselves into the conversation yet again.
With Vancouver dominating possession in overtime, Elias Pettersson took a route towards the net as Chris Kreider's leg extended out and clipped his skate. Pettersson went down, Kreider stole the puck and set up K'Andre Miller for a one-timer to end it.
For neither of the refs or the two linesman to notice as blatant a trip as you can get, only for it to immediately translate into the game winning goal, wouldn't be frustrating if the refs had been more or less on the ball during the first 60 minutes. They weren't, calling soft penalties on both sides that dramatically changed how this game played out.
All in all, you have to love the Canucks effort in spite of all the anvils the officials dropped on them over the course of the night. This team has the makings to be great, even if they hit a speed bump last night.
Right now, they're proving that they can go balls to the wall in any team in the league.
Best Asking the Real Questions
Words can't express how sad I am that Chester had this sign taken away at the Rogers Arena doors. As always, paywalls come back to haunt the locals.
Best BatmanPhotoMeme.jpeg
I hope there's enough ketchup in Montreal for ya, Cheech.
I don't know the exact context in the Habs/Jets game Maxim was referring to, but… yes.
Best Halloweekend Fit Checks
Troy from Richmond and his fiancé are the only NHL couple allowed to use the Barbie look now. They're who I saw first, and everyone else is a mere copy cat. 10/10.
I can't say I fully understand the context behind Clarissa's horse costume. Is it meant to reference that the Canucks are a wagon, which are usually drawn by horses? Or that horseshoes usually bring good luck?
Either way, I'm inclined to say she's crushing the look. 11/10.