The Stanchies: Canucks let one get away on opening night vs. the Oilers
Photo credit:© Perry Nelson-USA TODAY Sports
I hurt myself today
To see if I still feel I focus on the pain The only thing that's real
The needle tears a hole
The old familiar sting Try to kill it all away But I remember everything
What have I become?
My sweetest friend Everyone I know goes away In the end
And you could have it all
My empire of dirt I will let you down I will make you hurt
I wear this crown of thorns
Upon my liar's chair Full of broken thoughts I cannot repair
Welcome to the new Canucks season! It's pretty much the same as last season except now with helmet ads! NexGen Energy, fueled by crushing your hopes and dreams! So essentially an Arby's.
The Vancouver Canucks opened up their 2022/23 season with a 5-3 loss to the Edmonton Oilers, and they played some of their greatest hits:
Fun offence? Check.
Questionable defensive decisions? Check.
Big Shiny Tunes 3? Check.
Blown leads? Check.
Demko making delightful saves? Check.
Kelly Sutherland continuing his life long goal of tormenting the city of Vancouver? Check!
To be fair to the Vancouver squad, holding McDavid off of the score sheet is a tall task for most teams. Would you want to limit him to less than four points? I'm no coach, but you'd probably like to lower that number just a little bit.
But even if you put aside a handful of points for Connor McDavid, it's the way the Canucks lost that's going to be the subject of great debate. Blowing a 3-0 lead is leaning into the Canucks' slogan of "We've got unfinished business" in a way they probably weren't expecting.
The turning point of the game appeared to be a missed high stick on Quinn Hughes, where Evander Kane, playing the role of, well, Evander Kane, raked his stick across Hughes's face like he was working the territories in the 80s.
On the ensuing chaos (Quinn Hughes wandering around with no stick and bleeding, and Thatcher Demko wandering around with no stick and a general world-weariness all Canucks goalies eventually acquire) the Oilers got on the board to make it 3-1.
Then 3-2.
Then 3-3.
Then 3-4.
Then 3-5.
Game, blouses.
It looked like the Canucks never really recovered from that first goal, and if we were writing a dramatic HBO show it would make for a solid turning point in our hero's arc: After being abandoned by the law, the hero must make a choice.
Fight back, or give up.
Now, the Canucks didn't give up at that point, it's too simple a notion to suggest one missed call rattled the team into shutting down. However, it is fair to say they didn't play a complete game. If you listen closely you can almost hear the whispers of a thousand coaches telling you about playing for sixty minutes a night. It's a solid go-to move when facing off against the press after a bad loss.
And it's very fair to say that a Canucks team that went 1 for 8 on the power play, and looked like it lost some steam halfway through the game, well, they certainly have some room to tighten things up.
Again, Connor McDavid is what happened when Superman and Thanos had a baby, I get that. But blowing a 3-0 lead is hard to swallow no matter who you're playing against, and ruined what looked to be a great start to the season for the Canucks.
Now, since I get paid by the gif, it's time we jumped into the action, shall we?
Remember when the Sedins terrorized Alberta and they had to be the ones to tweet out sad stats? Or post them on MySpace, depending on the year?
Elias Pettersson's transformation into a third Sedin entering this season hasn't gone unnoticed, as his entire demeanour has been stripped clean of the cheeky, leprechaun like vibes where he's waiting for you to see how your wish is going to backfire on you, into a more rugged, cold, weathered man ready to do what needs to be done.
I assume a season of people doubting you tends to harden a man, so if you have a pet that needs to be put down, EP40 might be your guy now.
And his season started off with a bang after Dylan Hollaway, not much of an athlete, piss running down his legs, throws out the puck like he's 50 Cent at a baseball game: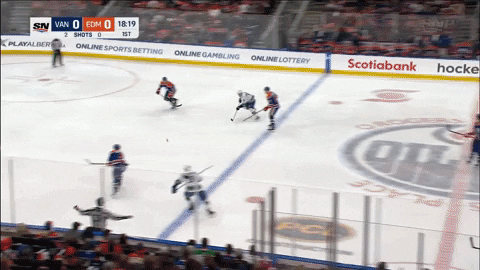 There was no forced pass there, there was no sadness that the initial shot didn't go in, it was just Elias Pettersson, hired hitman, out here to do a job.
This is the Elias Pettersson who is ready to take control of the scoring lead on the team this season.
Even his celebration is maxed out, as he scoops that ice like he's Jared McCann in his rookie season.
Best the good times were good
The Canucks' second goal came very quickly after their first, as Jimothy Timothy Miller walks in, and despite everyone knowing he is not going to pass that puck, goes top shelf like he's Jake Bongo: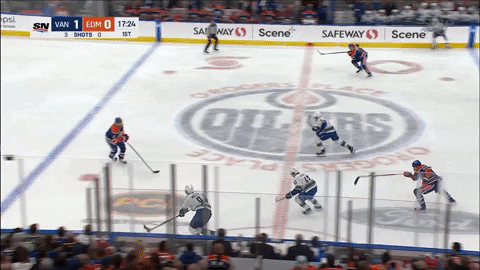 So to recap, the Canucks went up 2-0 in under three minutes, off of goals from JT Miller and Elias Pettersson.
This is the good stuff.
You know a save is good when it makes Harnarayan Singh's voice crack and rise three octaves:
If you're alarmed about three Canucks players essentially going "not it" on net front defence, you have every right to be!
That being said, there was a point in the game where Demko had the upper hand on McDavid, no points had been scored on him, and he even stopped Connor in the slot: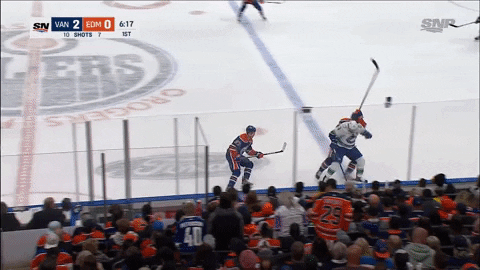 Those were simpler times, then. The 99 B-Line didn't exist and you got bus transfers made of badly torn paper. It was the fashion at the time, you see.
Darnell Nurse is a player known for his ability to play within the rules, assuming "within the rules" means an 80s cop show where they make the rules, and you're a heartbeat away from being drop-kicked during an interrogation for jaywalking.
Shockingly, he took a penalty at the end of the first period, which I assume set the tone or something.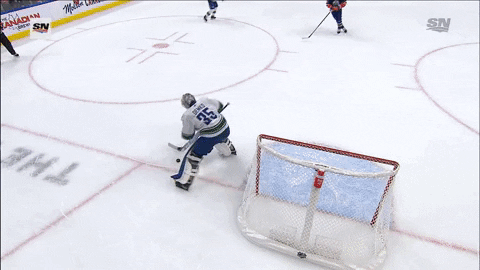 In my day, Dion Phaneuf would hit two players on the same hit and it was called a Double Dion by Pierre McGuire. He never had to throw his hits on an already-hit opponent, that's all I'm saying.
Andrey Kuzmenko, who just this morning was seen holding a puppy on Canucks social media and capturing the hearts of an entire city, got his first NHL goal and completely no sold it: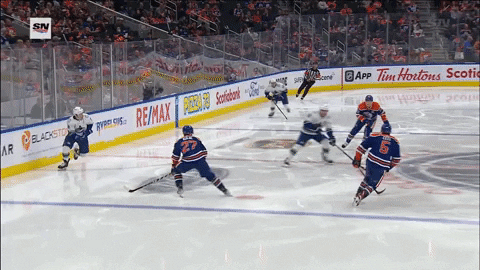 First off, let's talk about what is essentially a giant give-and-go on this goal. Kuzmenko attacks the zone, finds JT Miller across the space-time continuum, then heads to the net where Miller essentially banks the puck in off of his stick for the tap-in.
Then Kuzmenko stands in the crease looking like this is no big deal, he does this all the time, and then decides it must be time to go to the bench.
That's ice cold.
Now let's back this play up moments earlier to show Quinn Hughes and how vital he is to this team.
Just before the goal, Quinn Hughes is hounded heavily by Zach Hyman, but manages to both out-skate him and out-muscle and out-angle him, until Hyman realizes this is an unwinnable battle, so he peels off: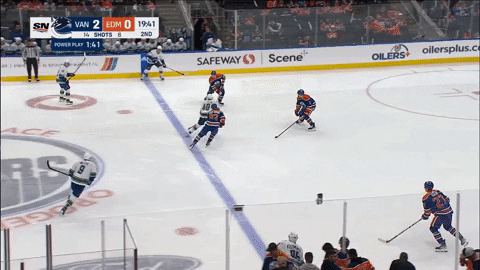 Hughes then turns the puck back around up the ice and we got the Canucks third goal.
So to recap, the Canucks were up 3-0 off of goals from Pettersson, Miller, and Kuzmenko, with Quinn Hughes and Thatcher Demko making several sparkling plays.
Yes, this is, of course, where it all fell apart.
Evander Kane, pictured here going at Quinn Hughes like he was Eddard Stark visiting King's Landing, "got away with one" as they say in the business: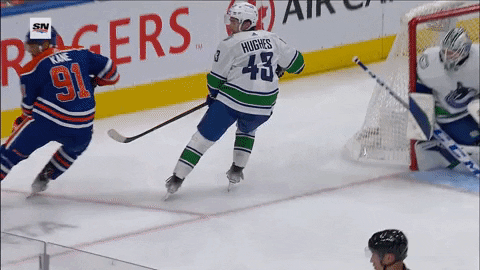 Keifer Sutherland would have called the penalty, saved the world, and then cried in his Ford truck for a few moments, before composing himself and saving the world again.
Kelly Sutherland's crew makes no call and goes about their day.
The result? Chaos all over the ice which the Oilers eventually use to lead to Leon Draisaitl potting his first of the season: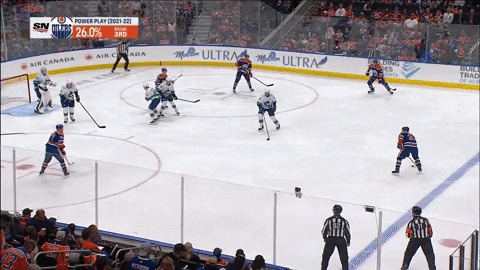 Look, I get it, refs miss calls in games. It's unfortunate this one was so egregious (it also took Quinn Hughes temporarily out of the game for repairs), but the Canucks going 1-for-8 on the power play is the real story there. If the Canucks can't recover from giving up one goal, that speaks to a bigger issue.
Canucks Captain Bo Horvat weighed in on the non-call after the game, drawing on some Bertuzzi inspiration.
"I mean stuff like that kind of stinks, it sucks. The refs can't catch everything but it's one of those where you'd like to see that called. But I mean it is what it is, we have to keep battling through it."
With Quinn Hughes out of the game for part of the second period, we got to watch the joys of chemistry, or in this case, the joys of the lack of chemistry between JT Miller and Oliver Ekman-Larsson on the power play.
You like laser beam passes to an immobile d-man who just wants to hit dingers all day? We've got you covered: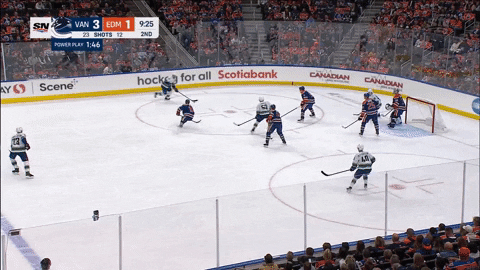 What about the no-look curl pass JT and Quinn do all the time, but this time to OEL who at this point has PTSD of never knowing where JT is putting the puck: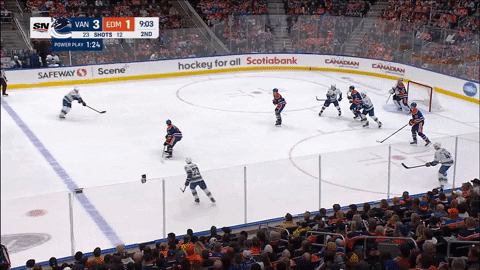 The value of Quinn Hughes to this team cannot be overstated enough.
While the Canucks went 1-for-8 on the power play, the Oilers went 3-for-4, because apparently having two hockey players injected with compound V gives you a distinct advantage?
The puck bounces around on a string, and ends with Soldier Boy passing it to Homelander for the clinical finish:
Like at one point on this goal the puck has already moved around so much that the Canucks just assume Draisaitl is taking the shot in the slot because clearly nobody should be passing the puck any longer, this is getting ludicrous, so ALL FOUR SKATERS surround him.
And because he's the Daniel Makabe of hockey, Draisaitl one timers the puck at like 100mph over to Connor McDavid who of course is watching this play out thinking "I bet Leon fires this puck at me from the slot" because they both play hockey at a level I will never comprehend.
It's exhausting watching them be so good.
This is Quinn Hughes. He's pretty good at the hockey: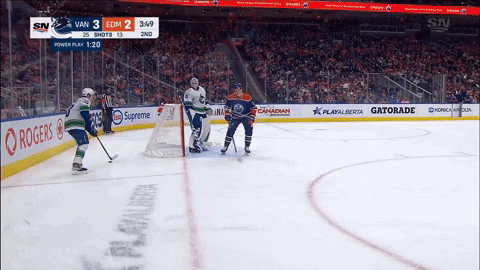 That's just a brilliant pass and if JT Miller takes Jack Campbell to the train station there, the game might have ended differently.
Want to see that pass from another angle? Of course you do: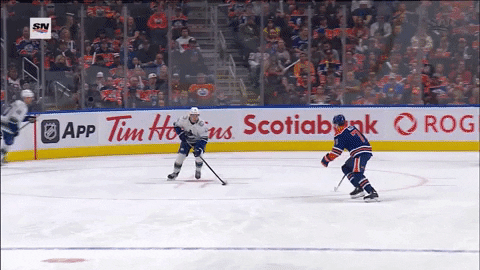 Jeff Brown watches that pass and has no advice to offer up to make it any better.
The Canucks continued to pour on the pressure on another power play but Campbell was ready for this one timer before Elias even got that puck: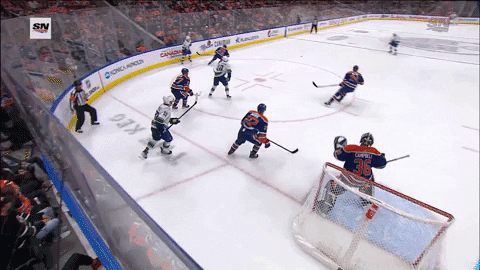 Then with yet another power play to end the period, the Canucks almost restored the two goal lead once again, after Kuzmenko pulled off a nice pass over to JT Miller:
(For what it's worth, I felt Kuzmenko had an absolutely tremendous first game for the Canucks)
I feel like after you've failed to score on three good chances that the hockey gods take over at that point and your night is done.
Best Chaos Giraffe tribute
With the Canucks pushing for a goal, Elias Pettersson pinched in to make a play on the puck, except his play was "blind pass after leaving my post."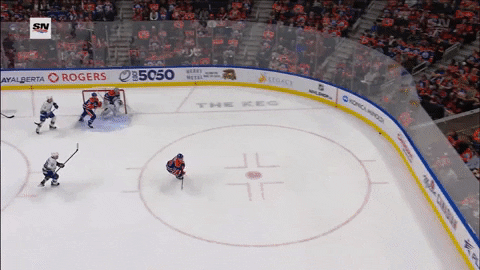 As you watch the drone cam twirl to and fro in the sky, delighting us with its dizzying array of motions, you have to give credit for Elias Pettersson going full Jeff Tambellini as he tries to backcheck to cover his mistake.
Unfortunately the man with the puck is Leon Draisaitl, and he is good at passing the puck as he sends over the perfect pass to Darnell Nurse who quickly delivers a head shot to the puck: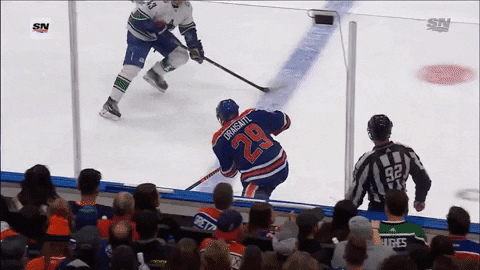 He can dance all day.
Go with your gut! Unless your gut says fire the puck back into your own zone right onto McDavid's stick: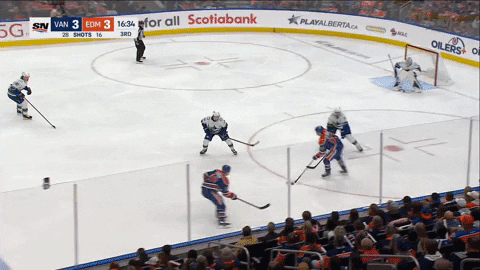 The last-second look back from JT on that clip just slays me.
I often wonder who is more chaotic, Tyler Myers or JT Miller, and honestly, I'm not quite sure.
Half the time JT Miller sends his weird no-look passes and they end up on the stick of some dude in the crease.
Other times, it ends up like this.
I can say with certainty that Tyler Myers is taller, though.
A stick to the shield is worth two in the hand or something like that?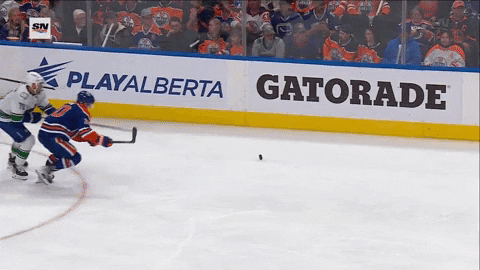 See that's an easy one because it glanced off a clear visor, whereas with Quinn Hughes, the stick connected with skin, blood, and cartilage, and who can really tell what's going on with so many ingredients?
Thatcher Demko had one last super-hero moment in him when he denied Evander Kane in close off of a pass from, who else, Leon Draisaitl: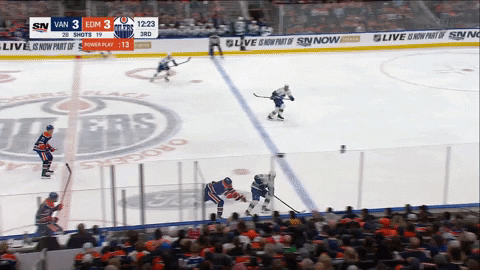 You can see the point where Tucker Poolman senses danger like he's Ralph on a school bus, rushing back into the crease and going fuller Edler mode as he seamlessly flows into a butterfly stance in the crease.
When Drance is right, he's right.
It felt like the game turned in the second, but also McDavid can make any game turn, especially when you ignore him behind your defence and let him pick up his own rebound: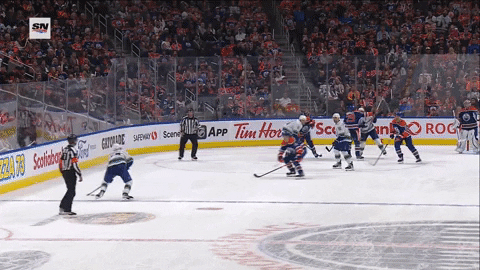 Tanner Pearson sort of "nopes" his way out of responsibility on this goal by shoving McDavid and I guess hoping he quits hockey and just leaves through the door in the corner.
Tanner isn't the fastest player in the world, and Connor kind of is, so it's not a great match-up to begin with.  Add in Quinn Hughes scrambling to cover the slot, and Luke Schenn just praying for a power outage in the stadium, and it's a perfect situation for McDavid to score a goal.
Evander Kane finally got called for a penalty, and honestly, that's probably a make-up call for the missed high stick:
I mean, you'll take that call every day if it happens to your team, but it felt like a game management call.
That being said, the Canucks best two chances on the power play were scrambles in the crease that couldn't find the back of the net: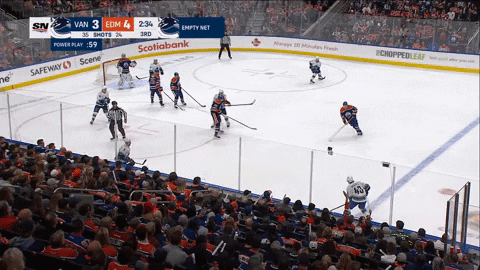 Kuzmenko is inches away from pulling that puck back enough to pop in the rebound but runs out of room, and JT Miller's shot almost gets tipped in by Brock Boeser, but Jack Campbell stood his ground.
And hey, maybe if the Canucks battled back from being down, you watch that and think "hey they gave it the good old college try."
But to have the 3-0 lead, then to go 1-for-8 on the power play, and then to fail to score on the late man advantage?
There are no moral victories to be had here today.
To the referees' credit they got ridiculously good at calling high sticks as the game progressed: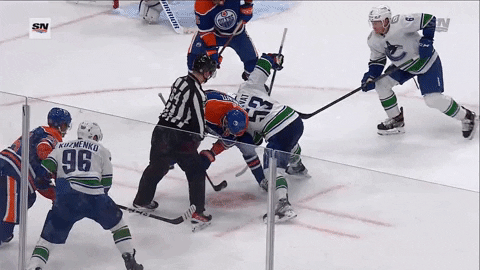 This took the Canucks off the power play near the end of the game.
Tanner Pearson doesn't care if you wanted the Canucks to win. He has a job to do and that's to whack people in the face.
If you look at Elias Pettersson's haircut and beard right now, it's locked in. The man is serious about winning.
Give him all of the tough matchups going forward. He wants them. He needs them.
Feed the beast.
Horvat had decent underlying numbers, but it really didn't feel like he ever put his stamp on this game. We didn't see the Horvat hustle or Bumpin' Bo.
In other words, the dawg was lacking.
To be fair to Joshua, 97% of all goalies flop and cartwheel into the corner, screaming about how someone tried to murder them, at the slightest touch so he probably wasn't expecting resistance: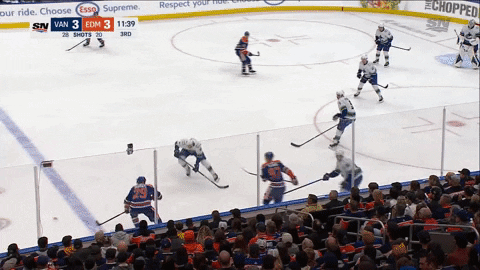 Jack Campbell straight up said "not today".
Best Happy little defensive plays
Despite the loss, there were some small things that stood out on my positive list after all was said and done.
First up is Quinn Hughes making this chip pass look so incredibly easy, escaping two forecheckers and advancing the puck out of the zone: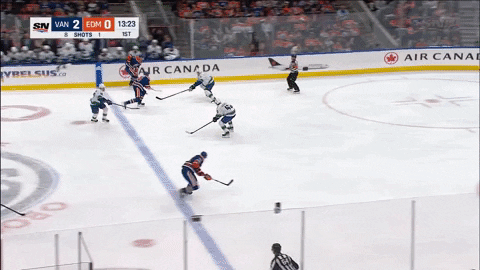 Vasily Podkolzin also showed the benefits of not panicking, as he takes an extra second to settle the puck and get it out on his forehand instead of blindly backhanding it into the ether, JT Miller's preferred method: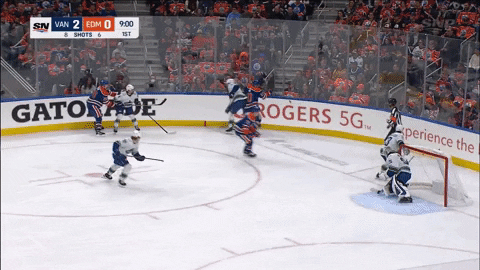 Brock Boeser might need some games to get his NHL flow back, but he was also out there blocking shots and making Edler-like kick saves: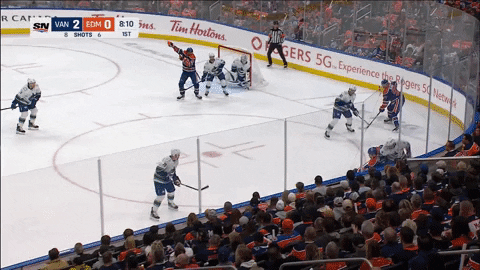 You can try to play the puck or you can just play the man like Luke Schenn did when he closed the gap along the boards: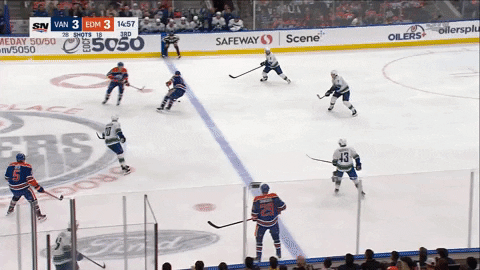 And despite the way the game ended, it did feel like the Canucks forwards were trying to support their defence more, as there were several noticeable plays where they would backcheck and make a good defensive play.
Here is one where Nils Höglander skates hard to break up the play on the trailer's stick: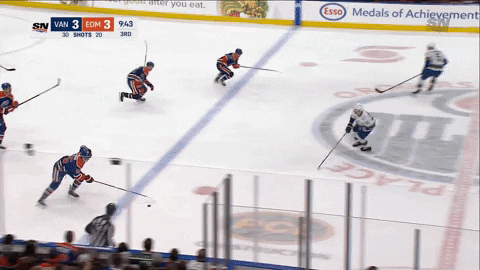 After a 5-3 loss there are plenty of valid negatives to discuss, but there were some positives to be had as well. Were 75% of them Kuzmenko's boyish charm? Sure. But what can you do?
Best did that black cat just walk by twice
Flawless digital technology. You can hardly tell hockey is being played!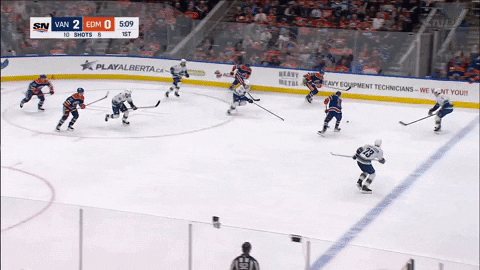 As discussed earlier, Elias Pettersson seems to be, how they say, locked in?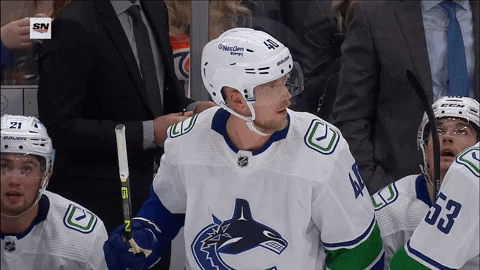 This is Elias Pettersson in the first period, trying to point out a penalty.
He's not sitting back passively, he is INTO this game.
And on ice, this level of intensity was reflected.
This sublime Quinn Hughes pass leaves EP40 all alone to do his dekes, which is just what he does: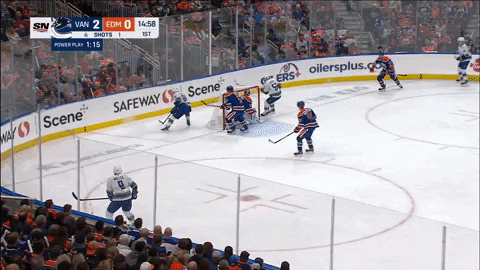 No passiveness to his game, no forcing a pass through to anyone, he just barrels that puck towards the net.
He would later find Höglander alone in the slot after drawing in two defenders, giving Nils all the room in the world to miss the shot:
Connor McDavid wants to rush in on Elias Pettersson? Nah, he ain't about that life, he straight up stands him up and shoves him off the puck: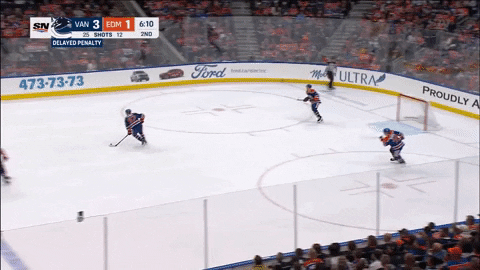 I'm not saying Horvat or Miller can't be your top line matchups, but I am saying Elias Pettersson should be given more of a chance to be your top line matchup.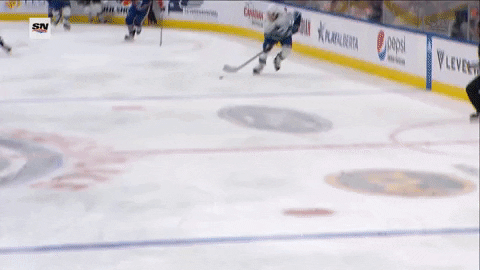 I get it, trying to feather pass over to Tanner Pearson unless he's staring down an empty net seems fraught with issues, but Boeser is still finding his feet at this point, give him some time.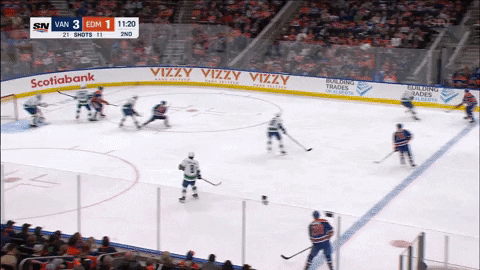 I did not have Ryan Murray busting out the best move of the night on my Bingo card.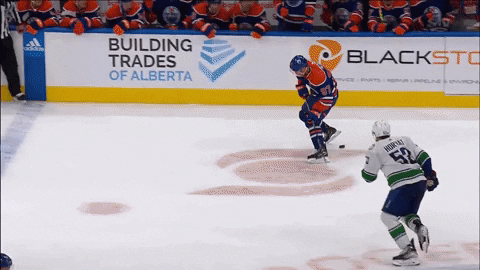 Okay balance has been restored, as McDavid had the best dangle of the night. He literally turnstiled Riley Stillman who managed to miss the puck twice while swinging his stick in a complete circle.
Best Bill Ranford tribute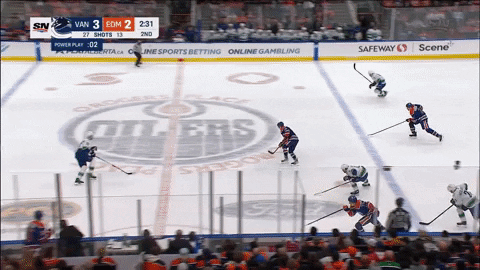 Demko kicking out that back leg to make the save, or as Kirk McLean calls it, "just another Wednesday."
It's sad to know that even a computer AI knows that future NHL scout Harman Dayal will be struggling with the Canucks' depth.
To this day I wonder who won that arm-wrestling contest between Alex Mogilny and Pavel Bure.
I mean, I know it was Alex. Clearly, Alex had superior strength. Look at his face. Eerily calm and in control. Now look at Pavel, you can almost see the stretched lips covering a grimace working its way to the surface, panic setting in, the moment's too big, and before you know it he's down quicker than Halloween decorations in November.
Best Atlas asked us to include the score
This one ended with a final score of 5-3 Oilers.
Best home is where the heart is
A season in which the Canucks are far from a top Stanley Cup competitor and Connor Bedard is out here throwing down for Vancouver? This would be like someone back in 2005 saying it's Vancouver's year because Richard Park adds an element of speed that will really push Vancouver over the top.
He truly is one of us.
This isn't even 5 year old Connor talking about his favourite team, mind you. He isn't talking into a mic during a TimBits intermission stuttering about how "Al Pederson" is his favourite player in the world.
This is grown-ass 17-year-old Connor, a young man who can sit down and have an impassioned conversation about the shitty North side of Park Royal with you for hours. And he's out here, throwing down for the Vancouver Canucks.
I heartily invite all of you to read into this, and assume his love for this team will never die, and that his only goal in life is to ride out a quick RFA career in like, say, Anaheim, and then sign with his hometown hockey club.
If he doesn't end up signing with the Canucks one day as a free agent and tweeting out a picture of him sleeping in Canucks pajamas, I have to ask what are we even doing here.