The Stanchies: Canucks 2023 NHL Draft and Free Agency Extravaganza edition
The Stanchies are normally reserved for Canucks games, but on special occasions, Quadrelli puts up the Stanch signal (a silhouette of a Costco hotdog) and I get summoned into the office during the offseason.
Today is such a day. With the NHL draft and free agency going down, what better time than now to dive back into some hockey shenanigans? Sure, Twitter is broken and you're only legally allowed to read like 13 tweets a day now, but we can still make this work.
Let's make some gif money, shall we?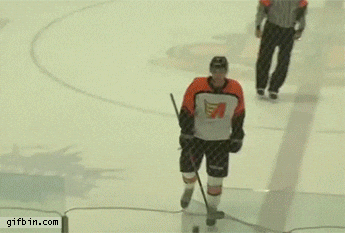 The NHL draft is the best time in the world because it's such an internet moment. Everyone becomes an expert on something after 30 minutes of research, to the point that people are ready to fight you to the death over a fifth round draft pick.
"Look at this goal on YouTube, the kid is an absolute demon out there, the next Ovechkin. Also look at this chart from jfresh, this clearly shows that this kid is a stud, I don't understand why you can't see this."
That being said, watching Moneyball and seeing NHL GMs lose their minds over one World Juniors performance does kind of lend itself to the idea that maybe drafting isn't an exact science for even some of the top guys in hockey. Which means, hey, why not weigh in with your thoughts as well?
The Canucks rolled the dice on a d-man with their first round pick, passing on a skilled forward. This is what we in the business call a PTSD moment, because for many fans, it brought to mind the Juolevi over Tkachuk decision for Vancouver, in where it sure felt like the team drafted based on team needs vs Best Player Available.
BPA, or "Bippa" if you want to sound fun at parties, is the central focus of the debate surrounding Willander. Did the Canucks choose the best player? Or did they choose a right handed d-man because it's a position the team sorely needs to upgrade? Will Zach Benson's slick passing make the team regret this decision? Or will they be laughing all the way to the bank when Willander becomes the first top 4 right handed d-man this team has produced since Adrian Aucoin/Christian Cage Kevin Bieksa?
For everyone else, the debate will continue until we see how Willander and Benson's careers pan out. If you're not a fan of Bippa, you're going to love this pick. The team's defence has been a burning pile of garbage since the 2011 core died out. It's like the Canucks continually ordered new defence from Fanatics and ended up with whatever this current nightmare we live in is.
"I ordered an Alex Pietrangelo and you guys sent me an Erik Gudbranson. No, I don't want a 30% off coupon for a Luca Sbisa."
Actually building up a proper defence? That's the dream right there. The Canucks have been accused of doing nothing but focusing on wingers recently, so maybe the right move is to focus on the defence. So adding Willander, if he is who they think he is, is a giant step in the right direction.
If Willander fails, though, and Benson gets 90 assists a year setting up Tage Thompson while Elias Pettersson wistfully watches his highlights on TSN? It will lump this management group right back in with the Jim Benning era, a team that has no idea what a good defenceman actually looks like. People will question why they reached for Willander, and wonder if they could have leveraged their draft position a bit and dropped down.
As with all drafts, time will tell. Until then, we complain and argue.
Such is life.
Best Carey Price nightmare
The further you get from the top 15 picks in a draft, the harder it is to argue about the selections made, because ultimately it usually doesn't matter. For every random 5th rounder that ends up having a stellar career, there are 1000 guys who simply end up playing in the ASHL as ringers for their buddies' teams.
My point is not that teams can't hit home runs, just simply that if you spend your time arguing and screaming over the later rounds of the draft, you're most likely wasting energy that is far better suited for making fun of your friends for being bad at Diablo.
So all you can kind of do is hope the process makes sense, and that a draft pick ends up being chosen somewhere around the general consensus of all the scouting reports you read.
In which case, Hunter Brzustewicz, a name I will be copy and pasting every time I come across it, seemed like a very solid pick. You don't go 10 years of watching awful defencemen without hoping for a world in which the defence is serviceable, which is where we find ourselves now. You can only take so many handsome defencemen that are terrible at NHL hockey before you dream of a time in which the team has bountiful depth at the rearguard position.
Best stealing from the enemy
Cam wasn't impressed, but this is where I point out my previous rule of not getting too heated over late round draft picks. Remember Jakob Stukel? Rodrigo Abols? Exactly.
I will say that the Canucks did seem to go off the board the later they went in the draft, so either they know something we don't (in which case, good on them), or they just went full old man Moneyball and drafted people with attractive partners because it showed they have confidence.
I won't pretend I have done some advanced scouting on Ty Mueller aside to say that it does seem odd to draft a 20-year-old player. Even if Ty Mueller's career takes off next season, why wouldn't he just wait out until he can sign with anyone as a free agent? It reminds me of the Mike Gillis era where they felt older players were a solid choice because you had a better chance of knowing what you were getting, and if they did manage to hit on a sleeper in the draft, they'd be ready to play in the NHL quicker due to their age.
That being said, he also has a nice smile and looks like he'd help his drunk friends recover from a hard night partying by making sure they had enough Gatorade to rehydrate, so this feels like a solid choice.
Sorry, BioSteel, not Gatorade. I don't know how that hasn't been hammered home yet, what with every interviewee being flanked by like 8 boxes of BioSteel.
Hey, every draft needs a random Tryamkin reach. Every draft needs some tall player who gets selected purely on size because the team thinks they'll become the next Andre the Giant of hockey, and then the person picked after them goes on to have a solid NHL career.
So I am calling it now, Hoyt Stanley is going to be a player. Not only is he going to be an NHL player, he also plays for the Vancouver Victoria Grizzlies, so he already has a lot of experience watching cute bunnies run around outside. How does this help him? I have no idea. I just wanted to talk about the bunnies in Victoria.
I said I wouldn't get angry over draft picks, but with JD throwing down sanctions on this pick, I am absolutely fuming over this Canucks pick. Any time you can tweet about a prospect in a way that makes it feel like a scene out of Clear and Present Danger, I am fully on board.
I will also say that when you're described as lacking NHL mechanics, but possessing an NHL IQ, that just screams AHL player to me. How many people do we see come through the NHL that don't make it because they're skating isn't good enough, or their hands can't catch up to their giant NHL brains? Mark Mancari was good skating mechanics away from being an NHL player, damn it.
But hey, maybe the Canucks know something we don't. Maybe they think they can upgrade the skills on Perkins and then his NHL brain will explode with its newfound powers. I've seen X-Men, this can work.
But the red flag for me is honestly the death tap of "not a great skater, hands are ok".
Best gotta collect them all
Even if you just chalk this up to a feel-good moment, it's a nice pick. Hearing about Aiden always dreaming of being drafted by the Canucks and it actually happening? That's some good stuff right there. Also, he's a defenceman, and the Canucks need all of those. It's one of the most fun stories to come out of the draft. Who needs John Tavares in Leafs pajamas when we have Aiden actually walking the halls of Rogers Arena dreaming of playing for the team his dad worked at one day?
If you want to be cynical and use your hours and hours of watching Succession as the driving force behind analyzing this pick, it's the perfect way to get a head start on luring Macklin to the Canucks when he becomes a free agent far down the line. ATN needs someone driven to make it succeed Macklin, your brother needs you to make it work. If the Canucks can pick Morgan Clark to make Ian happy, then surely they can draft Aiden to get a good word in with Macklin.
And sure, maybe it didn't work with Steve Kariya, Sean Pronger, and Fedor Fedorov, but it's bound to work eventually.
All the cool kids are collecting dead cap space! See?? It's not just Vancouver!
Best Tidy Piece of Business
The Canucks landed their first TBOB, the ultimate compliment one can bestow upon an NHL team in the salary cap era. This is of course not to be confused with TBIT, which stands for "This buyout is tremendous!" which is used when a team finally gets rid of a contract that made everyone really depressed and the only thing left to do is celebrate with a sad smile on your face when it's finally gone. A smile that says "I've been at this too long and I'm almost dead inside, but the fact I still kind of care haunts and agonizes me."
As we saw last year, having a strong AHL team might be one of the more underrated things you can do in the NHL. Being able to call up cheap contracts into your NHL lineup sure is a nice alternative to signing Jay Beagle to a 40 year 1 billion dollar contract because he watched Ovechkin win a Stanley Cup.
It just gives you versatility and, sure, while a Wolanin or a Juulsen might not set the world on fire, if they're able to come in and give you serviceable hockey at an affordable rate, that's a huge win for this team. It's all part of the bigger picture of putting together team that can have salary cap flexibility, and can have the depth to ride out injuries.
At the very least, it gives you some exciting playoff hockey in Abbotsford, and well, beggars can't be choosers in this province.
Best let's slop 'em up, boys
If you're reading this, JT Miller is never leaving.
Ethan Bear was the most surprising name on that list, as he fared well with the Canucks last year. And as we've seen with Travis Hamonic, simply being a right handed d-man can extend your career in the NHL longer than you'd think; Right handed d-men are basically that friend nobody likes, but they own a truck, so you keep them around in case you ever have to move.
But with the injury to Ethan Bear potentially keeping him out for a lengthy period of time next season, you can see why Vancouver chose to walk away from it and look elsewhere for their right handed, truck moving ways.
Best building from the back end
The best thing I can say about the Mike Gillis era is that I understood the process. It didn't always work out, but when I looked at the majority of the moves, I could see the logic. And that's all I ask for from a sports team, explain your logic, and if it makes sense, have at it.
With Jim Benning, I never knew what was going on. When Jim Benning spoke, nothing really made sense. He was like the parents in Charlie Brown in that I knew he was speaking and making noises, but I didn't understand how a trombone sound was going to help get the Canucks back into the playoffs.
And while the jury is still out on the current management group (they've certainly made a few "WIN NOW AT ALL COSTS, JUST GET IN AND ANYTHING CAN HAPPEN YOU IDIOT" moves that have alarmed me), their free agent moves today made sense.
The worst thing this team could do is give too much money or too much term to a player. We saw it countless times under Benning where he would run out and try and hit home runs by overspending in free agency, which would just end up hurting the team long term. He actually looked you in the eyes and told you that Tucker Poolman was going to solidify the defence for the next four years. He did that.
Handing out one year deals that you can flip at the deadline if things are going south? That's what people in this city have been begging for for years. Years. All of the years. People say Vancouver fans ask for too much, but holy hell, if the people are like "hey maybe don't cripple the team with bad contracts?" I have to say I don't think that's too big an ask.
Remember when Jim Benning simply ran out of time to make deals at the deadline? That shit doesn't fly here. That can't happen anymore.
If this team is dead in the water come trade deadline, and the Canucks can flip the Ian Cole's or Teddy Bleuger's for draft capital? That's about as solid of a win as you can get.
Notice how I didn't even talk about the skill of the players coming in? That's because term and money matter so much more than anything these guys bring to the table. The Canucks rebuilding their defence is a very nice storyline. Getting a potential third line centre is fantastic. But I am more excited about the fact no four year, multi million dollar deals were handed out.
Free agency for the Canucks was all about not crippling their cap, and they did that. That's a win.
Words matter, David.
Yes, if there was one thing you said to yourself while watching OEL in Vancouver it was often that he was almost too fast. In some ways, he was almost too furious. Add those together and you have a movie franchise ready to conquer the box office. Who plays Vin Diesel you ask? Clearly it's Quinn Hughes.
As it stands, it would be delightful for OEL to go to Florida and have a bounce back season. With less pressure to perform as a cap-destroying defenceman, he might slide nicely into a role on the bottom pairing. Maybe he puts those injuries behind him and has a solid laugh at all the dumb dumbs who counted him out. Maybe his soft wrist shots from the point become deadly laser beams in the hot Florida sun, empowered by vitamin D and a lack of gun control.
Or at the very least, retiring in Florida with a small cap hit while he backs up and gives 100 feet of space to the incoming forward sounds far more palatable then retiring in Vancouver while people come up with various "ailments" that could land him on LTIR.
"I'm not saying we give him the full bubonic plague, but like, just enough so he can't play hockey anymore. Who's with me??"
I hope Eddie Lack can sell him a nice house. Maybe one on a street called Garden City, to remind him of home.
Now, this contract has the highest chance of becoming one of those "how did this happen" moments, as that price tag does put Soucy in a spot where he needs to be able to play consistently in the top 4, otherwise, you're spending too much money for a bottom pairing guy. You have to hope he is who the Canucks think he is, otherwise, it will be another case of the Canucks overspending on a defenceman, which has somehow sadly become a proud tradition in this town.
Soucy is a big boy who can penalty kill, so I will say he's probably in a better position to come through on expectations over the Poolman's of the world, in that even if he isn't eating up a ton of top four minutes, you can still find places in the lineup where he's useful. I assume Allvin watched the Canucks penalty kill repeatedly stab this team in the back last season and whispered "never again" before clenching a fist and making a blood oath to random various Nordic gods.
Soucy also brings some hits to the lineup to replace those that were lost with Schenn and Burroughs's departures:
This town loves its big hits, and as Tyler Myers showed when he dropped Duncan Keith, a huge hit buys you at least a month's worth of good grace in Vancouver.
The main issue is the fanbase and this team have been in a toxic relationship for so long that everything has baggage associated with it. If other teams overpay for a bottom pairing d-man, it's met with a "let's see what happens" attitude. In Vancouver if it happens, it just brings up that time the Canucks forgot your birthday and then spent the entire day talking about how attractive their co-worker is.
The fan base needs to see improvement from the defence, that's the bottom line. The Canucks defence can no longer be the Sophie's Cafe of the NHL, an overrated, messy wasteland that feels like it would have been better in the 80s, which people keep coming back and lining up for, for reasons you can't quite understand.
I've never needed Lachlan for analysis more in my life.
My main takeaway is as long as the Canucks aren't spending more than a million dollars on a veteran backup goalie, I think it's a good move.
As Delia and Martin showed us, there is clearly a limit to how much you can squeeze out of your backups, but as Holtby and Halak showed us, goalies that have a last name that start with H cannot be trusted and are most assuredly stealing your money.
I'm also being told by Quadrelli that Silovs is winning the Vezina next season, and to not worry about it.
I think it's clear that the Canucks are committed to fixing their blueline and finding players with character. They kept hammering away at character during the last few days, so it feels like Rick Tocchet's system is slowly coming together for the roster. And while character is a delightful intangible, and who doesn't love stand up guys in the mould of El Dandy, I do worry that they are leaning on that attribute a bit heavily, and that it can only do so much for a team. I wonder if by "character" they mean "coachable", as Tocchet's North/South system is not going away anytime soon, and he seems to have a very firm grasp on what he wants out of his team.
Nonetheless, we are very much in a wait-and-see mode. And as I stated earlier, I can at least understand the process they are taking, and I think a lot of people will embrace the new approach on trying to put together a solid defensive core.
Is there a long term plan here that will open up a window to a Stanley Cup run? That is always the biggest question. I think they've definitely made short-term improvements, and next season we will see a much better team in front of us. Today's moves might not win them a Stanley Cup, but at least it didn't feel like it set them back from winning a Cup, which is a win for this team, all things considered.