The Stanchies: The Brushin' Brocket shines while Quinn Hughes keeps plugging along
Photo credit:© Stan Szeto-USA TODAY Sports
Going into this game, the Canucks had every single reason to lose. It's just a special skill set the Canucks have picked up somewhere along the way, that ability to play down to their opponent and fumble games they should easily win.
It feels like it's been years since the Canucks a) played a team they were clearly better than and b) won a game against said opponent.
And this Sharks game? It couldn't have been more winnable. This Sharks team looks like it would struggle to put up points against a Pat Falloon-led San Jose hockey club.
Facing a winless 0-8-1 team in the Sharks, a team that decided to bench the goalie who owns a 5-o record against the Canucks, this is the exact type of game the Canucks normally would have turned into a 2-1 overtime loss slogfest. They would have talked about being happy they got a point, but disappointed they couldn't walk away with the victory, then talked about how they're going to try and build off of this game and hopefully string together some wins.
Then Dan Murphy would tell you when the next game was, and you'd admire his pochette as the screen faded to black, as is tradition.
You remember those games, right? You remember them because you lived them, every single season, for nine long years.
If you need a visual metaphor, the Canucks in winnable games are basically Nedry trying to follow road signs to the docks.
All of which is to say it was downright confusing to see the Canucks absolutely smash the San Jose Sharks to the tune of 10-1.
Now, don't get me wrong. San Jose is a terrible team. You could almost see the "Crash for Celebrini" t-shirts under their gear. But that's all the more reason for the Canucks to take them lightly. To take their foot off the pedal. To not worry about S.J. Sharkie rallying the boys in teal to an upset victory.
But these things don't seem to happen under Rick Tocchet's second year of coaching the Canucks. The team seems more focused and locked in at a level we haven't seen in many a moon. This was a determined and efficient soul-crushing Canucks team we saw Thursday night. They essentially utilized the Team Iceland game plan out there, refusing to let up on their opponents, showing no mercy. Every bounce might have gone their way, but don't for a second think they didn't earn every inch of that victory.
This season honestly feels different than in years past. And it looks different, too.
Yes, a healthy team is a wealthy team. When your star players are cooking, winning games looks a lot easier. We also understand that any sort of happiness can be taken away at a moment's notice. I don't need anybody screaming at me about PDO. I know the other skate can drop at any moment.
But you know what? It's fine to enjoy the start this team is having. We don't need to game-plan about their Stanley Cup window. We don't need to dive deep into sustainability. We're all (kind of) mature adults here. We all understand there isn't a guaranteed deep playoff run ahead of this team.
Remember when you were lucky to get 20 minutes of solid hockey from the Canucks once in a month? This season we're getting full game efforts. Repeatedly.
So yes, I think we can just enjoy it for what it is right now, a tidy piece of hockey business at play.
The Canucks are playing good hockey. They're winning games. Occasionally pushing opponents down the stairs, if the situation calls for it.
After a decade of depressing hockey, it's okay to watch a Vancouver hockey team do this and allow yourself a little smirk.
If their play falls off, if the team falls apart, we will talk about it then. No one is declaring this Canucks team the real deal, nobody is planning any parades right now.
But for now?
Just enjoy the ride, baby.
Also, let's make some gif money, shall we?
A metric ton of gif money because I get paid more for gifs of goals.
Open that wallet up, Quads.
There was a time when I thought this was going to be a real NHL game in which Elias Pettersson being a late game decision would warrant discussion. I even went to the lengths of embedding this newly minted CanucksArmy employee Jeff Paterson tweet.
How well would Elias play? How would he hold up? Was it the right decision to put him in the lineup?
Well, the team won 10-1, and I think EP40 got looked at sternly by a Shark maybe once? Although he could have been glaring past Elias at Tyler Myers?
Watching Finding Nemo probably would have given us more insight on what tough aquatic-based metaphorical competition can look like than what we witnessed Thursday night.
If you're a Sharks fan who knows about The Stanchies, and therefore knows it's the best post-game coverage you're going to find, please take this moment to savour this next clip:
The Sharks almost scored a minute into the game.
This was the exact moment all of Canucks Nation turned to their buddy and went, "See? See? This is what always happens. I told you they were going to lose this one."
Luckily for Vancouver, the Sharks attempted to cut Mark Friedman like it was season two of Oz right after this.
Best I'd take pleasure in gutting you, boy
With that scoring chance out of the way, the Sharks then went about planning how to concede ten goals, and a lot of that plan involved penalties:
It's hard to argue that's not a blatant high stick to the mouth, and if you feel bad for Friedman, he would later take a puck to the mouth to end the game.
That was about the hardest obstacle any Canuck faced on the night, aside from dealing with the emptiness in their souls due to the fact they knew John Garrett wouldn't be dropping any ketchup metaphors about their game that night.
Best road to Avonlea and going 4 for 5 on the powerplay
To quote Larry David, The Canucks powerplay is pretty pretty pretty good.
And the best part about it? It's more dynamic than the chemistry you had between the one you let get away because you couldn't stop being selfish and thinking only of yourself:
Look, we all enjoyed Bumpin' Bo. There was something mercilessly efficient about it, in an Industrial Revolution-type way.
The Canucks showed up for work, they grinded, grinded, grinded, and occasionally Bo Horvat would score from the bumper spot. Nobody ever smiled, aside from Horvat thinking of his new contract, but there was a sturdy appreciation shown on their faces for their workmanlike efforts.
That powerplay strategy helped the Canucks win some games, it helped Bo land a lucrative contract in Long Island, and it served its purpose well.
But the current Canucks powerplay is so fluid it could be used as a toupee for Brock Boeser.
There is constant puck movement now.
There is constant swapping of positions now.
There is a constant generating of shots from all over the ice now.
It's harder to imagine teams game planning against this powerplay because it doesn't all just run through one play.
Quinn Hughes' skating alone this season has brought an entire new angle to the Canucks powerplay, where teams don't know how to defend it easily. Not only that, but his shot is getting more lethal seemingly every day. Not in a Shea Weber,
I can shoot the puck into a net from the stands
, kind of way. But in a slithery sneaky sneaky snake way, sitting in a garden, catching a mouse way. He is finding ways to get that puck on net, to the point where he has been held to just one shot only once this season.
The end result is teams are incredibly stressed out about Quinn Hughes now, which allows you to see things like this, where Brock Boeser goes full John Wick and is thinking he's back.
One day I wish to work with Daniel for a game recap. I just feel like we're a potential red hot babyface tag team waiting to happen with how we work so well together…with me eventually turning heel and throwing Daniel through a barbershop window of course.
But for those few glorious months of partnership…
Best of the Brushin' Brocket
You bet your ass I am leaning into that new nickname for Brock, if only for the people who DM me after games to inform me they liked my article but had some concerns about nickname assignments.
It's funny, Brock Boeser broke into the league with all the talk about his shot and goal-scoring ability.
Somewhere along the way, he turned into a pretty good playmaker as well.
Maybe the Lotto Line opened up his eyes, or maybe it was there all along, but the end result is he is now out here banking passes off the end boards from his own end like he's Henrik Sedin:
I have to assume both Sedins watched this and turned to each other and didn't have to say a word, because they already knew what the other was thinking.
JT Miller was the recipient of this incredible pass, and as he has been all season, he continues to be one of the Canucks' absolute best players.
Apparently it's easier to win games when JT Miller, Thatcher Demko, Elias Pettersson, and Quinn Hughes are all absolutely flying.
Who knew.
Look, Quinn Hughes is just trying his best out there, ok?
The more Hronek plays with Hughes, the more movement we're seeing from these two. Honestly, we haven't seen the bait-and-switch type plays at this volume since the Twins retired, just in terms of how many times they swap positions and feed each other the puck.
The end result is it creates a lot of room on the ice, because it catches the opponent moving in the wrong direction. On this goal, Hronek skates hard to his right and throws a pass back to Hughes, who is skating hard in the opposite direction of Filip Zadina, allowing him the open lane to get the shot off on net that eventually goes in.
Yes, that Filip Zadina.
The one Detroit took instead of the hometown boy Quinn Hughes.
See? Sometimes soul crippling decisions happen to other clubs, too.
To be fair, Hampus Lindholm plays in the East has gumption.
The Brushin' Brocket's playmaking skills are no joke. Look at the filthy touch he puts on this puck:
He not only knocks down the puck perfectly, but he deftly backhands a perfect pass over to JT Miller, who is then stopped by Kähkönen, who is just as confused about that save as you are.
You know why I think Rick Tocchet deserves credit?
He can make Tyler Myers look downright normal out on the ice:
Myers didn't go full Chaos Giraffe. He didn't collect the rebound off the blocked shot and start reciting Mean Girls quotes while moonwalking to the net.
He simply went Sami Salo mode and lined up and unleashed another clap bomb.
There was nothing fetch about it.
Best three, four, better lock your door
This was the first game you could ever complete the Freddy Krueger nursery rhyme to the goals and that's just glorious, you know?
Honestly, when games turn into a blowout like this, it's hard to glean insight from it as much as the tightly contested ones.
It's like, do you get more from that incredibly hard physics test you studied for all week and pulled out the 93% on, or do you think you learned more about yourself from that solid win you got at McDonald's Monopoly?
Either way, the Canucks landed a free hamburger when they pulled back the sticker on this Big Mac goal:
Yes, it was on the powerplay (which went 4/5 on the night) and yes, look at that puck movement.
This puck goes through the zone, around the zone, writes the theme song, sings the theme song, it does it all.
What I like about this play is Kuzmenko sets up a screen but then backs off to get a pass down low. A lot of lower skilled guy set up shop on the powerplay in front of the net and barely move. It's what they in beer league call "Going full Stanch".
But Kuzmenko backs off, gets the pass, and then seeing that no Shark player is closing in on him, drives to the net and gets a shot off, that Brock Boeser then taps in out of the air.
It's kind of incredible that last season it felt like Boeser and Kuzmenko were battling each other every night for a spot on the first unit powerplay, setting screens and play net front.
But here they are this year, working flawlessly with each other, both of them taking turns going to the net, both of them utilizing their hard-earned screening skills.
It's truly a thing of beauty.
This was one of the only clips where it doesn't actively show the puck going in the Sharks net:
Best you're a Wizard, Harry
What I like about Kuzmenko is that he trusts Elias so implicitly that he knows lobbing a puck in like he's Trent Dilfer won't be an issue for EP40:
Elias flattens his blade and takes the puck down like he's using a lacrosse stick. and then dingle dangles until he can get the puck over to Carson Soucy who then makes the perfect pass to Ilya Mikheyev.
Carson Soucy was a player I wasn't quite sold on when the Canucks signed him, but I happily admit I've been a total moron about him so far. His passing and puck handling is softer than I expected and he's been what those on TV like to call "a calming presence on the backend" for most of the games.
There was talk before the game about what kind of team the Canucks were going to face on Thursday and a lot of it involved the 'T' word.
Yes, 2003 still causes nightmares for any Canuck fan who experienced that Minnesota series, and if ever there is a tedious way to lose a game, it's to an underskilled team slowly trapping you to death all night.
But all that talk was for nothing because even when the Sharks got a powerplay in the second period, the Canucks got the only scoring chances:
Phillip Di Giuseppe might just have the best stick lift on the team because once again he starts a rush by having an active stick that eventually leads to a turnover by the Sharks. He then flips the puck to Friedman, who toe drags as we all expected, and ends up hitting the post.
Seriously, watch Philly Delight on the stick check:
Sure, I am getting paid twice the gif money for the same gif now, but it's worth it because it shows something we haven't seen a lot of over the years here: Having an active stick.
It's not just a buzzword, it's such a fundamental part of good defensive hockey.
How many times did we watch as a Canuck defender would stand in his zone, barely skating, not moving his stick at all, and watched as the other team sniped a goal past them?
Too many to count.
It's very clear why PDG is a coaching favourite and why he doesn't look out of place in the top six, because he generates chances like these based purely off of his stick work.
The best part about that speech I just gave?
Quinn Hughes got an even BETTER scoring chance after getting out of the penalty box:
The Canucks were all over the Sharks. The game could have been ended after the second period on some made-up mercy rule and not a single soul would have complained.
Just how bad was it for the Sharks?
Not one person made a joke about them coming back to win the game in the third period.
That would have been unheard of in 2022.
Best killing them with kindness (and knees)
Andrei Kuzmenko would then score the sixth goal on a slick pass from EP40:
Two things to note about this goal.
One: Look how concerned Kuzmenko is about his knee colliding with the Sharks goaltender. His immediate thought after scoring isn't "Should I dab or make that weird breaking a two by four over my knee celly?" but rather "Oh shit, I hope the goalie is ok." That's just a good guy reaction right there.
Two: Elias Pettersson made that look oh so easy. He literally turned and made physics do his bidding on that play. In full Kevin fashion, why push puck when momentum do trick?
The Canucks were brilliant in this game. Just brilliant.
Best signs of emotional growth
Hey, the Canucks learned from that time Connor McDavid had a tantrum and got real mad about the mean ol' Canucks putting out their first unit in a game they were handily winning.
This time they showed better manners.
This time they waited until the penalty had just expired before they scored their seventh goal:
At first I thought this was like an EA Sports NHL wraparound goal where the animation kicked and the player pops the puck neatly under the goalies pads, but alas, Sam Lafferty got a lucky bounce off of Mario Ferraro, who is so dead inside by this point that he doesn't even react.
The opposite of love isn't anger.
It's apathy.
Bure didn't even like the number 96 that much anyways. Go for it.
This was actually the most dangerous scoring chance the Sharks got in the second period. In which Carson Soucy just casually tosses the puck away.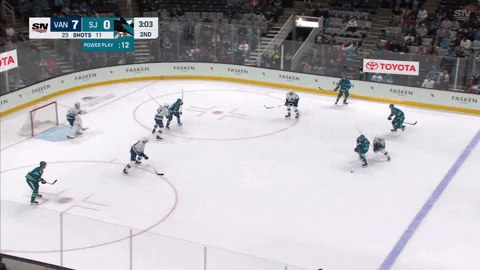 Imagine this was your first game ever watching your San Jose Sharks playing live hockey.
Quinn Hughes got his fifth assist on the night, this time sending the prime apple over to Pew Pew Pius Suter, who's reaction after scoring is a weird mix of relief and disgust: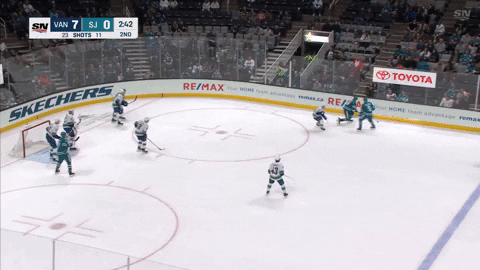 At this point the Sharks were soulless husk of a team, so you do hesitate to hand out too many accolades to the offensive production showcased in the second half of the game.
But it always brings me back to the point that you do have to credit the Canucks for not letting up once this game.
Did they need the ten goals?
No.
But did they get the ten goals?
Hell yes they did. And that kind of structure and dedication to high level play is habit forming.
Oh no. Oh no no.
Best sustainable pace part 2
He might break into a top 10 list if he does that.
Maybe.
Best nine, ten, never sleep again
You know you're feeling it when Anthony Beauvilier is starting to cook:
To his credit, I think Anthony has raised his game as the season has progressed; he just hasn't seen it reflected on the scoreboard.
A 10-1 drubbing of a game is a perfect place to get the confidence going again.
It's like going to White Spot for around 5 pm and holding the door for the elderly as they tell you how handsome you look tonight and how helpful you are. Sometimes you just have to find easy wins.
Beauvillier got the final goal after Conor Garland did some fantastic trench work:
Garland following up his shot and then stealing the puck back so he can feed Beauvillier is the kind of thing his agent will be sending every team in the league.
"See how hard he works? You NEED this on your team."
I do think Garland is a very useful player. Let's just say it wouldn't be shocking for him to land with a new team and play very well, leading to people going, "where was THAT in Vancouver??"
The answer is it was here, it just didn't feel like a great fit with the team at times.
But who knows, Brock Boeser came back from the edge of trading himself. Maybe Garland can too.
The Sharks' lone goal came on this play, where it looked like they might have made contact with Demko:
I think if this was a close game, the Canucks challenge that. Demko raised his glove, he thought he got run a bit. I think there is a case to be made that they could review that.
That being said, I think Rick Tocchet, for all his Kobrai Kai vibes he gives off, is a Miyagi guy at the end of the day.
Defeat your opponent honourably, and don't embarrass them.
Best eerily close prediction
The feud between Gaglardi and Aquilini can never end.
Though to be fair, maybe the Shark Club didn't want to show one of their own getting destroyed like that.