The Stanchies: Bruce hits 600, the Alien's rise, and Miller's late block to secure the Canucks' first win
Photo credit:© Steven Bisig-USA TODAY Sports
VANCOUVER!
I am
Ivan Hrvatska
I bring number one song from Croatia to number one hockey team
Vancouver Canucks
I take skytrain to GM Place
That is where I scream and paint my face
We will go all the way with Dan Cloutier
And then make love at centre ice
Morrison, Sedin twins
Markus Naslund is the Capitan
We will have a good time
Making love to blue line
With Trevor Linden we will always win
EVERYBODY!
SCORE, SCORE, SCORE
Vancouver Canucks
WIN, WIN, WIN,
Vancouver Canucks
GIMME GOAL, GIMME GOAL
Vancouver Canucks
Then we make love to the Stanley Cup
It wasn't pretty, but it got the job done.
Tonight, the Vancouver Canucks got their first win of the season on their eighth attempt to do so this season.
Things were looking bleak in Vancouver — and sure, they still are — but tonight's win gave fans at least a couple of things to feel good about.
And hey, that's what we try do here at The Stanchies — make people feel good about this team while keeping it as real as possible. So grab your favourite beverage, turn on some Ivan Hrvatska (shoutout Mathew P for the song request and for typing out the lyrics tonight) and settle in for our first edition of the Stanchies after a Canucks win.
NHL fights are interesting.
They start for various reasons, and almost always end with both guys patting each other on the back with mutual respect for willingly punching mostly helmets and visors for 20 seconds.
Take tonight's two-and-a-half first period fights, for example.
The first starts after Adam Larsson throws a clean but hard hit along the boards on Sheldon Dries through the neutral zone. Tanner Pearson, who in case you hadn't heard already, seems dead-set on adding "enforcer" to his NHL resume, skates over to Larsson and immediately challenges him.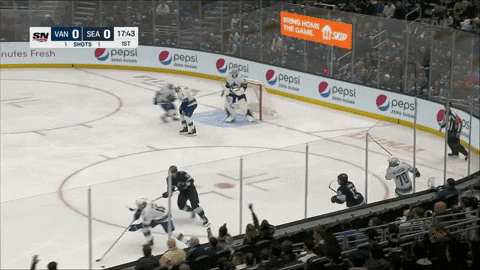 The two exchange a few punches, but it ends with a long look into each other's eyes, an "okay, we're good?" a couple of nods, and yes, a couple of pats on the back for good measure.
Just a classy couple of pugilists, right there.
Then there's J.T. Miller, who just minutes later came out and dropped the gloves with 6'5 Carson Soucy and proceeded to exchange haymakers with the towering Seattle defenceman.
After the scrap, Miller was smiling on his way to the box as he tried to fire his team up.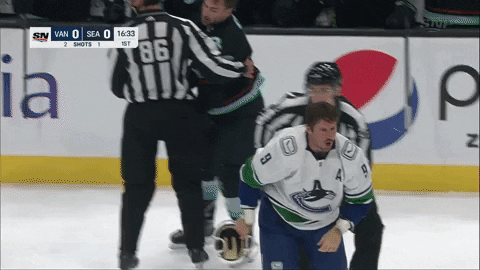 Bo Horvat then went after Vince Dunn on the following play, clearly trying to one-up Miller.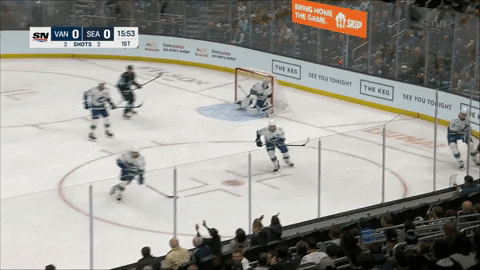 In all seriousness, this is a captain seeing a teammate getting blown up and instead of skating away from conflict — as Horvat has been criticized for doing a couple of times already this season — he at least makes it clear to Dunn that hits like that aren't just going to go unchecked.
At least, it's not going to go unchecked any longer, apparently.
And hey, you absolutely have to hand it to the Canucks' leadership group for trying their most unorthodox move yet: Getting three of Seattle's six defencemen to end up in the penalty box.
If it works, it works.
"You don't see fighting every day and the leaders on the team, they took it upon themselves and said we're not going to lose and they showed the way," Bruce Boudreau said post game. "And for the first time, I mean, yeah, there was a hit on the boards, but I mean, we started the fights.
"We weren't just sitting there reacting. We went after them. And I think that showed a lot of character."
Best the first one is always the hardest to get
Ilya Mikheyev has had an up-and-down start to his Vancouver Canucks tenure after signing a four-year deal with the club this past offseason.
Playing on a line with Elias Pettersson and Andrei Kuzmenko — a trio we saw stick together through most of training camp and into the first game of the preseason before Mikheyev's untimely lower body injury — Mikheyev was the beneficiary of some puck luck.
Wheelz goes to the net hard because that's where things happen, and managed to convert to open the scoring for the Canucks.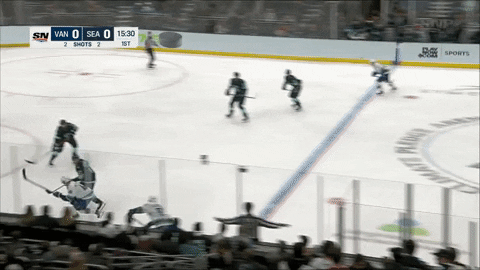 And spoiler alert, but Mikheyev would add another one later on, tallying his first two goals of the season.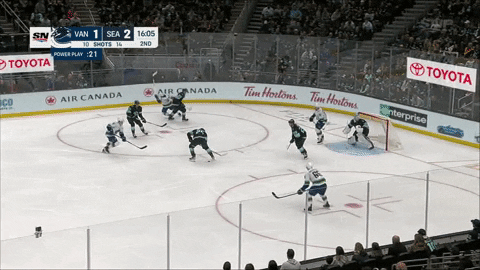 For a player who relies on his speed, seeing Mikheyev look a little bit sluggish upon returning from a lower-body injury wasn't surprising, but it was certainly nice to see him chip in with a couple tonight.
"It's nice to see him finally get a couple of goals," Boudreau said. "He's got such a good shot and hopefully that'll springboard him a little bit to being a regular scorer for us."
Best THE BOYS ARE BACK BABY
Best wait, why wasn't he in the lineup before?
Rathbone had a strong game once again.
Genuine question here.
Can you name another defenceman that suited up for the Canucks tonight that could pull off this play the way Rathbone did? That's a nifty stick check on Karson Kuhlman, quick feet to beat both he and Yanni Gourde to the puck, and a calm backhand pass to Elias Pettersson on the wall to jumpstart the Canucks' breakout efforts: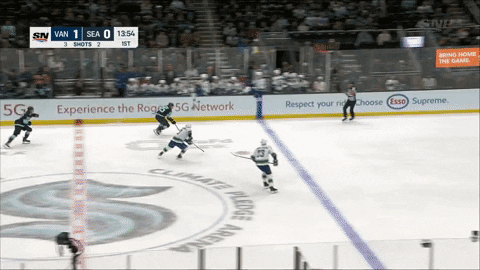 That's a play Quinn Hughes makes in his sleep, and because he's Quinn Hughes-lite, Rathbone is able to pull it off as well.
Rathbone made little plays all over the ice all night long, but most importantly, he moved the puck well, as is to be expected of him.
And look, it's simple, really. If you can move the puck with any sort of competence, especailly under pressure, you deserve a long look in the Canucks' lineup.
Best please just make it stop
If the NHL's digital advertisements on the boards during TV broadcasts is secretly intended to help them with their gate revenue, then mission accomplished.
The ads are fine for the most part — except for when there's a pile of white bodies in the far corners, for some reason — but when the ads start cycling through? That becomes distracting.
Yes, it's probably not worth spending much time talking about, but it was really just an excuse to get this fantastic JPat tweet in The Stanchies:
The referee, not much of an athlete
Schenn hits Jared McCann too hard, and the referee calls him for roughing.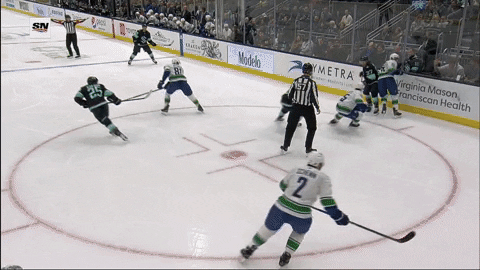 Schenn had a good laugh about the call, displaying the same dad energy we've come to expect from him.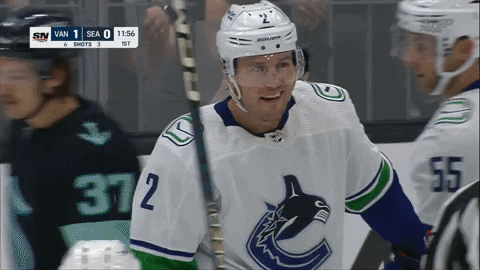 This is the look of a man who was just scolded by his wife for being too rough with the kids, which is essentially what happened to Schenn on this play.
Upon returning, Schenn got right back to business and was back to throwing hits on his chase for 3,000.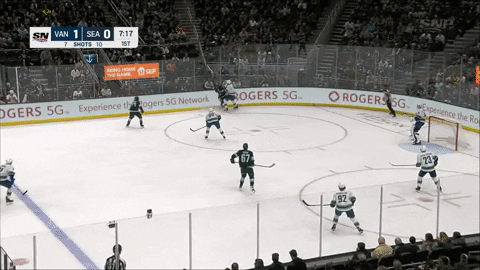 Best Demko's going to want that one those two back
When you ask Thatcher Demko if he wants a goal back, he's quick to remind you that he wants every goal that gets past him back.
But this first one is just flat out a goal you don't typically see get past him.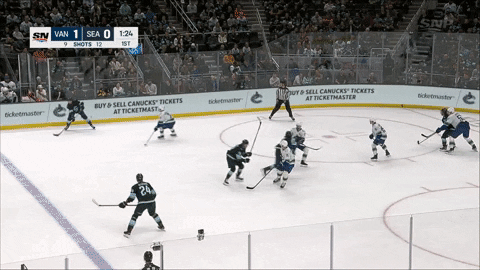 Demko simply overplayed this puck, and showed a lack of attention to the details that you rarely see from him, and his reaction suggested that he felt the same way about it.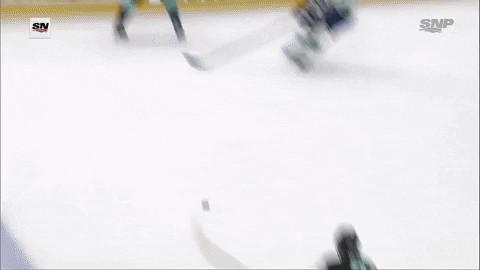 And shortly after that, Jared McCann was in all alone and put one past Demko.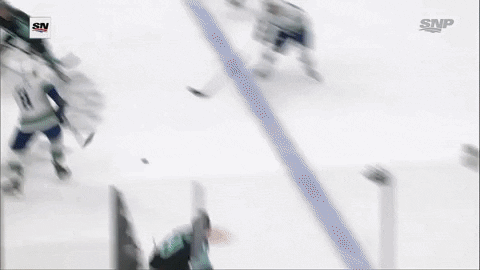 This one is certainly less on Demko than the first one, but it's a testament to how so far this season Demko just hasn't played at the same elite level that fans have become so used to seeing from him.
In past years, it wouldn't be uncommon for Demko to stop the McCann shot, shifting the momentum very firmly in the Canucks' favour.
Instead, he gets a big piece of it, but the puck still trickles in past him, giving Seattle a late first period lead.
We found him! We found the guy who did this.
The timestamp on that tweet is literally minutes before Seattle scored their first of back-to-back late first period goals.
Incredible jinx.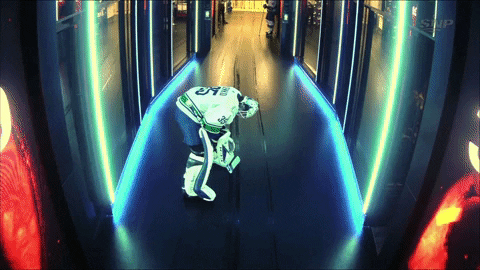 Demko clearly couldn't wait to get out for the second period and get back at Mike Versace for jinxing him yet again.
Best who even needs to get "set up"?
The Canucks' second power play unit converted on the team's first man-advantage of the game.
Sheldon Dries stabs at the puck to get it through to Wheelz, and sure, the biggest reason this puck went in was because Martin Jones was a second late tracking it and getting squared up to the chance, but damn it let Mikheyev have this.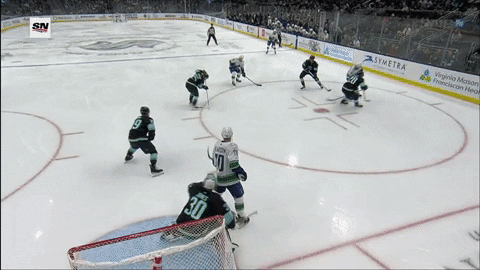 As mentioned, that was Wheelz' second goal on the night, and second goal on the season, for those keeping score at home.
Best, wait, your special teams can help you?
This play all started with Elias Pettersson keeping the puck in at the line and quickly getting it over to J.T. Miller.
With the puck on his stick, Miller wired a pass to Andrei Kuzmenko, who was waiting at the net front with his stick down on the ice, itching to redirect this one into the back of the net.
And that's just what he did.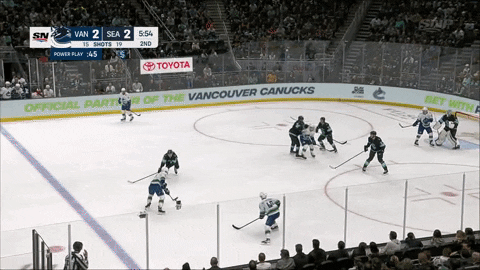 The Canucks' power play went 2-for-2 on the night, and the penalty kill successfully killed off three of the four penalties the Canucks took tonight.
The special teams were on tonight, and directly impacted the result of this game.
Best Matty Beniers is good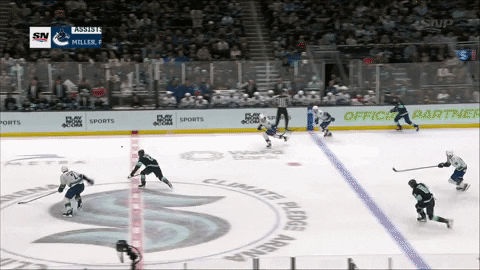 Nils Aman was pissed at himself for not picking up Beniers here, and we know this is the moral victory of moral victories, but Aman showing frustration and knowing that he messed up is part of the reason why this coaching staff likes him so much.
He doesn't need to be told he messed up or need to be shown video of the play.
He knows he made a bad play.
And while that's great for Aman, the game was still tied up and the Canucks still have a 22-year-old Swedish rookie who went unsigned by the team that drafted him as their third line centre, and that's a problem.
What better way to throw to our DAWG ratings of the night than talking about another fight, this time from noted DAWG Kyle Burroughs.
The official top DAWGS for the Canucks on the night:
Schenn — 87.25
Mikheyev — 80.07
Miller — 71.32
Joshua — 64.93
Höglander — 59.84
Burroughs — 56.04
Pettersson — 55.24
Dries — 53.59
Don't look now, but it was a two point night for Schenn. We don't have a player of the game award for The Stanchies yet — the top DAWG is probably as close as we'll ever come — but if we did, we'd be giving it to Schenn tonight, no question.
Best the trade heard around the world
Everyone and their mother has their eyes on the Vancouver Canucks right now.
Will they rebuild? Won't they rebuild? Will the Canucks run it back after Thatcher Demko goes on a heater after 70 straight starts en route to the team coming up just short of a playoff spot? The national media has their eyes on the Canucks, which is why a trade involving a C-level prospect (still the Canucks' best right-handed defence prospect) and Michael DiPietro got attention from everyone around the league.
The Stanchies is a group effort, so I'm going to bow out here to let Chris Faber — who watches more Canucks prospects than anyone — talk about the pieces involved here:
Jack Studnicka is a 6'2″, right-shot centre whose most impressive stat at the NHL level is his 47.7% faceoff win percentage. He's played in 122 AHL games over the last three seasons while getting into 36 NHL games over that three-year stretch.
He's a bigger body who might be able to sneak into the Canucks' lineup while Curtis Lazar is out with an injury. Studnicka is definitely bigger than Sheldon Dries, who the Canucks are currently using as their fourth-line centre.
Heading the other way is DiPietro, who used to be a top prospect for the Canucks and was extremely impressive in the AHL as a 20-year-old and stole the starting job of the Utica Comets back in 2019-20. DiPietro then only played 4 games during the COVID season before having a strong bounce-back in the second half of last year.
During a stretch of 18 games from mid-January to mid-April, DiPietro posted a 0.920% save percentage and was a big reason why the Abbotsford Canucks were able to streak their way into a playoff spot.
He's still an interesting prospect but will no longer be followed, as his career now moves on to the Bruins organization.
Speaking of interesting prospects, the Canucks move 6'3″, right-shot defenceman Jonathan Myrenberg in this trade. Back in July, we had Myrenberg ranked as our #6 prospect in the Canucks system. He was the only right-shot defenceman in our top-10 and the Canucks were pretty high on the 19-year-old's performance since they drafted him.
Myrenberg will likely amount to nothing but giving him the potential is the worry. It's like trading an unopened pack of Pokémon cards for the worst holographic in the set. Nobody wants to pull a non-holo Lass trainer card as their rare, and that's likely what the Canucks had in Myrenberg, but the potential was still there for it to be at least a Nidoking holo or even a Poliwrath.
Instead of attempting to develop a rare, drafted right-shot defenceman, they moved him for Studnicka, who could help to the depth and is only 23-year-old.
It's a strange move but this has been a strange season, I guess.
We're going to turn back the clock a bit, and cite the work of the late and great Jason Botchford.
Back in 2018, Botchford wrote about the Canucks' new "alien" touching down in Vancouver. The nickname Alien, Botchford shared, comes from Pettersson's SHL teammates calling him Alien because it was the only way to explain the otherworldly skills they saw pour from him night after night in his illustrious record-setting rookie campaign in Sweden's top division.
"I'd be lying if I told you I hadn't heard that one,"
Pettersson told Botchford
in 2018. "It puts some pressure on me. But I'm used to pressure. I like challenges.
"I think I'm a guy there should be a lot of pressure on. I think I'm the guy who can do it, who can produce many points."
The only way to describe this go-ahead goal from Pettersson tonight is alien-like.
First, there's the sweet play from Luke Schenn to get the puck towards the net, and Elias Pettersson, wielding extraterrestrial powers, fights off the Kraken defencemen to bat the puck out of the air and in behind Martin Jones to give the Canucks a lead early on in the third period.
In a season that's had very few positives so far, Pettersson's continued dominance is certainly the most positive.
It's true, Vancouver's alien has had some ups and downs since arriving to the Canucks.
He's dealt with the high expectations that come with being a star in this market, he's dealt with injuries, and he's dealt with out-of-this-world problems too, like starting last season with a stick he was uncomfortable with.
But this season?
This is a player coming into his own as one of the best two-way centres in the game today.
He's killing penalties, is an integral part of the Canucks' power play, and has quickly emerged as the team's most trusted centre.
This is a piece you can build a team around, and still at just 23 years old, any talk of a rebuild or making future-focused moves should have Pettersson at the front of mind.
So far this season, Pettersson is proving once again that he is this organization's franchise centre.
"The kind you spend untold hours hoping to see as a moon-eyed kid staring wondrously at the night sky.
"The kind with a wingspan which looks like it will shade small towns. The kind with hands so viper-quick and soft they can't be of this Earth. They just can't be.
"The kind who could help save millions of tortured souls who have spent the better part of nearly 50 years wishing upon a star the Vancouver Canucks will one day win it all."
Canucks fans everywhere were ready to be hurt again when the Kraken pulled their goalie down by a goal late in the third period.
There was a chance that whistled by Demko's ear, but this 150 foot backhander courtesy of Conor Garland shortly thereafter appeared to ice it, giving the Canucks a two-goal late in the third.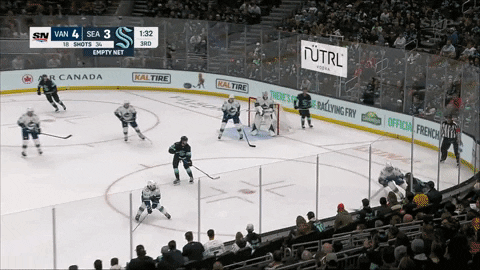 Then Tyler Myers took a cross-checking penalty.
First, Elias Pettersson was tripped, but that went uncalled, and Myers' seemingly retaliatory cross-check wasn't given the same courtesy.
This gave Seattle a late power play, to which they made no mistake on converting on with their goalie once again pulled.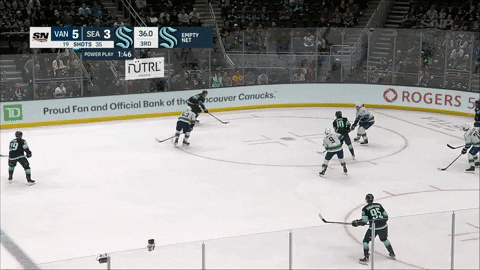 In the words of John Shorthouse, this one ain't over yet, folks.
The Kraken put on the pressure with 30 seconds left, but a late heart-and-soul block from J.T. Miller helped ice this one.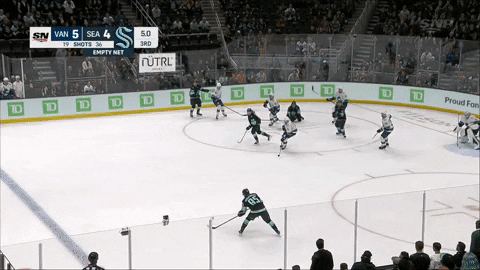 Best tale of two individuals
You've got J.T. Miller on the ice in agony, possibly with a broken foot after his heroic shot block late; and then the camera cuts to an absolutely ecstatic Bruce Boudreau being congratulated by assistant coach Trent Cull.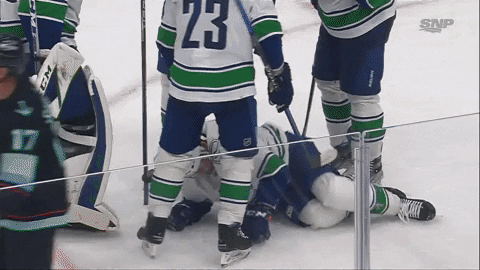 Obviously Boudreau is concerned about his player, but damn it Bruce waited seven painful games this season for this moment. Let him enjoy it.
For what it's worth, all indications post game are that Miller will be okay.
With the win tonight — the Canucks' first of the year — Boudreau officially picked up his 600th win, and all is once again right in the world.
Best reminder that the belt still exists
Truly, there was no way of knowing if the Canucks' player of the game championship belt was still a thing this season, but tonight, we got that confirmation as Bruce awarded it to Bo Horvat for "winning 20 f***** faceoffs":
Look.
We get it.
There are still deep problems with this team and its roster construction.
They just got outshot 36-19 by the Seattle Kraken.
But it's hard to see that video of Bruce and Bo and not feel good about a Canucks win. It's hard to see the Canucks put in an effort like they did tonight, finally come away with a win, and not feel happy for the players.
Does it mean that the Canucks' management should allow this game — and whatever potential heater to come this season — to erase their memories of the problems that shone bright through this team's first seven games?
No, it doesn't.
Does it mean this team should view themselves as a contender rather than a team that should be trying to maximize their draft positioning in one of the deepest drafts in years?
No, a win against the Seattle Kraken in which you got outshot nearly 2:1 certainly shouldn't do that.
But damn it we'll just say it. Tonight was fun, and it's okay to enjoy the fun moments as they happen.