The Farmies: Quinn-sanity in Canucks nation as Abbotsford beats San Diego 5-2
Photo credit:Allen Douglas/KTW
Did Dom Luczyszyn label Quinn Schmiemann a 3b-tier defenceman in the AHL, too?
We joke. Dom obviously doesn't know how good Quinn [Schmiemann] is. He really doesn't.
In fact, none of us really do! Since signing a two-year AHL contract with the Canucks organization, the ex-Kamloops Blazer has struggled to find consistent ice time with the Abbotsford Canucks.
In his first pro season, Schmiemann split time between the Kalamazoo Wings and Abbotsford Canucks, playing a handful of games in the ECHL and 31 in the AHL. Despite the inconsistency of reps, Schmiemann still finished with more goals and as many points as Brady Keeper, Guillaume Brisebois, Alex Kannok Leipert, and Chad Nychuk.
With Matt Irwin out of the lineup due to injury, the opportunity struck for the 6'2″ left-shot defenceman to carve out a greater role with the team and show exactly how good he can be.
In two games, Schmiemann has situated on a pairing alongside Filip Johansson, where they've played a decent chunk at 5-on-5 and as the team's 2nd-rotation PK pair.
In this, the second start of his sophomore season, Schmiemann took that first step toward establishing himself as a credible AHL regular. Schmiemann picked up his first multi-point night as a pro, including a gorgeous snipe at 5v5 and an assist on an Aatu Räty empty-netter to cinch Abbotsford's third-straight victory.
It really was a night for the Quinns of the Canucks organization!
Let's get into the roller coaster that was Abbtosford's road game against the San Diego Gulls.
Vasily Podkolzin, Tristen Nielsen and Danila Klimovich's absences due to injury opened the door for former Kamloops Blazers captain Jermaine Loewen to make his Abbotsford Canucks debut. Loewen didn't see much ice time in the game, but the few shifts he had were spent exclusively in the offensive zone on the forecheck.
Game #7
This edition of the Farmies will be light on GIFs due to the unfortunate, nausea-inducing decision to have the broadcast cameras zoomed in.
Early on, San Diego's Pavol Regenda made Christian Wolanin look foolish on a challenge attempt through the neutral zone. Fortunately, Andrew Aggozino's one-timer off Regenda's cross-ice feed sailed wide of the net.
Marc Gatcomb drew an early cross-checking minor against Drew Helleson to give Abbotsford an early power play. Colliton elected to roll out a two d-man first power unit featuring Sheldon Dries, Arshdeep Bains, Nils Åman, Cole McWard, and Christian Wolanin.
After cycling well inside the Gulls' zone for just over a minute, Arshdeep Bains and Sheldon Dries connected with a quick two-touch play to create space along the blue line. After catching the Gulls' F1 chasing, Bains set up Wolanin at the point with a pass, who then ripped a one-timer past Alex Stalock for his first goal of the season.
GOAL – 1-0 Abbotsford Canucks: Christian Wolanin from Arshdeep Bains and Sheldon Dries
In the night's funniest moment, Josh Bloom skated into Linus Karlsson while attempting a zone entry, creating a 4-on-3 the other way for San Diego. Arturs Silovs wasn't tested often in the first period. But came up big when Abbotsford needed him.
Ahead of the midway point of the first, Chase Wouters took a holding penalty that put the Canucks on the PK.
With Wouters in the box, Colliton rolled out a first penalty-killing unit of Dries, John Stevens, Woo, and Wolanin. The first PK managed to hold San Diego's first power play group to a single shot attempt before clearing the zone. Colliton then rolled out a PK group featuring Åman, Bains, Filip Johansson, and Quinn Schmiemann. Lastly, Colliton rotated Aatu Räty and Marc Gatcomb into the PK rotation on short shifts with John Stevens,
Though Abbotsford did a tremendous job limiting the Gulls to a single shot on Silovs, there was a noticeable shift in momentum in San Diego's favour.
First, Glenn Gawdin evened the score with a wrister from outside the right circle that beat Silovs' glove side on San Diego's fourth shot of the period.
GOAL – 1-1 Tie: Glenn Gawdin from Pavol Regenda and Nick Wolff
Abbotsford answered back with four shots on Stalock. However, four minutes later, Pavol Regenda picked up his second point of the period with a goal that would make even the most vocal Arty Silovs supporters wince.
GOAL – 2-1 San Diego: Pavol Regenda from Ben King
The goal sequence begins with Pavol Regenda blitzing past Jett Woo at the Gulls' blue line and through the neutral zone for a two-on-one. Sheldon Dries gave Woo the classic stick-in-the-back shove to help Woo get back into the play to deny the passing lane from Ben King. Unfortunately, King's pass came too quick, Woo couldn't get his stick on the puck to thwart the chance, and Silovs was too slow to get the pads down to prevent the goal.
All in all a rough sequence of events.
And the hits didn't stop coming.
Literally.
While trying to assist the Canucks break out from the d-zone, Chase Wouters ate a brutal hit from San Diego's Nick Wolff that sent him down the tunnel.
The injury to Wouters couldn't have come at a worse time, as John Stevens took a hooking penalty moments later that gave San Diego their second power play of the game.
Though Abbotsford's penalty killers managed to force San Diego's power play to draw another blank, it was a strong back-half of the period for the Gulls. After outshooting San Diego 6-1 and outscoring them 1-0 through the opening 10 minutes, the Canucks went on to get outshot 10 to 5 while outscored 2-zip over the final 10 minutes.
Luck broke in Abbotsford's favour early. Part of it was the Canucks coming out looking like a completely different team than the one that closed the opening frame. They were battling hard for loose pucks, looking significantly more engaged physically along the boards and inside the neutral zone. This aggression paid off, with Abbotsford drawing a holding penalty against Trevor Carrick just 2 minutes into the period.
The Canucks equalized early on the power play thanks to an absolute missile by Cole McWard from the left circle, set up by Wolanin and Bains.
GOAL – 2-2 Tie: Cole McWard from Christian Wolanin and Arshdeep Bains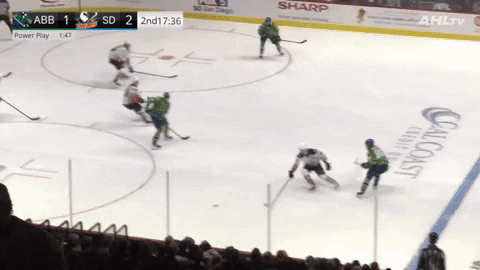 That physicality and relentlessness along the boards paid off again, with Dries drawing a second holding penalty, this time against San Diego's Nick Wolff.
The power play failed to produce much in the way of high-danger chances, but the Canucks threw a boatload of shots at San Diego's penalty killers, forcing them into blocking an inordinate amount of shots. That physical toll reared its head in the back half of the period as Abbotsford began dominating puck possession.
The Canucks caught a break when a loose puck crossed the goal line after the whistle had blown. Silovs had struggled through much of the contest with tracking the puck. Shots that had no business looking dangerous repeatedly looked dangerous because Silovs was struggling to find pucks.
Until this season, Silovs had established himself as a steady netminder with quick reaction times, crisp cross-crease movement, and an aversion to hail-mary saves. He still has a long runway to work through the kinks of his game. Still, it's odd seeing this antithesis version of Arturs Silovs between the pipes right now for Abbotsford.
Following the non-goal off the early whistle, San Diego got their heads back in the game, outshooting Abbotsford 7-2 over four minutes, before momentum swung once more in Abbotsford's favour off a penalty against Pavol Regenda.
AHL hockey, baby! It's all over the place!
The Canucks power play to close the period couldn't have been worse. They turned over the puck or blew the zone half a dozen times, registering a single shot attempt over the final two minutes.
Though they managed to tie the game on the power play, they were still outshot 12 to 6 in the period, 22 to 17 through 40 minutes.
The Canucks came out pressing heavily early on in the third. After hemming the Gulls inside the zone with an oppressive cycle, Marc Gatcomb nearly picked up his third goal of the season, poking an Akito Hirose rebound wide of Stalock.
After winning an offensive zone faceoff, the Canucks' pressure continued in spades. After winning a battle behind Alex Stalock's net, Arshdeep Bains whipped around to the slot to tip a Christian Wolanin point shot for his third goal of the season and his 3rd point of the game.
GOAL – 3-2 Abbotsford Canucks: Arshdeep Bains from Christian Wolanin and Nils Åman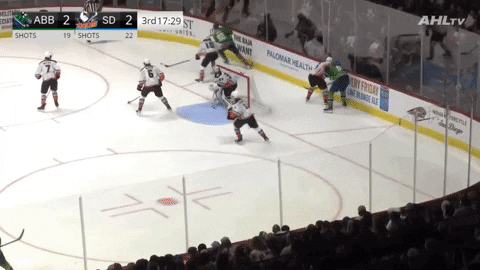 The good vibes continued with Abbotsford killing a third San Diego power play, this time off a slashing penalty against Quinn Schmiemann.
Schmiemann, who has struggled to find consistent ice time in Abbotsford since joining last season, immediately made up for his infraction, scoring off a brilliant stretch pass from Marc Gatcomb after leaving the penalty box.
GOAL – 4-2 Abbotsford Canucks: Quinn Schmiemann from Marc Gatcomb and John Stevens
The frustration of having given up a one-goal lead despite three power play opportunities began to set in among San Diego skaters. Two-handed shoves became commonplace after every whistle, with Josh Lopnio, Trevor Carrick, and Travis Howe repeatedly looking to spark fights to get their club back in the game.
It was a shortsighted ploy, as Howe took a four-minute minor for roughing with 8 minutes left in the game.
The Canucks' four-minute power play…well, it sucked. Aidan McDonough recorded a couple of shots on Stalock, and Filip Johansson took a tripping penalty to three minutes into the man advantage. Overall, it was a pretty tragic showing, considering the small amount of offence generated over three minutes.
San Diego pulled Stalock for the extra attacker, at which point Arturs Silovs made his best save of the night: a fantastic post-to-post stop on Andrew Agozzino.
With time winding down, Aatu Räty picked up his first goal of the season, securing the empty-netter to square the game away in Abbotsford's favour.
GOAL – 5-2 Abbotsford Canucks: Aatu Räty from Linus Karlsson and Quinn Schmiemann
Truly fitting that the prospect returned in the Bo Horvat trade scored an empty-netter as his first goal of the season.
The Canucks rebound from another rough first couple of periods to score four straight goals to make it three straight regulation wins.
Abbotsford Canucks defeat the San Diego Gulls 5-2
CanucksArmy's Three Stars
For all our praise of Quinn Schmiemann for picking up his first multi-point game as a pro, Arshdeep Bains is tonight's number-one star. I mean, for the third time in seven games, Bains recorded three or more points. Though he only finished with a single shot on net, it ended up being the game-winner. Bains has carved out a big-minute role under Jeremy Colliton: first-line minutes at even strength, the first power play unit on the right wall in the Pettersson spot, and a PK mainstay. Bains is driving possession for his line with his speed and tenacious forecheck. At the same time, we'd like to see more production come at even strength. It's undeniable how well he's performing regardless of game state.
Quinn Schmiemann earns our second star of the night for his first multi-point game and recovering from a needless penalty with a gorgeous snipe on Alex Stalock. In the first six games of the season, the Johansson-Irwin pairing was on the ice for two goals for and five against at even strength. Though the sample size is admittedly very small, Schmiemann and Johansson have been on ice for two goals for and none against at even strength; none against on the PK either!
It's almost boring picking him for our three stars at this point because the guy just racks up points and looks head-and-shoulders above everyone else when he plays. So, yes, boring pick, but Christian Wolanin earns our third star of the night for his goal and two assists.
The Abbotsford Canucks get Saturday off before visiting the Ontario Reign for a Sunday afternoon game, starting at 3 PM.