Communication between goalies and defencemen, and how it relates to the Canucks: In the Crease
Photo credit:© Steven Bisig-USA TODAY Sports
Today's In The Crease is all about communication. Specifically, communication between a goaltender and the skaters in front of him.
Like any off-ice relationship, communication can make or break the success of a hockey team's defensive structure. Every goaltender can require slightly different styles of defensive choices around them to succeed, and the best players can adapt to their netminder's needs when it's required.
The Canucks' lack of talent defensively hasn't helped, but setting their goalie up for success has been a reoccurring issue in recent years, as evidenced by their constant expectations for Thatcher Demko and Spencer Martin to win them games. But every NHL team deals with a lack of solid communication from time to time on the ice. At best, it becomes a brief conversation between the goalie and a defender during a stoppage in play. At worst, it involves pulling a puck out of your net.
So today let's look at a couple of those scenarios, specifically when it comes to shot blocking and breakout passes.
Smart Choices
Let's start by taking a look at Elias Pettersson's icebreaker from Friday night.
Pettersson gets the puck near the blue line, with LA's Sean Walker left as the lone defender in front of Jonathan Quick. Just trailing the play is Kings' winger Trevor Moore.
As Pettersson skates through the zone, Quick lines up to him expecting a mid-range shot. Walker then slides in front of his goalie at an angle, to take away a potential pass to Ilya Mikheyev as well as limit Pettersson's shooting options by blocking the low part of the net.
Just before Pettersson lets his shot go, Moore closes the gap enough to throw his stick in front of the puck. Pettersson's shot deflects off Moore's stick blade and flies over Walker, before suddenly dying and rolling under Quick's left pad.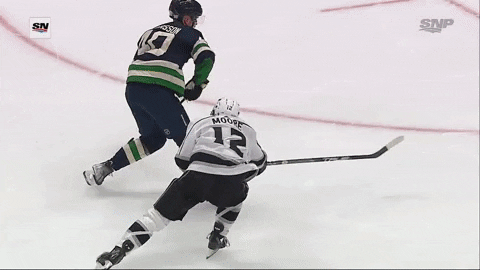 The most telling part of this clip is Quick's reaction to the puck's sudden redirection. He immediately looks over to the corner and appears to stare daggers in the direction of his teammates for turning a routine save into a wonky goal.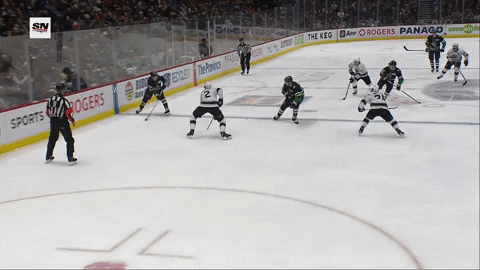 Judging by that look, this isn't a new issue with the younger, less experienced Kings roster, and was probably something they addressed again in the locker room or practice later on.
A similar situation happened on Friday during the final stages of the first period, when Riley Stillman took possession of the puck behind his own goal. With five seconds remaining, Stillman makes the baffling decision to try threading a pass from behind the goal line to Ilya Mikheyev down the middle.
The puck is easily intercepted, forcing Demko – and Adrian Kempe's flying stick – to make a last-minute save.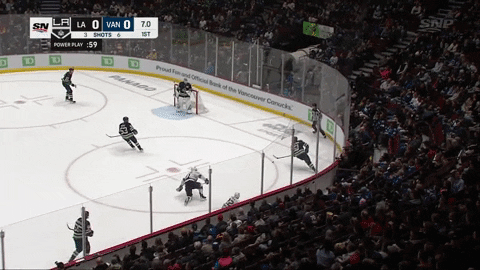 In cases like these, the goalie's job is to talk with the defender behind the net to let them know two things: how much time is remaining, and if an attacker is skating toward them.
This is where I could give Stillman a little benefit of the doubt. As Kempe cuts to the net, Demko is facing the other direction and can only alert Stillman to Anze Kopitar skating within his eye line. But Kempe is also clearly within Stillman's line of vision, which is why he quickly stops up and suddenly throws the puck in Mikheyev's direction.
This is the type of play that will drive your goalie crazy each and every time. One of the first things skaters are taught in minor hockey is to never make stretch passes through the middle of their own zone. Not only are they extremely easy for an attacker to read and intercept, but they also immediately put the player in an ideal — often unguarded — scoring position.
If I were Demko, I'd be ripping into Stillman during the intermission for not at least holding onto it and tying up Kempe in a board battle to run out the clock. But hopefully Demko has a much cooler head than I do, and instead just calmly ran Stillman through his alternatives if he finds himself in that position again.
Because there's a valuable difference between good and bad communication.
"If you're a goaltender, tend the goal!"
Thatcher Demko has shown a lot of positive progress in recent games, but his stickhandling is still causing a few stressful moments here and there.
Early in his Sunday tilt with the Bruins, Demko elected to play the puck under close pressure and accidentally sent it sailing into the TD Garden crowd for a delay of game penalty.
Then on Friday, he tried to pass the puck up the boards from behind the net, but it was alarmingly gloved down by Phillip Danault and played into the slot. The referee quickly whistled the play dead for a hand pass, but if Danault simply bats the puck to his own stick first, it could've been an ice-breaking goal instead.
Not every goalie needs to be a strong playmaker, but making easier decisions with the puck is important for a goalie to work through. On the delay of game play, the general best scenario would've been for Demko to lower into a butterfly stance and scoop the puck quickly into the corner for the defence to retrieve. On the LA play, it's simply a matter of leaving it behind the net for your defender to pick up.
Hopefully Demko will be able to get his puck-handling back up to speed with the rest of his game as the season moves along.
Game Tape
Spencer Martin has been looking really good in his expanded role for the Canucks. He may have lost his first regulation game as a Canuck against the Leafs a few weeks ago, but his quality of play has been fantastic.
Here's a particularly confident glove save he made on Drake Batherson, coming far out of his net to challenge the shooter before jumping from a butterfly back into a standing position.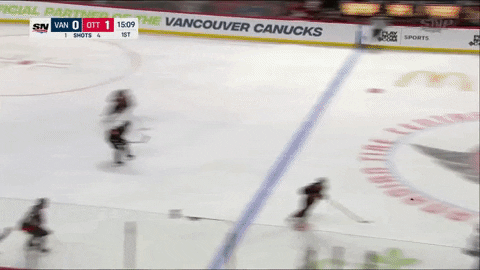 Speaking of miscommunication, Ethan Bear's goal against Buffalo was the result of the Sabres' lack of attention in front of Craig Anderson. Despite playing at even strength, two Sabres let J.T. Miller walk right in front of Anderson, while Owen Power takes away even more of his goalie's vision trying to block Bear's uncovered shot.
Power is far from the main culprit here, and as a rookie, he's learning the ropes as he goes. But he'd arguably have been better off trying to clear his man, Miller, out from the net front so Anderson could have as clean a look at Bear's shot as possible.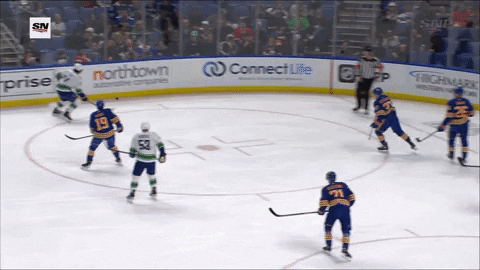 By the third period against the Canucks, Jonathan Quick's confidence was not at an all-time high. That's evidenced by the way Brock Boeser got his second goal of the evening, a rebound off a bobbled Sheldon Dries shot.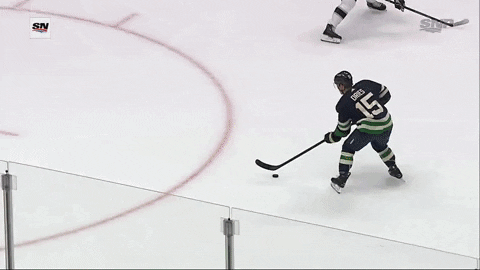 Quick's usually methodical, almost robotic style of play gave way to a sudden attempt at a kick save as he misjudged the height of Dries' shot. By the time he realized where the puck was going, his glove wasn't in the right place to pick it off cleanly, leaving Boeser an easy tap-in.
Had he stayed just a bit deeper in his crease, Quick might've had the split-second extra needed to readjust his positioning in time.
By taking the lessons you've learned today, you can hopefully improve your communication skills with the goalies and defence in your own hockey life. If you don't know any goalies or defenders, you can just yell "SCREEEEN!" whenever a friend of yours walks in front of the TV.
It's the same basic principle.