Canucks' Spencer Martin is learning how to be a starter on the fly, and that's not easy
Photo credit:© Stephen R. Sylvanie-USA TODAY Sports
There's no exact science to being a starting goalie at the NHL level, and Spencer Martin is getting a first-hand lesson in that very fact.
When Thatcher Demko went down with an injury against the Florida Panthers a couple of weeks ago, it put Spencer Martin in the sudden position of taking on a regular starting role with the Vancouver Canucks. So far, the results have been about where you'd expect.
In his five games as the Canucks' starter, Martin has posted a 2-1-0 record and an .864 save percentage. One of those outings included the final two periods against the Panthers after Demko got hurt, but also the first period against the Canadiens where he allowed four goals on nine shots.
Saturday's game against Minnesota was a perfect example of how the Canucks can get themselves into trouble relying on their goaltender. To his credit, Martin was great when he had to be, making 30 saves including 14 in the first period.
But when the offence dries up, there's nothing the goalie can do to stem the tide. If the team in front of you can't find the back of the net once, even one slip-up is enough to seal their fate.
Still, Martin's heavier workload hasn't been a complete disaster, either. He and the Canucks had won three in a row before Minnesota ended their short streak, and Martin was crucial in getting them to overtime in two of those games.
It generally takes at least 20 games to get an accurate evaluation of a starting goalie. Martin currently sits at 14, and it feels like he's settling into the role as he goes.
Today we'll take a look at the differences in practice time as a starter compared to a backup, how confidence in a goalie's decision-making plays into balance and stability, and some early thoughts on Collin Delia as Martin's backup.
Over-Spence
Martin is playing much more hockey compared to even a few weeks ago, which means a lot less practice time too.
For morning skates, the goalie that's slated to start that evening usually takes a specific net during line rushes and leaves the ice before his expected backup does. The game plan for those skates is just to get warmed up for game action without being overworked before puck drop.
Meanwhile, the backup has an off-day, which allows coach Ian Clark the time to introduce new techniques and finetune a goalie's game. For the majority of the season, off-days are few and far between for a number one goalie, which makes normal practice days all the more valuable.
Having played in the Canucks' last six games and starting five of them, perhaps no one is more grateful for the team's one game in six days than Martin. On Sunday he was able to get out on the ice before the main practice and run through positioning drills with Clark.
Bottoms Up
I happened to be in the building on Saturday to witness the Canucks' dismal 3-0 loss to Filip Gustavsson and the Wild, and it provided a lot of insight into why Minnesota has a better record despite scoring fewer goals. While the Canucks gave their netminder very little help with shots off the rush and allowed a number of breakaway opportunities, the Wild's defence does an exceptional job plugging up the blue line and making it next to impossible for the forwards to break in for a quick shot.
Martin held up his end of the bargain as best he could, but there was definitely a reoccurring issue for him on Saturday. He kept ending up on his backside.
When a goaltender is having second thoughts about their positioning and save selections, one of the first signs of it is how they drop for saves. A goalie's balance is based largely on which part of their skates they're shifting their body weight to; specifically, how much is being distributed to the front of their foot. Leaning forwards onto their skates gives the goalie more control over how they drop for a save, as well as the rest of their body's positioning and movement.
This is why if a goalie is having a hard time reading the play and reacting, their first instinct is often to sit back on the heel of their foot. If a goalie falls backwards, they were likely putting most of the pressure on their heels.
In this game, there were a few too many occasions where Martin finished the play on his rear end, including on Matt Boldy's opening goal.
It's likely this comes down to a confidence issue after his last few games went south — the same confidence issue that Thatcher Demko seemed to run into earlier in the year. But the overall performance in a game like Saturday's could hopefully put him back on the front of his feet, especially if he keeps making big game-saving stops like this one off Jordan Greenway in the first.
Delia or No Delia?
Vancouver has gotten only two periods of The Collin Delia Experience so far, and it was an adventure, to say the least.
As someone who hasn't watched a whole lot of Abbotsford's games this year, I've relied on our resident AHL correspondent/Friend of the Column Cody Severtson to give me the cliff notes on Delia's season so far. Cody summed it up in one word:
"Bad."
So far, from the very small sample size I've seen, I would choose a slightly less harsh word: sloppy.
It's clear that Delia needs a lot of finetuning that working with Ian Clark every day can provide. In the game against the Habs, he overcommitted on a few shots, such as this broken stick chance in the second. By the second chance opportunity, Delia was out in the white paint with a lot of net exposed:
Delia's rebound control was also a bit hit or miss, such as on this Josh Anderson breakaway where he accidentally pushed the puck back into play: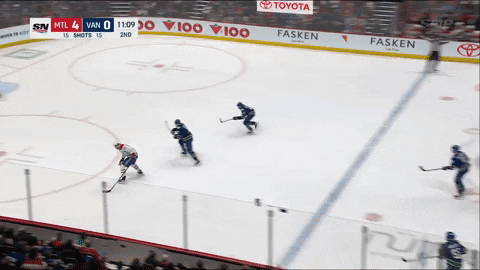 His decision-making while playing the puck nearly resulted in a 5-0 Habs lead, but his breakdancing skills were able to save the day: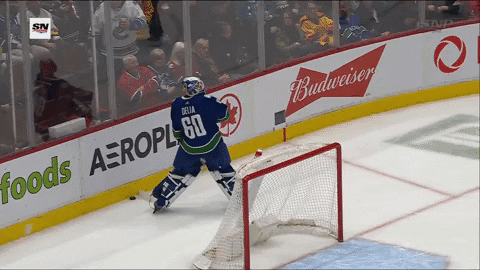 As the game went on Delia got into a better rhythm and made some calmer-looking saves down the stretch. This one midway through the third involved a quick shot and a slight screen, but he challenged out and caught the puck cleanly in the chest.
Thanks to the Canucks' ridiculous comeback that night, Delia ended up being credited with the win despite it being a relief appearance. The real question now is when he'll get his first start.
If Bruce Boudreau was waiting for an easier opponent to give him, they arguably missed their window. The Canucks have five games left before the Christmas break, and all of them are against teams in the thick of the playoff race.
The likeliest scenario is that Martin and Delia will split the last pair of games, a back-to-back set against the Kraken and Oilers. But depending on how soon the coaching staff feels that Martin needs a night off, the 19th against the 12-15-1 St. Louis Blues might be an option as well.
Delia will only improve with in-game reps, so leaving him on the bench until Demko returns from injured reserve just isn't an option. And considering the Canucks' current record, they haven't got much to lose by letting Delia take on a real challenge.
Game Tape
December 5 vs MTL: This Nick Suzuki goal got a lot of replays as one of Montreal's four goals in the first period that chased Martin from the game.
Suffice it to say, it wasn't Martin's best moment thus far: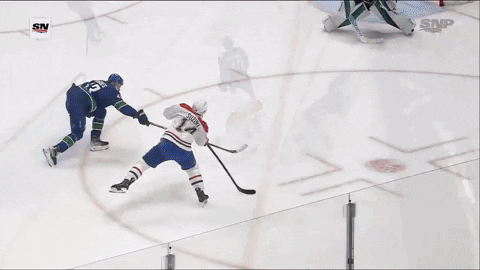 This goal happens for a couple of reasons. One is Martin's positioning, as he's already halfway into a butterfly as Suzuki begins to shoot, with his body lined up to the player rather than the puck.
The other is the shot anticipation. Notice how Martin's mask doesn't follow the puck into his glove? He doesn't begin to re-track the puck until it had already handcuffed him and begun dribbling into the net.
That split second of taking your eye off the biscuit can make all the difference between a save and a goal.
December 10 vs MIN: Filip Gustavsson's first NHL shutout wasn't entirely due to the Canucks' general lack of effort. He had an exceptionally strong showing when the chips were down.
One pivotal play was this non-shot from Brock Boeser: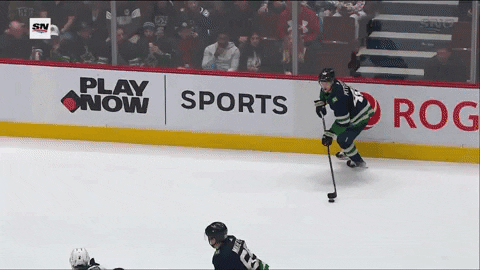 As Boeser gets control of the puck, Gustavsson has already done well to cover a lot of the net available. Boeser pulls it to his backhand hoping to force the Wild goaltender to open up some room on the short side, but Gustavsson holds strong along the post and doesn't give an inch.
Late in the game, the Canucks finally found a bit of urgency, but by this point, Gustavsson was well into his groove. When Ilya Mikheyev couldn't get this golden opportunity late in the third past Gustavsson's pad, the shutout was all but guaranteed.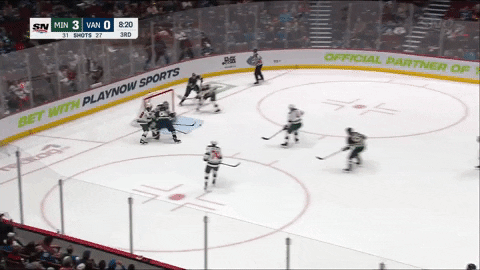 As we've learned with a lot of the plays we looked at today, confidence in your movements and positioning plays a large hand in the results you get. If Martin and Delia can find that stability themselves on a regular basis, the Canucks can worry a lot less about weathering the Demko-less storm.