Brock Boeser and Conor Garland's new roles provided instant payoff against Montreal and deserve a longer look
Photo credit:© Bob Frid-USA TODAY Sports
Before Monday's barnburner of a victory over the Montreal Canadiens, a fair bit of hype surrounded the Canucks' choice to put Brock Boeser back on Elias Pettersson's wing. That decision was especially highlighted in the aftermath of Saturday's fiasco, when news broke that the team had given Boeser's agent permission to look for potential trade partners for the struggling forward.
Why head coach Bruce Boudreau elected to finally pair Boeser and Pettersson together again is anyone's guess. It could've been just for the sake of change following a few uninspiring team efforts, or perhaps the front office requested the move in hopes of improving any potential trade return for Boeser.
Whatever the reasons were, the move paid off in the end.
For Boeser, the shift back to Pettersson's right side seemed to provide an immediate spark. Boeser earned just one assist against Montreal, but their chemistry went beyond the scoresheet.
With his team down 4-1 late in the second period, Boeser made a crucial forecheck to steal the puck from Canadiens goalie Sam Montembeault behind the net. Boeser then works the puck over to Tyler Myers, kicking off a lengthy 45-second shift controlling the puck in the Montreal end.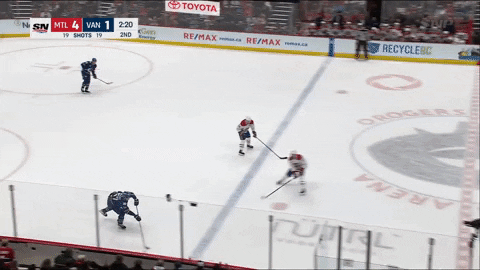 Eventually, Boeser got the puck over to Pettersson, who set up Ilya Mikheyev from in close to cut their deficit to two before the third period.
In 16 minutes of ice time, Boeser posted two shots on goal plus a pair of takeaways, which isn't otherworldly by any stretch. But his overall engagement and effectiveness took a massive step forward, and the advanced stats back that up. According to Natural Stat Trick, Boeser's Expected Goals percentage of 55.76 was the fifth highest among Canucks' skaters on Monday night, with Pettersson right in front of him at 57.43 percent. It's clear how effective the pair are alongside each other, and what a strong trio they make with the speedy Mikheyev on the left-hand side.
But Boeser wasn't the only Canuck to see improvement in a new role. Conor Garland also falls into that category.
Last year Garland was one of the Canucks' most consistent high-energy players, seemingly able to boost up whoever he played with. This season, Garland has been practically invisible for large portions of the year.
On Monday he found a second gear at just the right time.
Garland's outing was highlighted by his gorgeous goal after a quick deke to his backhand that began the Canucks' comeback in the second half. And while he played a much smaller role down the stretch than Boeser, Garland was far more noticeable on a gutsy line with Sheldon Dries and Andrei Kuzmenko than he's been at any point over the last month.
Garland and his centre Dries played just over ten minutes of ice time each, but they finished in a tie for Vancouver's highest xG% at 59.30 percent. And in a game where both teams combined for 13 goals, that's no small feat.
Of course, all of these stats are based on a sample size of just one game, which is nowhere near enough to prove that either Boeser or Garland is about to turn around their entire season. But after seeing the immediate payoff of putting them in roles that best suit their playing styles, it's obvious that Bruce Boudreau needs to give these particular forward lines a longer look.
The Canucks have three perfect tests coming up of varying levels of difficulty; one is the San Jose Sharks, who are well on their way to finishing in the NHL basement. The other two are the Minnesota Wild and Calgary Flames, a pair of hungry teams trying to improve their respective placements in the playoff hunt.
Starting with tonight's matchup in Silicon Valley, Boudreau and the Canucks have very little to lose by allowing the forward lines to build off the improvements they seemed to make on Monday. If Boeser, Garland and their teammates keep making strides alongside their linemates, it could improve their chances of winning with some consistency, or at the very least make some of them more attractive to buyers in the trade market.
If there's a chance it could change Brock Boeser and Conor Garland's fortunes, why not let them cook?