Arturs Silovs' NHL debut was a learning experience with positive takeaways
Photo credit:© Bob Frid-USA TODAY Sports
When Arturs Silovs was announced as the surprise starter for the Canucks' matchup with the New York Rangers, flashes of Michael DiPietro's emergency start flashed in people's heads. A developing goalie, called up to play their first NHL game behind a lacklustre blue line, facing off against one of the strongest offences in the league.
All things considered, the young Latvian's night was far from perfect. But it wasn't a total disaster either, and that's a win within itself.
Silovs got a taste of playing against NHL-caliber shooters early. As Mika Zibanejad skated down Silovs' left-hand side, the Rangers centre faked an initial shot to freeze the 21-year-old in his tracks. Zibanejad continued skating and slid his shot underneath Silovs' legs, a quick lesson about facing a top scorer for the young netminder.
Silovs hinted at that learning curve when speaking to the media following his debut.
"I think being more patient, like all you have to be is really patient," Silovs said. "Because those guys can do a lot of stuff now and score a lot of creative goals."
Silovs' defence didn't do him many favours. Less than a minute and a half later, the Canucks left Artemi Panarin completely uncovered to receive a cross-ice pass from former Canuck Jimmy Vesey and one-time the puck past Silovs for the 2-1 lead.
Silovs allowed another questionable goal thanks to a shot that redirected off multiple sticks before sliding through his pads, and the stat line will show him with an .815 save percentage and five goals against.
But to his credit, Silovs recovered decently in the final two periods with 15 saves on 17 shots. He also came up clutch when called upon, including a huge hat trick-halting stop on Panarin later in the game.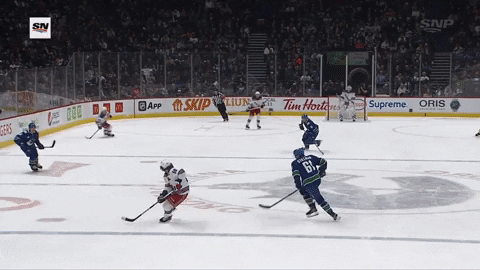 Silovs could feel himself adjusting to the pace of play as the game went on. "It was much easier to play. You know, getting into a rhythm and feeling the puck, feeling the speed. It was much better as I was going," Silovs said.
It's hard to fault a rookie playing behind one of the league's weakest defensive groups for taking the loss against one of the hottest teams in the NHL. And his teammates know they didn't give Silovs enough assistance overall.
"He played great. We should have helped him more but he kept us in the game… happy to see him play well," Elias Pettersson said after the loss.
Maybe it wasn't the sparkling debut that Silovs envisioned for his first NHL game. But he's extremely confident he'll be able to take lessons out of it back to Abbotsford in the AHL, and hopefully earn more NHL starts down the line.
"I think it's gonna help me a lot long term, because at least I know what I can be better at. So I can push myself even more," Silovs said. "I think it's still small things, because I think I have enough speed to be on the play all the time. Know the guys who can pass, who can shoot."
"I think it's all about learning, learning from the guys who play here."