Abbotsford Canucks week 3 preview: The San Diego Gulls are in town for the home opener!
After a mixed-bag road trip to Seattle, the Farm team parks the bus for a six-game homestand, starting with a Friday/Saturday double-header weekend against the visiting San Diego Gulls!
Team Stats
Division Standings
Scoring Leaders
Injury Report
Vincent Arseneau had a scary head-first collision into the boards during Friday's game against the Firebirds that kept him out of Sunday's action.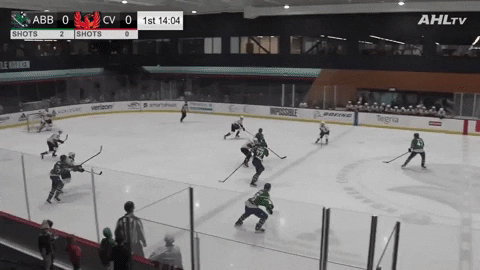 Michael Regush left the team's second game against Coachella Valley after going hard into the dasher, not unlike Mark Borowiecki. His status could be in doubt come Friday.
The Vancouver Canucks quietly removed Karel Plasek from their season-opening injured reserve list. Plasek missed training camp recovering from off-season hip surgery, but this minor transaction could signify that he is nearing a return to the lineup.
Transactions
Guillaume Brisebois, Noah Juulsen, and Sheldon Dries' recalls and injuries to Arseneau and Regush required the team to sign and recall training camp invitee Dylan MacPherson and veteran AHL centerman free agent Kyle Rau.
For those wondering, this is officially Arturs Silovs' team now.
Games 5 & 6 vs. San Diego Gulls
A familiar face revisits the Vancouver Organization for the first time since March 17th of last year when he was with the Detroit Red Wings!
Who, might you ask?
Why, it's Canucks' 2016 5th overall pick and current Gulls' fourth-leading scorer, Olli Juolevi!
That sounds mean.
Why does that sound mean?
It's not supposed to be! Truthfully, the Canucks organization could use a defence like the one the Gulls are rolling with right now.
Their leading scorer is undrafted 27-year-old Nik Brouillard, who had a remarkable thirteen-goal, thirty-nine-point season with the Gulls in his second year with the organization.
22-year-old right-shot defenceman Axel Andersson has two assists in three games. 25-year-old right-shot defenceman Austin Strand has two points in five games. In total, through five games played, their defence led by Brouillard and Juolevi, has combined for four goals and twelve assists.
By comparison, the Abbotsford Canucks d-group has mustered just two goals and three assists through four games played.
Goalscoring has been a difficult task for this group. Currently, the Farm sits 15th in goals scored per game while also sitting dead-last in goals allowed per game. Defensively, their teamplay leaves a lot to be desired; the lack of footspeed on the back end has forced their young and inexperienced forwards into doing a lot of the legwork on zone exits, entries, and puck retrievals. While the youth is game to put in the work, the production results haven't been there.
The team is just barely registering more than one 5v5 goal per game. The defence has generated only one goal at 5v5 through four games; Noah Juulsen's slapshot goal assisted by Guillaume Brisebois. None of the team's six powerplay goals have been assisted or scored by a defenceman.
The lack of production hasn't been without trying. The d-group has generated plenty of volume over four games, but the quality of shots is severely lacking.
With Juulsen and Brisebois unavailable for the foreseeable future, the defenceman production drought will likely continue.
Though the Gulls' are technically lower than the Canucks in the Divisional standings, their veteran forward group and offensively-minded d-group will look to expose the Farm's inexperience, and poor puck movement from the back end. Making for an extra disappointing home opener weekend that will be light on familiar faces and fan favourites.
Or they won't.
I don't know.
Hockey's dumb and weird.