This was yet another perfect game by the 2022-23 Vancouver Canucks. It was fast-paced, exciting, filled with goals, and featured very little defence from either side. And best of all for most fans, the 26th-ranked Canucks kept the game close but didn't pick up any points in the standings, which obviously would decrease their chances of winning the Connor Bedard sweepstakes.
This team sure could use Connor Bedard right now… Said every fanbase in the league.
Anyways, Wyatt took the night off tonight, so let's go make that GIF money that I will be e-transferring to myself.
Best puttin' on the pressure early
So, the Penguins are still a very good hockey team, and they showed it early on. The Penguins poured on the pressure right out of the gate, while the Canucks looked sloppy early. Here, Travis Dermott was a little too slow to move the puck, which resulted in this early turnover of the high-danger variety: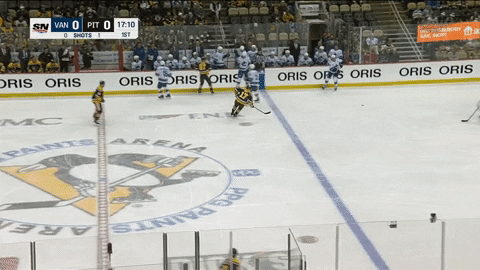 Thankfully, Martin steered the puck to the corner with ease before Dermott blocked a shot ahead of the Canucks' breaking the puck out of the zone, totally redeeming himself in the process.
Sure, the Canucks gave up chances early and looked ready to get into a track meet with the Penguins, but as a great general manager once said, they "turned things around in a hurry."
Conor Garland opened the scoring with a chance off the rush that was partly a good shot and also one that made you go "huh, maybe Casey DeSmith should have had that one."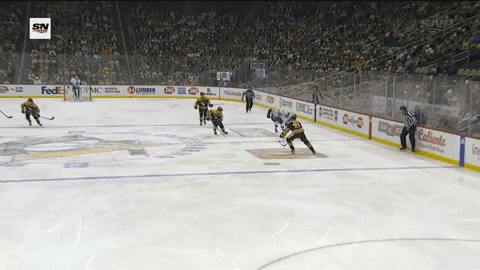 Dear reader, that's what we in the business call foreshadowing.
"The Canucks with another turnover. They've been careless with the puck in their own end but haven't been burned yet."
Those were the words of beloved play-by-play commentator John Shorthouse, who always calls it like he sees it. And yes, it was true. The Canucks kept turning the puck over, but they didn't give up any goals as a result of their poor play with the puck. Not in the earliest parts of the game, at least.
Boeser said fooey to your talk of being careless with the puck and gave the Canucks an early 2-0 lead.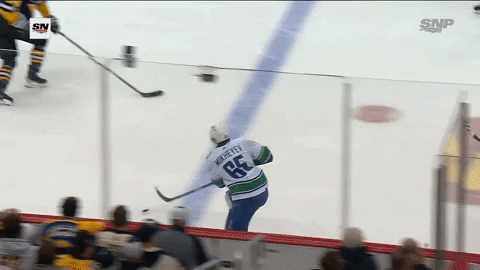 This one wasn't on DeSmith, but he also didn't stop the puck, so was it his fault? Tough to say.
But this third one just moments later — 35 seconds later, to be exact — off the stick of Quinn Hughes? This was enough to get DeSmith pulled as the Canucks moved ahead with an early 3-0 lead.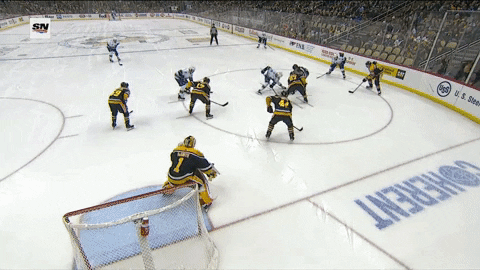 Remember Dustin Tokarski?
Remember when a young Dustin Tokarski was going to be the backup — maybe even the 1B — to Carey Price in Montreal? Remember when he posted a .946 save percentage through three games with the Habs in the 2013-14 season?
Remember that? Am I the only one? For some reason, Dustin Tokarski is a name that I don't think I'll ever forget. Anyway, he entered the crease for the Penguins after the third Canucks tally, and that's when I found out he was the third-string goaltender for Pittsburgh this season.
Tokarski's first NHL action of the season led to him shutting the door on the Canucks and allowing just one goal the rest of the way through.
But surely the Canucks won this game by a score of 4-0, right? No? 4-1? 4-3?
Read on, traveller.
Best tweets that precede unfortunate events
Shot(s):
Chaser(s):
Says something about how ineptly Canucks defended, turning 3-0 lead to 3-3 tie in less than 10 minutes, is that their best player was goalie Spencer Martin.
— Iain MacIntyre (@imacSportsnet) January 11, 2023
Best shooting themselves in the skate
Up by three goals and clearly feeling nervous about it, the Canucks took two penalties in quick succession, and to the shock of absolutely nobody, they got scored on almost immediately after going down by two men.
It was one of the Penguins' two superstars, this time Evgeni Malkin, who got Pittsburgh on the board early.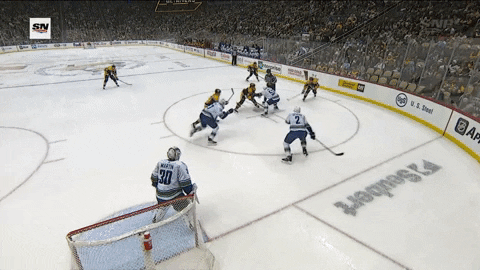 You can file this one under the "goals Spencer Martin would like to have back" folder, but that's mostly because he got a good chunk of it and anticipated the pass across to Malkin quite well. But at the end of the day, shooters shoot.
Best Wyatt would love this
Doing his best impression of Collin Delia Dominik Hasek, Spencer Martin recovered after falling onto his backside to make a kick save and a beauty as he scrambled back into position.
The only downside was that moments later, Sidney Crosby beat Martin — who was thinking shot all the way — on a neat backdoor pass from Brian Dumoulin.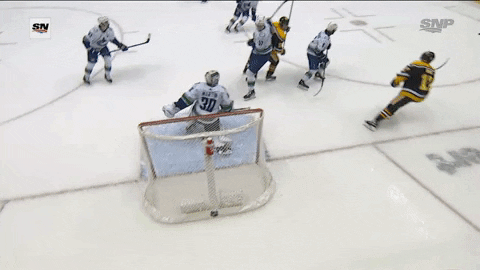 As John Garrett said bluntly on the broadcast of the Canucks' defence coverage on this generational talent, "you might want to take that guy."
This goal moved Crosby into a tie with Teemu Selanne for 17th in all-time points, because of course it did. After all, everyone knows the Canucks are everyone's favourite team to set records against.
Best sixth goal of the first f***** period
Poor Lachlan Irvine was on GIF duty for me tonight (unlike Wyatt, I share my GIF money), and it was a busy first period for him, to say the least.
After playing in one of the worst goaltended games in recent memory on Sunday — a 7-4 loss to the Winnipeg Jets — the Canucks seemed eager to top that.
Because before the first period was over, the Canucks negated their first period three-goal lead by giving up three unanswered to the Penguins. Here's the third goal, as Lachlan and I rake in that sweet GIF money.
Watch this play closely. There's an Easter egg in it that you may have missed.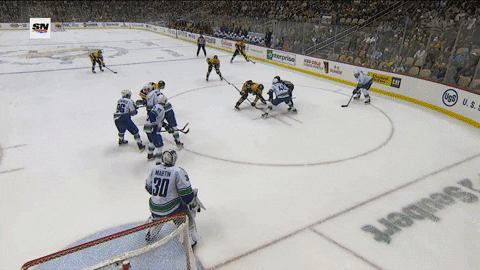 Did you see it? If you guessed "wait, did Tyler Myers have his back turned to the play when the puck was dropped because he was talking strategy?" then you would be correct!
Myers appears to be late getting out to the shooter because he wasn't aware the puck had dropped right away. It was only for a split second, but Myers also seemed a split second late getting to Zucker, who ripped it home to make this one 3-3.
Best that's just how aliens defend 2-on-1's
Anytime I write The Stanchies, there's always a quick side note of something cool that Elias Pettersson did. And tonight, that cool thing was how he threw the book away when defending this 2-on-1.
Instead of skating backwards and letting the Penguins get into the offensive zone on a 2-on-1, Pettersson takes two hard strides toward Jeff Carter before going all in and laying out to block the cross-crease pass.
That's high-risk, high-reward, and flat-out exciting hockey.
Best let's take a breather… just kidding!
The second period felt weird because there were no goals within the first five minutes of it, but that didn't mean there was a lack of events.
First, there was this stretch pass from Elias Pettersson to Andrei Kuzmenko that nearly sent Kuzmenko in on a breakaway, but Kuzmenko lost his balance: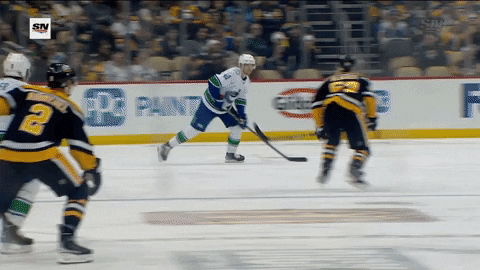 Shortly after, despite his best shoulder-checking efforts, Dakota Joshua took a stick up high that resulted in a four minute power play for the Canucks.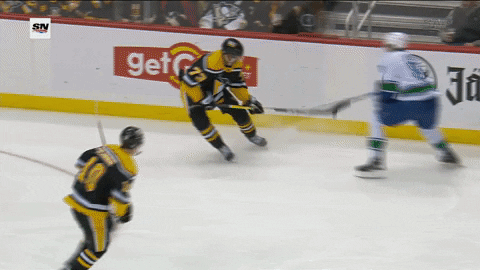 On the ensuing faceoff, Elias Pettersson committed one of the most dangerous-looking hooks we've ever seen, and we're just glad the refs caught this one. It's yet to be determined if the department of player safety will take a look at this hooking call on Pettersson that took the Canucks off the power play for two minutes. And yes, that was sarcasm, because Pettersson's stick hardly touches Dumoulin. Dumoulin appears to simply lose his balance.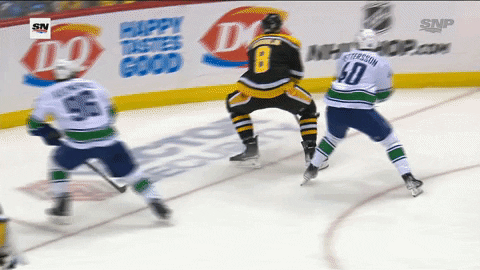 With the two sides playing a little 4-on-4, Ilya Mikheyev made a bad play at the blue line that resulted in the Penguins gaining their first lead of the game courtesy of Evgeni Malkin.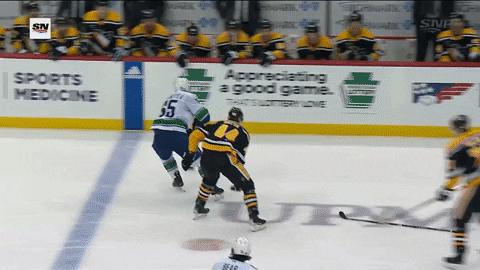 That was Malkin's fourth point of the night, and we weren't even out of the second period.
It was back to the power play for the Canucks after the Malkin goal, and despite a few scramble plays, the Canucks' power play was unable to put the "forth" in back-and-forth.
They were, however, able to raise the heart rates of their fans with a mad scramble in front of Martin that resulted in a Vancouver penalty.
The Penguins' power play wasted little time before extending their lead to 5-3 after Rikard Rakell had what feels like way too long to find the invisible rebound: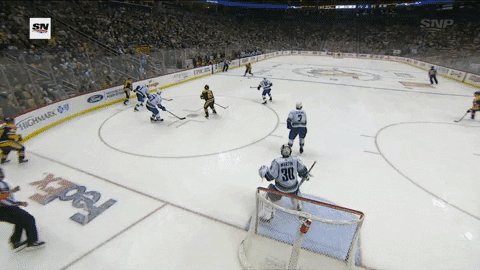 The Penguins then took another penalty, before taking another penalty with 40 seconds remaining on the Canucks' first power play. The Canucks took a timeout as Jason King pulled out the whiteboard and went over the plan with the Canucks' top power play unit.
Best we all got work tomorrow
The ref straight-up didn't want to call this Jack Studnicka trip.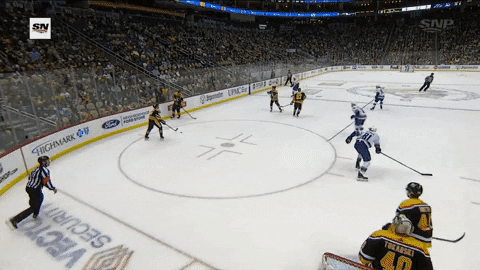 He didn't miss it, and the point to the clock indicated that he seemed to recognize that it was a trip. Like many of us, he just wanted this one to end as soon as possible.
Add this to the "reasons refs should be made available to answer questions post game" folder.
The Canucks' penalty kill is so excruciating to watch … they make every team look like they have Daniel and Henrik cycling on them 😂
— Kirbee (@kirbeep) January 11, 2023
We're not saying this was a make-up call, but we're also not not saying it was definitely a make-up call for the non-call on the play above.
The Canucks shut down the Penguins' power play as the parade to the box continued. The Joshua trip was the 10th and final minor penalty handed out in this game — and there were no major penalties handed out!
Unfortunately for Vancouver, they went 0-5 on the power play tonight while giving up two goals
Elias Pettersson has been money this season, but he's been somewhat snake bitten the past couple of games. He could have had three or four goals tonight alone. Also how many times has Bo Horvat missed an open net this season? Not many. #Canucks
— Jason Kurylo — Sláva Ukrayíni! (@PuckedInTheHead) January 11, 2023
So one of the stories that needs to be mentioned is just how snake-bitten Elias Pettersson was tonight. As he typically does, he did plenty of good things to drive play and to create offence for his team, but was categorically unlucky tonight.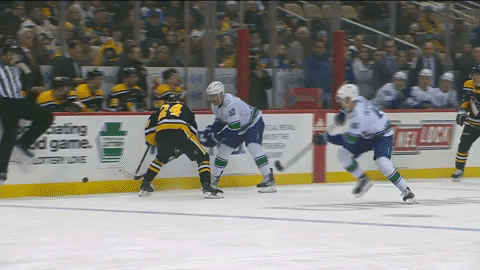 Pettersson finished with one assist on the night, but as you can see in the above montage, he easily could have had a hat-trick in this one. And he probably deserved at least one goal, but instead, he has now gone four games without a goal — his longest scoring drought of the season.
As mentioned though, Pettersson did plenty of good things all over the ice, and although he has just an assist to show for his effort, continuing to do what he's done all season long and playing #TheRightWay will almost certainly result in an offensive explosion for Pettersson.
Best oh man, we got a ballgame!
Travis Dermott converted on the ninth goal of the game to bring the Canucks within one with just over seven minutes left to play.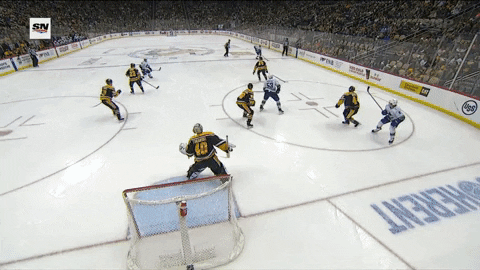 That's just a goal you feel good about, mostly because Dermott hasn't been particularly good since returning from a head injury that's kept him out since the preseason.
Spencer Martin has seen this movie before.
He almost certainly saw JT Miller on the ice, which could be why there was no hesitation from Martin to go to the bench for the extra attacker without thinking twice about it, even after the Canucks turned over the puck and the Penguins started coming back the other way.
Luckily for the Canucks, the Penguins appeared unaware that the Vancouver net was empty, and got the puck in deep, allowing the Canucks to regroup and break back the other way.
In the moments that followed, however, Pittsburgh sent the puck down in a manner that looked like it was a scene out of Air Bud.
In this iteration, our hero Brock Boeser makes a mad dash back to the net and prevents the puck from crossing the goal line at almost the last possible moment.
On the topic of Brock, Boeser finished the night with one goal and one assist, and this potential game saver was a nice cherry on top of a solid individual performance from number six.
It wouldn't matter much though, as the Canucks — again quoting the GM we mentioned earlier — ran out of time.
The Penguins won this one by a final score of 5-4. And for all of you on team tank — most of you at this point — the Canucks lost in regulation, and currently sit 26th overall in the league standings, meaning that if the season ended tonight, they'd have a 6.5% chance of drafting Connor Bedard with the number one pick in the 2023 draft.
It's set in stone, Bedard is a Canuck I've been saying this for months now. No chance he goes anywhere else
— Main go 🇨🇦🏒🏈🥭 (@goalofmain) January 11, 2023
6.5% chance? Give me those odds all day.
the Canucks are like, literally the only team in the west in purgatory. not bad enough to have a decent shot at a top 5 pick, not good enough to realistically be competing for a playoff spot in April. And they do it in spectacular fashion. I do not know how y'all do it
— ë (@vgkounola) January 11, 2023
We do not need this kind of negativity right now. The Canucks may very well have a decent shot at a top five pick by the time the season is done.
A tough January schedule, coupled with some smart moves at the Trade Deadline will certainly help their efforts to get there and bring home the kid from North Vancouver.