Vancouver Canucks sign NCAA free agent defenceman Akito Hirose
Photo credit:@therinklive on IG
The Vancouver Canucks have been pretty active on the NCAA free agent market over the past week and on Wednesday morning, they announced their biggest signing yet.
General Manager Patrik Allvin announced that they have signed Akito Hirose to a one-year, entry-level contract. Hirose is a 23-year-old, left-shot defenceman who played three NCAA seasons with Minnesota State (Mankato) — one of the powerhouses in college hockey.
He posted decent numbers in his junior season, putting up four goals and adding 23 assists while playing on Mankato's top pairing for the entire season.
Hirose is a very intelligent defensive defenceman. He challenges opposing forwards at his own blue line and is quick to make decisions when chasing down a dump-in. There is hope that Hirose can develop into an NHL-calibre defenceman and will be more than just AHL depth like a lot of NCAA signings.
EPRinkside had Hirose as one of their highest-rated NCAA free agents and a lot of that comes from his hockey sense and passing ability.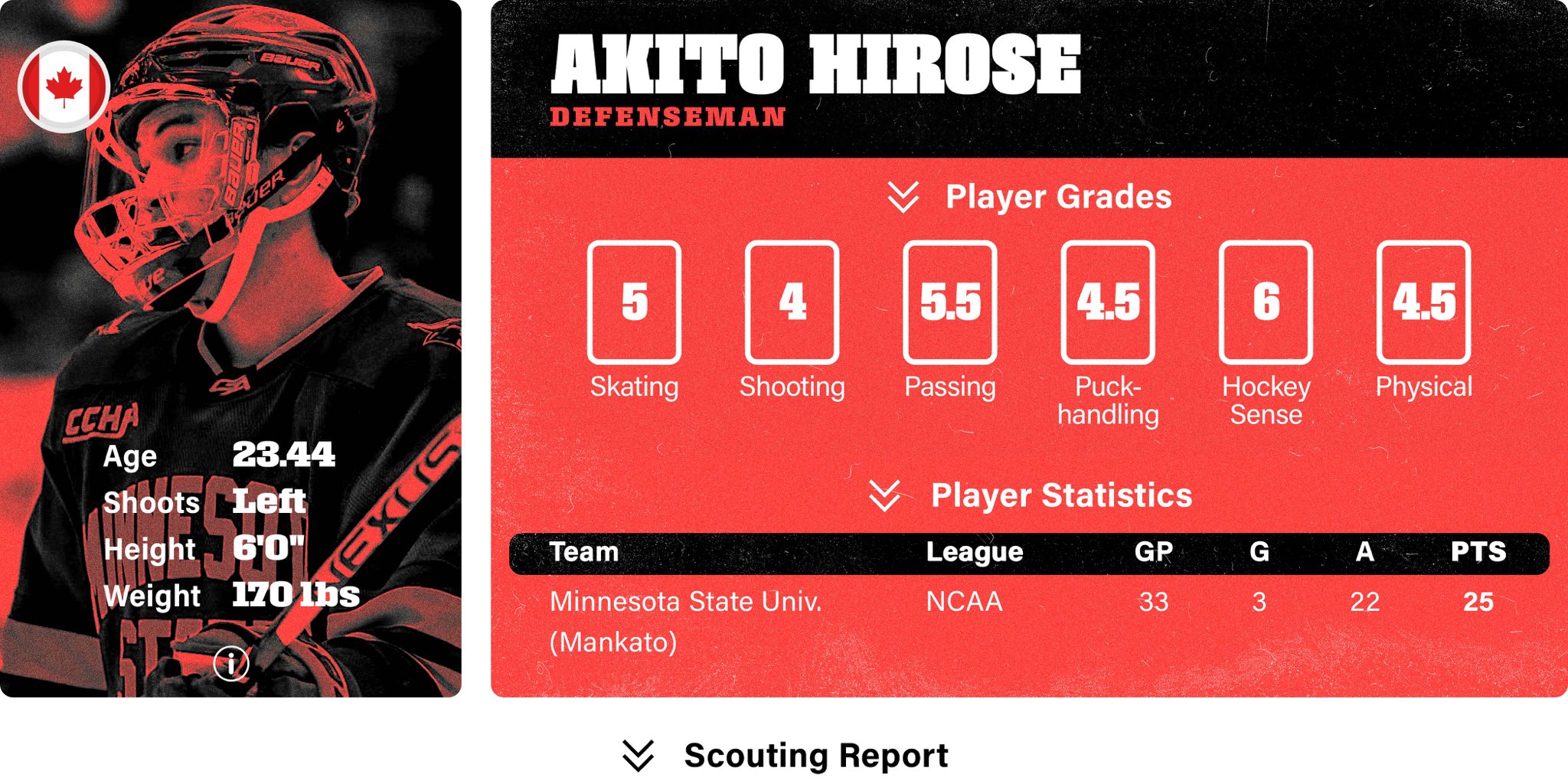 A tough defenceman with above-average skills in every area of the ice, Akito Hirose may not shine on the scoresheet but he has the skating and puck-control skills that you will need to see from an NCAA defenceman to view them as a future pro.

He is in his junior season with Minnesota Mankato and with how that program runs, it's likely that he returns for his senior year. If he is to go pro after his junior year, there should be interest to get him right into the AHL and let him work his way up the depth chart to hopefully one day make it to the NHL.
Hirose played four seasons in the BCHL with the Salmon Arm Silverbacks and captained them during the 2019-20 season.
This past season was all about becoming a better well-rounded defenceman for Hirose. He added some physicality to his game and though he will need to get stronger to showcase that at a pro level, it's always good to see a young player add a new facet to their game.
We don't expect to see Hirose banging down the door for a spot on the Vancouver Canucks next season but there's a good chance he plays a lot of games with Abbotsford next year and due to his age, his entry-level contract is just for one season.
Here's the reasoning for the one-year deal from article 9.1 section B of the NHL's collective bargaining agreement.
As for the age of players, that is addressed in section 9.1 of the CBA.
"As used in this Article, 'age,' including 'First SPC Signing Age,' means a Player's age on September 15 of the calendar year in which he signs an SPC, regardless of his actual age on the date he signs such SPC."
This is why Hirose only signed for one year.
He will bring some depth to the AHL from day one and if he is able to translate his skills to pro hockey, there could end up being a depth defenceman or at least a guy who can eat some games up when your team goes through injuries on the backend.
For now, Hirose will be reporting to the Vancouver Canucks, as reported by Rick Dhaliwal.
There are still a handful of NCAA free agents who have not signed just yet and with the NCAA final four wrapping up on April 9th, there's still time for a few more players to hit free agency.