The Statsies: The Canucks continue to struggle in generating expected goals
Photo credit:© Bob Frid-USA TODAY Sports
Welcome to The Statsies, brought to you by NHL Lines site Betway!
Instead of keeping the ball rolling, it's back to regularly scheduled programming for the 2022-23 Vancouver Canucks.
With a 2-6-2 start in their first 10 games, the Canucks are off to their worst record to begin a year since the 1987 season. In this game, they dropped a 5-2 decision at home to the New Jersey Devils, a team that once picked first in the same draft the Canucks got Elias Pettersson. Vancouver also drops to 0-5 in games where they play in a reverse retro jersey. You can't even make it up at this point.
Here's how this loss played out by the numbers.
Game Flow
You can't blow a lead if you never have one. The Canucks were in this game the entire way through, judging by the balance in both expected goals and possession. That said, an argument could also be made about how the Canucks never managed to move the needle, only playing well enough to be "competitive" in this game. It wasn't until halfway through the second period that the tides really shifted in the visitor's favour, with two goals coming as a result.
The biggest black eye is how the Canucks, once again, got outplayed in the third. It's been a defining feature of this series thus far, and it is front and centre in this loss as well. With the team down three goals, somehow Vancouver couldn't find the urgency to regain puck possession, and not only did they not manage to generate many chances of their own, they yielded the xG balance further in the Devils favour. If you're only managing a 0.7 xGF to a 1.92 xGA in the third, chances are you aren't going to come back and win hockey games.
Heat Map
After two promising games, it feels like the Canucks have returned to old habits in the defensive zone. While the front of the net and the low slot were taken away, Vancouver instead yielded two hotspots from the two faceoff circles, in prime one-timer areas. These are marginally better chances to give up on xG models, but with the amount that Vancouver gave up, that difference is easily negated.
Offensively, the Canucks weren't able to get many chances themselves. Credit to the Devils' defensive systems for eliminating much of the threats up front, but Vancouver did themselves no favours in terms of attempting shots. They managed to get a decent spot on the lower left slot, but this team went on shot droughts for multiple stretches of the game, something that can't happen if they want to win hockey games. There just seemed to be no compete to try and get back at the visitors.
Individual Advanced Stats
Corsi Champ: I'm probably going to have to rename this award at this point. Andrei Kuzmenko led the Canucks in CF% last night (68.18), easily outpacing everyone else in CF% rel (32.47). The Russian once again had his chances aplenty but was unable to finish them off. It wasn't for lack of trying — Kuzmenko generated 20 scoring chances for while conceding 8 against, with 6 of those scoring chances being high-danger. The league leader in theoretical goals will be hoping to find a finish sooner rather than later.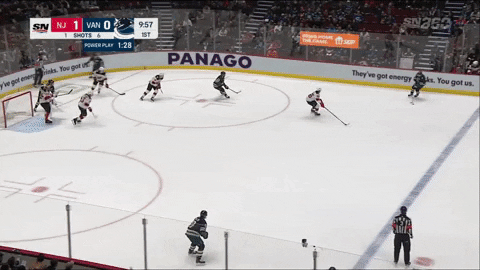 Corsi Chump: Dakota Joshua unfortunately finishes as the worst Corsi man this evening (12.50 CF%). in his 5 minutes on ice, he was a pretty terrible -38.44 CF% rel and contributed absolutely nothing offensively. Joshua also didn't give up too many opportunities against, but when you're only on ice for a twelfth of the game, any little bit will do some damage to your numbers.
As for players that played more than 10 minutes, Vasily Podkolzin placed last in CF% (15.79). It's another part of a concerning trend, where the Russian has seen his 5v5 play fall off in the past couple games. His CF% rel (-38.95) actually makes him the worst on the team, meaning that Podkolzin had more of a negative impact on possession than Joshua. He played most of his minutes against NJ's fourth line, while the Devil's top pairing of Hamilton-Siegenthaler put up 21 Corsi against on him alone. It's an analytical slump that's following the lack of breakout on the scoresheet for Podkolzin, unfortunately.
xGF: This one goes to Kuzmenko again, who led the Canucks with a 59.83 xGF%. His xGF of 1.6 led all skaters as well, with his 20 scoring chances just edging out Pettersson's 19. It should be no surprise that his linemate was that close to him, and Pettersson finished 2nd amongst forwards in xGF% (55.47). However, the surprise is probably who's in second place. In his Canucks debut, Ethan Bear was the second-best xGF% man, putting up 55.73 to just edge out Pettersson. This comes from pretty strong defensive numbers, as well as opportunistic xGF. Not a bad way to start his time in Vancouver.
GSAx: Someone needs to check in on Thatcher Demko. The goalie is definitely running low on confidence, with the defence in front of him doing no favours. Demko conceded 4 goals on 36 shots, and with the Devils only running a 2.85 xGF for the game, that means the netminder once again finds himself with a negative goals saved above expected. A -1.15 on the night further pushes Demko's total GSAx down to -9.04 as he leads the league in worst GSAx and goals conceded (32). The only silver lining is that 3 of the 4 goals Demko gave up were on high-danger chances, with the last goal being on a middle-danger chance. Perhaps this would be a good time to give Martin an extended run between the pipes.
Statistical Musings
What's going on in the third?: For one reason or another, the Canucks have not been able to have a strong third period. The best they played in the final frame came against the Penguins in the previous game, but even then they ceded the puck possession to the visitors in an opportunistic approach to chances. In this game, they had neither. While their CF% did improve marginally in the third (46.67 to 51.28), their xGF% dropped from 53.18 to a paltry 26.81. What this implies is that the Devils were able to limit the Canucks to perimeter shots and opportunities, ones that had little chance of being converted into goals. This is where the wasted opportunities earlier in the game come to bite Vancouver hard in the rear end – especially when they find themselves trailing in a game, needing to push hard to find multiple goals to equalize.
I do need to figure out a way to quantify effort as well. The drop-off in the third was possibly not as noticeable as previous games, but there was also no change in momentum that was observed in the stats. Normally, there's something that spikes up when a team is trailing and there's frantic energy to their play (xGF% or CF% are pretty decent indicators), but neither was observed here, even on that final 6-5 sequence before the empty net goal.
Second power play unit misery: I genuinely don't know if I've ever seen this before, but the entire second power play unit did not post any Corsi. That's right, they all finished their powerplay time with a CF% of 0.00, which is abysmal considering the advantage they're supposed to have with puck possession. The second unit finished with a 0.00 xGF%, 0.00 HDCF%, as well as giving up 2 HDCA. It wasn't an insignificant amount of time as well – the second unit had approximately 2 minutes of man-advantage time over the course of the game, in comparison to the 4 minutes of power play time the first unit had.
OEL-Myers: At first glance on the statsheet, this pair is inoffensive to look at. In 13:25 TOI together, the pair held an even CF% (50.00) with a decent xGF% (49.27). However, it starts falling apart the further you look. The OEL-Myers pairing gave up the worst scoring chances against (11) and the worst xGA (0.84) of any defensive pairing last night. Even the Stillman-Bear pairing, which got caved on the CF% front (36.84) was able to play better defence (7 SCA, 0.39 xGA). For a pairing making over $13 million against the cap, it really isn't efficient dollar usage on their contracts.
Find-A-Finish: The Kuzmenko-Pettersson-Mikheyev line was the most effective line offensively according to the advanced stats. Coming in second in CF% (57.14), the line led the Canucks in xGF (0.82), xGF% (75.73), SCF (12) and HDCF (4). However, they were also held off the scoresheet at 5v5 play. Mikheyev has previously held a reputation for lacking a finish, while Kuzmenko appears on the cusp of earning that. It's a great thing that they've been threatening and dangerous — but they need tangible results from it.
As a team
CF% – 48.25% HDCF% – 47.83% xGF% – 41.52%
The Canucks fell behind early, and though they kept it close in terms of game content, were not able to find the push that they needed to come back against the New Jersey Devils. Special teams continue to cause issues, and the team lacked urgency when push came to shove. Vancouver is back in action on Thursday, when the Anaheim Ducks roll into town. It'll be a hard mountain to climb from this point forth, but eyes should be on if the Canucks can buck a few trends.
Stats provided by naturalstattrick.com