The Stanchies: The Vancouver Canucks should be ashamed of themselves
Photo credit:© Bob Frid-USA TODAY Sports
Pressure pushing down on me
Pressing down on you, no man ask for
Under pressure that burns a building down
Splits a family in two
Puts people on streets
To quote every Canucks Conversation poll question, "I'm angry."
Three years, nine months, and 16 days ago, ahead of a 3-2 defeat to the Nashville Predators, ownership preached patience concerning management ahead of the team's fourth-straight playoff miss, wanting to salvage their reputation utilizing Jim Benning's defenders within the media as a shield.
"Patience," which saw the team ship out a 1st round pick, a 3rd-round pick, and a fourth-string goalie in exchange for JT Miller two months after the loss to Nashville.
"Patience," which saw the team squared up on the one-yard-line, ready to eat one final year of Loui Eriksson, Antoine Roussel, and Jay Beagle's $12-million dollar combined cap-hit, only to trade all three for Oliver Ekman-Larsson and his six-year $7.26-million dollar cap hit, and the rights to sign Conor Garland to a five-year $4.95-million dollar cap hit. The additional price of that "patience?" The ninth-overall pick, a second-round pick, and a seventh-round pick.
These totally "patient" moves combined to help the franchise make the playoffs once, only by way of an expanded playoff format following the shuttering of the season due to the novel Coronavirus.
The patience wore out after an 8-15-2 start to the 2021-22 season. Travis Green and Nolan Baumgartner were out, followed by a near-total exorcism of the Canucks' hockey operations department, including GM Jim Benning and Assistant GM John Weisbrod.
No longer able to lean on Benning's "defenders within the media" to uphold its reputation, the organization has been reduced to this:
On the night of the team's 11th annual Hockey Talks game, honouring mental health initiatives in memory of Rick Rypien, head coach Bruce Boudreau was moved to tears behind the bench as the home crowd serenaded the beleaguered head coach with its loudest rendition of "Bruce, there it is" yet.
After three years of milking Jim Benning's reputation with national media for all it's worth, the Canucks' reputation has nosedived faster than insert Wyatt Ardnt patented 1980s pop-culture film reference here.
Under Jim Benning, the Canucks organization got away with ousting local legend Trevor Linden in an ugly coup, blaming the Sedins' contracts for their inability to construct a contender, and kicking dirt on their outgoing director of amateur scouting; all while sewering their relationships with a laundry list of players including Sam Gagner, Jonathan Dahlen, Sven Bärtschi, Tyler Toffoli, Chris Tanev, and Troy Stecher, to name a few. The organization's functionality during Benning's tenure should have resulted in a rock-bottom reputation but somehow evaded criticism at almost every turn.
Now, with President of Hockey Operations Jim Rutherford at the helm, the organization's continued hostility and dysfunction has finally gotten its due attention:
They extended JT Miller to a seven-year $8-million dollar contract after lowballing their captain Bo Horvat.
The owner is facing allegations of child abuse in a lawsuit from his ex-wife over whether or not he still has to pay child support.
A human rights complaint following the dismissal of Rachel Doerrie.
An investigation into its medical staff following Tanner Pearson's mysterious season-ending and potentially career-threatening hand injury.
No one seemed to advise Bruce Boudreau on the optics of scratching Brock Boeser on Hockey Fights Cancer Night.
Throughout all these controversies, the President of Hockey Operations has continued to dump on his head coach via the media, critiquing the team's habits, preparation, and systems. Five days ago, during a media availability discussing the internal investigation of Tanner Pearson's hand injury, Rutherford casually cited how he had recently interviewed coaching candidates to replace Boudreau. In a season, mind you, where Boudreau passed Jacques Lemaire for the most career wins in NHL head coaching history.
Rather than fire Boudreau and promote assistant coach Mike Yeo into an interim role, Rutherford and the Aquilini ownership group took the path with the most-possible resistance toward reaching their desired outcome of Rick Tocchet as the next head coach of the Vancouver Canucks.
Has Bruce Boudreau been the right fit for this group? Not necessarily. He had his warts. But even coaches with warts deserve respect from their employers on their way out. Never in history has a head coach been so beloved in their market that they would resist the winds of a coaching change, bringing signs signalling they "stand with Bruce" and screaming "Bruce, there it is" in defiance of their favourite team's despicable treatment of an NHL coaching legend.
For months, it was assumed that Boudreau would be out by the end of the season. For months, Boudreau kept his composure, held his head high, and only used his time in the media to speak of his passion and love for the sport. Five days ago, Rutherford and company put the blindfold on Boudreau, walked him in front of the firing squad, and told him to keep coaching.
They made Boudreau cry on 'Hockey Talks' day.
At this point, it's clear the organization has zero interest in a rebuild of its on-ice product. I wonder how they feel about the rebuilding of its reputation.
A great man once said, "That's the way hockey in Vancouver is. Usually, this is the way it goes. But every once in a while, it goes the other way, too."
After Saturday night's 4-2 loss to the Edmonton Oilers and the organization's treatment of Boudreau reaching its boiling point, I've stopped waiting for it to go the other way.
Just a totally normal organization.
As they did against Tampa Bay and the Colorado Avalanche, the Vancouver Canucks came out strong through the opening two minutes. Unfortunately, they were caught in the offensive zone with Oliver Ekman-Larsson and Tyler Myers on the blue line, with Connor McDavid in the high slot gaining speed as the Canucks lost possession of the puck.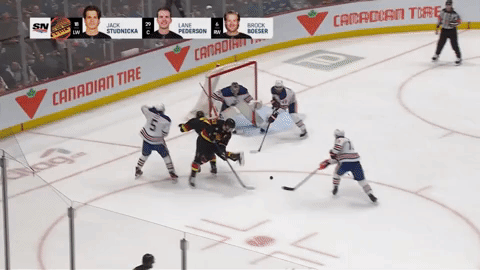 Spencer Martin stepped well out of his crease to challenge McDavid, but you know, he's McDavid.
Before five minutes had even elapsed, McDavid was back out there, inside the Canucks d-zone, attempting to bat the puck out of mid-air past Martin before attempting two follow-up chances on the rebound.
The first five minutes of the period also brought on the first "Bruce, there it is" chant of the game.
Then, after taking a too-many-men penalty, the NHL's league-leading power play went to work against the Canucks' historically awful 60.6% penalty kill.
In a shocking twist, the Edmonton Oilers' power play scored on just their fourth shot of the game, with Connor McDavid picking up his second point of the night.
Best individual shift of the period
The start of the period was bad, so let's mix in some positivity by focusing on this completely fine, hard-working shift from Will Lockwood, starting from a d-zone faceoff.
First, Lockwood immediately charges through the circle to fight for a loose puck off the lost draw.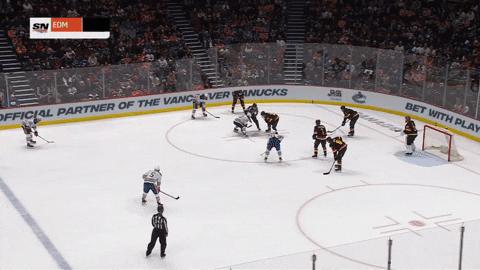 Why do we like it? Lockwood fights through a hold to deny the initial shot attempt, then works to get to the point to deflect a wrist-shot high and wide.
Lockwood then joins the rush, where he cuts low to fish the puck back to Hughes on the line before darting back to the net front to create traffic in front of Stuart Skinner.
Why do we like it? With this forward group, the work rate to win 50/50 puck battles has been a point of contention all season. While this shift did not lead to a goal, the work rate from Lockwood to keep the Canucks in possession was commendable and a nice change of pace.
Finally, at the end of his shift after losing the zone, Lockwood took a quick pass from Hughes and threw a colossal reverse hit on Derek Ryan along the boards.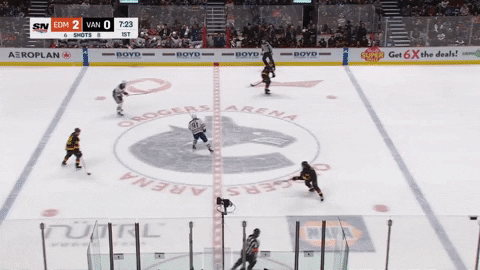 Why do we like it? Outside of Luke Schenn, the Canucks "crushing hits per 60" has been sorely lacking.
Worst "I'm so tough" flex attempt
Ethan Bear missed Saturday's game against his former team because of the passing of his dog, Flower Bear. Naturally, Bear's completely understandable decision drew the ire of the brightest bulbs of social media.
If you've ever had pets or currently own pets and you've said out loud, "it's not a spouse or a child. It's the NHL," please send me a message on Twitter so that I can direct PETA to your location.
Mourning the loss of your pet does not make you weak. Crying is not weakness. Hell, I cried three times watching Hook before the Canucks/Oilers game. Compassion is not weakness.
Ethan Bear missed the most "mean-nothing" of "mean nothing games" on Saturday night. Anyone thinking his absence, or the reasons for it, are worthy of criticism needs a reality check.
Or a hug.
Best reminder of why you don't change jersey numbers
Adam Gaudette relinquished #88 to Nate Schmidt, and less than two years later, he was out of the NHL, now with the Toronto Marlies.
Nils Höglander debuted as one of the Canucks' best forwards in the abbreviated 2020-21 season. Höglander then changed over to Loui Eriksson's #21 and is out of the NHL, now with the Abbotsford Canucks.
In Abbotsford, Höglander is back using #36 and has 7 points in 13 games.
Really makes ya think!
Best Lane "don't call me Petey" Pederson experience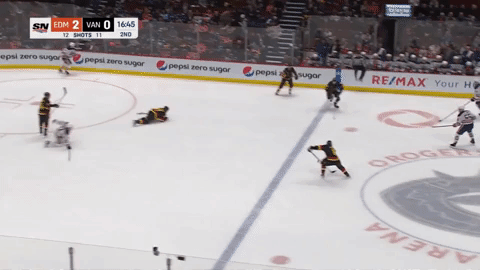 With a large contingent of Oilers fans in the building, an early stretch save from Stuart Skinner on Lane Pederson nearly blew the roof off.
On the bright side, following Leon Draisaitl's goal to make it 3-zip, the Rogers Arena crowd immediately belted out a short but sweet "Bruce, there it is."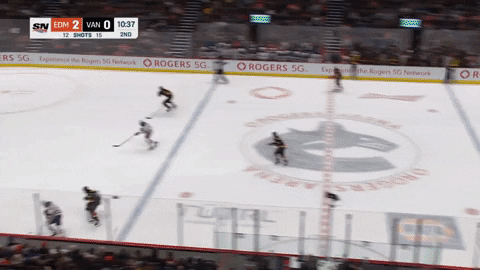 The gif isn't flattering to Quinn Hughes, but Draisaitl's goal followed a long shift hemmed inside the d-zone. Hughes starts the sequence looking to the bench, waving the forwards off for a line change.
The Oilers had been utilizing the long pass following extensive time in the offensive zone all game, resulting in some frequent appearances of Hockey Night in Canada's™ classic shift clock!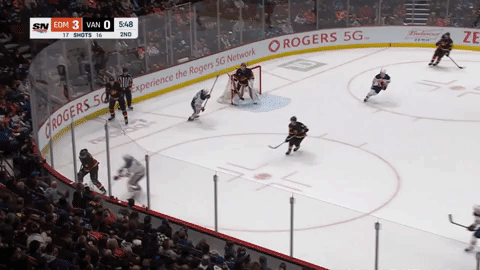 Best leave it to the Kuzmenk-show
Yes…Yes, I did.
It took the Canucks 36 minutes, but a breakaway pass from Elias Pettersson to Andrei Kuzmenko mercifully got the home team on the scoreboard.
Kuzmenko's 19th goal of the season tied him with Pettersson for the second-most goals among Canucks skaters.
What a finish, too!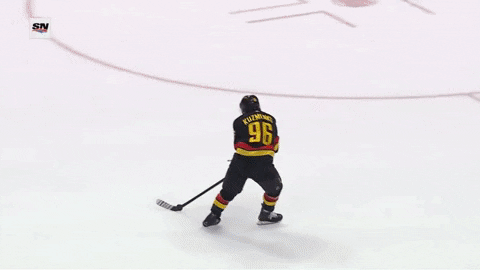 Pettersson's pass off the line isn't clean, but Kuzmenko settles it off his backhand, brings it forehand, and within two touches, he's settled the puck to go under Skinner's glove side.
The goal breathed some life into the crowd and drew a loud "Bruce, there it is" chant.
Best DAWG/60 (AHL version)
Following Kuzmenko's goal, the Canucks were back to defending poorly in their zone. So we turned our attention to Abbotsford to see what they were up to.
Alex Kannok Leipert has spent most of this season as a healthy scratch but has been an extremely reliable and safe stay-at-home defenceman whenever in the lineup.
Like Will Lockwood throwing shoulder checks in the neutral zone, it's nice to see a high presence of DAWG on the Farm.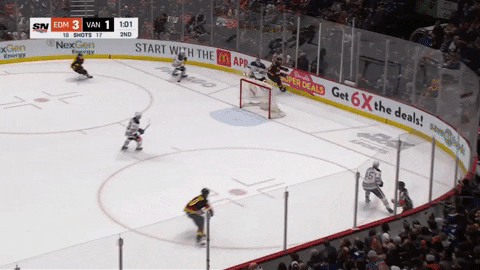 With Alex Kannok Leipert's scrap against Adam Klapka radiating DAWG/60 energy throughout the galaxy, Pettersson let the force flow through him, absolutely trucking Philip Broberg while pressuring on the forecheck.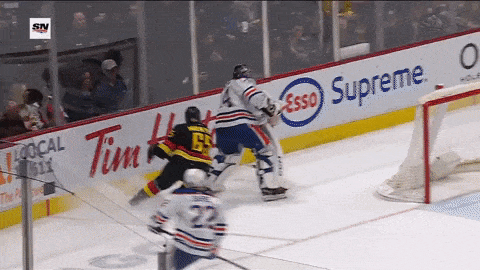 I've joked for years that the Canucks would be forced to give him the C if he ever dropped the gloves.
Best third period marketing strategy
First, it was #FartGate.
Then it was #SignGate.
Now it's #BalloonGate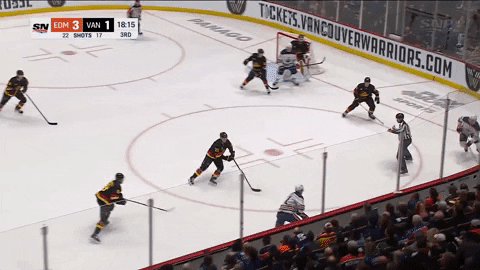 The balloon's even featured on the broadcast, though you couldn't tell they were printed with any agenda!
Best "shots from the point do work (sometimes)!"
As they've done in every game this past week, the Canucks rallied back from a multi-goal deficit.
Off an offensive zone faceoff, Quinn Hughes teed up Jimothy Timothy with a one-timer for the ages!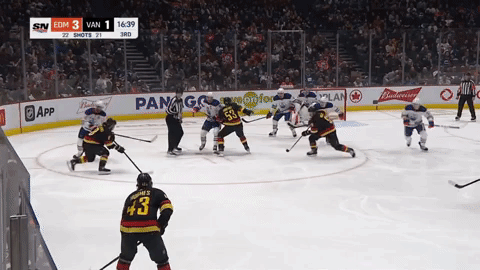 That no-celly reaction is what got him the big bucks. No double-clutch, no pump fake, no waiting for the perfect angle, just an absolute hammer from the point.
Some say this shot was inspired by the guy who won the Toyota Camry on Wednesday against the Lightning.
Worst "uh oh, they're onto us!"
Best/Worst goalie interference call
After a failed power play opportunity from Vancouver. The Oilers sent their first line out against the Canucks' fourth line to pressure inside the offensive zone. Zach Hyman initially scored his second of the night with a tip on a point shot by Philip Broberg.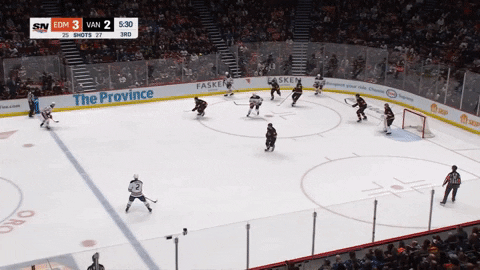 Jimothy Timothy was very not happy with the goal.
Mama Pettersson wasn't happy with the earlier failed power play.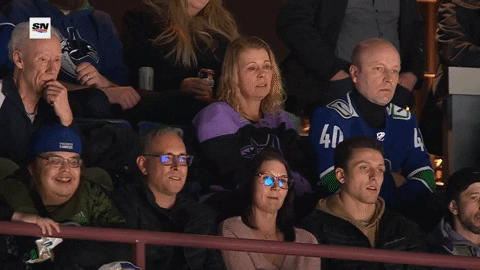 Fortunately, Bruce Boudreau still has his fastball. After a lengthy investigation by the officials, the call on the ice was for goaltender interference, and suddenly the Canucks were back within a goal with five minutes left in the game.
Spoilers: they tried. But, like every game this week, they did not win one for Bruce.
Best "it's just nice to win one."
Spencer Martin's first official season as an NHL backup/pseudo-starter has not been great. Hence why it was great to see him sprawling out to get his paddle down on a sure goal to keep the Canucks within a goal.
Worst "this is why people don't like you."
Look, for 59 minutes, JT Miller had an incredible game. One of his best of the season. Which is why the sequence on the final empty-netter goal is so brutal to watch.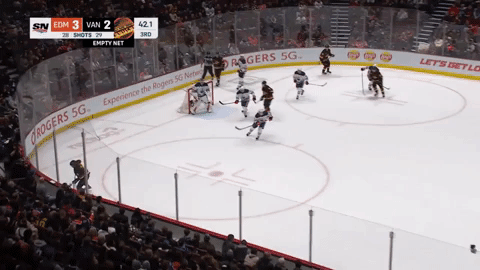 This. This is why people are so upset by the JT Miller extension.
All the points and displays of "competitiveness" from the bench are meaningless if you aren't willing to put in the effort when the cards are down.
After a rim around the board hops over Miller's stick, he comes off his edge and doesn't even attempt to skate onto the puck. As far as he's concerned, the empty-netter has already been scored, and they've lost. This defeatist, loser mentality is why fans take issue with the extension that will pay him $8 million until he's 37 years old.
If not now, when?
Let's be honest; this team hasn't been competing for a playoff spot in at least two weeks. They've had three games and plenty of rest to produce at least one victory for their head coach. But they couldn't do it.
They tried. But they're just not good enough to do it, even with all the motivation available to them.
This is the Vancouver Canucks organization at its lowest moment; a star forward giving up on the final play of the game, resulting in another loss. A crowd chants, "Bruce, there it is," one final time, as the broadcast lingers on the 68-year-old WWE-lovin' head coach, as he's reduced to tears before walking down the tunnel one last time.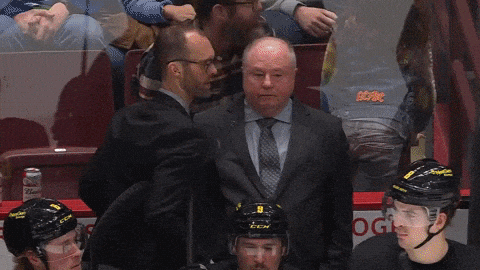 Best "but what do the people think?"
About 50-100 other tweets couldn't be included in the fan reaction section because of the sheer volume of cursing.
Best "Am I so out of touch? No, no it's the children who are wrong!"
Honestly, respect to any national media analyst who dares say the fans and the local media are overreacting to the current state of the franchise.
Worst time for a nepo-baby
It isn't fair to judge a coach on what he accomplished as head coach of the Arizona Coyotes. But this isn't an organization sewering its reputation, respect among players, employees, or the coaching fraternity to bring in a highly-touted, respected veteran coach. No, this is just an ex-Penguin hiring another ex-Penguin to "reunite the band" that won back-to-back Stanley Cups six years ago.
This isn't unfamiliar territory for Canucks fans. This organization chased the Bruins model under Jim Benning. The Vancouver Canucks appear to be chasing the Penguins model sans Crosby, Malkin, Letang, or Fleury. It's fine to stick with what you know. But this fanbase has suffered too long to watch another management group twist in the wind attempting to replicate what worked over half a decade ago.
This is to say, none of this is fair to Rick Tocchet, who may be a good fit for this team. He might even bring the kind of disciplined commitment to defence sorely missing throughout Boudreau's tenure. But building a contender is about good process top to bottom, and bringing Tocchet into the fold this way, after his Pittsburgh pal's monstrous treatment of the outgoing bench boss, is less than encouraging.
Management has admitted on numerous occasions that they did not anticipate how difficult it would be to fix the Canucks. Before signing JT Miller to a long-term contract extension, and as recently as this past week. That begs the question. Did Jim Rutherford, and by extension, Patrik Allvin, do any homework on the state of the organization before being hired by Francesco Aquilini? Did ownership do any homework before hiring Rutherford/Allvin?
Hopefully so, because I don't think anyone has another eight years of "no-plan plan 2.0" in them. Especially not after seeing the way this organization treated its inherited employee. Remember, this is how Rutherford treated someone he said he was friends with and had wanted to work with for a long time. Imagine how this franchise will treat employees they don't consider friends and do not want to work with any longer.
36 more games to go.
Buckle up. It's going to be a long three months.