The Stanchies: The tank takes a night off for the Arty Party while Beauvillier and PDG stay hot
Photo credit:© Bob Frid-USA TODAY Sports
Well, tanky tank, tank tank! Again…
Tank tank tanky tank? In today's economy?
No, the tank tank tank tank tank, tank tank tank. Then you add tank tank tank tanky tank-tank, and baby, you got a tank going!
Tank? Tank!
Tank.
Okay, that's enough of the jokes. I think the angle of this Stanchies has been established!
After 46 games of directionless, aimless, uninspired, hopeless losing without purpose, your Vancouver Canucks, under new head coach Rick Tocchet, whether intentional or not, have finally understood and embraced the concept of losing with purpose. Captain Bo Horvat traded for futures, Ilya Mikheyev shut down for the season immediately after scoring a game-winning goal against Columbus, the de facto backup netminder Spencer Martin sent down to Abbotsford to get his groove back, the head coach running peewee positioning drills at practice, Tanner Pearson being put on LTIR ahead of the trade deadline, the 21-year-old rookie goaltender debuting against the New York Rangers and Philadelphia Flyers in back-to-back starts, all par for the course for a team committed to losing with purpose in a world where tanking totally doesn't exist.
As
you may have read
, the Canucks have been the worst team since Christmas. As the team has floundered with a 6-15-1 record, they've precipitously dropped into fifth-last in the league standings. They've been so dreadful that they have fewer regulation wins than Arizona and Montreal, two teams actively tanking for the best draft position possible. By points, the Canucks are only six points ahead of the Anaheim Ducks, who sit second last in the league by points percentage with a negative-95 goal differential. That's some bad company for a team whose Captain and head coach declared "a playoff miss as being an unmitigated disaster" ahead of the preseason.
But that's fine! It doesn't matter how painful it was to get to this point. The fact is, they're here now.
After a near-decade of perpetual raging against the dying of the light, there finally appears to be an acknowledgement from management down to coaching that this team is going nowhere fast. The dead cat is just a dead cat. The time is now to swim with the current rather than against it. Choose your metaphor; the Vancouver Canucks under Jim Rutherford, Patrik Allvin, and Rick Tocchet understand the assignment: land the best draft position possible for the loaded 2023 draft class.
That assignment took a brief detour on Saturday night when the Vancouver Canucks goalied the visiting Philadelphia Flyers 6-2 despite being outshot 37-23. However, thanks to Columbus' regulation win against Dallas and Arizona's shootout loss to Los Angeles, the Canucks' tank wasn't completely derailed by the victory.
It was actually nice to have some feelgoodery from a Canucks home game for a change! Elias Pettersson's showstopper performance, Luke Schenn's multi-point game, and the best of them all, Arturs Silovs' first NHL win.
Best vehicle importing service
Does anyone know how to ship a Zamboni from Minnesota to Vancouver? Preferably to arrive as soon as possible for the next wave of tank-friendly performances?
Best Tank Commanders for the evening
After quietly racking up 55 points in 49 games for the Abbotsford Canucks, Saturday night saw the call-up and debut of the leading scorer among AHL defencemen, Christian Wolanin.
The Canucks' lineup featured five skaters who'd spent time in Abbotsford this season. Many of these NHL lineup spots were born out of injury woes. However, the Farmhands weren't just warm bodies to ice a 23-man roster. No, these players earned their call-ups playing heavy minutes at 5v5 and on special teams. All five Farm players featured on the power play and penalty kill during their AHL stints.
Sheldon Dries: 1 goal and 3 assists in 2 games
Christian Wolanin: 6 goals and 49 assists in 49 games
Phil Di Giuseppe: 13 goals and 17 assists in 33 games
Vasily Podkolzin: 7 goals and 11 assists in 28 games
Nils Äman: 4 goals and 5 assists in 17 games
Yes, you read that right. Young players Vasily Podkolzin and Nils Äman played PK time in the AHL for head coach Jeremy Colliton. In fact, since Dries, Di Giuseppe, Podkolzin, and Äman's call-ups to Vancouver, Colliton has leaned on rookie Arshdeep Bains as a feature on the team's first/second PK shift.
Like the NHL process toward improving the habits and commitment to defence, the AHL squad under Colliton is leading the charge. Despite their young lineup, Abbotsford sits 8th in the AHL by points percentage while conceding the second-fewest shots per game.
Good AHL process? Player development plans in action and resulting in dramatically improved play?
What a time to be alive!
Best start (sarcastic tone)
A good tank needs plenty of operators to run efficiently. Tocchet had Tyler Myers out early in the game to set the tone. And boy, did he ever!
The Chaos Giraffe kickstarted the action with a flubbed neutral zone pass off a Flyers' skate that gave Owen Tippett a clean breakaway chance on Arturs Silovs!
Fortunately, the rush play developed rather slowly, so Silovs was aggressive, square to Tippett, and easily made the save. Still, an amusing sequence to kick off the Canucks' game against "Mushy Middle Alumni" Philadelphia.
The AHL boys came up big for Vancouver early, much to Team Tank's chagrin.
Turnover generator Brock Boeser started hot, pushing pucks out to Phil Di Giuseppe, who was hooking shots under pressure like he was Elias Pettersson.
Di Giuseppe's work rate in the offensive zone even sparked a gorgeous scoring chance for Boeser in Boseph Horvat's former spot.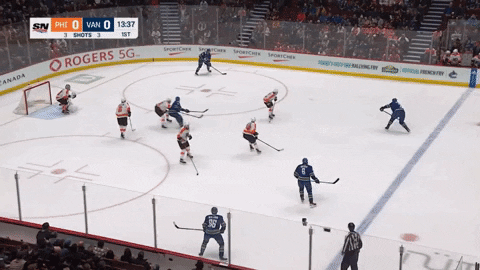 Remember the Bae-Bo-Boes line?
Remember how that was the future?
My, how quickly time flies.
Anyways, the Canucks were all over the Flyers through the opening 10 minutes. The Flyers did not register a shot on goal for a full 9-minute stretch of Canucks' anti-tankly dominance.
The Flyers' second chance of the opening 10 minutes came off a sharp-angle shot from Wade Allison.
David Quadrelli's favourite player wasn't tested often to start the game, but the Canucks being the Canucks, he was forced into heroics on several rush chances.
Silovs held the Canucks through a dicey stretch as the Flyers' speed began to force the Canucks into making those little puck management errors that have turned many wins into losses. Fortunately, the Flyers struck first on the "whoops" chart.
Those pesky AHL boys came up big in the first period, with Silovs slamming the door shut and Christian Wolanin sparking the night's opening goal. After picking off a stretch pass from Travis Sanheim inside the neutral zone, Wolanin quickly turned the puck into the offensive zone, sending Andrei Kuzmenko down the left wing for the entry and the eventual setup on an Elias Pettersson one-timer.
Looking to improve the overall value of the Canucks' trade assets ahead of the deadline, Pettersson picked up the Flyers' failed clearing attempt of his rebound, then set up Luke Schenn for a wrist shot from the point. The new kid on the block, Anthony 'Tito' Beauvillier, got a last-second touch on Schenn's shot to beat Carter Hart and give the Canucks a very anti-tankly 1-0 lead.
The opening goal was also Tito's first point at even strength in a Canucks uniform. So, that's neat!
On the one hand, look at the AHL journeyman sparking a goal by doing something basic in the neutral zone that (insert defencemen of your choice here) has struggled to do ad nauseam this season!
On the other, Columbus defeated Dallas 4-1 to put the Canucks within spitting distance of a bottom-three position in the NHL standings. This very anti-Bedard start was, frankly, quite rude.
Best "ah, well yes, there it is."
Naturally, not one hour after Friedman's report, Miller accidentally turned the puck over in the neutral zone, resulting in the Flyers' first goal of the game.
Of all of Miller's "loud" turnovers, this one ranks toward the bottom of the list.
After the initial high-flip into enemy hands, Miller did everything he could to salvage the sequence. First, Miller charges into neutral territory to try and force a turnover into the Canucks' possession. Second, Miller charges back into the d-zone to block the initial shooting lane. Lastly, Miller then pivots to challenge Scott Laughton at the net front.
Unfortunately, Justin Braun's shot through a multi-layered screen just barely managed to tip off of Scott Laughton's stick and under Silovs' right arm.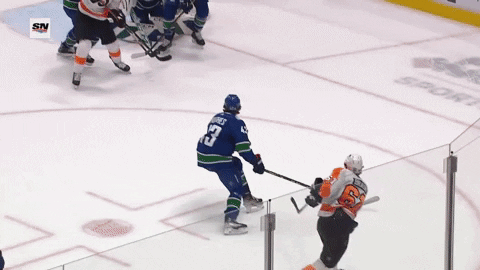 Yes, the turnover wasn't great. But this was more of a "weird one" than a "bad one."
Best "Bro, do your dekes."
Early into the middle frame, the Canucks were back on their "elite goalscoring talent" bull[redacted].
First, Elias Pettersson threw the moves down on Laughton before going cross-ice to elite points producer and culture carrier Luke Schenn.
To literally zero people's surprise, Schenn walked down the right wing, drawing Hart out of his crease, and baiting Ivan Provorov, before setting up Kuzmenko for the easiest tap-in of his brief NHL career.
Pettersson was, as the children say, "on one" against Philadelphia. Not long after Kuzmenko's goal to regain the lead, Pettersson nearly put the Canucks up by two with a filthy pass to Beauvillier while under pressure at the blue line.
In true "pump and dump" form, Tocchet had the two low men on the defencemen ice time charts, Schenn and Wolanin, deployed almost exclusively alongside the Pettersson-Kuzmenko-Beauvillier line at 5v5.
The result? Two primary assists for Luke Schenn and a plus-2 for both he and Wolanin in under nine minutes of ice time.
Best between-whistles clip of Kuzmenko eating a banana and crushing pepsi in a biosteel cup
That's it! That's the clip!
If Dan's tweet didn't spoil it, try to guess what happens at the conclusion of this incredible end-to-end rush from Pettersson.
If you guessed, "Myers floats a complete muffin into the crest of Carter Hart." Congratulations, you win this GIF reward!
Rick Tocchet said he didn't want to see any more broken sticks from his players. But, come on, Ricky. You couldn't blame Pettersson if he smashed every stick he had after that one.
With Bo Horvat's cousin in the box for tripping, Pettersson earned his third point of the evening to give him 69 on the season.
Oh, and Beauvillier scored his second of the night. But, whatever.
The power play tally came just four seconds into the power play! The goal was scored so fast that GIPHY fit the entire sequence from faceoff to goal in one tidy GIF without blowing a gasket!
Best "Are you still with me, Tankies?"
Not wanting to have his trade value too inflated ahead of the deadline, Schenn did Tank Nation a solid when he took a roughing minor against Kevin Hayes.
Schenn's penalty was great because the broadcast captured Hayes looking at Schenn with awe, the same way Wyatt Arndt does whenever he sees Schenn do *checks notes* literally anything.
While it wasn't "four seconds" good, the Flyers' power play, which ranked dead-last in the NHL before the goal, was "12 seconds" good.
Silovs did his part, and a sprawling Elias Pettersson did what he could, but that wasn't enough to stop the goalscoring phenom that is Philadelphia's Morgan Frost.
Tank enthusiasts would have been pleased with the Canucks' effort over the final five minutes of the middle frame. On top of Philly's 12-second power play goal, a miscommunication between Quinn Hughes and Pettersson nearly gift-wrapped a shorthanded tally on a late power play try.
The Canucks first power play unit rallied off Silovs' massive shorthanded save to generate 1:30 straight of controlled possession in the Flyers' zone.
Ultimately, it was a pretty ridiculous period, with Vancouver recording 2 goals on just 4 shots on net. After 40 minutes, they were up by a goal while being outshot 22-15.
Against Philadelphia…
Best ode to Rick Tocchet's bestie, Travis Green
After being soundly outshot through the first two periods, the Canucks elected to do something they haven't had many opportunities to do this season: nurse a one-goal lead exclusively from the d-zone for the entirety of the third period.
As he started the first period, the chaos giraffe returned to his old tricks in the third, dishing bizarre passes directly to Travis Konecny.
Later in the period, J.T. Miller threw a blind hook pass to the net front, resulting in no fewer than 50 irate tweets.
The tribute to "Travis Green hockey" became truly bizarre midway through the period when Phil Di Giuseppe scored to make it 4-2 for Vancouver on the team's 5th shot of the period.
Carter Hart was not good. That Arturs Silovs, though? He was good!
Owen Tippett cruising around Hughes for a drive on goal?
Easy save.
A shot above the circles, through traffic, on a 6-on-5 situation in the dying minutes of the period?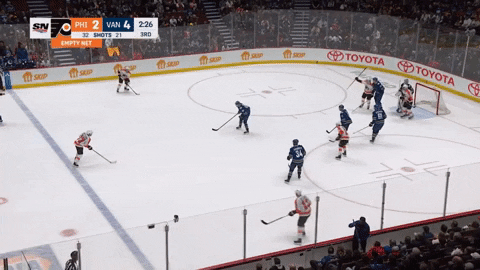 Easy save.
Stopping 35 shots, including 13 in the final frame, to allow Pettersson to score not one but two empty netters?
Tortorella's decision to pull Carter Hart while down by three goals was bold, to say the least, especially against the brick wall that was the Arty Party. Even with Chaos Giraffe (Eastern version) Rasmus Ristolainen providing a perfect screen on a shot from Kevin Hayes, Silovs displayed the poise of a seasoned vet.
Maybe Clark was right to be banging on the draft table to pick this guy sooner? Regardless, a 6th round draft pick from 2019 won his first game as an NHL starter and did so in impressive fashion.
Even if it was just Philadelphia. 35 saves is 35 saves!
Look, I might push for and praise this organization's lean into the tank. I may praise them for shutting players down, putting them on LTIR, and trading players for futures instead of for win-now pieces. But, for all my pro-tankery, the one thing I do not stand for is players being injured by late garbage hits like this from Travis Konecny. Being content with "meaningful losing for best draft position possible" is not an endorsement of losing star players to injury from deliberate attempts to injure.
Incredibly, to my absolute disbelief, Konecny wasn't kicked out of the game for this decades-late shoulder check on Elias Pettersson following his 2nd empty-netter and 5th point of the game.
Travis Konecny is 25, with 3 points in his last ten games.
Celebrating your first NHL victory has to feel good.
Celebrating your first NHL victory with five of your Abbotsford teammates? That has to feel even sweeter.
You heard it, folks. Gospel from the 'Pepsi and banana' man himself. Best. Player. Today.
Also, did you catch who picked up the game puck for Silovs' first NHL win?
Luke mother-effing Schenn, baby.
Against Philadelphia, Schenn recorded three assists, led the team in hits, and provided intangibles like grabbing the game puck for Arty. What team with a 1st round pick to spare and a need for a reliable culture-carrying right-shot defenceman wouldn't want Schenn on their team?!
Best "are we in the good old days?"
In his last five games, Pettersson has amassed 5 goals and 6 assists. With his 5 points against Philadelphia, he is on pace to have the first 100-point season of his NHL career.
Brock Boeser is on pace to score more than 50 points for the first time since his sophomore season in 2018-19.
Quinn Hughes is operating at a point-per-game clip and will finish the season with the highest points total of any Canucks defenceman in franchise history. After this season, he could have the top two single-season points totals of Canucks defencemen in franchise history.
Four years ago, in an overtime thriller against the Los Angeles Kings, Rogers Arena was the loudest it had been post-Sedins. As three dynamic young skaters worked the veteran Kings silly in the offensive zone, John Shorthouse stated on the broadcast, "enjoy the future, folks. Here it is right now." As Pettersson, Boeser and Hughes hit the ice together.
The future cost the team $2,766,667 in combined cap hit at that time.
Today, the three cost the Canucks $21,850,000. One of them is locked up to an incredibly team-friendly contract that runs as long as Oliver Ekman-Larsson's contract, one needs a new contract after next season, and the team has permitted the other's agent to seek a trade elsewhere for a fresh start. As Andrew Bernard said, I wish there was a way to know you're in the good old days before you've actually left them.
Four years ago, this team's future success seemed so certain. Now, the hope is this team limps its way to the finish line and accidentally lands itself another game-changer. Whether that game-changer is Bedard, Fantili, Benson, Brindley, Carlsson, or Michkov, that player will be brought into a new Canucks era with Pettersson and Hughes behind the wheel. Hopefully, the future won't be mangled so hard this time around.
Canucks fans have suffered enough and shouldn't have to stomach another future spoiled by mismanagement.
Saturday's result against Philly wasn't great for the tank. But it was nice to take a break from the misery.