The Stanchies: Schenn-less Canucks blue line looks lost in shootout loss to Predators
Photo credit:© Christopher Hanewinckel-USA TODAY Sports
Tuesday, for one night only, Canucks fans' lives were changed forever!
Tuesday! Tuesday! Tuesday at the Bridgestone Arena! Arena! Arena!
Conor Garland!
The Andrei Kuzmenkshow!
Quinn Hughes and a piecemeal d-core of a bunch of guys whose names you remember in the ultimate battle of teams trapped in that juicy, mushy, mushy middle!
One night only!
Plus, it was the amazing, the astounding, the unbelievable ELIAS PETTERSSON! One hundred seventy pounds and 74 inches of highlight-reel, goalscoring, and playmaking wizardry!
One night only! One night only! One night only at the Bridgestone Arena!
If you missed this, it'd better be because you were dead or in jail! And if you were in jail, hopefully, you broke out!
Okay, maybe a Tuesday 5 PM shootout loss to Nashville doesn't warrant the same level of hype as the
Springfield Monster Truck Rally
featuring Truckasaurus.
But, hey, the game was pretty damn fun! We saw the Vancouver Canucks rally back from two 2-goal deficits to force overtime. We also didn't see Vancouver rally hard enough to upset the tank efforts! That's a big win!
We opened our last Stanchies with faint praise of the organization's commitment to "losing with purpose." However, that praise shifted toward the players for Tuesday night's effort. They racked up over 40 shots on goal, overcame several spectacularly bad defensive performances, and rallied back from two multi-goal leads in a highly-entertaining match against one of the best goaltenders in the NHL.
And yet, despite their hard work to make this midweek matchup a banger, they still came away with just a single point!
Let's get into the game and see how they pulled that off!
Worst reason to call in the backup
I had wondered why I was getting the call for a Canucks Tuesday night road game against Nashville.
Then it all made sense with Tuesday morning's big news.
Godspeed, Wyatt. My thoughts and prayers are with you through these trying times. Luke Schenn has done it all for this Canucks organization. In his first stint with the organization, Schenn played insulator for rookie Quinn Hughes, parlaying his steady performances into a pair of Stanley Cup Championships with the Lightning. In his return, Schenn again played insulator for Hughes, setting an NHL record for hits in the process, doing enough to have multiple teams calling the Canucks with offers.
Suppose this return flight to Nashville is the end of Schenn's second stint with Vancouver. So be it. Schenn has been a consummate professional for this organization, keeping it real with the media, holding his teammates accountable and to a higher standard, and putting his body on the line night in and night out for a club that has been out of contention since November.
Schenn went from being in the AHL to a throw-in for a Michael Del Zotto trade to Anaheim, to Hughes' personal bodyguard, to back-to-back cups, and now may net the organization extra draft capital ahead of a stacked 2023 NHL entry draft. Good for him for rehabbing his reputation in the NHL, and the organization itself, if they so choose to sell high on an expiring asset.
Hughes certainly seems like he'll miss Schenn.
"He's a guy I care about because he's a great teammate, a great person, and he's a winner,"
Hughes told Sportsnet's Iain MacIntyre
. "And I don't just say that because he won (two Cups with Tampa), I say that because of the way he carries himself day in and day out. He's a good person, he's a good teammate and he sticks up for people in here.
"The closest thing I can compare it to is Chris Tanev [leaving the Canucks in free agency]. I've seen it before and it sucks… but it's going to shake out how it shakes out and none of us know how it's going to happen."
When the Canucks don't give up a goal in the opening minute of the game? We consider that a "best start." A stretch of the word "best?" Oh, most definitely. But, a casual reminder that the bar for this team is located on the floor.
The opening four minutes didn't see much in the way of dangerous chances from either team. Both teams traded dump-ins and retrievals, with neither group able to muster anything in the form of offence. The only notable action was Tanner Jeannot's crushing hit on Vasily Podkolzin.
Unfortunately, Luke Schenn was back home in Vancouver and unavailable to answer Jeannot's blow from behind.
No chance Scherrif Schenn would let that hit fly if he was in the lineup.
Then, the in-zone breakdowns started. Even with Rick Tocchet bringing out the PVC skating aids and hand-drawn maps for positional assignments at their last practice, the "back to basics approach" wasn't enough to keep the Canucks from leaning on old habits.
After a routine dump-in, five Canucks skaters were caught puck-watching around the right circle as Cole Smith (yes, we googled him, too) put the moves on Tyler Myers.
Always a good look for your $6-million dollar defenceman when a player from the ECHL, as recently as two seasons ago, is turnstiling you in the d-zone.
Kudos to Smith, as he singlehandedly deked the defence to get the puck back to the point. Then he cuts to the slot for the initial tip on Collin Delia, then posts up at the side of the net for the rebound and the opening goal of the game.
The Canucks challenged for offside on the initial entry, and doggone it, they had a good case.
Ultimately, the refs were pro-tank, and the NHL's worst penalty kill went to work off the lost challenge. Fortunately, the early PK showed a very curmudgeonly and angry J.T. Miller forechecking as if his life depended on it!
Miller's early work on the PK set the tone for Vancouver, with the team's aggressive positioning holding Nashville's Filip Forsberg-less power play to a single shot on the man advantage.
No stats or run-on sentence-heavy paragraphs explaining how good Elias Pettersson is for the Canucks. You know it by now. The kid is ridiculous.
This pass from Pettersson has become the norm this season. Behind the goal line and under pressure, EP40 somehow threads a floating pass through three Nashville skaters to Anthony Beauvillier as he wades into the slot. If Beauvillier were only half a step late to the pass, that would probably be his fifth goal in eight games as a Canuck.
Unfortunately, this gorgeous pass had too much zip for Beauvillier to get a clean touch. But goodness gracious, what a setup!
Best Vasily Penalty-drawdkolzin
Look, if you ask me to fill in on Stanchies duty on short notice, you're going to get some awful puns. Midway through the opening frame, Podkolzin did his best to give the Canucks an advantage in the mushy middle war while lowering Dante Fabbro's trade value!
Now that's hockey IQ!
Best Jenaissance Tenaissance Miller
The Canucks' power play didn't muster much in the way of chances. But Miller continued the Jenaissance Tenaissance doing everything he could to be a net positive for Vancouver.
First, after intentionally losing the zone, Miller faded out of the offensive zone to catch the Preds unaware with a sharp quick-up to Andrei Kuzmenko for the power play's first dangerous chance.
Then, Miller was bodying clearing attempts to maintain possession in the Preds' zone, generating two more shot attempts in the waning seconds of the power play.
First, it was Miller handing off to Quinn Hughes for a bomb from the point before Miller could generate a blocked shot attempt of his own just as Fabbro's penalty expired.
Though the power play came up empty-handed, the run of possession in the Preds' zone generated considerable momentum for Vancouver. The tide began to reset in Nashville's favour only after head coach John Hynes got Roman Josi out against Nils Aman, Dakota Joshua, and Sheldon Dries.
In 15 seconds, Josi generated three individual shot attempts against the Canucks' fourth line before taking a penalty for goaltender interference.
Yikes.
Yikes!
Please, someone, stop this man!
Myers stopped the bleeding after bumping Josi into Delia, sending the Canucks back to the power play.
Truthfully, it was a mercy stoppage by the refs there.
The Canucks' second power play opportunity gave Canucks nation the idea that Quinn Hughes could rip a wrist shot so hard that it would be capable of knocking Juuse Saros' stick out of his hand.
That rocked!
The Preds immediately responded to Hughes' shot by clearing the puck off his skate. The clearance knocked his feet out from under him, springing Cole Smith ahead for a breakaway.
Credit to Hughes, who recovered to catch Smith on his breakaway drive and prevent a clean shot on Delia.
Vancouver would finish the period with a couple of late chances from the Miller-Di Giuseppe-Garland trio.
The first five minutes of the second? Pretty boring.
Collin Delia's sprawling five-alarm save on Tanner Jeannot after another tragic defensive breakdown from Vancouver? Baby, now that's worth GIF'ing!
Again, whenever you can have five skaters above the dots without possession. You've just gotta do it!
Best penalty kill (sarcastic version)
I mean, what is there to say at this point? Up until it wasn't, the Canucks' PK was great!
The opening faceoff featuring Pettersson, Miller, and Hughes was great. Pettersson even sprung Miller ahead for a shorthanded rush, with Miller then opting to chew time off the clock with a dump-and-change.
Then, Phil Di Giuseppe generated a shorthanded breakaway for himself, beating Roman Josi down the wings of all people!
Then, after an inexplicable challenge at the blue line by Tylers Myers, the Nashville Predators made it a 2-nothing game, with Philip Tomasino scoring his 1st goal since March 20th, 2022.
A season's worth of blown multi-goal leads had built up to this moment. Past the midway point of the period, the Vancouver Canucks unloaded 57 games of blown multi-goal lead frustrations on the Preds.
First, it was the Kuzmenkshow scoring his 25th of the year off a lead pass from Ethan Bear that put the Canucks within a goal.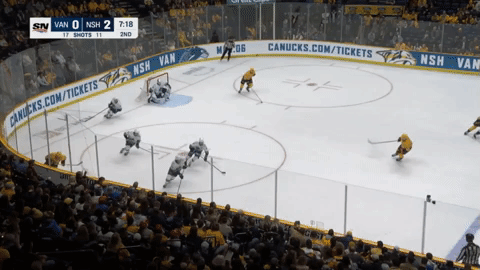 Yes, we didn't get any Schenn content. But bless Andrei Kuzmenko for coming in clutch for ol' Stanchy.
The finish was so slick that, afterward, Kuzy was spotted by the broadcast asking Pettersson if he "wanted a banana and Pepsi later to fuel him because he looked tired."
I think. It's hard to say, as I'm not a lip reader.
Then with less than a minute to go in the second period, off Dante Fabbro's second minor penalty of the game, Sheldon Dries erased the Preds' multi-goal lead in CRUSHING, embarrassing fashion with a tap-in goal.
Following a point shot from Conor Garland and a tip in the slot from Brock Boeser, Juuse Saros believed he had the puck covered. Unfortunately for him, the puck had squeezed through his pads, sitting idly on the goal line, letting Dries tap the puck in for his 8th goal of the year.
Best that's Canucks hockey, baybeeeeee
After fighting their way to a 2-2 tie, the Canucks promptly lost the lead just 12 seconds later in a sequence that some would describe as [redacted]ing pathetic.
Not me, a professional. But some.
A sequence this poor would have got Riley Stillman, Tyler Myers, Nils Aman, Phil Di Giuseppe, and Dakota Joshua rightly benched on any contending team. Unfortunately, the Canucks are not contending, and that fivesome comprises 50% of the team's available penalty killers.
OOF!
While we admire Myers' commitment to the tank, running goaltender interference on Delia on Nino Niederreiter's goal felt a bit extra.
Best That's good/That's bad!
The Canucks kicked off the third period with a penalty taken by Dakota Joshua! Considering his shift that closed the second? Probably not a wise decision!
That's bad!
The Canucks killed Joshua's penalty despite a dicey scramble in the final ten seconds of Nashville's man advantage.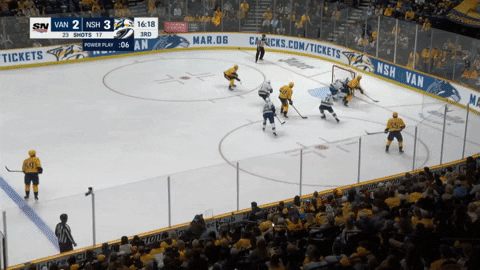 That's good!
Another pisspoor line change leading to Myers fumbling around the d-zone like a newborn calf ahead of a giveaway?
That's bad!
Collin Delia channelling prime Dominik Hasek to challenge Cody Glass at the top of his crease to make the initial save following Myers' giveaway?
That's good!
Brock Boeser overskating the puck, and Conor Garland accidentally setting Cody Glass up for the secondary scoring chance after dropping low to block the cross-ice pass?
That's bad!
The Predators making it 4-2 with Riley Stillman failing to pick up on Mikael Granlund's drive down the left wing?
Sigh.
That's bad…
It was all just so, so bad.
Best multi-goal lead 2: electric boogaloo
After 55 minutes, the Preds somehow kept Pettersson to zero shots on goal. EP40 was still dishing filthy passes, shot attempts, and doing his dekes. But the shots weren't landing for him. Fortunately, he undressed Tanner Jeannot so hard that he drew an interference penalty that gave the Canucks a late power play opportunity. Still, the "zero shots" thing against this Nashville team felt like a genuinely bizarre stat line.
The Canucks' late power play was fun as fans saw Miller uncork a 92 mph slapshot on Saros from point-blank range.
Then, with three minutes left in the game, Tocchet pulled Delia for the extra attacker. With the 6-on-4, Vancouver rolled out Boeser, Miller, Garland, Bear, Dries, Hughes, and Wolanin, resulting in a shocking run of controlled possession inside the offensive zone.
Canucks fans' eyeballs were scanning the shift chart looking for Tyler Myers' name, only to see that it was all Preds skaters. A rarity for this fanbase to see the shift timer for the opposition.
After icing the puck, the Canucks run of possession continued. Poor Cole Smith drew the short "block every shot from Elias Pettersson" straw, eating three brutal one-timer attempts from the point.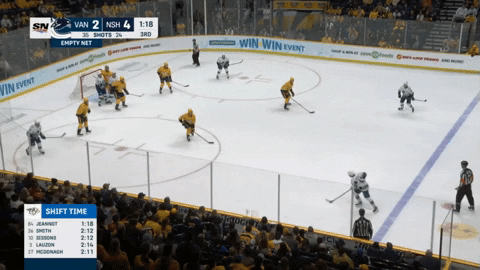 Eventually, the Canucks' extra-attacker run paid off with Quinn Hughes ripping a high wrist shot on Saros, tipped in by Conor Garland at the last second to put Vancouver within a goal.
Then, the Andrei Kuzmenkshow was renewed for a sixth season and a movie.
Worst "I don't even know what I'm cheering for anymore."
With 16 seconds left in the game, Andrei Kuzmenko worked the puck out of the d-zone and raced through four Preds defencemen on a give-and-go entry with Miller.
Miller, who'd stayed back on the blue line, ripped a shot through traffic toward the slot, where he found Kuzmenko's stick for the tip over Saros' left shoulder that tied the game 4-all.
You will now find this clip when you look up "work rate" in the "old hockey man" dictionary.
That's the power of bananas and Pepsi, folks.
With his individual effort, the Kuzmenkshow guaranteed the Canucks a hard-fought but very anti-tankly loser point.
Best Garland shift you'll ever see
After an early run of possession by Vancouver, the Preds regained control, subjecting Conor Garland to a shift that would go down in history if the season weren't a total write-off.
At 2:03, Garland spent the entire shift inside the d-zone, covering his man around the crease before joining Elias Pettersson on a breakaway rush chance. Then, when the Preds broke the play up-ice and back into the Canucks' zone, rather than opt for the line change, Garland buried his head and hustled to complete the backcheck of a lifetime to deny the Preds a scoring chance.
Garland finished the game with a goal, an assist, and a team-high 6 shots on goal. The backcheck won't show up on his counting stats, but it was an incredible, gutsy shift from the much-maligned winger.
Best Brock Boeser shift you'll ever see (if you've embraced the tank)
Sensing a potential two-point victory, Brock Boeser did the one reasonable thing a player could do in the fanbase's time of need: take a dumb penalty to give the Predators an extended 4-on-3 advantage.
And to the Preds' credit, they almost secured the bag there in overtime. Unfortunately, Collinik Haselia had other plans.
Delia's save in the final five seconds of overtime pushed the game to the shootout. Unfortunately, Matt Duchene scored the only goal of the skills contest to undo Delia's late heroics and square it away for the home team.
Let's be honest; the eye test could have told you this one.
You know it's the end of days when Canucks fans are actively cheering a Chicago Blackhawks shootout win after they accidentally pick up a loser point against Nashville.
What can we say? The fans have a fever, and the only cure is Connor Bedard!
On the bright side.
#BEdardLIEVE