The Stanchies: OEL posts a record-low Canucks DAWG rating while Bo continues to know goals
Photo credit:© Bob Frid-USA TODAY Sports
I wrote her off for the tenth time today
And practiced all the things I would say But she came over I lost my nerve I took her back and made her dessert
Now I know I'm being used
That's okay man 'cause I like the abuse Now I know she's playing with me That's okay 'cause I've got no self-esteem Oh yeah, yeah oh yeah, yeah
The Vancouver Canucks played a hockey game tonight.
It didn't go so good.
Let's get right to it.
Best blink and you'll miss it
So, the thing about the New Jersey Devils' power play is that it's really good.
We've heard all about the Devils' team speed, and apparently, that includes their speed at moving the puck on the man advantage.
This goal, the first of the night, happened within seconds of the faceoff in the Canucks' end.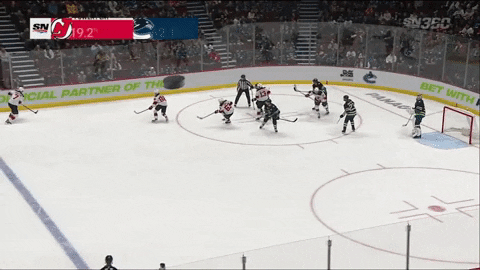 I mean, that pass from Jesper Bratt? Come on.
Best finishing that would have been nice
Look, nobody's here to rip on Andrei Kuzmenko. That's the last thing we're going to do.
In fact, his seemingly instantaneous chemistry with Elias Pettersson was and continues to be one of very few bright spots for this team this season.
That being said, could it have been potentially game-altering for Kuzmenko to finish off this pretty Bratt-esque passing play from Elias Pettersson just moments after New Jersey opened the scoring?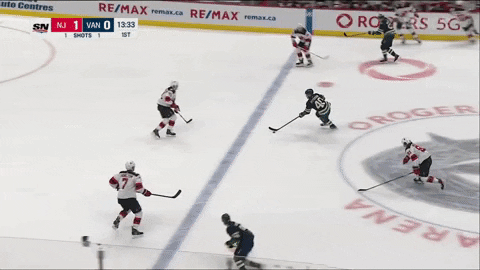 Yes, we're going to say it certainly could have been.
But hey, the fact Kuzmenko is even able to get a shot off here is impressive in its own right.
Best finishing that would have been nice 2.0
Granted their first power play of the night, the Canucks' man-advantage personnel hopped over the boards with over ten minutes remaining in the first, giving them a prime opportunity to tie this game up and get their team back in it early.
This turned out to be their best chance, but nothing beyond that developed.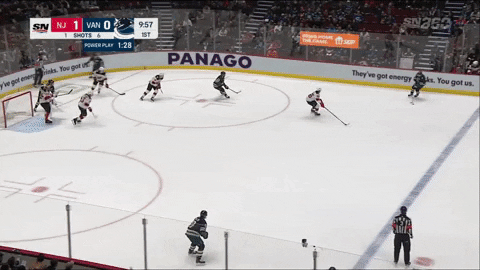 The Canucks were credited with one shot by the time the two minutes expired, but it certainly felt like less.
The Canucks' first period will look good in The Statsies tomorrow morning — they led the Devils 7-1 in shots by the end of the aforementioned power play — but despite the shot clock looking good, it still felt as though the Devils were outplaying the Canucks early.
Would converting on that one have been nice for the Canucks?
Yes, we're going to say it certainly would have been.
You thought we were done with the gifs of Elias Pettersson looking like he's from another planet?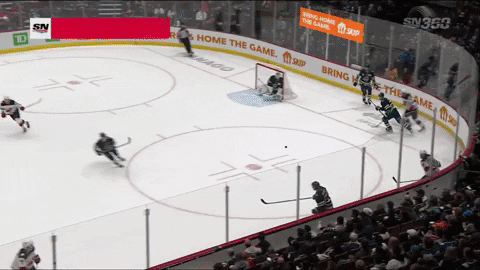 We'll never be done.
There are few words to describe Pettersson's abilities, but we'd be remiss if we didn't try.
Pettersson bats this bouncing puck out of the air around Dougie Hamilton, who in all 678 NHL games he's played in prior to this one, still had never dealt with a move like that.
Then he manages to get a shot off on Blackwood that the Devils goaltender had trouble with, to top it all off.
If that beats Blackwood, that's on every highlight reel for the rest of the year.
Best okay, who's man was that?
Riley Stillman and Quinn Hughes ended up on the ice together here.
Best the Ethan Bear experience
In trying to get a better idea of what the Canucks might have in the newly acquired Ethan Bear, we spent a good amount of time talking with colleagues in Edmonton who had watched him when he was at his best as a top four NHL defenceman.
They had nothing but good things to say about Bear, but did warn that while he's great at moving the puck and at creating offensive chances, he's prone to the odd giveaway at both ends of the ice.
And late in the first, Canucks fans got a great glimpse — not a drastic full-on look — at the Ethan Bear experience.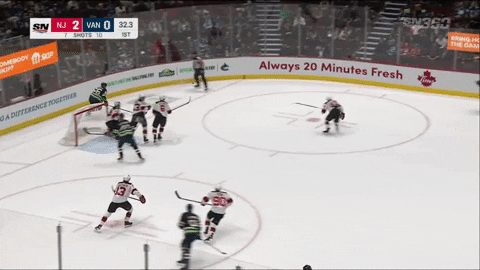 That's a solid pinch to keep the offensive play alive, an even smarter decision to not retreat to the blueline and instead help out Elias Pettersson along the wall to come away with the puck, followed by a soft pass to the corner that easily gets picked off by Nico Hischier.
And hey, for his first game in forever after living in the Carolina Hurricanes' press box and practice rink?
Bear was certainly fine.
"Bear I thought was fine," said head coach Bruce Boudreau after the game.
SEE!?
You be the judge.
Is this Bear's "welcome to the Canucks" moment?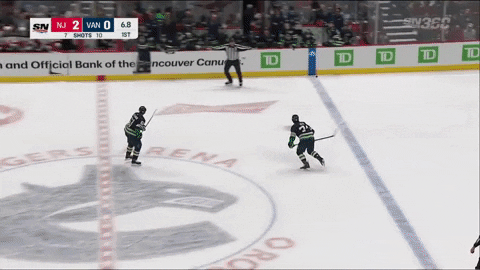 Best finishing that would have been nice 3.0, 4.0, 5.0, etc…
First, it was OEL moving in closing in on Blackwood with time and space to pick his spot.
The only problem was that the spot he chose was the sixth row of the soon-to-be-replaced maroon-coloured seats: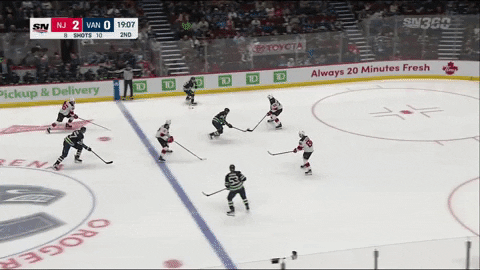 Then it was Horvat failing to make contact with a puck in front: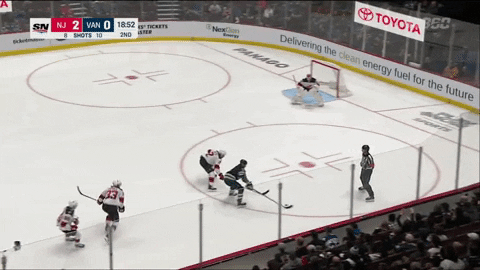 Then it was Horvat once again, this time getting robbed by Mackenzie Blackwood: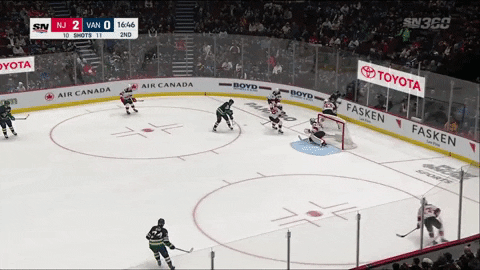 And then it was 
________,
followed by _____________ and we couldn't believe it when ___________ missed that opportunity as well.
You get the point.
Capitalizing on offensive opportunities is how you win hockey games.
Failing to capitalize on them is how you lose them.
Luke Schenn played all the hits tonight.
In his chase for 3000 hits (this season), Schenn threw two big hits, and after Miles Wood tried to get the jump on him by throwing punches before Schenn had even dropped his gloves, Schenn became "The Aggressor", which we're pretty sure is the most badass nickname Schenn's been given yet.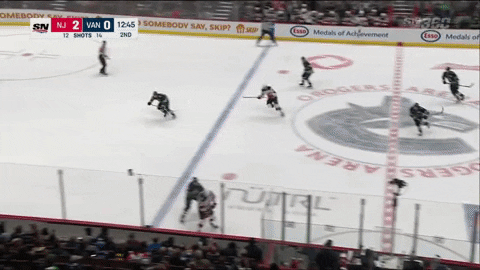 Only it wasn't a nickname, it was the NHL rule he violated.
Schenn, along with Dakota Joshua who came in to even the odds after Nathan Bastian became the third man in the altercation between Wood and Schenn, was assessed a game misconduct.
Best Jack Rathbone would never
Look, we know this play stems from Vasily Podkolzin's brutal giveaway at the other end, but could OEL have played this 2-on-1 any worse?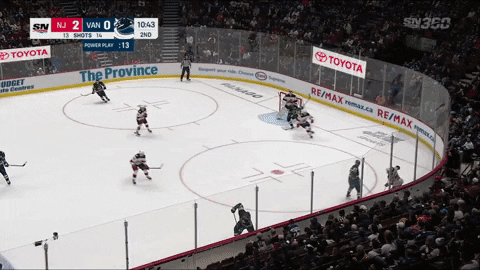 No, seriously, what worse could he have done here than lying down far too early and making it incredibly easy for the pass to get through?
Apart from just skating the other way and two-handing Podkolzin's midsection in the most unexpected heel turn of the century, it's hard to imagine a worse play for OEL to make than the one he did on this play.
Not only should Jack Rathbone be in this lineup ahead of everyone not named Quinn Hughes, but he should also be quarterbacking power play units ahead of everyone not named Quinn Hughes.
Whether it's Stillman or even Ekman-Larsson at this point coming out, Rathbone should not be the odd man out on this team's defence.
The Canucks absolutely need Rathbone to become a top four defenceman, and keeping him out of the lineup in favour of Stillman — who hasn't even been that bad — is bad process both in the short and long term.
#FreeJack
Best the Devils scored again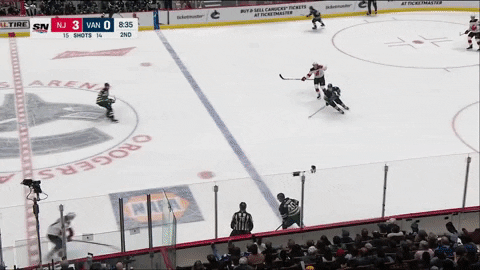 That's the Canucks' "shutdown" pair of Oliver Ekman-Larsson and Tyler Myers on the ice for the Devils' fourth goal against, by the way.
Sure, the Devils are fast, but the question must once again be asked: what is OEL doing on this play?
It was not a banner game for OEL by any stretch of the imagination while Jack Rathbone sits in the press box and wonders what more it will take for him to get a real shot.
Speaking of OEL… let's get to the DAWG ratings for the night.
For those that don't know, the DAWG rating is our tried and tested stat that attempts to measure a player's "heart" or compete level.
Anything over 100 is very good, over 50 is solid, and below 30 is alarming.
Here are tonight's three highest DAWG ratings among Canucks skaters:
Kuzmenko-83.26
Horvat-71.24
Pettersson-66.16
And the two lowest?
Höglander-21.64
OEL-2.99
Faber tells me that Ekman-Larsson's 2.99 is the lowest-ever recorded number by the formula, which truly encapsulates just how tough of a game he had tonight.
Anyway, back to the goals.
Best Bumpin' Bo knows goals
Bo Horvat is good at scoring from the bumper spot on the power play, in case you hadn't heard already.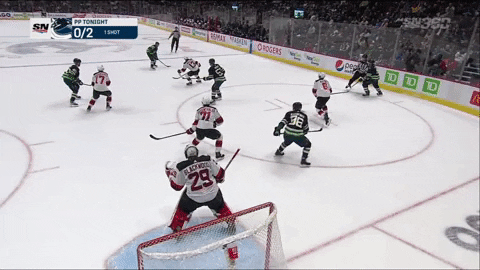 That's Bumpin' Bo's seventh of the season, for those that are still holding out hope he'll sign for eight years at $6 million annually.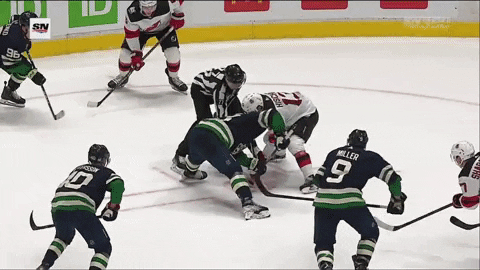 Best Bo goal that never was
This chance for Bo came past the halfway point of the third period and would have brought the Canucks within two: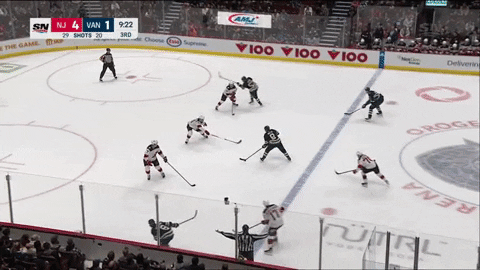 But it didn't go into the net, therefore, it didn't count.
You may be asking yourself why there hasn't been much commentary on the game itself or gifs from beyond the first period, and this tweet from PJ really sums it up.
Best Bo extended the Stanchies tonight
But before it was all said and done, we got another Bumpin' Bo goal.
With Thatcher Demko at the bench in favour of the extra attacker, the Canucks' power play went to work at 6-on-4, and yes, Bumpin' Bo did his thing: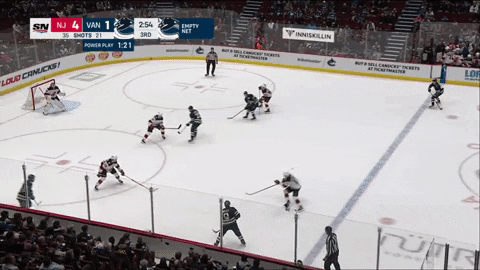 Off Horvat's eight of the year, the Canucks pulled within two late.
There were some good chances after that, too, but the Canucks couldn't find the back of the net and lost a game it never really looked like they had a chance at winning.
Best everyone's getting in on the fun