The Stanchies: The great tankathon battle, Mikheyev's ACL surgery, and the media thing
Photo credit:© Bob Frid-USA TODAY Sports
A Friday nighter against the worst team in the NHL by points percentage.
The last game before the All-Star Break.
A last-minute call-up for Stanchies duty so Wyatt can reassess his life choices following Vancouver's absolutely pathetic 6-1 loss to the Seattle Kraken.
A morning availability with the GM would have been helpful toward solving the first mystery of game day: Lane Pederson going from the first line at practice to waivers for assignment to Abbotsford.
Considering the head coach of the team was so bewildered by his group's performance against Seattle that he "wished he had about 10 practices" to address the team's many issues, it was even more bewildering that a transaction (paper or not) was not communicated to Tocchet ahead of the first of those 10 practices, so sorely needed to solve the team's habits and playstyle.
Since the firing of Bruce Boudreau, the organization has found itself in a hole so deep that cute photos of Kuzmenko and his family aren't nearly enough to kickstart the amount of "digging up" necessary to rebuild consumer confidence in the team. Though Lane Pederson going from the first line to the waiver wire wasn't necessarily another spade dug into the earth's core. The additional evidence of organizational misalignment didn't help the "digging up" process.
*exhales*
Then there was the game! Another performance where the "soft or difficult to play" coin landed in their favour against a bottomfeeder team.
Yes, the result was fun and helped erase some of the sour taste leftover from the confusing mess from Friday morning's practice-to-waiver situation.
For once, it was a Stanchies that didn't feel like screaming angrily into the void.
Baby, it was just a hockey game!
Because I've mostly run out of ideas, we're kicking off each Stanchies with a "did you know" section of inconsequential but fun stats for Canucks fans. Here goes! Did you know Erik Gudbranson is the only Columbus Blue Jackets defenceman with double-digit points at even strength? The Canucks have five: Quinn Hughes, Luke Schenn, Oliver Ekman-Larsson, Ethan Bear, and Tyler Myers.
Yes, this season may be bad. But it's not that bad.
However, if you're on #TeamTank, you might wish it was!
Worst transparent attempt at making me forget the organization's blatant disrespect of the media and the market who lean on their coverage for content
You knew it would be a real war for Tankathon supremacy when the opening minute featured Dakota Joshua setting Conor Garland up for a scoring chance off his backhand — followed immediately by J.T. Miller taking a slashing penalty.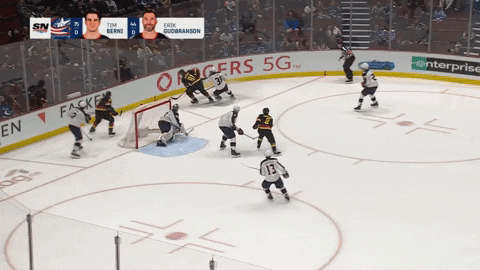 Less than two hours after GM Patrik Allvin cited his belief in Miller as an effective two-way centre, Miller got a little handsy with the stick check from behind, sending the Canucks to an early penalty kill.
Again, Tankathon battle here.
Before the broadcast could even cut away from the Miller penalty replay, Bo Horvat was winning the d-zone faceoff and springing himself up the ice for a shorthanded breakaway alongside Elias Pettersson.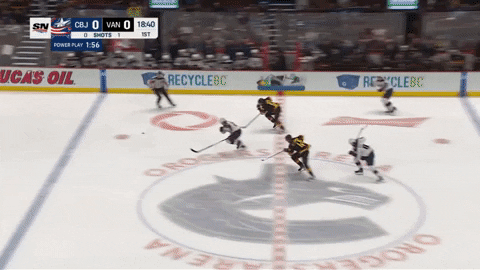 Unsurprisingly, Pettersson's goal was an absolute beauty. The skating effort from Columbus' Adam Boqvist was not.
The best part of the goal was the hockey hug between the Captain and EP40.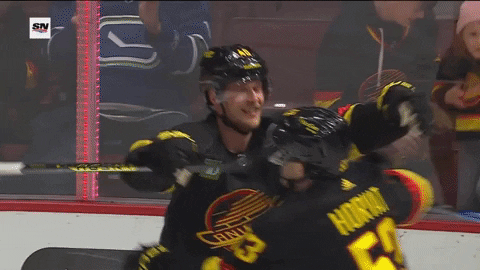 Look at them.
They're so happy. They might not have a long future of hugs like these in store, but they'll at least have the All-Star Game where they can embrace like this at least once more.
To absolutely no one's surprise, the early lead did not last.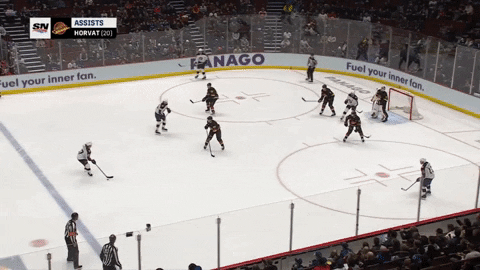 Less than thirty seconds after Pettersson's shorthanded tally, Columbus' Kirill Marchenko found himself alone in the slot, bouncing a point shot from Boqvist off the ice and over Collin Delia's right pad.
The Canucks' PK strategy of "get scored on as fast as possible to get back to 5v5" is quite bold. The Blue Jackets' equalizer instilled some confidence in the league's worst team, but the Canucks fought back to stem the tide.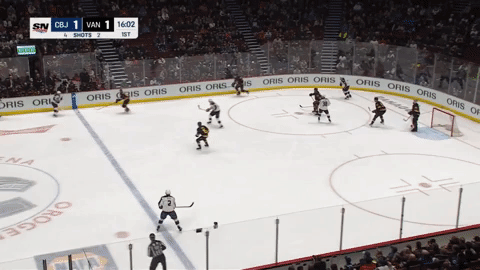 <checks notes> That's Jack Studnicka capitalizing on a blue line blunder from Calgary Flames' favourite Johnny Gaudreau to spark a breakaway scoring chance.
Studnicka attempted to go backhand on Korpisalo, but a backchecking Adam Boqvist made a concerted effort to make up for his earlier backchecking blunder to get a stick on Studnicka's shot attempt.
Now there's a tongue twister for you!
Stick on Studnicka's shot.
Stick on Studnicka's shot.
Stick on Studnicka's shot.
You can guess what happened after the Studnicka shot. The Canucks:
struggled with puck management
gave up a few too many shots to guys you've never heard of off the rush
couldn't break the puck out of the d-zone with possession
Fortunately, the Canucks started to find their mojo midway through the first with a dominant shift inside the offensive zone. The Canucks hammered the Blue Jackets with attempts from all over but struggled to find Korpisalo's net.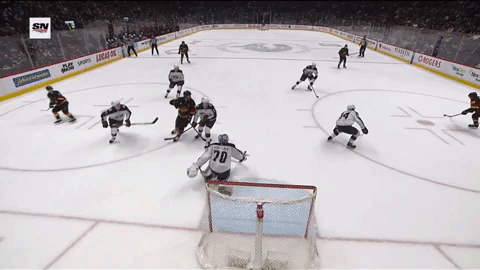 The Canucks' best chance from the cycle came from the $5.5 million dollar man himself, Andrei Kuzmenko, whose shot near-empty net opportunity was deflected wide by 19-year-old Cole Sillinger.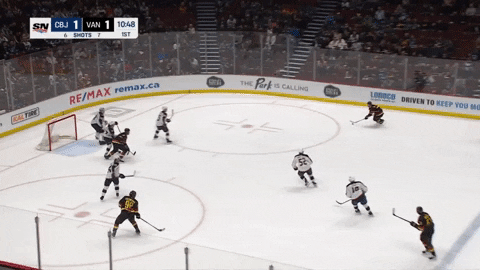 Best special teams battle
Not long after his scoring chance, Kuzmenko drew a boarding penalty against Sean Kuraly after going headfirst into the boards off a check from behind.
The hit didn't injure Kuz, but with Sherriff Bo on the bench, Deputy Sherriff Elias Pettersson stepped up to Kuraly first to voice his displeasure.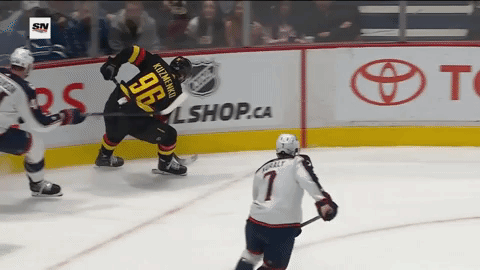 The Canucks power play set up shop and scored like they were facing off against their own penalty kill. Quick and easy!
Less than 40 seconds onto the power play, Miller pulled off the blind backhand pass to the point, and Quinn Hughes scored with the clapper like he was prime-Nik Lidstrom from centre ice!
Bo Horvat raised his stick as though he'd got a last touch on the puck. But after 31 goals in 48 games played heading into Friday's game, it was likely an "instinctual reaction" rather than an attempt to steal credit.
Look, Oliver Ekman-Larsson's sophomore season in Vancouver hasn't been great. He's struggled to defend the rush; he plays so deep in the zone out of fear of being burned on the outside that the Canucks are playing down a man in the neutral zone. Generally, OEL has looked lost defending around the crease.
But this?
This was not a penalty.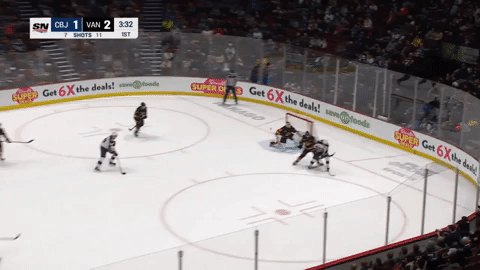 After stepping on the puck and losing his footing, Johnathan Hockey squeezed his elbow on OEL's stick. Somehow drawing a hooking minor to put the Canucks on their second PK of the game.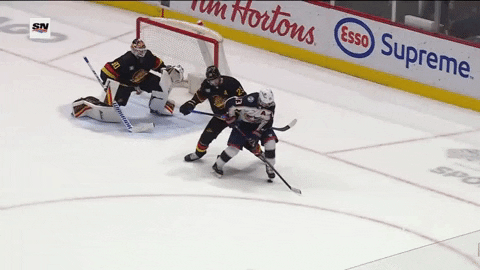 We don't want to be fined $25,000. So we'll just say it was quite the [redacted] call by the referee!
Incredibly, the Canucks killed the penalty and scored shortly after the game returned to 5-on-5.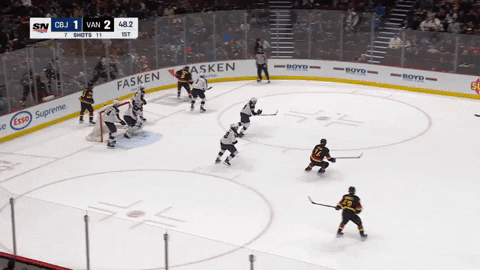 Having not done any scoreboard-watching ahead of their game against Columbus, Ilya Mikheyev ignored the massively positive Tankathon-implications of a Friday night loss and scored with less than 50 seconds in the period.
It was a pretty funny goal. Brock Boeser picked up the initial rebound from behind the net and threw the puck back to the blue line for Mikheyev, who ended a 14-game goalscoring drought with a missed shot off the backboard, off Korpisalo's back and into the net.
Johnathan Tonathan ended the first period with a dangerous shot and began the second period with a dangerous shot.
The first near-goal drew a wry smile from the irascible forward.
The second near-goal…uh, not so much.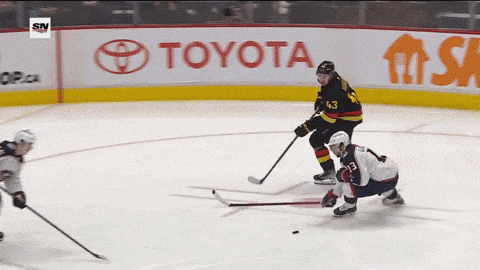 Credit to the oft-maligned Miller; he did not slam any sticks through those first 40 minutes!
#Progress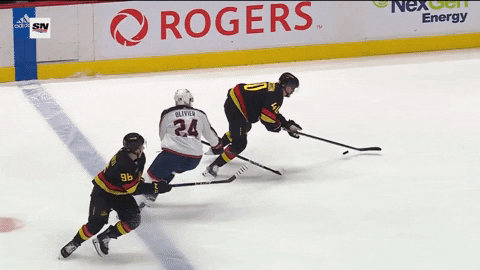 Early into the second period, Pettersson drew a high-sticking infraction against Matthieu Olivier to send the Canucks back to the power play.
They don't pay me by the GIF, but here are a few juicy shot attempts from the Canucks' first power play unit.
First was Pettersson's little slip and rip that sailed wide of the net.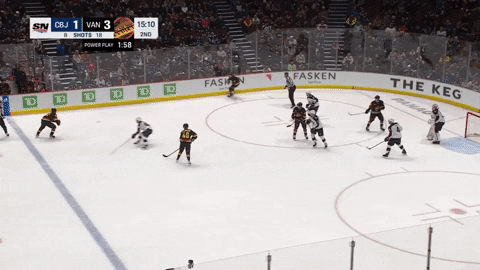 The second was Miller's 91 mph one-timer off Korpisalo's right pad.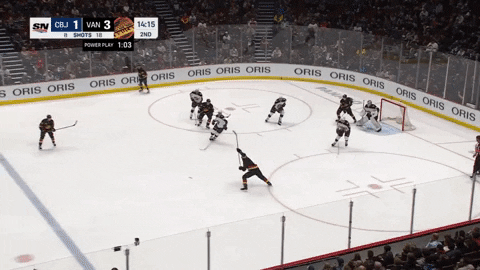 Finally, the second power play unit's gorgeous late-passing play that set Mikheyev up for a tap-in at the side of the net, only for Columbus' Gavin Bayreuther to thwart the sure goal.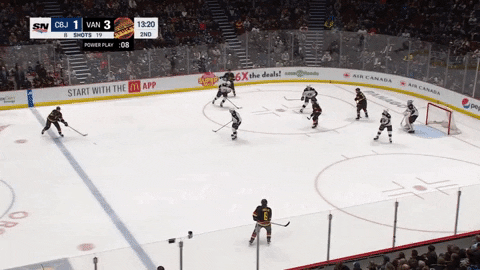 Yes, we've had to google 99% of Columbus Blue Jacket skaters to describe these plays.
That there is proper Tankathon™ roster construction from Columbus GM Jarmo Kekalainen.
Best and now for something completely different
Despite having spent most of the second period being under extreme duress in the d-zone, the Blue Jackets attempted to make it interesting by springing Emil Bemstrom past the Canucks' defence for a dangerous breakaway chance.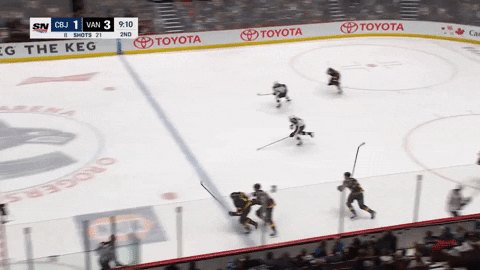 Sure, the Blue Jackets are on track to finish the season tied with the 2021-22 Montreal Canadiens for the fourth-worst total points earned over 82 games by a team in the last decade, surpassed only by the 2013-14 and 2014-15 Buffalo Sabres, and the 2016-17 Colorado Avalanche.
But hey! They tried to crack the Canucks! Unfortunately, Quinn Hughes was "on one," as the children say.
Even with Ethan Bear maintaining perfect gap control on Patrik Laine off the rush, Hughes' was still throwing on the afterburners to pick Laine's pocket and flip the puck safely out of the d-zone.
Okay, this hooking penalty against Ekman-Larsson was a bit more warranted.
Whenever Hughes and Bear weren't on the ice at 5v5, the Blue Jackets were testing the Canucks' rush defence, resulting in OEL's second minor penalty of the game and another successful penalty kill!
Mind you, the Blue Jackets' power play scored 2 goals on 33 attempts through the first two months of the 2022-23 season.
It's a low bar, but the Vancouver Canucks hurdling low bars is a major accomplishment these days.
Best Anti-Tankathon Tankathon
Knowing the Vancouver Canucks were about to sit on a multi-goal lead to start the third period, the Blue Jackets came out swinging to start the final frame. After being outshot 25-15 through 40 minutes, the BJs (gotta be a better way to abbreviate that) rallied with five shots on goal through the first five minutes, holding Vancouver to one shot on Korpisalo.
And what a shot it was!
Please send your audio/video edits of Joonas Korpisalo breakdancing to make a save to Lachlanirvine@canucksarmy.com.
Figures.
Minutes after a panning shot of the many GMs in attendance at Friday's game, Bo Horvat earned his fourth assist of the night, setting up Dakota Joshua off a zone entry for another "weird bounce" goal.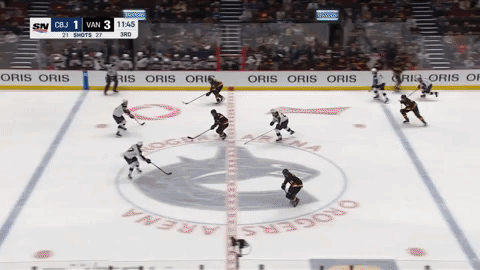 Horvat's four assists through three periods were the highest of his NHL career, while Joshua's 8th goal of the season extended his point streak to three games!
Poor Adam Boqvist. It was not his night. The bad backcheck on the shorthanded goal and the deflection on Joshua's goal that made it 4-1 for Vancouver.
The pressure poured on for Vancouver, and Conor Garland drew an interference penalty against ex-Canuck Erik Gudbranson to give the Canucks their third power play opportunity.
Again, theoretical GIF money time.
First, Hughes sprung Miller on a breakaway, only to go down hard off a poke check from Korpisalo.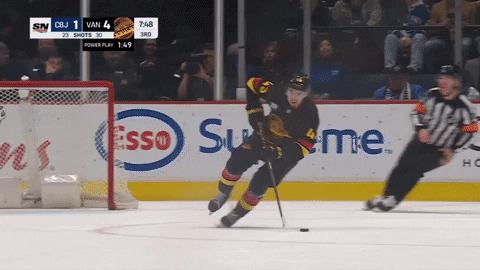 Then, capping off the night of firsts, Elias Pettersson scored his first power play goal of the season off a cross-ice feed from Miller.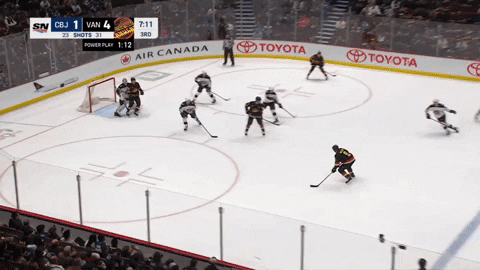 Worst "Bruce, there it is?"
Following Pettersson's power play tally, the sparse crowd at Rogers Arena serenaded the coaching staff with an oldie.
However, the audio equivalent of a middle finger to organizational higher-ups came at a great price, with the Blue Jackets drawing a late penalty against Tyler Myers (obviously) and scoring their second power play goal of the night.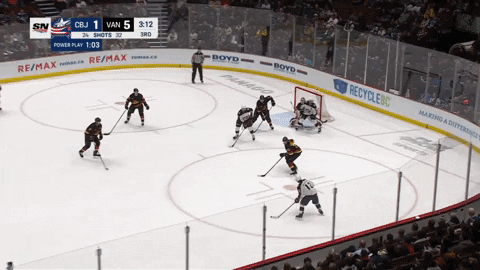 The goal was Kirill Marchenko's second of the night and pushed his season stat-line to a comical 13 goals and 0 assists in 26 games.
For Tankathon reasons, Gavin Bayreuther took a penalty with less than a minute left in the period to really make sure the Blue Jackets won the great Tank War of 2023.
Best J.T. Miller impression
Let's kill this joke immediately. Elias Pettersson wasn't mocking Miller. He was playfully joking with Kuzmenko about him nearly stealing his first power play goal of the season away from him at the last second.
Doing a J.T. Miller stick-smash with Miller egging him on? Baby, that's not a controversy.
That's just plain cute and fun! Something that has been sorely missed from Canucks games the last three years.
After scoring a goal and playing eight shifts in the third period, Allvin announced that Ilya Mikheyev would be shut down to get ACL surgery.
First off, how was this addressed after the game and not before?
Secondly, if the team knew a player they'd signed to a four-year $20 million dollar contract had sprained his ACL in training camp, then why was he ever allowed to play through it?
Has this team learned nothing from Micheal Ferland's concussion issues? Sven Bartschi's concussion issues? Tucker Poolman's concussion issues? Thatcher Demko's knee/hip issues? Brock Boeser's wrist issues? Tanner Pearson's hand issues?
Just because a player can play through an injury does not mean he should play through the injury! Especially one signed exclusively for their ability to bring speed to their middle six and on the penalty kill!
Now, the Canucks medical staff have a tough job to do. Players play through injuries all the time. However, the Canucks season was lost over a month ago. Arguably, the season was over when they started the season 1-5-2 in October. If the organization wasn't currently facing an investigation from the NHLPA over the medical care received by Tanner Pearson, I'd say they'd earned the benefit of the doubt on the Mikheyev injury situation.
However, this is now the fourth bizarre medical situation involving a player since the season began: Brock Boeser, Thatcher Demko, Tanner Pearson, and now Ilya Mikheyev. In each case, these injuries were manageable until they weren't.
Thatcher Demko went from a 6-week recovery timeline to 10 weeks or more.
Tanner Pearson went from a 4-6 week recovery timeline to out indefinitely, with his career potentially being threatened.
Stop digging, please.
Best nobody but the Canucks
Surely.
SURELY, Canucks fans could embrace a battle for tank supremacy without any pre-game drama, right?
RIGHT?!
WRONG! Once again, the Canucks organization went about their pre-game business in the most confusing and eyebrow-raising way possible. Following the extension of Cosmo Kramer hair-enthusiast Andrei Kuzmenko to a two-year extension, GM Patrik Allvin was set to meet with the media at a time to be confirmed on Friday morning to discuss the signing.
As they do, the Canucks then announced that Allvin's availability would coincide with the post-game locker room availability. Instead of great quotes from Horvat about his first 4-assist game, Ilya Mikheyev's goalscoring drought-buster, or Elias Pettersson finally scoring a power play goal, the Vancouver media pool was forced to choose one or the other. Through much of this season, Patrik Allvin has stuck true to his Milford Academy roots, leaving most media availabilities to President of Hockey Operations Jim Rutherford. With Rutherford electing to "zip it," Allvin's first solo availability in several months represented a great opportunity for the media to suss out why the organization decided to commit $5.5 million to another winger and what it meant with regard to Bo Horvat's status as a Canuck.
Sigh. Nope. It couldn't be that simple. This team instead forced its meagre pool of local media to choose between the post-game quote and a much-needed executive availability. Ultimately damaging their ability to provide quality content for the Vancouver fanbase.
In a week where Vox Media laid off 7% of staff, cutting funding to all but six SBNation hockey websites, and Postmedia laying off 11% of its editorial staff ahead of a "very turbulent stretch," this chain-yanking by the organization feels nothing short of intentional and disrespectful. As if the spiteful treatment of Bruce Boudreau wasn't enough, the franchise added the media pool to the list with this decision.
It's no big deal, really, and we're not trying to make anyone feel bad for the media that cover this team but think about this.
When was the last time you saw a GM hold a media availability after a game when a coach wasn't being fired? As many around the league have said many times as of late, when it comes to the Canucks: Other NHL organizations don't operate this way.