The Stanchies: Aidan McDebut, Delia's revenge game, and Elias Pettersson hits 35
Photo credit:© David Banks-USA TODAY Sports
The Canucks and Blackhawks meeting for a game in late March used to be must watch television. An appetizer between titans of the game that would get fans ready for the main course of spicy beef that'd be served in the playoffs.
Now, it's reached "tree falling in the woods" levels of excitement. At least from the big picture perspective.
Sure, there's still something to play for. In Chicago's case, that's better draft lottery odds that could land them Connor Bedard, swiftly replacing long time Blackhawk and thorn in the Canucks' side Patrick Kane with an even bigger superstar.
For the Canucks, they suddenly find themselves out of the Tank Bowl conversation entirely, thanks to a winning stretch of hockey at the absolute worst time possible.
But even as two teams out of the playoff hunt go through the motions of finishing their 82-game schedule, there's lots at stake for newcomers and recent arrivals.
Today that player was Aidan McDonough, who made his much-anticipated NHL debut on the ice of the United Center. There aren't many better ways to launch a hockey career than an Original Six arena.
Let's get things going.
The kid's been here for only a week and he's already rocking the Canuck blue suit. Respect the choice to go with a lighter plaid pattern on the tie as well.
I'm so glad they replicated the Rathbone-McDonough photo. And I'm equally glad that Rick Tocchet understood the importance of the moment.
Tocchet immediately sent McDonough over the boards to take the opening faceoff, with Elias Pettersson and J.T. Miller on either side.
Naturally, the kid won the draw cleanly.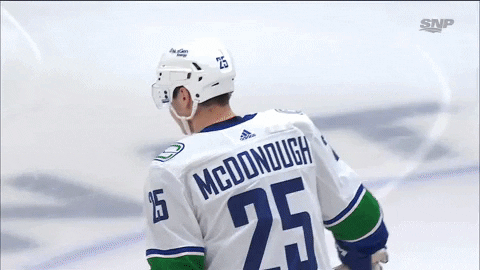 McDonough would go back to his actual linemates Sheldon Dries and Conor Garland after this, but that's a moment he won't forget anytime soon.
And neither will his family, who made the trip out to Chicago.
Best 'We have Wyatt Arndt at home'
I'm allowed to make this joke because, as a backup Stanchies writer, I technically am a discount version of the original.
Best Impression of a Lil' Rascal
I watched the Lil' Rascals remake when I was a kid for some reason. All I remember about it was that the rich antagonist kid's dad was played by Donald Trump (Eric?) and the main character's hair that looked just like this.
Either way, it was an incredibly weird night for Jonathan Tonathan, including taking this surprisingly strong hit from Andreas Englund early on that left him a bit dazed.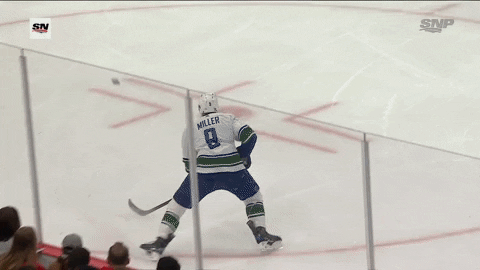 Much like the chocolate he shares a name with, Reese Johnson went a little nuts on this hit to the back of Kyle Burroughs.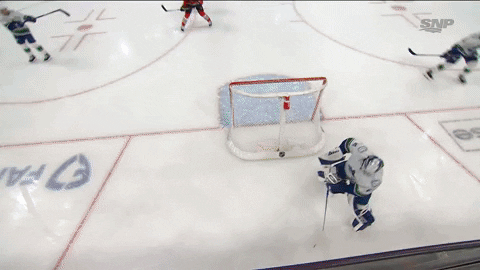 These are the kinds of hits that really need to be pushed out of the game. Burroughs came out of the ordeal no worse for wear, thankfully, but it could've ended a lot worse.
In Tanking Chicago, shorthanded goal scores on you.
We're going to talk plenty about Collin Delia's Revenge Tour today, but he did have one rough look on the Canucks ensuing power play. With Filip Hronek and Quinn Hughes providing an unfortunate double layered screen, by the time Delia was able to pick up birthday boy Connor Murphy's shot it was already sailing by his arm.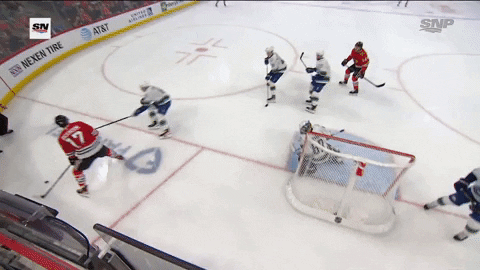 Perhaps Delia could've been a little more set for the long shot, but it sure seemed like that mistake woke up Delia's inner beast.
Aidan McDonough came oh so insanely close to his first NHL goal on multiple occasions tonight, but this is the one that he'll probably be thinking about most on the team bus ride to O'Hare International Airport.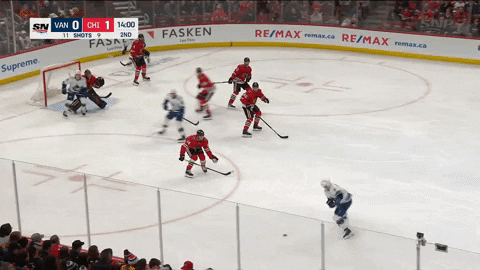 After a blistering Jack Rathbone shot, Sheldon Dries and Conor Garland created a mad scramble in front of the net that put the puck right near McDonough's stick with Petr Mrazek in another zip code.
If not for Garland getting bowled over in the crease and blocking his lane, McDonough almost certainly leaves the United Center with a souvenir puck.
But at this rate of opportunity, it might not be too long a wait.
Best Anything Anywhere All At Once
When pucks start skipping over your stick like it did for Anthony Beauvillier here, it seems like it's just not going to be your night.
Same thing goes for J.T. Miller, who got multiple whacks at the mother of all juicy rebounds, but just kept whiffing for no apparent reason.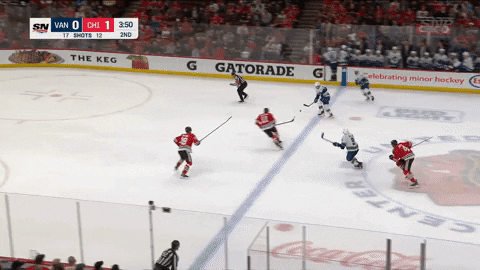 Maybe he'll just have to find another way onto the scoresheet today.
For nearly 40 minutes, the Canucks had some of their worst puck luck in recent memory.
Then with 20 seconds to go in the second, Philip Di Giuseppe delivered in the clutch off a nifty slap pass from Miller.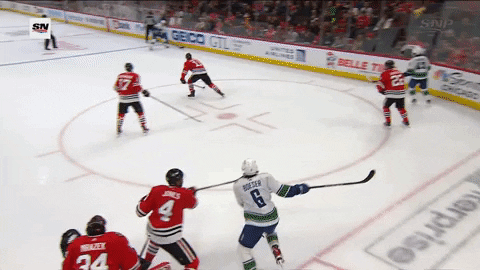 Okay okay, let's get our facts straight; Di Giuseppe was clearly trying to set up Brock Boeser with a backdoor pass. But while trying to block it, noted NHL All-Star Seth Jones inadvertently kicked the puck behind his own goalie and into the net.
Maybe that was a rare gaffe from a generally decent defender. Or maybe he's just that terrific a tank commander and knows what's at stake for his franchise.
The second of many times Quinn Hughes will probably break this record in his long NHL career. It's absolutely impossible to fathom what heights he could reach before it's all said and done.
Also, nice.
Brock Boeser has looked dangerous at plenty of points in recent games, and he nearly ended up as the hero of this game.
If given a chance, he probably wouldn't miss a second time. Especially if Mrazek mysteriously disappeared from the net or something.
Collin Delia has started every single game I've been on Stanchies duty for, but tonight was his Magnum Opus.
With Di Giuseppe in the box for tripping, the Blackhawks put together a power play so dangerous looking, you'd think the 2015 Cup winning team had ran stolen the 2023 squad's gear in between periods.
But then, out of nowhere, Delia put together a performance not seen in Chicago since the Cell Block Tango.
First, after Lukas Reichel goes hard to the net, the puck flips up over Delia's head and drops in the crease. Very alertly, Delia backtracks and walls off the crossbar with his arms to prevent the puck from accidentally going off his back and in.
But his crowning moment was an absolutely elite pair of saves off of Tyler Johnson moments later.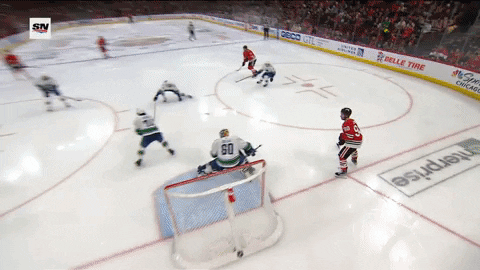 After a cross-crease pass attempt deflects off Elias Pettersson's stick, Delia is forced to stop up mid-slide to seal off the post, robbing Johnson's initial whack at the puck. Anticipating Johnson's second chance, he immediately throws out the king of all scorpion kicks to knock the rebound behind the net.
Delia's taken his fair share of arrows from fans and media alike this season, but tonight he absolutely changed the tide of a game for the better. And there was no better place to do so than in his old home rink.
Aidan McDonough's first NHL game might not have come with a goal or an assist, but his overall performance was pretty decent.
Faber was kind enough to provide us with the DAWG ratings for McDonough, who finished with a 80.40. Not bad at all for your first NHL game!
It showed with his hard work at both ends of the ice, including this defensive effort to chase down Reichel and help prevent a Chicago scoring chance.
On the eye test, the kid rarely looked unsure of his place and responsibilities on the ice, and seemed hellbent on finishing the evening with something on the scoresheet.
Here he helped set up his own scoring opportunity off an Ethan Bear shot that he just couldn't get a full piece of.
He's knocking at the door. Maybe Jordan Binnington will open it for him on Tuesday?
This whole play rocked, on so many levels.
First, Dakota Joshua levels Reichel with a solid clean hit, prompting MacKenzie Entwistle to get really mad at this evil, perfectly legal play.
But Joshua wisely doesn't drop his gloves, knowing full well that his teammates are in full stride on an odd man rush and doing so would stop play.
That leaves Bear all the time he needs to sauce a perfect pass to a wide open Elias Pettersson, who does what Petey does for his 34th goal of the season.
This might've been the single best play of the Canucks season from a team effort standpoint. Practically everyone on the ice played a part, but Joshua's contribution to knock Reichel off the puck and take Entwistle out of the play was arguably the most crucial.
As Faber rightfully points out, when you have four forwards on your power play unit it magically gets a lot better!
It wasn't as nice as his goal a minute earlier, but Pettersson's vision made the difference as he knocked the loose puck from Hughes' initial shot behind Mrazek and into the net.
Both Boeser and Andrei Kuzmenko got a piece of the initial shot, but it was Petey that was able to beat out both Hawks defenders to whack in Goal #35.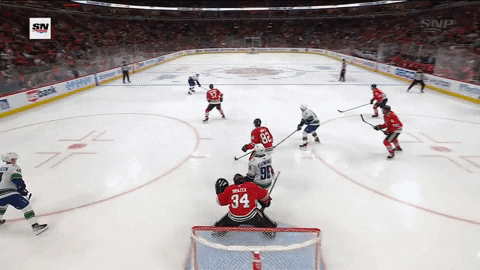 Pettersson getting within five of the magic 40 goal mark is a feat we all saw coming from a mile away, and yet you're still in awe watching him get there.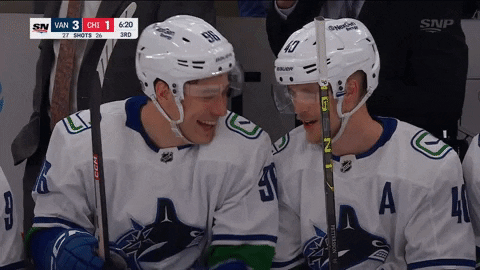 Look at these two having the time of their lives and try not to crack a smile. I dare you!
Best Old Habits Die Hard?
It wouldn't be a true Canucks victory without a late bout of anxiety. And after briefly remembering that losing could help hand the Blackhawks Connor Bedard, they made their best attempt at giving the game away.
After Seth Jones' shot from the blue line got tipped in front, Delia and Tyler Myers both attempted to hit it back out into the slot. Instead, Lukas Reichel got rewarded for a well played game by tipping the weird bouncing puck back through Delia's five hole.
A lot about this goal can be chalked up to a defensive breakdown, with the Chaos Giraffe guarding absolutely no one in front of the net. But on a night where the Canucks had relatively few gaffes, this one can be excused a bit.
Best Redemption Tour 2023
When Brock Boeser got that second chance at a goal in the final minute, this time he connected.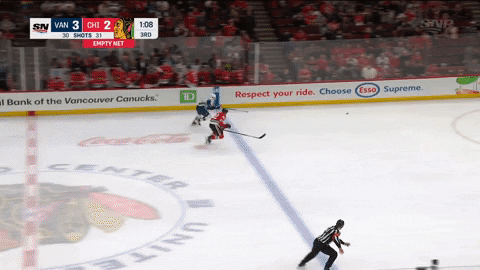 And it was a relatively impressive empty net goal too! With Caleb Jones chasing him and the puck down, Boeser made an ankle breaking stop up with the full intention of sending the puck across to a streaking J.T. Miller. But realizing that Jones had suddenly lost all control of his skates, he waited a beat before rifling the puck over the fallen Hawks defender into the yawning cage.
And with that, the Canucks bumped their record to 8-2-0 in their last ten, a roll that surely won't have any unintended long term consequences.
Best This is the Bad Place
Oh. Oh no.
The Hawks lost in more ways than one tonight. After tempering their plans for their Pride Night game tonight due to an alleged "fear of safety for their Russian players', that excuse was quickly debunked by the NHL itself.
When given an opportunity to own up to the team's decisions, Chicago's CEO chose the coward's route instead.
Canucks, if you're reading this (and I know you are), please don't end up on the wrong side of history here. Don't be Danny Wirtz.
I really hope to see the usual Pride Night festivities on Friday at Rogers Arena.
Best Playoffs?! Playoffs?!
When management made the decision to go all in, who could've known that they actually meant Abbotsford?
In all seriousness, the Canucks' farm team making another push into the Calder Cup Playoffs is a testament to just how hard the AHL staff has worked to put together a competitive mix of young developing talent and veterans.
If this squad is able to bring back the likes of Podkolzin, Rathbone, Åman and McDonough in time for the postseason, they might be a dark horse pick to go deep.
Speaking of new recruits for Abbotsford…
Obviously free players aren't allowed under the current CBA, but we'll settle for Vladislav Gavrikov at league minimum instead.
Last week, I challenged Canucks fans to find a statue of a cartoon duck. Today I decided to send fans in Chicago to find a statue of a guy who once played basketball with a cartoon duck; former Tune Squad guard Michael Jordan.
Twitter user Moll Doll delivered in absolutely incredible fashion.
I really, really hope Moll shows this photo to her kid some day, cause they're getting an extremely cool mom.