The Stanchies: Horvat and Mikheyev deliver gifts, Hughes' Christmas miracle, and Spencer Martin returns to form in lopsided win over Sharks
Photo credit:© Bob Frid-USA TODAY Sports
So let it go, let it goThat's the way that it goesFirst you're in, then you're outEverybody knowsYou're hot, then you're coldYou're a light in the darkJust you wait and you'll seeThat you're swimmin' with sharks
The first few days after Christmas break are always weird. Everyone returns to work more relaxed than they've been in months, and yet are more stressed than they have been all year.
There were gifts to buy, dinners to plan, snow to shovel, and flights to take. All for maybe four hours to lie down and not think about life's endless supply of problems to solve.
Maybe the Canucks needed that time off, because they skated out to face the San Jose Sharks and played one of their most complete games of the regular season. The stars showed up, the majority of the supporting cast played their roles to perfection, and the goaltending was superb.
"But they were playing the Sharks!"
I'm well aware of San Jose's work. It ain't great, and a 6-2 win over an 11-18-6 team doesn't tell you much about the Canucks' overall quality.
But it's the holidays, a time for merriment! The Canucks may not have found a diamond in the Sharks' lump of coal, but there were plenty of presents underneath the tree to unwrap.
Let's open 'em up!
Best pointlessly awkward Christmas dinner
You mean to tell me all that passive-aggressive trash talk Spencer and Jonah probably did while passing plates of ham and mashed potatoes was for nothing?!?
Does David Quinn not understand the value of storylines at all?
The first shot by Mikheyev gets blocked by Mario Ferraro, and Tomas Hertl immediately loses the puck in his own skates. All Bo's gotta do is stand by the net and wait.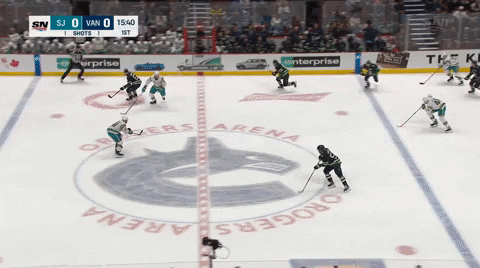 Not a bad looking way to reach the 25 goal mark, with plenty of runway to reach the half-century plateau that only two Canucks before him have. This type of goal is what separates the elite scorers from the pretenders.
And it's become painfully clear that Bowie's no pretender.
Luke Schenn's quest to 3000 hits came agonizingly close to fruition tonight, finishing just one hit short. And right from the get-go, Schenn Daddy seemed laser-focused on the task at hand.
At first, he was maybe even a little too focused, like when he bowled over Tomas Hertl after the puck was long gone.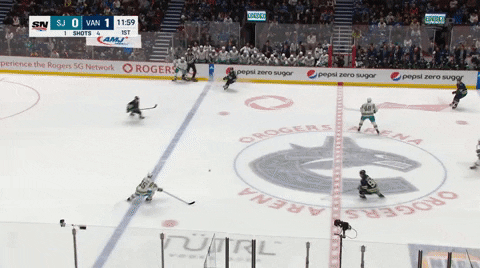 That error proved to be a wake-up call, because he ended up creating a scoring play not long after. Still, with the team set to hit the road for the next couple of games, it's too bad Schenn will hit this 3-0-0-0 using another arena's dasher boards.
We're gonna get into Spencer Martin's evening a lot more later, but early on it looked like he'd been taking in-depth notes during Collin Delia's game against the Oilers.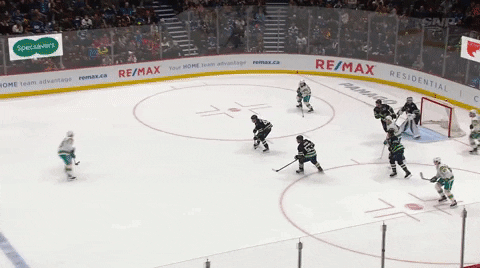 Martin is nothing if not a battler, and he did a whole lot of it today.
Brock Boeser and Ilya Mikheyev linking up for one of the nicest plays of the evening feels like when two TV characters in an ensemble cast get their first B-story together. It makes perfect sense that these two would interact, but it rarely happens when their closest friend in common is busy being part of the A-story.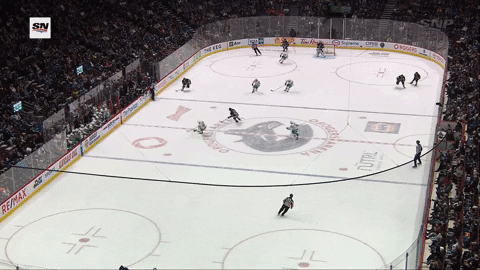 Mikheyev's footspeed, even when he's gliding, is something the Sharks didn't have an answer for.
This ended up being a major theme for the night.
Best Boxing Day Doorcrashers
Elias Pettersson is a player whose unassuming stature opens him up to criticism, even when there's nothing really to criticize. Last game Sportsnet analyst Jason Bukala said Pettersson couldn't afford to lose weight cause of his illness, as if he's the only skinny player in NHL history.
That's why in case anyone tried to make the argument that he can't score greasy goals, Pettersson made sure to silence those theoretical critics ahead of time.
Pettersson first led Matt Benning away from the net before Luke Schenn shot the puck. As soon as Benning turned his head to track the puck, Petey was off to the races.
A lot of credit goes to Lane Pederson for tipping Schenn's initial shot and getting a rebound opportunity before Pettersson whacked the third chance under Reimer. For a player who was barely on the NHL team's radar at the start of the year, Pederson is improving game to game. We'll have more on him later.
Best I've seen this movie before, and I didn't like the ending
After Pederson took an ill-advised offensive zone penalty, the Sharks second power play opportunity yielded fruit.
Life is full of unanswerable questions. Who were Tyler Myers and Ethan Bear supposed to be covering? Why was Timo Meier allowed to stand two inches from the net without a single Canuck noticing? We may never know.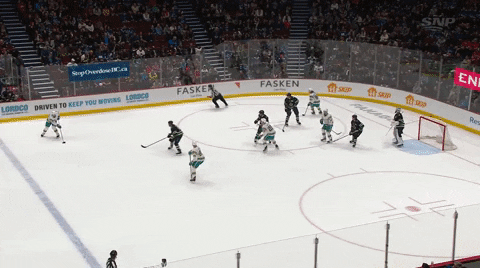 Against a better team, a last minute power play goal might've been the first leak in the Canucks' defensive dam. Tonight, that strip of duct tape held.
Every now and then J.T. Miller shows flashes of what a top flight centre needs to be.
One moment Jaycob Megna thinks he has Miller all wrapped up along the boards. The next, all he's holding is a cartoon cloud shaped like Miller.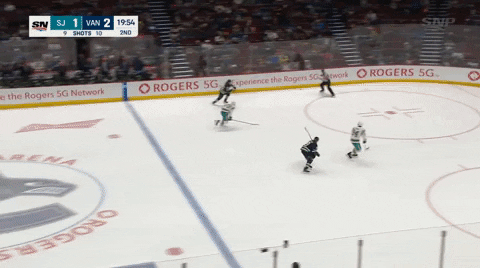 Sadly, this was the height of Miller's effectiveness today.
Best 'Marvel's What If…?'
Hold up.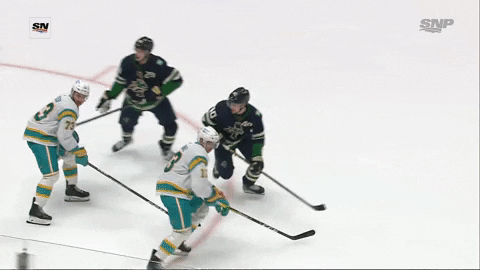 Is that… Nick Bonino? Playing on the Sharks' second line next to Kevin Labanc and noted enemy of The Stanchies Logan Couture?
You're goddamn right it is.
Nick Bonino represents the previous Canucks' era in a lot of ways, specifically what could've been. He was the first player Jim Benning acquired in a trade, the much-anticipated Ryan Kesler deal with Anaheim. He wasn't able to meet the lofty expectations of replacing a perennial Selke nominee, but he was still a solid middle-six centre.
In a rare case of the previous regime showing impatience with a seasoned vet, Bonino was dealt to Pittsburgh for Brandon Sutter after a single 39-point season. That front office then spent years trying to find a Nick Bonino replacement after having him in the palm of their hand.
Bonino never replicated his point totals from Vancouver, but he's been a solid performer ever since, never finishing with less than 25 points in the last seven seasons. He was also a crucial depth piece for back-to-back Stanley Cup champions and a President's Trophy winner, and even earned Selke votes in three different years.
Now, in a strange turn of events, the president of hockey operations that acquired Bonino from the Canucks is now in charge of fixing the mess the front office who dealt him left behind.
The Canucks are nothing if not fascinating.
Best Larionov to Bure reboot
The Canucks only had one power play opportunity, but they sure made it count.
The second unit began running the Sharks out of the building like a Sweden/Austria World Juniors game. Penalty killers began dropping like flies, and their one good chance to clear the zone after it expired was quickly thwarted by Kuzmenko.
As all three exhausted Sharks forwards fled the zone for a change, Kuzmenko and Ilya Mikheyev went to work. Mikheyev bought some time for Kuzmenko to set up in the corner before passing off to Tyler Myers and taking off for the net.
But, disaster! Kuzmenko didn't get enough power behind his pass, and Timo Meier was able to deflect it.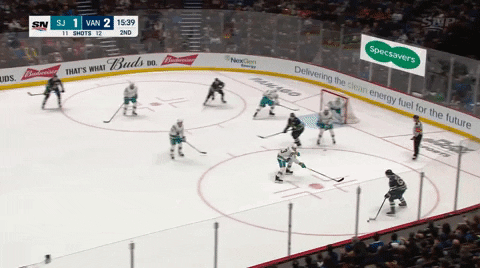 Luckily, that brief tip was enough to freeze Reimer in his tracks, leaving Mikheyev plenty of room to send the puck sailing home.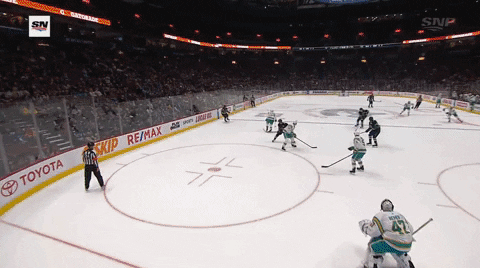 By the time the broadcast had finished showcasing the nifty feed, poor Matt Benning had only just hobbled to the locker room after being hurt earlier in the sequence.
Best RELIEF, SWEET RELIEF
Here at CanucksArmy, we've spent years putting together a vast network of NHL insiders that help us track down the biggest inside scoops.
That's why today, in this major Stanchies exclusive, our reliable source in the North Pole provided us with a copy of Quinn Hughes' recent letter to Santa Claus.
The letter reads:
Dear Santa,
All I want for Christmas is a goal. Please? It's bad enough that my brother's team is ahead of mine in the standings, but if I don't get a goal this season Jack and Luke will never let me hear the end of it.
From, Quinn Hughes (age 23)

Apparently, St. Nick came through in a big way, because Hughes didn't simply get the piano off his back. He practically lifted the piano with one hand and chucked it all the way to Whistler.
Hughes completely toyed with the Sharks' defenders as he bobbed and weaved around the net. He tried to set up a double-covered Brock Boeser first before eventually catching Reimer off guard with a far-side shot over the shoulder.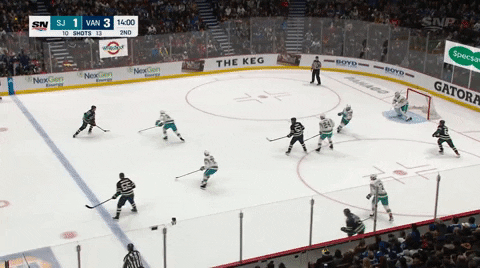 Hughes even found the perfect moment as Megna and Noah Gregor began skating right into Reimer's line of vision. It's almost as if Hughes' power to score didn't come from Christmas magic; it was inside him all along.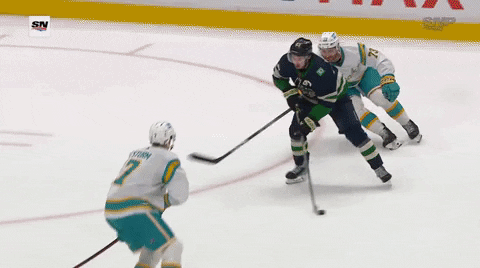 Quinn's reaction post game spoke volumes.
"Bo came up to me and [asked] if I wanted the puck…It's kind of funny, but it's not funny," Hughes said, perfectly encapsulating his immediate reaction compared to his teammates.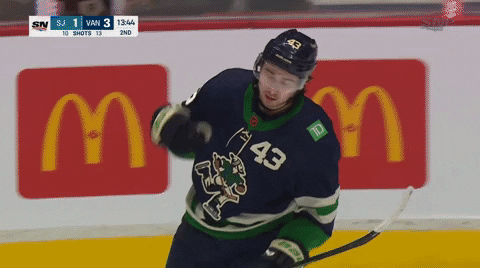 After months of wondering what Bruce Boudreau kept seeing in Riley Stillman, we finally got a semblance of an answer. Or did we?
After Spencer Martin's diving stick forces Alex Barabanov behind the net, Stillman muscles his way in between Mario Ferraro and drops onto all fours to stop Barabanov's wraparound attempt dead in its' tracks.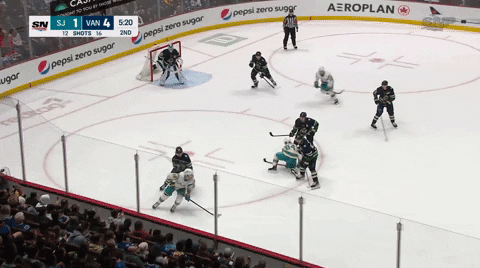 I know what some of you are thinking. You might've looked closer at the replay and said to yourself, "Hey is it just me, or does Stillman actually fall over trying to bump Ferraro and accidentally end up in the right position to block the wraparound?"
You certainly might be onto something. But since I'm in a giving mood, maybe just for today we'll look at the Stillman glass as half full instead of the standard fully spilt.
Best Mark Donk & Buzz Flibbet potential
Lane Pederson already had an assist tonight. He didn't need to make a heads-up defensive play to have a successful outing. And yet, he dove to Spencer Martin's rescue as if he were auditioning to be Henry Cavill's successor for Superman.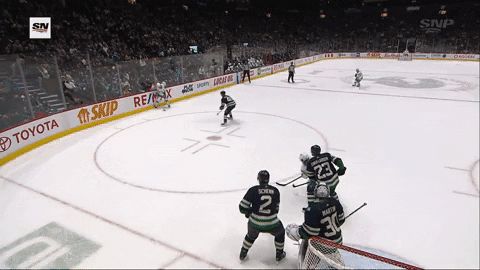 As former CA editor Jackson McDonald so eloquently puts it, the straw that stirred the drink for Jim Rutherford's two Cup-winning Penguins teams was their ability to find short-term replacement-level players who excelled next to their superstars. Rutherford's front office would routinely pluck out unknowns like Conor Sheary, Scott Wilson, and Carter Rowney, have them fill a prominent role next to Sidney Crosby and Evgeni Malkin, and then sell high on them before they're due for a big payday.
Pederson has already tied his NHL career high of three points in ten fewer games than it took him in Arizona two years ago. Imagine if he keeps developing his chemistry next to Pettersson and turning in performances like this one.
Best 'Goalie controversy? Never heard of her!'
Wyatt has tried his best to understand goalies over the years, but that usually involves copying homework off the straight-A students like Cat Silverman and Eddie Lack. Cody goes in the opposite direction and tries to force his toxic "goalies don't matter" rhetoric on the world.
Now that I'm in charge, you're getting something new: a goalie's personal experience.
Everyone onto the school bus, we're taking a little field trip over to my 'In The Crease' column.
Spencer Martin had his strongest outing in ages, shutting the door at key times and giving his teammates the time to build out their lead. It's amazing what getting a night off during the previous game and a short Christmas break can do for a netminder who seemed to be struggling with general fatigue.
Martin is a goaltender who finds success by playing aggressively at the top of the paint and playing a more athletic style than most netminders his size. Specifically, he stays compact and covers a little less net in an effort to put more precision and power into his slides and pushes.
This slick blocker save is a perfect example of how he uses that style to his advantage, as he explodes outwards to stop the initial shot. As he tracks the rebound, his arms return to their position in close while he rotates his body.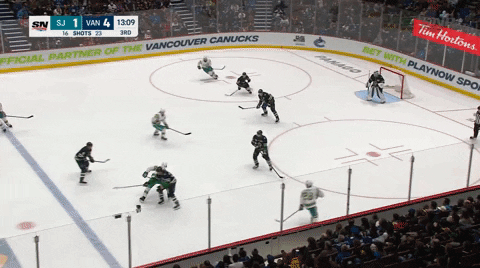 Fatigue was becoming a major issue for Martin as he tried to adjust to an NHL starter's workload. Tonight, he looked a lot fresher and more spring loaded moving from shot to shot.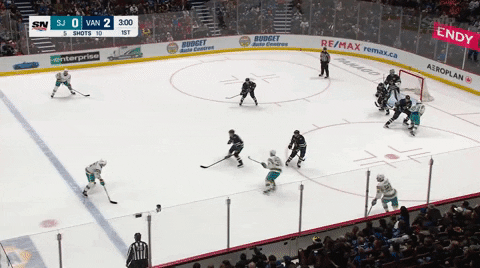 The advantage of that extra rest was especially noticeable through his rebound control and balance. A few weeks ago, Martin was getting caught falling backwards after dropping and letting out easy rebounds in close.
On this odd man rush, Martin's focused all his balance into the front of his feet instead of his heels and drops forward into the shot. That forward motion works to take even more net away from the shooter, and he doesn't give out a rebound despite the shot coming from beneath the hashmarks.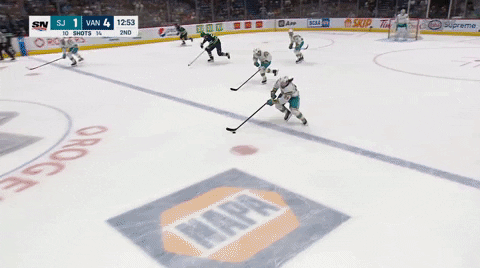 But Martin is still a work in progress. His aggressive style of play can sometimes get him into trouble and put him in No Man's Land, like on this second period scramble that thankfully no netfront Shark could get a stick on.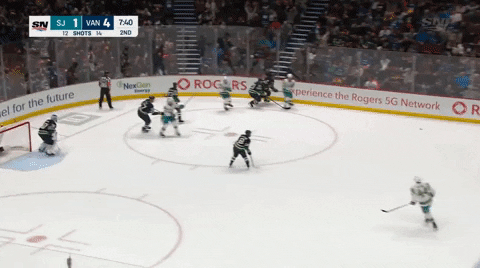 Of course, I had to save the best for last.
A broken play for the Sharks led the puck to a wide-open left hand side. Martin tracked the puck across as it was about to land on the stick blade of Tomas Hertl. Knowing a slide wasn't going to be enough, Martin throws his arm out and appears to get his glove in front of the shot.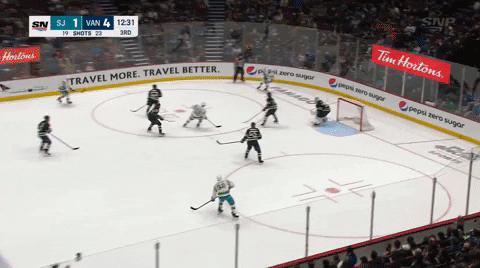 In actuality, it went somewhere a little different. "It actually hit me in the armpit," Martin said. "But don't check the replay."
Some look at saves like these as evidence of a goalie not playing properly. But controlled chaos is still control. Every goalie just needs to find the mixture that suits them.
Bo clearly looked at the replay of his first goal during the intermission and said to himself, "I'd better put something more gorgeous on the board if I really wanna up my value."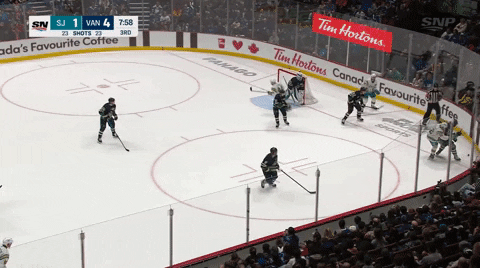 Brock Boeser put himself in the right place to intercept a lazy no-look pass from Long Beach native Matt Nieto, and immediately found Horvat rumbling toward the net.
Bo made goal #26 look like the easiest of the bunch, launching the puck off the bar with a satisfying "ping".
We've gotten to a point where a 50-goal season feels like a guarantee for Captain Canada. What's not a guarantee is what uniform he'll score that milestone goal in.
Everyone just had to egg the hockey gods on.
This was Martin's lone blunder of the evening. Timo Meier only got a little tap of the puck as if he was carefully testing the shiny new putter he found under his Christmas tree. Martin, clearly expecting a bigger swing, was caught by surprise as it dribbled between his legs.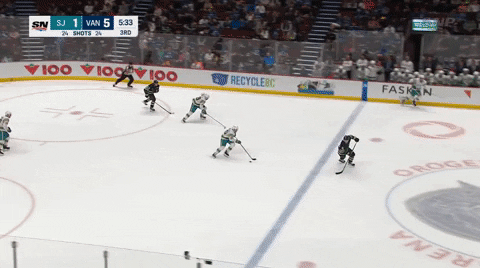 A sour way to wrap up an otherwise flawless outing to be sure, but after a 24-save night, it's hard to imagine he'll lose much sleep over it.
Brock Boeser's back.
The Flow capped off one of his strongest nights of the year with a goal that looked straight out of his rookie season. Boeser took his time off the pass from Horvat and labelled the puck over Reimer's right arm with the signature wrist shot that'd made him a game-changer for the team in the first place.
His wrist injuries look to be in the rearview mirror for now, so just imagine the possibilities if he can find consistency in his accuracy and speed again.
Finishing with a negative Corsi For percentage in a game that your team won 6-2 should certainly trigger a few alarms. That's not to say any of these players having that result is a complete surprise.
Thank god none of them are signed to expensive long-term contracts or are supposed to be trade chips, right? Right?
Best Mission Accomplished
All we need is J.T. Miller to yell, "Canucks Country, let's ride!" at an upcoming presser.
Best weird flex, but okay
Look, I don't wanna tell the Canucks' marketing department how to do their job. But the in-game presentation people really should've wrote this message as, "HOLIDAY PORCHE GIVEAWAY, FIRST FAN TO TOUCH THE DRIVER SIDE DOOR WINS!" Now that's how you create a viral moment.
Best "mentioned in the same breath as the Mona Lisa"
This is definitely the kind of artwork that Edward Norton's character from Glass Onion would pay to loan out from the Louvre. But you don't need Benoit Blanc to solve the mystery of which Canuck is the happiest in this picture.
After tonight's game, the Canucks' second Reverse Retro has officially retired to the ether, never to be seen on NHL ice again. The navy blue Johnny Canuck jersey may not have been as fun a choice as, say, a green and blue Flying Vee, but it was a much more successful uniform than its predecessor.
A couple of seasons ago
I kept track of the Canucks' records in each of their jerseys
, including their first set of Reverse Retros. The infamous Sprite Can unis finished with an 0-3-1 record, following closely in the footsteps of the Canucks' equally disastrous three-year run in their Vancouver Millionaires throwbacks.
So how'd ol' Johnny do?
The Johnny Canuck sweaters finish with a 4-4-0 record and a .500 winning percentage, bringing the team's overall Reverse Retro record to 4-7-1. A clear improvement, but still less than ideal.
And that feels right in line with what you'd expect. New jerseys might seem like a non-factor, but players love the chance to break from routine and wear something different. It's like joining a new team without having to move.
The Sprite Cans were basically their normal jerseys with a gradient. The Johnny Canucks were different enough for the players that hadn't played in Abbotsford before. Maybe if there's ever a third Reverse Retro opportunity they'll go for something completely out of left field.
One last jersey fun fact for you: since bringing the Black Skate back as a special throwback in 2019, the Canucks have posted a record of 6-0-1 and a winning percentage of .928.
Really makes you think.
Is that a Jason King jersey?? On the blue and green orca he never wore??
I have so many questions.
An attempt was made, but the 11s left on the arms and the 1998 All-Star Game patch clearly give away.
Still, respect for holding onto that jersey as long as they have.
Best Canucks Luck knows no borders
I'm using JD's tweet here cause Quads doesn't need another boost to his massive ego. (Editor's note: Lachlan was immediately fired for this joke and disappeared on the way back to his home planet.)
In a surprising twist, the DAWG ratings were dominated by one man, while Quinn Hughes hit his season high while scoring his first goal:
Top DAWG:
Joshua – 136.33
Horvat – 88.47
Lazar – 85.79
Mid DAWGS:
Pederson – 82.35
Schenn – 77.63
Studnicka – 74.38
Mikheyev – 71.68
Pettersson – 70.99
Bottom DAWGS:
Hughes – 61.09 (season high!)
Åman – 60.47
Miller – 53.16
Boeser – 44.53
Stillman – 43.44
Bear – 43.22
The CATS:
Garland – 36.70
Myers – 33.13
Kuzmenko – 17.24
OEL – 9.65
Meanwhile in Halifax, Team Canada might've laid a massive egg in their World Juniors opening loss to Czechia, but Connor Bedard was still Connor Bedard.
The highlights were just as kind as the stats.
Yes, the Canucks lowered their lottery odds by beating the 28th-place Sharks. Still, it's hard not to dream.
If I had to sell my soul to Hades, God of the Underworld, in exchange for this city getting to watch Elias Pettersson and Connor Bedard lead the Canucks to years and years of hockey glory, I would gladly give Sisyphus an eternal lunch break and push his boulder up the hill.
Cause you all deserve that chance. And Petey does, too.