A shift-by-shift breakdown of Aatu Raty's Abbotsford Canucks debut
Photo credit:© Bob Frid-USA TODAY Sports
On the East Coast in sunny Florida, Elias Pettersson dominated the NHL All-Star Game with a 103.2 mph slapshot to win the "hardest shot" competition.
Three thousand miles west, in so-so San Jose, the Abbotsford Canucks rallied back from two one-goal deficits with the youngest collection of forwards they've ever iced to make it two wins in a row.
Indeed, Friday night's matchup against the Barracuda was a massive victory for Canucks nation's "play the kids" movement. Of the 12 forwards in their starting lineup, three were 29 or older: Phil Di Giuseppe (29), Kyle Rau (30), and Justin Dowling (32). All nine of Abbotsford's remaining forwards were 23 years old or younger! Rookie Linus Karlsson was the team's fourth-most senior forward by age, and he is only 23.
The freshest addition to that young forward group was recently acquired centre prospect Aatu Raty, who made his debut on a line with two of the team's veterans, Phil Di Giuseppe and Kyle Rau. While Raty came up empty on the scoresheet, he acquitted himself well with two wily veteran forwards. That being said, there were certainly some glaring blemishes that will need to be worked on by the Abbotsford Canucks' development staff.
Let's get into the game and see how Raty fared in his first look as a Canuck!
Aatu Raty asserted himself well in his first shift in the green and blue.
Starting from the neutral zone, Raty recovered an ill-placed pass inside the offensive zone to get the puck down low on the right wing before hustling east-west to recover on the left wing boards. While he did not manage any shot attempts, his positional awareness was noticeable for a young player debuting in a new system.
On Raty's second shift, following an offensive zone faceoff, he again displayed solid positioning around the rink, denying a board-and-out.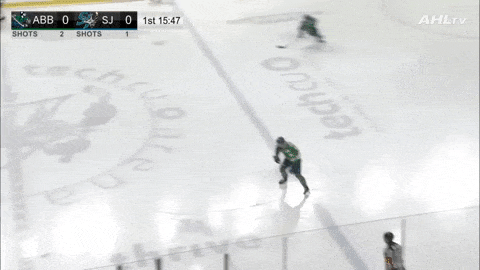 Despite the early pressure from Abbotsford, the Barracuda struck first with an easy tap-in goal for Andrew Aggozino set up by Martin Kaut, who was recently acquired by the Sharks.
1-0 Barracuda
Raty's next shift saw him again cruising around looking for breakaway passes, but he couldn't muster much offensively. His linemates Phil Di Giuseppe and Kyle Rau combined for a near-goal following a d-zone turnover by the Barracuda, but it was not owed to Raty's presence.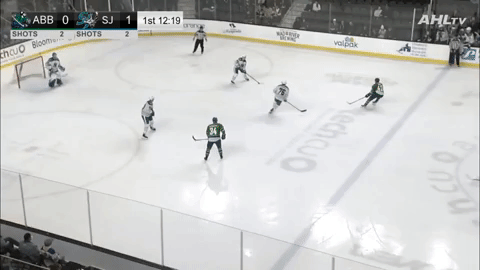 Not long after Aggozino's goal, the Farm retaliated to tie the game at one midway through the period off a great defensive play by Vasily Podkolzin.
After stealing possession behind Jake Kupsky's net, Podkolzin led the Canucks' breakout with a pass to spring Nils Höglander on a two-on-one with Christian Wolanin. Showing great patience, Höglander baited the Barracuda defenceman with a pause on the shot to open up space for a wide-open tap-in for Wolanin's fifth of the season.
1-1 Tie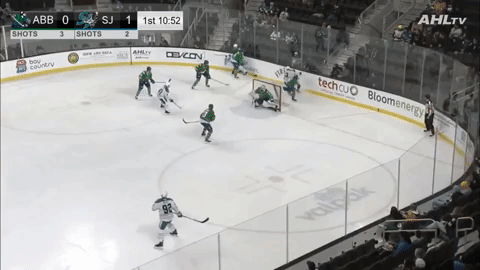 The Farm began to build off the momentum of Wolanin's goal. Aatu Raty was back on the ice, working the puck above the dots to open up space and curl down low to Quinn Schmiemann to set up Kyle Rau.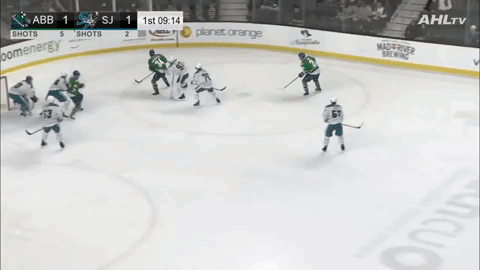 Unfortunately, the scoring chance for Rau opened a tiny window for the Barracuda to break the puck out of their zone and strike for their second goal of the night on just their third shot.
2-1 Barracuda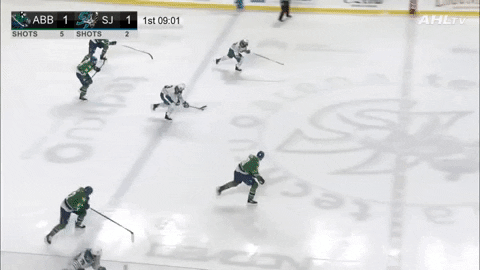 Raty picked up his first goal against the marker of the season, but it was hard to fault him on the play. He did his part to backcheck in time to deny a straight two-on-one opportunity for San Jose. Kupsky's glove side just wasn't on its A-game.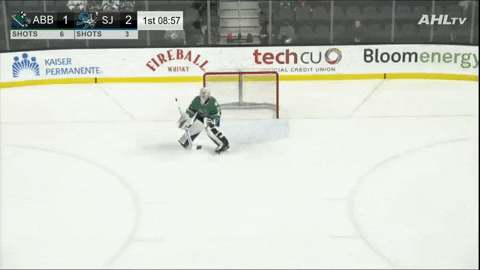 The next shift for the Raty line saw more time spent in the offensive zone only to face more bad luck, with Phil Di Giuseppe taking a minor penalty for tripping while forechecking a little too aggressively behind the net.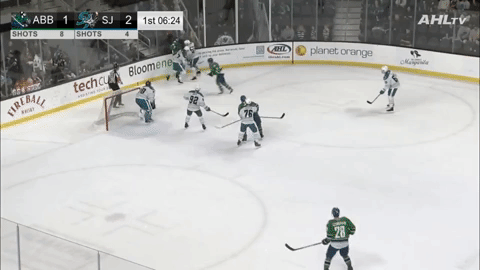 Again, another moment of bad luck for Raty, independent of his actions. With the Barracuda on the delayed penalty, Raty showed off his aggressive side, running a little bit of interference in the neutral zone to deny the Barracuda's odd-man-rush attempt.
Raty's positional awareness earned him a late look on the penalty kill on a forward duo alongside Arshdeep Bains. Though Raty had impressed throughout the first period with his foot movement and positioning, his read on Daniil Gushchin's late zone entry was less than great.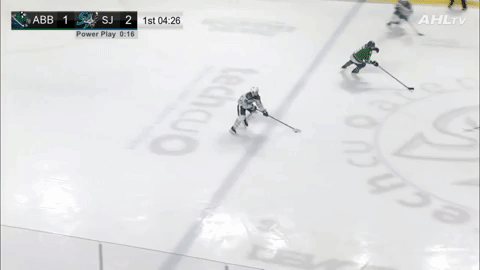 Fortunately, Bains recovered on Gushchin's fanned-on shot attempt to clear the zone and kill the remainder of Di Giuseppe's penalty.
The bad luck continued for Raty in his debut early into the second period. Caught out during a long shift, Raty experienced the "Canucks defence" experience. With Noah Juulsen cheating heavily to Kupsky's left side, San Jose's Martin Kaut was allowed a free waltz into high-danger territory, with Raty drifting far behind on the backcheck.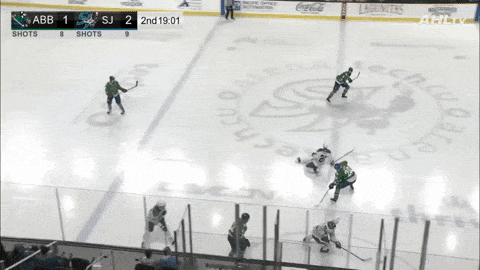 Fortunately, Kaut missed his shot attempt and Raty was out minutes later to generate his first shot on goal as a Canuck.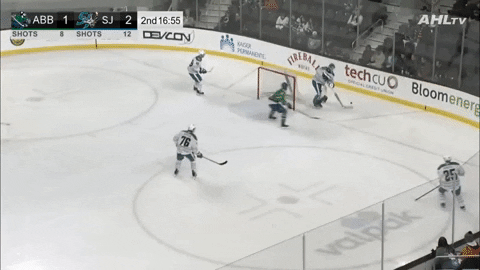 It was more of a centering pass than a shot. But it counted in the AHL's stat keeper's books, baby!
It was a quiet period for Raty overall. On his second shift of the period, his line was caught out on an icing. On his third shift, he utilized his stick well through the neutral zone to disrupt passing lanes and frustrate the Barracuda defencemen's breakout attempts.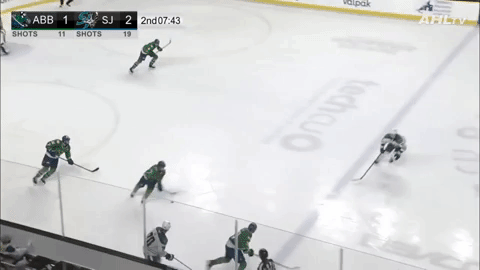 Past the midway point of the second, Vasily Podkolzin made an incredible end-to-end backchecking effort to deny the Barracuda a three-on-one rush chance. Unfortunately, his sliding effort resulted in a hard collision with Kupsky.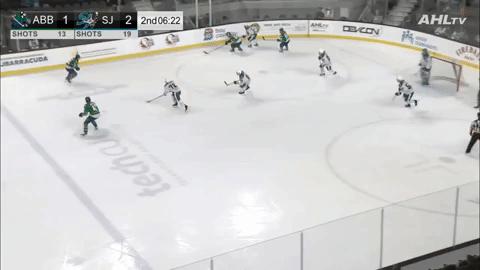 Unfortunately, Kupsky could not put weight on his left leg following the collision, requiring Arturs Silovs to step in cold and serve relief duty.
Late in the frame, Raty's footspeed left a lot to be desired when he could not skate onto a pass from Jett Woo through the neutral zone, resulting in an icing.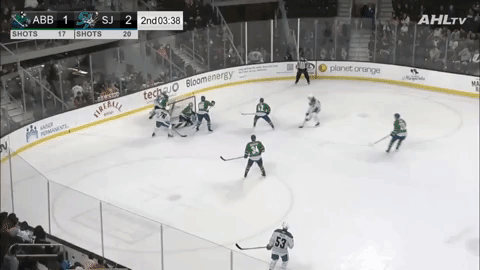 The Canucks started the final frame with a brief power play opportunity, but Raty did not feature on either unit. Granted, the first unit ate most of the time on the man advantage.
At 5v5, Raty continued to show sound positioning whenever his line had possession but looked slow and late to developing plays whenever they did not.
We're willing to give Raty some leeway as this was his debut under a new coach, new team, new linemates, and an entirely different deployment than he had with the Bridgeport Islanders. There were bound to be some kinks in his first game. Hopefully, the skating comes around.
After being soundly outshot 5-1 through the first five minutes of the period, Nils Åman breathed life into the Farm with a gorgeous backhander to tie the game.
2-2 Tie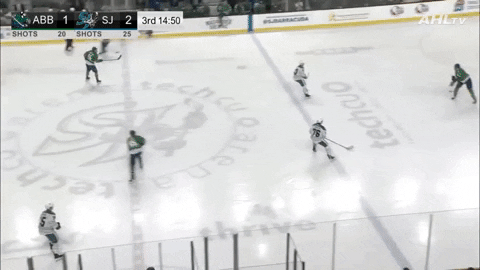 The third marked another quiet period for Raty thanks to back-to-back penalties from the Barracuda disrupting 5v5 deployment.
Fortunately, the Barracuda's lack of discipline resulted in Nils Höglander's 6th goal of the year to put Abbotsford up front!
3-2 Abbotsford
With their first lead generated in the game, the Canucks began to pour on the offence, spending three minutes inside the offensive zone at 5v5, hammering Aaron Dell with shot attempts from all angles.
Aatu Raty briefly featured in the Canucks' late push but spent the final three minutes of the game on the bench. With Dell on the bench for the extra attacker, Colliton elected to lean heavily on Chase Wouters, Vasily Podkolzin, Christian Wolanin, and Noah Juulsen for the final minutes spent defending the one-goal lead.
Raty finished the game with a single shot on goal and a negative in the 5v5 goal-differential column. Though he didn't possess the puck often, he displayed a keen eye as a distributor and a solid hockey sense with his positioning around the net, frequently outworking his checks while looking for rebounds and tips on shot attempts. The skating did not look impressive. However, the Abbotsford development program has dramatically turned around the skating of players like Danila Klimovich and Alex Kannok Leipert in short order, so there's reason to believe that this one performance won't define Raty's skating.
As for the Canucks, they did well to rally back from a rough start, going 1/3 on the power play and 3/3 on the penalty kill.
They won't have much time to rest when they return Saturday afternoon for a 2:00 PM start for the rematch.