The Preseasies (with video!): Conor Garland's goal can't cook Kraken in Canucks' third preseason loss
Photo credit:© Steven Bisig-USA TODAY Sports
For their first venture down the I5 to Kraken country, the Vancouver Canucks were riding a decent little high, despite what their 0-1-1 preseason record might tell you.
Sure, the 10-0 Calgary clobbering sucked. But pushing a McDavid, Kane, Draisaitl, Nurse, Nuge-led Oilers squad to overtime using one bona fide NHL forward line, with Quinn Hughes rotating on a pair with literally every defenceman they brought?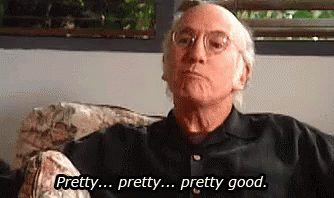 I apologize for using the same Larry David GIF I used in the last Preseasies™. But the occasion called for it!
Wednesday night reset expectations, making Thursday a fairly casual, low-stakes hockey game. The result sucked, but Canucks fans were given a glimpse at a Boeser-Miller-Di Giuseppe line, a third outing from stalwart prospects Max Sasson and Arshdeep Bains, Ian Cole and Filip Hronek on a pairing, and Thatcher Demko doing "Demko things" between the pipes.
Again, the result wasn't great, and there were quite a few warts! But that's what preseason is for! To break out the Dr. Scholl's Freeze Away and put the problems on ice before they are noticeably bad when it actually matters.
Or, at least before the club repeats their 2-3-2 preseason record from last season before starting the season with seven straight losses.
Er, sorry. Let's not dwell on last season's bad vibes and focus on this one's so-so vibes and recap Thursday night's action! Warts and all!
Starting lineup
Akito Hirose made the trip down the I5 to Seattle but did not feature in the starting lineup.
First period
The game kicked off with Thatcher Demko tested early — first, a long bomb from the point that was easily turned aside. The second shot was barely a shot but an awkward slow-roller that sat in Demko's crease until Handsome Brock Boeser could clear the crease.
The Canucks' PK was put to work less than two minutes into the period.
Christian Wolanin flubbed a breakout pass to Arshdeep Bains, gifting the Kraken an easy zone entry setup.
While attempting to disrupt the cycle, Vasily Podkolzin got dinged for tripping Seattle's Brandon Tanev along the blue line, a brutal start to the game for the young Russian.
The Canucks PK did well to disrupt the Kraken's offence, but Demko was leaned on to make a massive save on an unchecked Kailer Yamamoto from just outside of his crease.
A successful PK sometimes means not a lot of GIFs, so we'll quickly add that it was nice to see Tocchet trusting Arshdeep Bains in a 3rd-shift PK role. Bains has shown incredibly well during preseason action, playing a game with very little fat to it. He plays with a purpose, engages in battles in the dirty areas, creates openings, and rarely flubs the puck. Nice to see from a 2nd-year prospect!
The Canucks first bit of sustained time in the offensive zone came after a massive hit from Dakota Joshua on the forecheck. Heeding Rick Tocchet's advice to be more physically engaged, Joshua held off two Kraken defenders along the endboards before flubbing a centering pass to linemate Linus Karlsson. The flub led to a 2-on-2 the other way for the Kraken, prompting a stick slam from Joshua and another save by Demko.
On the ensuing faceoff, rookie Ryker Evans tested Demko with a wrister after skating for open space toward the left wing.
Evans smartly kept the play alive with a dump-in behind the net, opening space for the Kraken to attempt a dangerous set play from the slot.
Not long after, the Kraken broke the stalemate with Jacob Melanson scoring his first of the preseason.
GOAL – 1-0 Seattle – Jacob Melanson (1) from Shane Wright (1) and Devin Shore (1)
That's Vasily Podkolzin caught flatfooted by the right circle as the Canucks and Kraken battle near the left wing half wall. Seattle's Devin Shore pokes the puck just past the stick of Max Sasson to Shane Wright, who pounces for a shot attempt. Podkolzin manages to get his stick on Wright's stick after the release, but the rebound floats out to a crashing Melanson as Podkolzin can only blindly spin his body in the way before he buries it into the wide-open net.
Podkolzin played Sasson's miscue with the puck about as perfectly as you could, given how flatfooted he was to start the goal sequence and how out of position his linemates were. His body language was the real heartbreaker. The young forward has struggled all training camp and preseason to find his mojo. Unfortunately, hockey can be unforgiving, and the opening frame of his second dosage of preseason did not have time for a Podkolzin bounce-back.
Things slowed past the midway point of the period, with the most notable sequence occurring in front of Demko's crease. Noah Juulsen, looking to rebound against his horrific game against Calgary, was throwing his weight around against Tye Kartye with prejudice. Despite being levelled to his belly, Kartye nearly made it 2-zip off of a gorgeous tip on a shot from Justin Schultz that redirected the puck just wide of Demko's net.
Late in the frame, Anthony Beauvillier drew a cross-checking penalty against Jaycob Megna to give the Canucks a much-needed power play opportunity.
PP1: Garland, Miller, Boeser, Hronek, Suter
Though PP1 managed a few shot attempts, the power play mostly saw the Canucks fail to establish a meaningful cycle. They'd eventually finish the period outshot 14 to 7.
Second period
Twas a slow start to the middle frame, with the Canucks caught chasing the puck inside the Kraken's zone for much of the opening four minutes. Fortunately, that meant they weren't being hemmed in their d-zone. So, that was nice!
J.T. Miller made an excellent steal at the blue line off a lengthy shift inside the offensive zone that prompted a slick tic-tac-toe setup for Dakota Joshua in the slot, only for Joshua's shot to deflect wide off of Jamie Oleksiak's stick.
We're not going to lie. Our stream died for about three minutes. But no one scored during that time frame. So, we're confident in saying nothing important worth GIF'ing happened.
Then, something important worth GIF'ing did happen, with Conor Garland tying the game at one off a slick wrist shot.
GOAL – Vancouver Canucks – 1-1 Tie – Conor Garland (1) from Pius Suter (1)
Cut off in the GIF was an excellent play by Pius Suter to race into the offensive zone and prevent a loose puck from forcing a reset. Sute's wheels gave Vancouver a dangerous 2-on-1, with Suter then going cross-ice to Garland for the goal.
Unfortunately, the goal sequence prompted a near three-minute run of cycle pressure from Seattle inside the Canucks' d-zone. It was ugly. Demko looked great! But, oof, it was ugly!
Instead of GIFs of bad vibes, here's a GIF of Max Sasson executing a chip and chase to break up a prolonged run of Seattle cycle time (good vibes!).
The bad vibes reared in the back half of the second period, with J.T. Miller taking a lazy hooking penalty against Jacob Melanson after a decent-sized shift pressuring inside the offensive zone.
Fortunately, the Canucks' PK celebrated going 2/2 on the kill, stifling the Kraken's ability to generate anything worthwhile.
Additional generic Thatcher Demko save comment to keep David Quadrelli's attention span during editing! Editor's note: Thank you.
Anyways, a dull period of play came to a close, with Seattle outshooting Vancouver 6 to 4 despite Vancouver tying the game at one apiece.
Third period
Early in the third, Ian Cole took a holding penalty defending a rush chance from Ty Kartye that sent Vancouver to their third penalty kill of the game.
They scored.
GOAL – 2-1 Seattle – Eeli Tolvanen (1)
The power play goal sequence began with a wicked-fast end-to-end skate from Yamamoto to gain the zone, eating a hard hit from Joshua off the entry that allowed Shane Wright to rip the puck toward the slot.
Then, a calamity of errors began for the Canucks, beginning with a failed clearance by Christian Wolanin and a poke-pass from Shane Wright to Tolvanen before a stick-less Sheldon Dries slid through the slot for a failed block. Filip Hronek could only stand idly by at the side of Demko's crease, watching as Tolvanen rifled his shot over Demko's glove.
Podkolzin tried to shift momentum in the Canucks' direction with a zone entry of his own, only to be hauled to the ice by Alex Wennberg.
With five minutes left in the third period, the Canucks recorded their first shot on goal of the period, a dangerous chance from Garland.
Then, as soon as the Canucks remembered they were allowed to shoot the puck on the net, Eeli Tolvanen scored his second of the night…
GOAL – 3-1 Seattle – Eeli Tolvanen (2) from whatever, who cares
Sure enough, the Canucks were caught on a brutal line change, allowing the Kraken to draw four Canucks skaters to the left wing blue line. Demko did his best to track the Kraken's puck movement as they played tic-tac-toe toward his net on a 2-on-1, but it was simply too much east-west movement for him to keep up with.
With three minutes left, Tocchet pulled Demko for the extra attacker. Suter nearly made it a one-goal game with a redirect pass off Ryker Evans' skate.
Sadly, that was the best offence they could muster through the final 20 minutes.
With the loss, their preseason record extended to 0-2-1 through three games.
Eep!
CanucksArmy three stars
Thatcher Demko easily earns our first star for doing Demko things, absorbing an absurd volume of shot attempts from Seattle's heavy hitters. Through three periods, Demko stopped 25 of 28, with most of those shots being high-danger chances created by the Kraken's superior speed and puck movement.
Conor Garland earns our second star of the night for his game-tying goal in the second period and for being the fastest guy on the ice for Vancouver, seemingly every shift. Through the opening 40 minutes, the Canucks' only good looks came whenever Garland, Suter and Beauvillier were on the ice together. Unfortunately, they just weren't on the ice enough to
Our third star belongs to Pius Suter, who, like Garland, put in a lot of work to create scoring opportunities for the Canucks to even things out. That and his work on the PK, disrupting the Kraken cycle, made him an easy choice for the third star.