Lane Pederson recorded a first period hat-trick in a 5-4 victory Abbotsford Canucks victory last night
Last Saturday, the Abbotsford Canucks closed out a six-game homestand with a deflating 2-1 loss to the Manitoba Moose.
On Wednesday night, the Abbotsford Canucks carried on as if the loss had never happened with a 5-4 victory over the San Diego Gulls.
Sure, the power play sucked, going 1/7 on the night, the penalty kill sucked, conceding two goals over three opportunities, and Arturs Silovs provided sub-.850 goaltending for the third time in his last six starts. But, against all odds, they managed to dominate at 5v5, outscoring the Gulls 4-2 at evens, punctuated by Lane Pederson's hat-trick within the game's first 11 minutes!
Pederson has been a revelation for Abbotsford, leading the team with 17 goals scored, seven higher than second-place's Will Lockwood. His eight primary points (goals and primary assists) at 5v5 are tied with Kyle Rau for the team lead. After his four-point night in San Diego, the 25-year-old right-shot centre should earn some NHL call-up consideration from the Vancouver brass. However, it won't just be for his ridiculous points production if he does.
Since joining the Canucks, Pederson has been a mainstay on PP1 in the JT Miller spot down the left flank, a 2nd/3rd-shift penalty killer, and a featured player for Jeremy Colliton at 5v5. With Pederson on the ice, the Canucks have outscored opponents 12-9 at 5v5, the fifth-best 5v5 on-ice goal differential among Abbotsford skaters.
There is some concern that Pederson has mostly benefitted from a sky-high shooting percentage while playing on a top-tier power play in the AHL.
During his brief tenure with the Chicago Wolves, Pederson had 0 points and just 2 shots on goal. With Abbotsford, Pederson has 17 goals over 46 shots for a shooting percentage of 37%.
For perspective, Pederson's previous career-high watermark for shooting came during his third year with the Tuscon Roadrunners, where he scored 16 goals on 76 shots for a shooting percentage of 21.1%.
Pedey is currently shooting 15.9% better with Abbotsford than he did during the peak of his early AHL tenure.
Is that sustainable?
Last season, Sheldon Dries featured heavily on PP1 in the bumper spot, on the penalty kill and was a key feature for Abbotsford at 5v5. Through 54 games, Dries hit a career-high 35 goals on 143 shots for a career-high shooting percentage of 24.5%.
Among AHL skaters with more than 10 goals so far, Pederson is far and away the leader by shooting percentage. Calgary recently recalled Matthew Phillips to the NHL club after scoring 15 goals and 30 points off a shooting percentage of 27.8%
At the very least, the Canucks should give Pederson a look. Why not? Vancouver has already entered "let's try [insert fourth liner here] with the top six to try and spark some offence in them" territory, and it's not even January!
A fifth-round pick for Ethan Bear is already a fantastic value-add for the organization. Wouldn't it be something if Lane Pederson also became a value-added piece?
Perhaps the organization gives Nils Aman a run of games as the first-line centre in Abbotsford to get Pederson a brief look in Vancouver? Aman isn't waiver-eligible, after all.
In his time with Arizona and San Jose, Pederson averaged a faceoff win percentage of 46.6%, recording five points through 44 games. During the 2020-21 season, the Coyotes controlled 55.96% of shot attempts, 51.79% of high-danger shot attempts, and 54.89% of expected goals for, with Pederson on the ice at 5v5. Through 15 games with the Coyotes, Pederson held an on-ice shooting percentage of 8.97% at 5v5. Again, with Arizona.
With San Jose last season, the Sharks controlled 40.08% of shot attempts, 34.02% of high-danger shot attempts, and 38.3% of expected goals for with Pederson on the ice at 5v5. Through 29 games, Pederson held an incredibly unlucky on-ice shooting percentage of 1.89% at 5v5.
Nils Aman currently has a faceoff win percentage of 38.17%, with five points through 29 games. Aman has exceeded expectations in his rookie season, despite the underlying numbers being quite ugly. The Canucks are controlling 41.68% of shot attempts, 43.75% of high-danger shot attempts, and 41.38% of expected goals for with Aman on the ice at 5v5. Through 29 games, Aman has held an on-ice shooting percentage of 6.45% at 5v5.
There are obvious waiver considerations regarding a call-up of Lane Pederson. Still, his run of success with Abbotsford this season and Nils Aman's struggles in limited ice time begs the question if a swap benefits both player's career trajectories within the organization. Aman has one more year on his ELC and will still be waiver-exempt. Like Vasily Podkolzin, is Aman's development better off playing sheltered minutes in the NHL or playing a significant role in Abbotsford's top six on the power play, penalty kill, and 5v5?
If the answer is "sheltered minutes." Then, at the very least, Canucks fans can enjoy watching a goalscoring phenom night in and night out.
Let's get into the action!
Game 23
The Canucks and the Gulls kept this writer's GIF'ing hands busy through the first period!
On the Canucks second shift, a quick cycle around the boards led to a "one you want back" kind of tap-in goal for Lane Pederson on San Diego's Danny Mannella.
Abbotsford Canucks Goal: 1-0 Canucks
Lane Pederson from Noah Juulsen and Guillaume Brisebois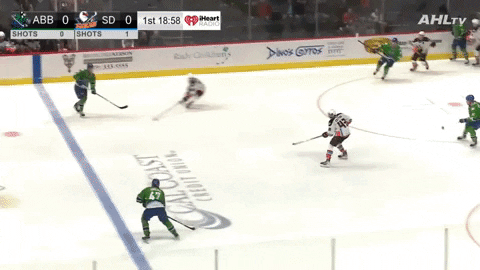 Not twenty-seven seconds later, the San Diego Gulls' leading goalscorer Rocco Grimaldi snapped a rolling shot off Arturs Silovs' blocker side to even things up at one apiece.
San Diego Gulls Goal: 1-1 Tie
Rocco Grimaldi from Danny O'Regan and Nikolas Brouillard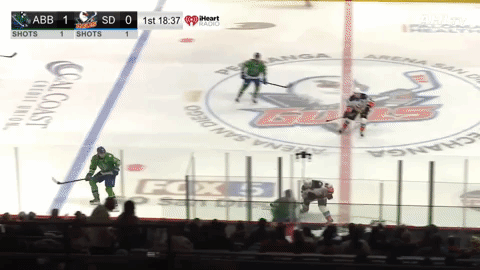 Then, not two minutes later, the Canucks did the ol' rinse-and-repeat with Noah Juulsen floating in a shot on goal from the perimeter, Mannella failing to control the rebound and Linus Karlsson and Arshdeep Bains taking turns whacking in the rebound.
Abbotsford Canucks Goal: 2-1 Canucks
Arshdeep Bains from Noah Juulsen and Linus Karlsson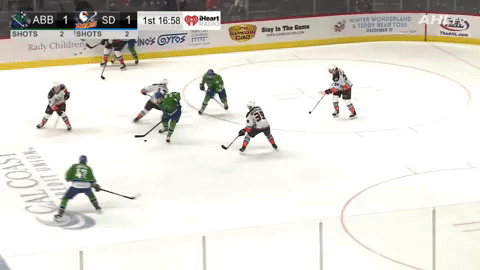 Then, less than two minutes after Bains' tiebreaker, the Canucks went full Sweet Georgia Brown on the Gulls with a perfect tic-tac-toe setup for Lane Pederson's second goal of the night and 16th of the season.
Abbotsford Canucks Goal: 3-1 Canucks
Lane Pederson from Christian Wolanin and Vasily Podkolzin
Worth noting that right before his second goal, Pederson was doing his best to prepare Arturs Silovs for "Vancouver Canucks hockey" with a very JT Miller-like giveaway inside the d-zone!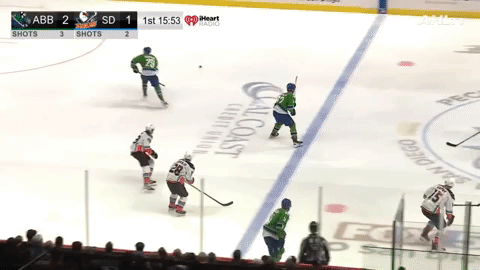 Fortunately, the Gulls failed to generate a dangerous rebound chance thanks to Silovs' perfect impression of a snow angel.
That, and an early whistle.
After conceding three goals on five shots, the Gulls elected to pull Mannella in favour of Garrett Metcalf. However, Mannella was hardly the Gulls' problem.
The Gulls' puck management inside the d-zone was disastrous, routinely coughing the puck over to Abbotsford's forecheckers and creating high-danger scoring chances. The DAWG line of Danila Klimovich, Tristen Nielsen, and Chase Wouters nearly made it a three-goal lead before the 10-minute mark off of one such forced turnover.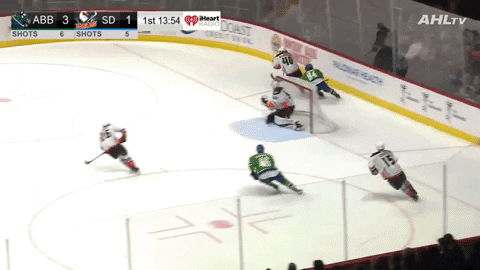 Even from inside the Canucks' d-zone, the Gulls had no response for Abbotsford's quick transition.
The Farm's second line of Phil Di Giuseppe, Vasily Podkolzin, and Lane Pederson turned a d-zone faceoff into a quick-up and shot on goal despite being outnumbered five to three inside the Gulls' zone.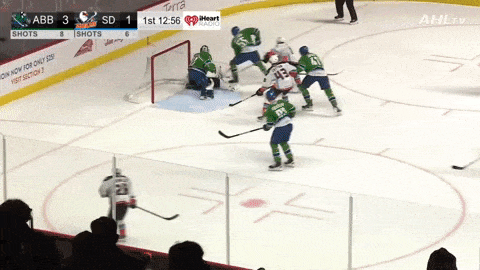 A rebound steered into the boards by Silovs was quickly turned into a breakaway scoring chance for Justin Dowling.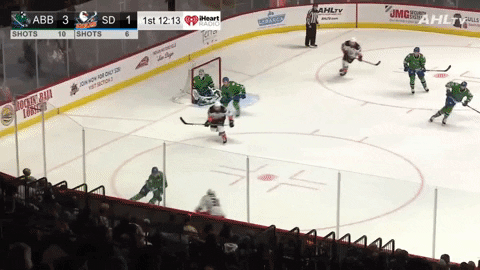 Midway through the period, Jack Rathbone put the Canucks' on the game's first power play, drawing a cross-checking minor against Benoit-Olivier Groulx. One minute onto the power play, Tristen Nielsen drew a double-minor for high-sticking against Luka Profaca to hand the Canucks' an extended two-man advantage.
Youch!
PP1: Wolanin, Di Giuseppe, Lockwood, Dowling, Pederson
With one second left on the two-man advantage, Lane Pederson zipped a pass toward the slot for Will Lockwood that was tipped quite fortunately by Nik Brouillard for the hat-trick goal.
Abbotsford Canucks Goal: 4-1 Canucks
Lane Pederson from Phil Di Giuseppe and Christian Wolanin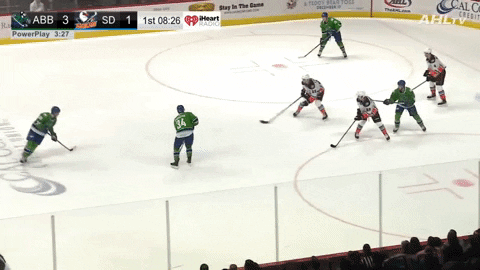 You really have to admire the shrug from Pederson on this goal.
"Yea, alright. I'll take it. I guess?"
Through four minutes of power play time, the Canucks popped off on Metcalf, registering a goal on 9 shots. Jack Rathbone nearly picked up his first point of the night with a rinkwide bank pass off the end boards for a point-blank scoring chance from Linus Karlsson.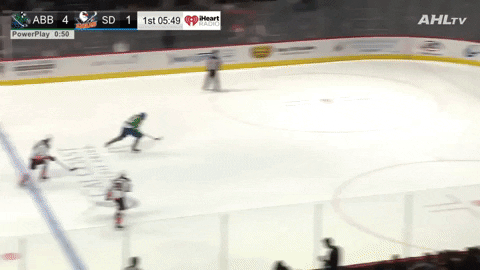 After twenty minutes, the Canucks finished the period, having outshot the Gulls 22-10.
Though the Gulls did make things interesting late with a power play tally in the final two minutes of the period.
The Gulls earned their first power play of the night off of a rather suspect roughing minor issued against Linus Karlsson.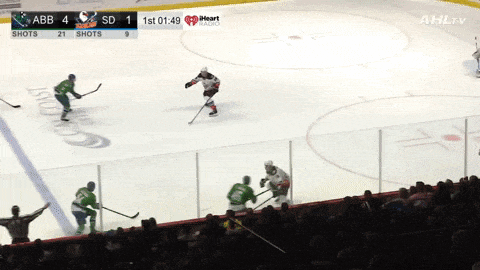 After finding himself on the receiving end of a late hit from Benoit-Olivier Groulx, Karlsson stepped up to his opponent to deliver a few cross-checks. Karlsson was assessed a minor for roughing and a 10-minute misconduct.
The Gulls managed a single shot on the man advantage but made it count, with a late deflection from David Cotton squeaking past the heavily-screened Silovs to cut the Gulls' deficit by one.
San Diego Goal: 4-2 Canucks
David Cotton from Rocco Grimaldi and Nikolas Brouillard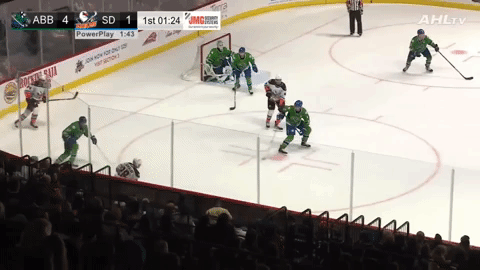 Five goals in twenty minutes!
AHL hockey, baby!
After a wild opening twenty minutes, the pace of the game slowed considerably during the second period. Both teams traded offensive zone cycles through the opening 10 minutes, but the Canucks edged their opponent in shots 5-3.
There were two key moments from the second period worth highlighting:
Lane Pederson followed his first-period hat trick with a quiet second-period, with his most notable touch being a missed pass along the endboards resulting in a comical fall to the ice.
The Gulls' pulled themselves within one with five minutes left in the period, quietly erasing the Canucks' three-goal lead on 17 shots.
San Diego Gulls Goals: 4-3 Canucks
Evan Weinger from Drew Helleson and Nikolas Brouillard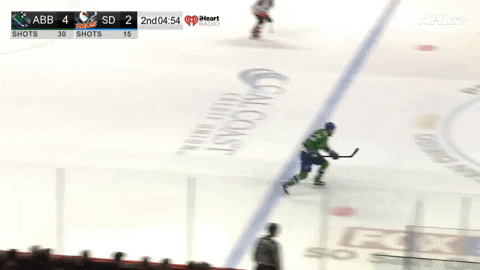 One thing we don't like to see on this goal is Christian Wolanin's lazy stick-check attempt after hitting the brakes while dropping back toward the slot. While Silovs probably should have made the glove stop on Weinger's unscreened wrister, the shot arguably should have never gotten off in the first place.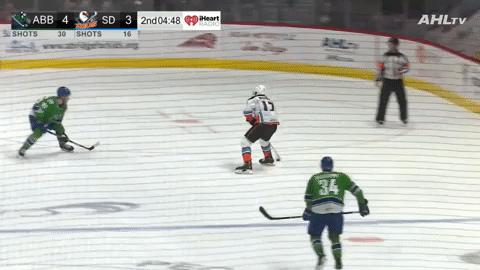 After twenty minutes, the Canucks were barely hanging onto their lead despite outshooting their opponent 32-17 after forty minutes.
After a tense opening four minutes, John Stevens' put the Canucks onto their fourth power play opportunity after drawing a trip against San Diego's Hunter Drew.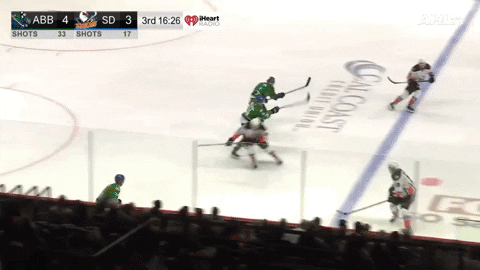 PP1: Pederson, Dowling, Nielsen, Lockwood, Wolanin
The Canucks' were quite timid during their power play opportunity, mostly electing for shots from the perimeter.
PP2: Karlsson, Di Giuseppe, Rau, Podkolzin, Rathbone
The second power play unit was aggressive on their brief opportunity, with Podkolzin, Rathbone, and Di Giuseppe connecting on a quick passing play that had the Gulls scrambling.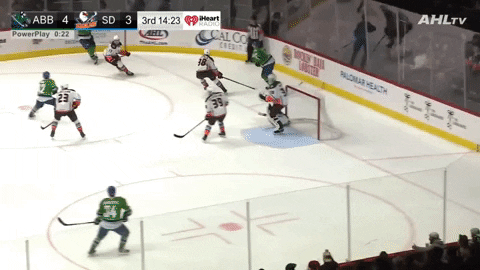 Near the midway point of the period, Hunter Drew took his second penalty of the game, with Lane Pederson drawing an interference minor off a hard check inside the neutral zone.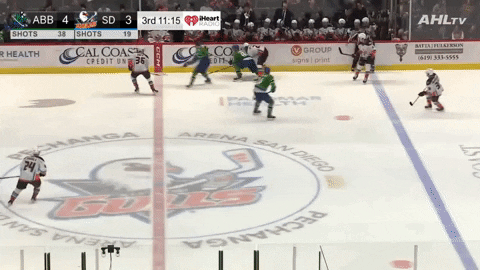 Austin Strand nearly gave the Canucks a two-goal lead by attempting to deny Tristen Nielsen of a redirect chance from the goalmouth.
On the second power play unit's opportunity, Vasily Podkolzin annihilated the puck with a slapshot off the crossbar.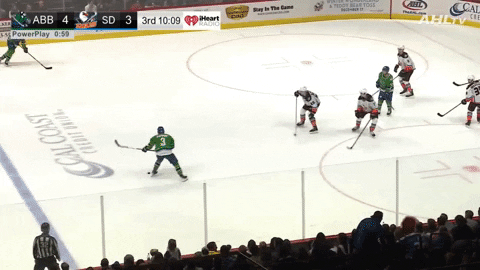 After their second power play, the Canucks had doubled up on the Gulls, outshooting them 40-19.
Moments after the expiry of Drew's penalty, Guillaume Brisebois put the Canucks back on the power play, drawing a slashing minor against Nik Brouillard after forcing the puck outside of the d-zone for Abbotsford.
The crowd was less than happy with the Brouillard penalty call and even more so after Kyle Rau drew a cross-checking minor against Austin Strand.
For the minute of 5-on-3, the Canucks could only register one shot on goal before Brouillard's penalty expired.
For the second straight power play opportunity, Podkolzin generated Abbotsford's best chance on the man advantage with a pinpoint wrister off Metcalf's pads and out to open space.
Unfortunately, Tristen Nielsen was unable to hammer the loose puck.
Though Abbotsford struggled to get it done on the power play in the third, Danila Klimovich made it happen at 5v5.
Because he isn't a feature on either power play unit, Klimovich had barely played during the third period. When he scored to regain the two-goal lead for Abbotsford, he was only on his second or third shift of the third period.
Abbotsford Canucks Goal: 5-3 Canucks
Danila Klimovich from Lane Pederson and Christian Wolanin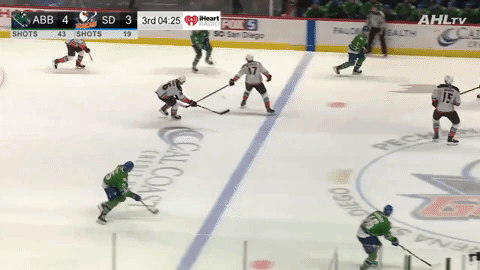 Two things we love to see about this goal: Lane Pederson threading the pass through two Gulls' skaters to Klimovich. Klimovich received the pass in stride and settled the bobbling puck with just two touches before beating Metcalf with a snap shot past his blocker side.
And the celly.
Who doesn't love a good celly?
With three minutes left, the Gulls' pulled Metcalf for the extra-attacker. Under pressure from the extra man, the Canucks' went to the penalty kill for the third time of the night, with Hunter Drew drawing a cross-checking penalty against Brady Keeper.
With ten seconds left on the PK, the Gulls' capitalized on the two-man advantage to put themselves back within one.
San Diego Gulls Goal: 5-4 Canucks
Justin Kirkland from Nikolas Brouillard and Rocco Grimaldi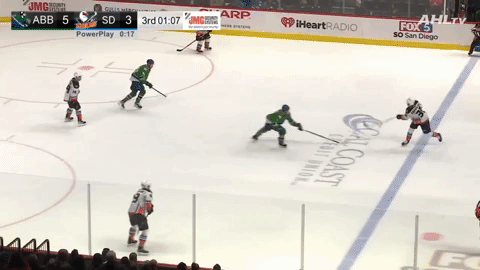 It was an unlucky goal for the Canucks, who did a tremendous job stifling the Gulls' offence. Lane Pederson nearly deflected Grimaldis' cross-ice pass out of the zone, were it not for Nik Brouillard being positioned well at the blue line to prevent the pass disruption.
Oh well. Silovs' save percentage didn't look great post-game, but the Canucks held onto their leads long enough to find themselves back in the win column!
Abbotsford Canucks defeat the San Diego Gulls 5-4
CanucksArmy's Three Stars
Lane Pederson -hat-trick and one assist
Noah Juulsen – 2 primary assists
Christian Wolanin – 1 primary assist, 2 secondary assists
Next Up on the Docket
The Farm heads over to Nevada for a double-header weekend against the Henderson Silver Knights.