Jumping to Conclusions: 3 wild takes after the Canucks' first three preseason games
Photo credit:Stephen R. Sylvanie-USA TODAY Sports
Captain America sits down on a backwards chair, facing towards you.
"So, you've lost your first three preseason games."
Let's be clear, the difference between going undefeated or winless in exhibition games rarely translates perfectly in the regular season. The process of how your team is winning and losing matters a whole lot more.
Still, there's room for concern about setting a losing precedent right away. Especially after last year, when a sluggish 2-3-2 preseason snowballed into an awful October.
Most fans won't see the Canucks' current 0-2-1 record as a problem, and that's perfectly fine. But the players and coaches involved approach every game — regardless of the stakes — expecting to win, and will certainly want answers when they don't.
It's hard to gauge what team will show up when the games count until seeing a more complete roster. We'll likely get something more closely resembling the opening night roster tomorrow when the Canucks host the Oilers.
But until then, let's jump to some conclusions.
Dakota Joshua is the new Max Lapierre
For a preseason game that Pettersson and Hughes played in, the Oilers sure paid a lot of special attention to Dakota Joshua.
After being called out by Rick Tocchet on Tuesday about needing to "pick it up", Joshua made his presence known against Edmonton right away with a big hit on Mattias Janmark.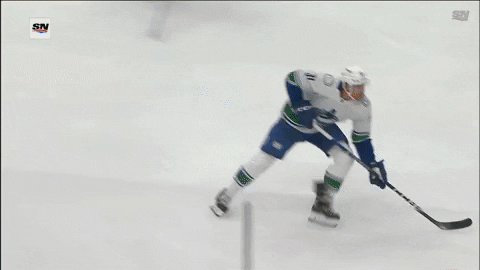 Connor McDavid got into a wrestling match with Joshua by the benches later in the first, showing some rare frustration from the league's biggest superstar. And in his first preseason game of the year too!
Darnell Nurse got involved on a couple of occasions, most notably throwing a gutless hit from behind that sent Joshua hard into the boards.
Joshua was clearly distracting the Oilers' best players for a big portion of the game, and it had a hand in such a close 2-1 contest. If Tocchet was looking for Dakota Joshua to re-earn his place on the roster again, he's gotten the message big time.
Teddy Blueger and Nils Höglander are future Selke trophy candidates
Teddy Blueger's full capabilities as a bottom six centre are a bit of a mixed bag, but his work in his own zone looks really promising.
Here he forces noted power play wizard McDavid to retreat near the blue line and his Oilers linemates to tag up and reset.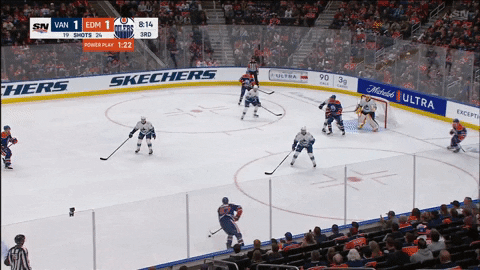 These are the kinds of plays that earns a team or player the "hard to play against" label. Are you finding paths to break up an opponent's rhythm and making them work just a bit harder to beat you?
That small step towards #97 might not have created a scoring chance the other way, but it did shave off a precious five seconds of a penalty kill.
The same thing goes for Nils Höglander, who forced a crucial turnover in the third that nearly ended up in the back of the Oilers' net.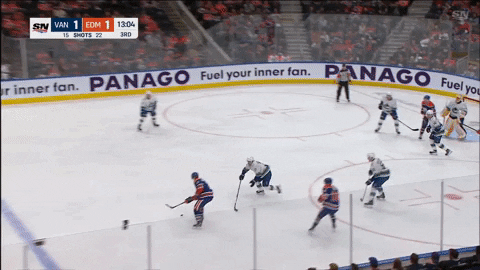 Both Blueger and Höglander are works in progress at different checkpoints. But they're each discovering their roles and what the Canucks will need from them to stay in the lineup consistently.
#LackinForMacklin
It's over. Time to blow it up and head to the golf courses, guys. (Again, we like to make jokes here.)
Putting aside the massive outlier that was the 10-0 Calgary game, the defensive effort has actually been pretty decent over the last few games. There've been a few gaffes here and there, like Eeli Tolvanen being left wide open late in the third on Thursday, or Andrei Kuzmenko missing Quinn Hughes' call to cover McDavid in overtime on Wednesday. But those are easy fixes that communication work and film sessions can fix.
On the flip side, the offence has really struggled to keep up with the forwards Edmonton and Seattle threw at them. Those teams were a lot more established than each lineup card the Canucks turned in, but the drop off was very noticeable.
One shot through half of the third period in a one goal game isn't going to cut it during the regular season, and they'll need more than just Conor Garland to play at that pace. But there will be more games to get up to that speed again.
My only real concern currently is how similar the last few games have looked to a few of the old Coyotes teams Rick Tocchet coached. Teams that held opponents to close results with routine, but also really struggled to generate a lot of offence of their own.
This Canucks squad at full strength is obviously much deeper talent-wise than most of those Arizona lineups. But Tocchet's systems there did sometimes cap the offensive skill of players like Clayton Keller in order to give the defence more help. Hopefully that won't be the case here.