Inside Danila Klimovich's resurgence as one of the Vancouver Canucks' top forward prospects
Photo credit:James Snook-USA TODAY Sports
"It's not just that [Podkolzin's] here. I'm rebuilding my mind. Yeah… and coach told me, and I thought like, 'yeah, I need to do it,' Then something turned in my head and it just happened. Yeah… and I'm now playing better."

-Danila Klimovich
In the Abbotsford Canucks' 4-3 victory over the Henderson Silver Knights, Danila Klimovich rattled off his third multi-point game at 5v5 since late November. Call Jeremy Colliton the prospect whisperer because whatever message he's preaching in Abbotsford has stuck with the Belarussian winger. The result? Klimovich is eighth in team scoring, almost exclusively at 5v5, while playing the best hockey of his pro career.
After giving up the opening goal in their Friday home game against the Henderson Silver Knights, the Abbotsford Canucks rallied back with a pair of goals. The first goal: a netfront tap-in by Arshdeep Bains off a cross-ice feed from Guillaume Brisebois. The second goal: Danila Klimovich's one-timer off an odd-man drive generated by Arshdeep Bains from inside the d-zone.
Sophomore Slump
Klmovich's sophomore campaign started about as poorly as it could get.
In a frustrating 8-2 defeat to the Ontario Reign, Klimovich featured on the second power play unit before being ejected from the game off a dangerous check from behind on T.J. Tynan.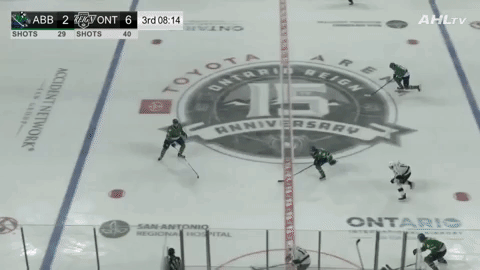 In his second game of the season, Klimovich picked up his first point, a primary assist on a power play tally from Vincent Arseneau. However, Klimovich displayed the same flat-footed, lethargic play that resulted in his healthy scratching during the Calder Cup Playoffs last season.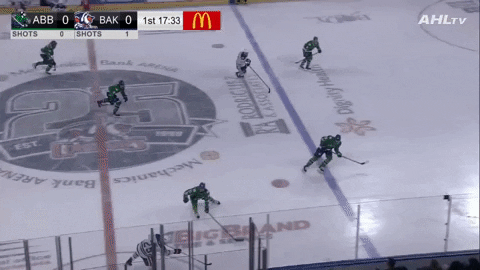 Though Klim managed three points in his first five games, his work rate was not good enough for Jeremy Colliton, and the first round of healthy scratches began. After a scratch against the San Diego Gulls at the end of October, Klim went on a massive cold streak. Frustration had clearly set in, the engagement was nonexistent, and the little details were completely absent from his game.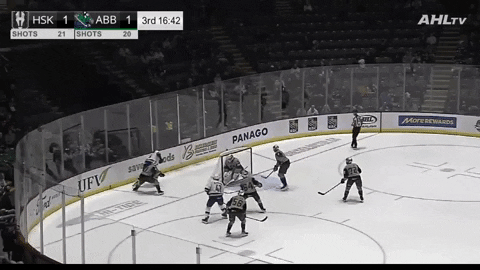 Following a 2-1 victory over the Henderson Silver Knights, Colliton was quite blunt in his assessment of Klimovich's performance.
"He's a young player who's got to earn what he's going to get, and I'm not helping him if I just throw him out there no matter what," Colliton said. "You know, it's also for the whole group. We want winning habits; we want to be willing to pay the price to move pucks forward and again to put the guys you're on the ice with in the spot to succeed."
The numbers weren't pretty through that first chunk of the season.
Through the first 15 games of the season, Klimovich scored three points in 11 games, was healthy-scratched four times, and lost his spot on the second power play unit.
In his limited ice time in a prescribed fourth-line, special teams-less role, the Canucks had been outscored three-to-one with him on the ice at 5v5.
The B-word was being thrown around, and questions of whether Klim should have been sent to the QMJHL instead flooded social media.
The comeback of the year
Then, something clicked.
We're not sure which Sedin earned the secondary assist on this career turnaround, but we would not be shocked if it was Henrik.
Paired alongside fellow struggling forwards Arshdeep Bains and John Stevens, the three immediately found chemistry in Abbotsford's 6-3 victory over the Bakersfield Condors.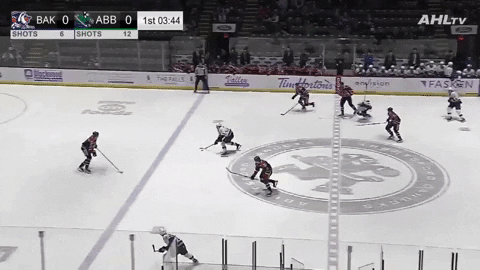 The three were aggressive off the rush, setting each other up for multiple grade-A scoring chances, and never took their foot off the gas defensively. The game marked the starting point of Klimovich's commitment to engaged, proactive play through the neutral zone; using his size, skating, and reach to deny the Condors' zone entries to spark offence for his linemates in the other direction.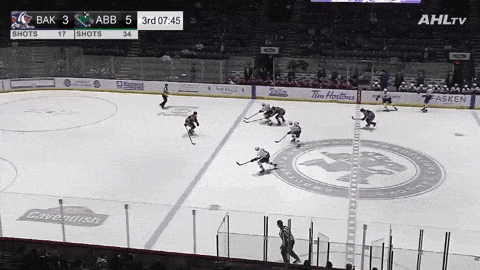 During the Farm's 7-0 thrashing of the Manitoba Moose, Klimovich showed incredible poise as the F1 (first man into the zone on the forecheck) on every shift.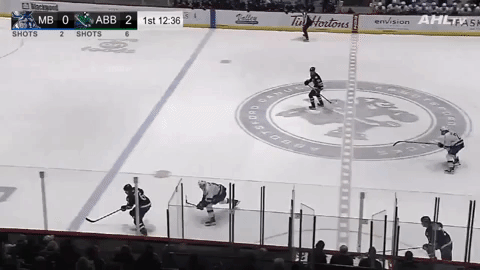 No matter who was the centre, Klimovich never shook his sense of two-way responsibility. The hard work was evident all over the ice and led to a production glow-up, unlike anything we've ever seen covering the farm team.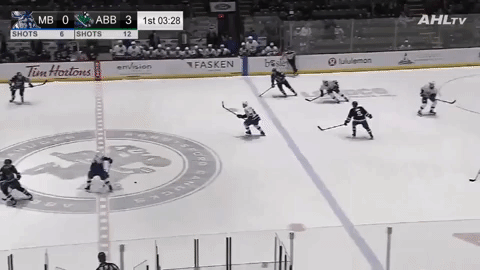 The splits are staggering.
In the 17 games since Klimovichs' career turning point, the Canucks have outscored opponents 16-5 with Klimovich on the ice at 5v5. Since November 29th, Klimovich has been in a three-way tie with Arshdeep Bains and Wyatt Kalynuk with the second-best 5v5 goal-differential on the team. Klimovich edges Bains and Kalynuk on the chart due to having been on ice for three more goals at 5v5. Klim and Bains centreman, Chase Wouters, is not far off either. Wouters sits sixth among skaters with a plus-6 goal differential.
Wouters' turnaround deserves its own praise. To start the season, the Abbotsford Canucks were crushed with Wouters on the ice at 5v5, outscored 14-3. Since joining Bains and Klimovich as their most frequent linemate, the Canucks have outscored opponents 11-5 with Wouters on the ice.
On the whole, Wouters is still dead last on the team with a negative-5 goal differential, but considering his, Bains, and Klimovich's limited ice time, it's a miraculous turnaround to improve his 5v5 metrics from negative-11 to negative-5.
Now, this trio's offence and control of 5v5 goalscoring benefit heavily from prescribed matchups. However, their chemistry, work rate, and ability to produce during those matchups are not to be dismissed.
Speaking after their 4-3 victory, Colliton remarked, "They're getting pretty good matchups. Which credit to them. They're taking advantage of it, being opportunistic, driving the net, and shooting the puck. It's nice to see them get rewarded, and hopefully, they can keep improving."
The future
In his last 16 games, Klimovich has leapt up the 5v5 scoreboards and is now second on the team. He is tied with Christian Wolanin and Phil Di Giuseppe with the second-highest primary points at 5v5 (goals and primary assists), edged only by Justin Dowling, Kyle Rau, and Lane Pederson, who all have 11 primary points at 5v5, respectively.
Only four Abbotsford skaters have three or more multi-point games at 5v5:
Christian Wolanin (4)
Kyle Rau, Lane Pederson, Arshdeep Bains, and Danila Klimovich (3)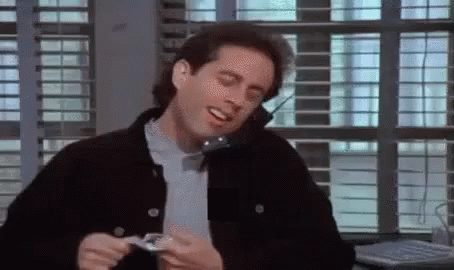 It's a bit cliche, but Bains credits his and Klimovich's impressive splits in limited minutes to confidence and playing the right way. "We're making sure that we're playing the smart way, reliable way. I think that's what's been different. I feel like we're playing in the d-zone and starting there, making plays in the neutral zone, and it's giving us scoring chances."
When asked about the line's chemistry, Bains thoroughly broke down what each guy brings to the table and why it's worked.
"I think Danila can play really good and strong. He's got the tools: he can make passes, and he can shoot the puck real hard. Chase makes real-hard plays down low, making it easy to break the puck out. He's a 200-foot player, and I think I slot in there making plays as well. I can retrieve pucks, be smart with my stick, make good plays, and I think we've all clicked together really well."
Matchups aside, the chemistry and Klimovich's improvement are not lost on Colliton.
"I think we're all happy with his progression," Colliton said. "It's a big difference from his first 10 games. You know, just his skating, putting pressure on the puck for turnovers, and when he protects the puck in the offensive zone, it's really hard to get it off him. When he keeps it, protects it, takes the puck inside, beats his check, I mean, he's dangerous."
As it was to start the season, consistency will determine Klimovich's future success.
"The challenge for him is to play well enough without the puck and defensively so that he gets that ice time. Because, when he's on the ice, and he's skating, he's skilled enough that he can make it happen," Colliton added. "He should be looking for contact; he's a big kid. Sometimes, it's just that comfort with taking contact from some of the guys in this league. But, it's got to be a part of his package, and when he does it, he's pretty effective."
Klimovich's turnaround is a ray of sunshine for a Canucks fanbase that has begun turning to the Farm for a glimmer of hope for the future. At 19 years old, Klimovich is fourth of nine U20 skaters in the AHL by points per game. After this season, Klimovich will have two years remaining on his ELC to develop under Jeremy Colliton and the Sedins' watchful eyes.
Let them cook.