In the Crease: Thatcher Demko isn't the problem for the Vancouver Canucks
Photo credit:© Anne-Marie Sorvin-USA TODAY Sports
There's a secret that very few in hockey know: goaltending isn't voodoo, it's controlled chaos.
The goaltending position is an aspect of hockey that's seemingly understood only by the people who've played it, to the point where some NHL head coaches all but ignore them in their game plans. But take it from an actual goalie, there is a method to our madness.
I've been playing goalie since I was eight years old, from minor hockey to junior college and beyond. But my passion for it began years earlier when I first noticed the Iron Man-looking guy guarding the Canucks' net as a toddler (yes, it was Dan Cloutier).
I may not have gotten close to the NHL career my younger self had planned on, but goaltending has always been a huge part of why I launched a Canucks blog in 2016 and pursued a career covering hockey. Today, it all comes full circle.
Welcome to the first-ever edition of In The Crease.
The point of this column is to help the average fan look past the win-loss record and, most importantly, past the save percentage stat to better understand how goaltending works. We'll break down topics like save selection, mechanics, how to tell the difference between good and bad goals, and plenty more.
Today we'll be focusing on Thatcher Demko's night against the Predators and load management, but if there's a goalie topic you'd like me to explain in a future edition, shoot me a tweet at
@LachInTheCrease
.
Without further ado, let's begin!
About Last Night
There's no better place for us to start than last night's game, which featured two elite netminders each coming off injuries late last season and struggling to regain their form: Thatcher Demko and Juuse Saros.
In the aftermath of the Canucks' 4-3 shootout loss, it wasn't hard to notice several fans on social media turning their frustration over another blown lead toward Demko. On the surface, it's easy to understand why; on 30 shots, Demko allowed three goals and finished with a .900 save percentage, his highest across his last three starts.
So let's look at how they all went in.
First goal: With Nashville on the power play, Demko is forced to contend with Ethan Bear screening Nino Neiderrieter's initial shot, but he still manages to centre his body to the puck. It isn't until Gross gets his stick on the shot at the last moment that the puck finds the trajectory to get over Demko's glove.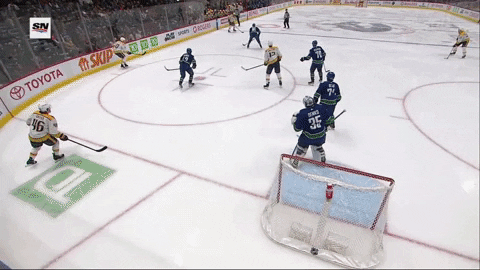 Second goal: Demko is screened by approximately four to five players, including a moving target in Tanner Jeannot, as Gross lets his shot go. With so many people in front, Demko can't track the puck down until it's already sailing near his head.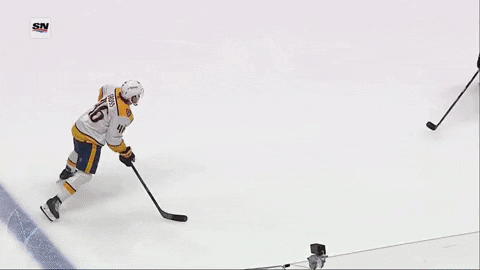 Third goal: Riley Stillman simultaneously lets his man Niederreiter walk to the front of the net and sets a pick on his own teammate. Demko seals off the post and makes the initial save on Niederreiter in close, but none of the three Canucks skaters near the crease clear out the Preds forward or the rebound. Niederreiter easily kicks the puck back to his stick and slides it underneath Demko's leg as he tries to reset.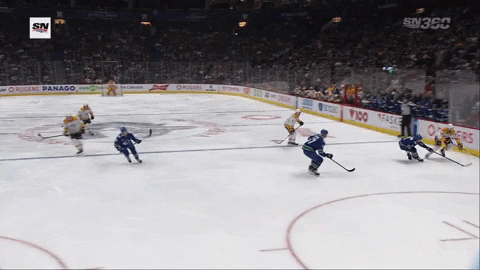 In other words, every single one of these goals was either the result of defensive errors or a perfect redirection in close. And yet, some people are convinced that Demko is the culprit for the team's struggles.
There's no doubt that Demko has not been the same elite goaltender fans have come to expect, and he's certainly lacked confidence in his game throughout this season. He's even had a few nights largely made up of goals he'd like to have back (his sole win against the Kraken comes to mind).
But to try and peg the Canucks' self-destruction last night on the goalie is absurd. It's clear that some people have gotten so used to watching Demko play Vezina-calibre hockey every night, they've forgotten what bad netminding actually looks like.
When the chips were down, Demko made the key saves he had to, including this late chance to get the Canucks to overtime in the first place.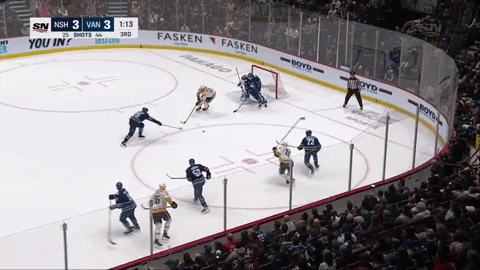 Or this stop in the dying seconds of OT, after an Elias Pettersson giveaway allowed Mikael Granlund a Grade-A chance.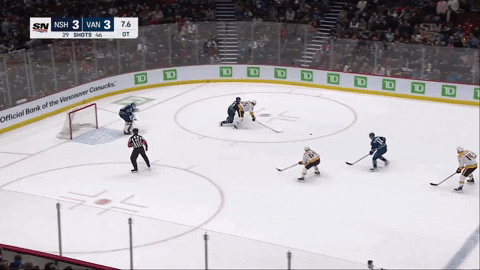 It's going to take time for Demko to find the same confidence in his game that he's reached in recent years, but there are ways for the Canucks' coaching staff to help him along. One way to do that is by managing his deployment.
Deployment
Make no mistake, there is a goalie controversy going on in Vancouver. But not the kind you're thinking of.
Spencer Martin is quickly proving doubters wrong when it comes to his abilities as a quality NHL backup. Through Martin's first three games this season, the 27-year-old has yet to lose in regulation. It might seem like a small sample size, but take a look at the bigger picture and a pattern shows up.
Since Drancer's tweet, Martin has added another win over the Ducks to improve his record to 5-0-4. And while there are certain elements to his game that are a work in progress, he's clearly capable of playing more games.
And for a struggling Demko, that's great news.
Last year the Canucks put themselves in the worst possible situation that the 'Boudreau Boost' could've led to; in their pursuit of the playoffs, the Canucks all but refused to play Jaroslav Halak and instead overplayed Demko until injuries ended his year. That lower body injury required surgery during the offseason and could be an explanation for his slow start now.
While the coaching staff might've pointed to Halak's dismal 4-7-2 record as a reason they didn't trust him to play, those numbers also largely resulted from his inconsistent ice time. While some goalies can thrive off one start every three-four weeks, the vast majority need regular games to stay sharp.
But most importantly, asking starting goalies to play upwards of 65+ games every season in today's NHL is often a recipe for disaster. As the game has gotten faster and more skilled over the last two decades, the athleticism required for goalies to keep up leaves them more susceptible to injuries as their fatigue increases.
For those reasons, it's never been more crucial to have a backup goalie capable of taking the reins as a starter. More and more teams are choosing to adopt the "1A/1B" strategy, where both goalies are given close to a 60-40 percent split of games during the regular season to keep them each fresh ahead of a potential playoff run.
The Colorado Avalanche are a perfect example of that strategy in action. After signing the often injury-prone Darcy Kuemper in 2021, the Avs minimized his workload by giving 25 starts to his backups. With more frequent rest, Kuemper was able to stay largely healthy throughout the season and the playoffs, a crucial part of the Avalanche's road to the Stanley Cup.
A minimized workload can also help a goalie rediscover their confidence by taking constant pressure off of them. With Martin playing at a strong pace right now, Bruce Boudreau would be wise to play him more regularly while giving Demko some choice matchups to rebuild his confidence.
And there's no better place to start than their upcoming Atlantic road trip, which features a healthy balance of streaking and slumping teams.
Game Tape
Not every save or goal needs its' own section. That's what Game Tape is for. Let's look at a few odds and ends.
One concern I do have with Martin's game currently is his sliding speed. When trying to slide from one side of the net to the other, Martin often requires an extra leg push that eats up valuable seconds. A few teams have attempted to exploit this, with Johnny Gaudreau being one of the successful cases.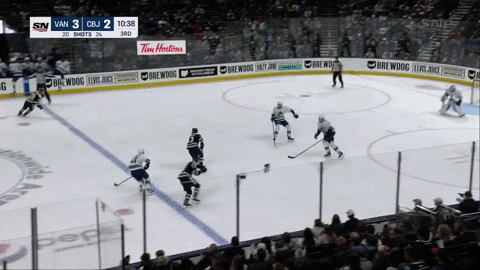 This is an easy fix for a goalie to make, it often just requires pulling your outside pad up a bit higher — in this case, Martin's right leg — to get a deeper push with your skate blade.
Demko's confidence is definitely creeping up little by little, and you can tell by his steadier glove hand. Last night against the Predators, Demko's glove smoothly tracked down this Filip Forsberg shot in the second period.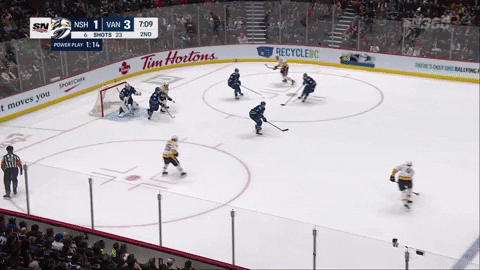 Compare that to even a few weeks ago against Seattle, when he struggled to field multiple pucks cleanly.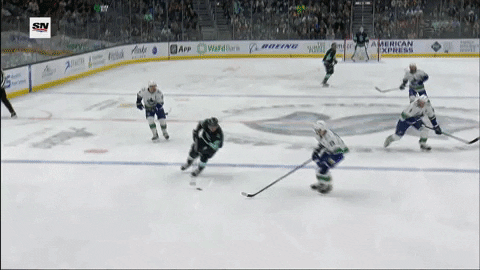 Better days are coming for Demko.
Despite a strong 32-save performance, Juuse Saros took a while to get going. On the Canucks' opening goal of the game, Ilya Mikheyev floated in a low shot that found the perfect spot on Saros; just in between the top of his pad and his outstretched glove.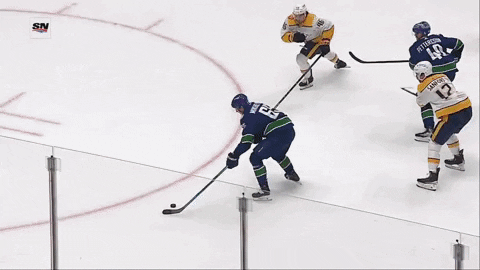 Lots of coaches will tell you that's a smart place to put the puck since it often forces the goalie to make a fast judgment call on save selection, not knowing exactly how high the puck is going. Saros bet on a higher shot and left his glove at chest level a split second too long.
Not long after, Saros made a crucial mistake on Nils Höglander's shot from the corner boards. With pressure closing in, Saros challenged the shooter a step too far out of his crease. Höglander whipped a low shot at Saros' right pad, forcing the goalie to kick the rebound right into the slot. All J.T. Miller had to do was whack it in.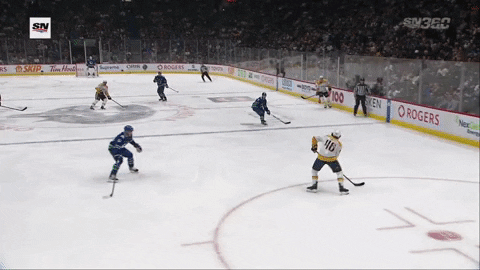 Of course, after that, Saros completely tightened up his mistakes, and was a massive reason for the Predators' comeback. His best saves all came in close on Sheldon Dries during a Canucks power play.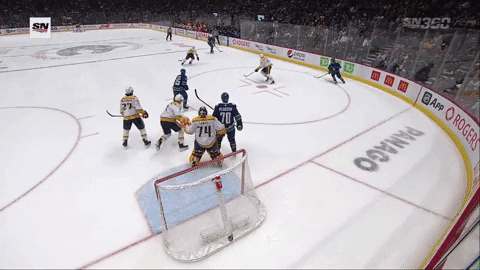 Here Saros stays low to the ice, allowing him to drop his pads and close up the five-hole faster. He also makes a perfect read on Ilya Mikheyev's centring pass, anticipating the quick deflection from Dries and getting his whole body in front of the centre's stick to swallow the rebound.
So in conclusion, Demko isn't the problem for the Canucks, but unlike in years past, he also hasn't been able to be the solution for them, either.