Breaking down Podkolzin, Rathbone, and others' impact on the Abbotsford Canucks four game win streak
Photo credit:© Bob Frid-USA TODAY Sports
It took two months, but the Abbotsford Canucks are on their first win streak of the season!
Following two back-to-back losses against the Calgary Wranglers in which they were outscored 9-4, the Abbotsford Canucks kicked off their six-game homestand with four wins over the Bakersfield Condors and the Laval Rocket.
Against the Bakersfield Condors, the Canucks dominated by a score of 10-6. Over two games, the Farm collectively outshot Bakersfield 63-34, just at 5v5!
The Canucks struggled to match that 5v5 shot dominance against the Rocket — Laval outshot the Canucks 44 to 32 — but the Farm dominated on the scoreboard by a whopping total score of 13-8!
Heading into this homestand, the Canucks desperately needed points against non-divisional opponents to make up ground in the Pacific Division playoff chase.
The Canucks' four straight have them firmly planted in fifth place by points and points percentage. The Canucks close their six-game homestand with a Saturday/Sunday doubleheader against another non-divisional opponent, the Manitoba Moose.
The Abbotsford Canucks have a pretty cushy schedule in December, playing just nine games over the next 27 days. An additional two to four points against the Meese would give them a valuable cushion in the short term before their schedule ramps up significantly in 2023.
During the first week of January, the Farm plays four games in six nights, five games over eight nights, and another four-in-six to close the month.
The points the Farm can grab now will help carry them through the new year when injuries and call-ups inevitably start to pile up.
But enough worrying about the future; let's look at the Farm's last four games and see how the Canucks' prospect group fared!
Team Stats
After their four-game win streak, the Canucks vaulted to fifth in the Pacific Division from eighth! They're rocking the seventh-best power play in the AHL while conceding the third-fewest shots per game.
If only they had the goaltending to boot, they might be further up the standings!
Despite running an efficient defensive game that concedes very few shots, their tandem of Arturs Silovs and Collin Delia have combined to provide the fourth-worst save percentage in the AHL across all situations. The Farm's tandem has allowed two or fewer goals only six times through 20 games. Over the team's current win streak, they've still given up 14 goals.
With Delia recalled to the NHL following Thatcher Demko's injury, Arturs Silovs will be thrust into the de facto starter position, with ECHL journeyman Jake Kupsky providing spot duty. Silovs provided starter duty for three of the last four and posted a combined save percentage of .843 with a 3.67 goals-against-average. A third of the way through the season, and Silovs has already started more games in the AHL than he did over the last two seasons combined.
The Abbotsford Canucks have benefitted from balanced scoring throughout their lineup. Only five skaters have yet to score a goal for Abbotsford:
Jack Rathbone, who only played his second game on Sunday after missing two games due to illness, Alex Kannok Leipert, who has been a frequent healthy scratch and spent most of his seven games played deployed in third-pairing minutes, and lastly Matt Alfaro, Quinn Schmiemann, and Marc Gatcomb who all were sent down to the ECHL on Monday morning.
The leading scorer and breakout star through this recent homestand was Christian Wolanin, who led the team with 10 points — one goal and nine assists — over four games, a 2.50 points-per-game pace!
Wolanin's Abbotsford season has been pretty wild. Wolanin recorded just three points through his first eight games, only to explode with 21 over his last 12 games!
After leading the team in overall scoring with 24 points and in 5v5 scoring with 11 points, Wolanin earned a well-deserved call-up to the Vancouver Canucks on Monday night.
The Abbotsford Canucks have feasted on power play offence but have been just okay at keeping even at 5v5, producing 40 goals while conceding 41. The Farm's veteran crop have done well to maintain positive on-ice goal differentials at 5v5, while the young/rookie crop have struggled mightily.
Wyatt Kalynuk leads the pack with a plus-six goal differential, while captain Chase Wouters ranks dead last with a negative-10 differential at 5v5.
Veteran defenceman Guillaume Brisebois held a -2 differential at 5v5 until this recent four-game win streak when the Canucks were outscored 5-0 with Brisebois on the ice at 5v5, bringing him to a -7 goal differential at 5v5.
Similarly, Brady Keeper held an even goal differential until this home stand when the Canucks were outscored six to two with Keeper on the ice at 5v5. More concernedly, of the 14 goals that have been scored with Keeper on the ice at 5v5, he has only picked up points on three. Linus Karlsson, who has been on the ice for the second-most goals against at 5v5, has at least picked up points on nine of the 12 goals scored by the Canucks with him on the ice at 5v5. Both Keeper and Brisebois missed games as healthy scratches on this homestand.
Alright, now what you came for: the quick and dirty week eight recap of the Vancouver Canucks' prospect group on this latest win streak!
Player Reviews
Vasily Podkolzin has been a very effective producer for Abbotsford during his brief tenure, but it does feel like he has more to offer. Over four games, Podkolzin has averaged slightly over two shots on goal per game, scoring an empty netter in his debut and a 5v5 goal against rookie Joe Vrbetic, who was making his AHL debut in relief of Kevin Poulin late in the third period.
Podkolzin has a clear speed advantage over his peers at this level but has looked reluctant to be a solo driver of offence, often relying on his playmaking and passing.
Podkolzin could afford to play a little more selfishly in the AHL to at least get his offensive juices flowing.
Jeremy Colliton has used Podkolzin in closeout time for all four of the last games on this homestand but has been reluctant to use Podkolzin on the penalty kill. The Farm's PK is the sixth-worst in the AHL, so hopefully, the reps will start coming for Podkolzin. Like the Vancouver Canucks, there's no excuse not to try new things on special teams to get them working.
Pros: Skating, playmaking, passing, and shot.
Cons: Does not use skating or shot nearly enough! Too unselfish for this level!
Until this homestand, when he put up three points, Woo was having an incredibly frustrating season.
Billed as a physical stay-at-home, defensive defenceman, Woo plays like an offensive defenceman who likes to pepper shots from the point with volume. Unfortunately,  Woo's volume approach has not yielded positive results over three seasons.
Since debuting in 2020-21, Woo has scored six goals on 104 shots for a shooting percentage of 5.7%. His volume approach from the point misses the net more than it scores. During his rookie campaign, Woo held the second-lowest on-net rate among all Utica Comets skaters. Of the 88 shot attempts taken, only 36.36% hit the goaltender. From AHLNucksHarvest.com's shot attempt tracking in 2021-22, Woo fared no better when his on-net percentage through 40 games ranked fifth-worst among Abbotsford skaters at 49.33%.
Over this homestand, there was a significant improvement in Woo's consistency of play. He finished the week with the best goal differential at 5v5 of all skaters at plus-four.
While the offensive production may never come, Woo is reliable in transition, able to move the puck up the ice with sharp passes and his skating. Additionally, Woo is an adept penalty killer, unafraid to block shots or engage in the necessary war of attrition around the crease.
Pros: Skating, physicality, penalty-killing reliability.
Cons: Offensive IQ and shot are just not AHL quality.
After popping off with ten points in his first seven games, Karlsson cooled off considerably with one point over his next nine. On this present homestand, Karlsson got his groove back on a line with Michael Regush and Vincent Arseneau, producing four points over four games.
Karlsson has earned the nickname "Little Things Linus" for his two-way engagement, forechecking prowess, wall work, and ability to force turnovers inside the neutral zone. Though the Canucks have been outscored 17-12 with Karlsson on the ice at 5v5, it isn't for lack of trying. Karlsson is a workhorse as the F1 on every shift.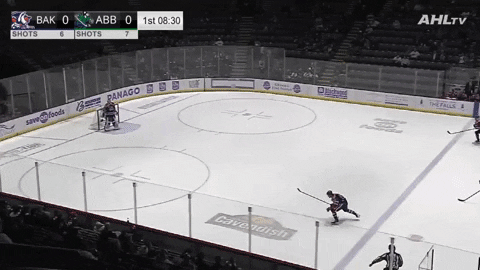 Karlsson isn't the fastest skater, but his vision and anticipation are second to none on the team. While he isn't a big player, Karlsson is strong in one-on-one battles and frequently comes away with the puck after outmuscling his opponents for possession.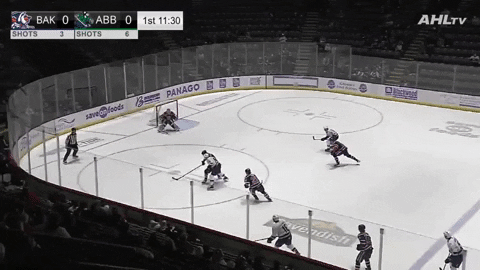 The 22-year-old Swede has shown very well on the team's penalty kill while deployed third in the forward PK-duo rotation. Though they aren't a frequent PK duo, Karlsson has displayed great chemistry with Will Lockwood whenever they rotate together.
There are reasonable concerns that, despite his work rate and details, Karlsson's footspeed won't be good enough for the NHL. However, I posit that his vision and two-way positioning could be sound enough to earn him a decent run of NHL games should Vancouver come calling.
Pros: "The little things," passing, forechecking, anticipation, penalty killing
Cons: Footspeed and first step
Like Jett Woo, Danila Klimovich has had a rough season. However, unlike Woo, Klimovich has missed a decent chunk of the season as a healthy scratch.
Klimovich has turned his season around by showing a level of two-way engagement that Canucks' fans had previously never seen before. Even though he only played three of the Farm's last four games, Klim finished in a tie with the second-highest goal differential at 5v5 (+3) but held the best involvement percentage of his peers, picking up points on three of the four goals scored.
Through the beginning of the season, Klimovich was not engaged defensively and not showing off any of the offensive creativity that popped up during his rookie campaign. Since regularly featuring as a healthy scratch, Klimovich has been moving his feet, backchecking through the neutral zone to break up odd-man rushes, and showing off his elite hands whenever possible.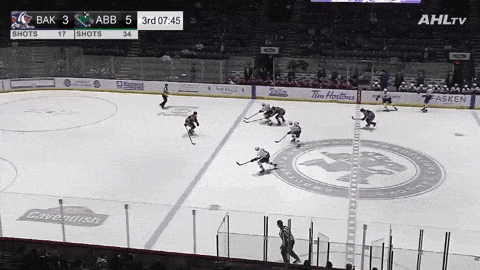 Klimovich has spent time on a line with rookie Arshdeep Bains, and the two have fed off each other tremendously over their few games together. Bains has absorbed the toe-drags and stutter-stepping offensive panache so familiar in Klimovich's game. Klim has absorbed the tenacious two-way engagement and backchecking effort so common within Bains' game.
Unfortunately, Colliton healthy scratched Bains and Klimovich during the recent homestand despite the two's budding chemistry and on-ice results.
Regardless, this recent stretch is a promising turn for the Canucks' 2nd rounder from 2021.
Pros: Hands, size, shot.
Cons: Consistency with regard to Klim's foot movement and two-way engagement.
One of the only Canucks' prospects not to have a production chart. Why? Because he's played two games and not yet found his way on the scoresheet!
On Tuesday night, Rathbone had a frustrating debut against the Bakersfield Condors when his most notable puck touch resulted in him taking a brutal hit inside the d-zone.
After making his AHL debut, Rathbone sat out the next two games with an undisclosed illness. During Sunday's game against the Laval Rocket, Rathbone recorded just one shot on goal. While he's maintained an even goal differential at 5v5, his one-man offensive show was noticeably absent through his first two games.
Pros: Passing, skating, and offensive creativity.
Cons: Still too early to tell due to illness and time off between games in the NHL and AHL debut.
Though he's had his ups and downs, Arshdeep Bains has had a really impressive and productive start to his pro career!
Through 17 games played, Bains has looked like a very raw, unpolished version of the best parts of Linus Karlsson and Danila Klimovich. Excellent forechecking pressure, two-way engagement, physicality, and disruption alongside incredibly creative playmaking inside the offensive zone, and impressive hands!
Despite the growing chemistry between him, John Stevens, and Klimovich, Bains sat out the Farm's final game against the Laval Rocket as a healthy scratch. Over the team's four-game win streak, Bains tied with the third-best goal differential (plus-three), with Abbotsford outscoring opponents 3-0 with Bains on the ice at 5v5.
There is plenty to like in Bains' game, and there is reason to believe that he will only get stronger and more confident with more games played.
Bains' blind backhand pass to Christian Wolanin to tie the game against the Bakersfield Condors on Wednesday night might be the best assist of the Farm's season.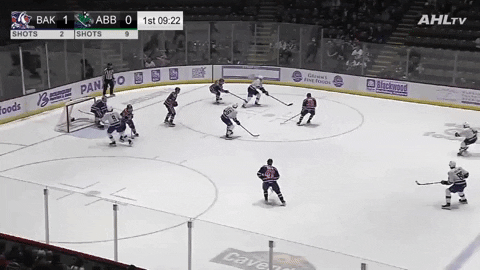 Filth! Pure filth!
Pros: Two-way game, skating, playmaking, and creativity in the offensive zone.
Cons: He really needs to shoot more. Through 17 games, Bains only has nine shots on goal.