What can I say… these guys are the best.
From sami-salo.tumblr.com

Headshots are a Canucks Army feature where we link to the day's freshest news, and other assorted Canucks web-goodies. If you've written a blogpost, produced a tribute video or birthed a clever .gif into existence – please e-mail Thom at thom.drance@gmail.com.
In case you missed it, TSN's Ray Ferraro caused a bit of a stir when he was caught mocking Dion Phaneuf when Ferraro thought he mic was turned off. Our friend, the Stanchion, gives us his breakdown of the situation. Awesome stuff here.
Amid the "controversy" of Schneider starting over Luongo against the Blackhawks, Ben Kuzma suggests instead that the Canucks are actually formulating a new strategy with their goaltending.
His colleague Ed Willes also provides his take on what the Canucks will do with Cory Schneider, or as Willes calls him, the 'best backup goalie in hockey'.
Meanwhile, Cam Cole of the Vancouver Sun weighs in on what to do with the "Cory Conundrum". Do they trade Cory now while his value is high or keep him for a grueling playoff run?
And of course, Marc Spector adds his two cents on the Schneider debate. Do you get the feeling that Spec has a new favourite? Or is it just that his Albertan teams are so dull that he'd rather write about something worth a damn this year.
Lord, it's like people think that the Luongo vs. Schneider situation is worth talking about!
GIF Break!!
Yes… this made me laugh. It's from 7uongosucks.com. Of course it is.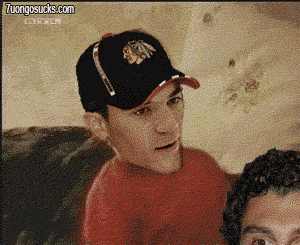 More from Ben Kuzma, as he discusses the plight of Mason Raymond and his lack of on-ice production.
And because we like hiim so much, as you should always do this, go read Jason Botchford's game review. Dynamite stuff from Botch.
Finally, CanucksArmy is proud to welcome Jeff Paterson to the fold. Jeff wrote his first post for us today. Enjoy.