The Stanchies: Pettersson's five point night and Kuzmenko's hat trick propel Canucks to victory on Bieksa night
Photo credit:© Bob Frid-USA TODAY Sports
Hey, hey, hey, uh-huh
Hey, hey, hey, let's go, yeah
When I walk in the club, all eyes on me
I'm with the party rock crew, all drinks are free We like Ciroc, we love Patron We came to party rock, everybody it's on
Shots shots shots shots shots
Shots shots shots shots shots Shots shots shots shots shots Shots, everybody
Shots shots shots shots shots
Shots shots shots shots shots Shots shots shots shots shots Shots, everybody
On a night in which Kevin Bieksa signed a one day contract to officially retire as a Vancouver Canuck, it's fitting that the home team provided an electrifying 8-5 win over the visiting Anaheim Ducks.
That kind of offensive output was a regular occurrence for many of Bieksa's prime years in Vancouver, even if an eight-goal third period is pretty much Robert Stack levels of frightening for any NHL head coach of a struggling team. Lock it down in the third? Nah, you can almost picture Drake shaking that off and pointing instead at trading blows back and forth like a Rocky film.
And if we're following that path, Elias Pettersson might have to change his name to Clubber Lang because his five-point night was the engine that powered the Canucks to this victory, which is saying something when Bo Horvat had two goals and an assist, and the Kuzmenkshow recorded a four-point night, including a hat trick.
But upon watching the game, it was Elias Pettersson putting the team on his back and being ruthlessly effective at both ends of the ice, creating chances through smart reads and highly skilled plays, that kept the Canucks offence moving forward. It's hard to remember that last year he was being questioned as a star player, but with his injuries fully behind him, he looks every inch the part of the franchise player that he is.
Even with The Point Maker Spencer Martin giving up five goals, none of it mattered on a night in which the Canucks simply refused to let John Gibson do his usual Dom Hasek routine against them. Not in front of Kevin Bieksa. Not on this night.
Now, beating the Ducks isn't something that can prove your season is going to turn around. Beating a team like Anaheim is exactly what the Canucks are supposed to be doing. If they want to make the playoffs, this is the bare minimum. You can't just show up to your job wearing nothing but a pair of pants and declare to the world that you did your part.
But after starting the season in such a Grizzlies-like fashion, there is something to be said about taking what you can get and seeing if you can pile up enough baby steps to get things going in the right direction.
Or as Mark Twain once said, "it's not the size of the DAWG in the fight, it's the size of the fight in the DAWG."
Best lowered expectations
Believe it or not, the first period of this game was quite tedious. Which should be expected from two struggling teams, both just trying to get through the game without too many people yelling at them and telling them how much they've let them down in life.
But it was the Anaheim Ducks who scored first, and yes, it was on the powerplay, something the Canucks are still trying to figure out: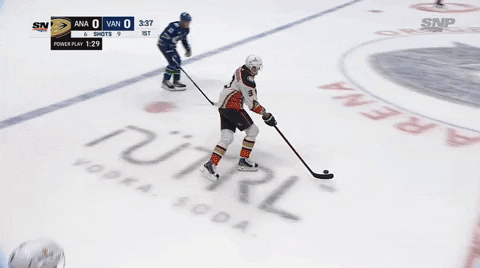 Something about having to play with one less skater is still confusing them, as they continue to have one of the league's worst penalty kills in some time.
Can I tell you why Tyler Myers does a lunging pirouette poke check, opening up a lane behind him?
He's a chaotic giraffe.
Can I tell you why Corey Stillman mysteriously backs away from Troy Terry and allows him to continue skating right in alone on Spencer Martin?
Bees.
Are either of those answers satisfactory?
Probably not, but it's breakdowns and odd reads like these that are leading to so many power play goals for the Canucks opposition.
Best know when to hold them
The Bo Horvat contract negotiations seem to reflect Vancouver's housing costs, as it feels like it's inevitable until the Canucks' captain prices himself out of this market: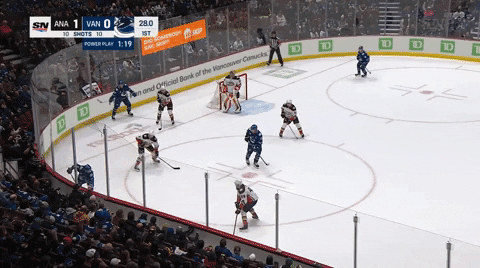 Bumpin' Bo — whether he's unleashing shots from his bumper spot, or deflecting the puck in from the slot — has been one of the most lethal Canucks on the season. I assume much like me messaging Cody every time Andrei Kuzmenko scores, that Bo's agent Pat Morris is texting Patrik Allvin after every new Horvat goal. At this point, all I can think of is wondering what emoji face he's sending to Patrik to end his messages, and I think I've settled on the purple devil face.
Hey, you know what's helpful for the Canucks?
Having a non-injured Quinn Hughes back in the lineup.
Best starting the second strong
To the Canucks' credit, they tried to push the pace in the second period, and actually looked like they wanted to score, unlike the first period in which it felt like you were watching Matthew Perry attempt to be a romantic lead with Salma Hayek.
What does this translate to in gifs?
It means a lot of Elias Pettersson doing his absolute best Kyle Wellwood impersonations to set up linemates who refuse to score for him:
EP40 waits as long as is humanly possible before sending that pass over to give as much time and net as he can to Ilya Mikheyev, but John Gibson was still doing his "elite goaltender against Vancouver" shtick at this point.
The Canucks were also crashing the net trying to generate scoring chances, where Hot Wheelz once again couldn't find a way to beat John Gibson: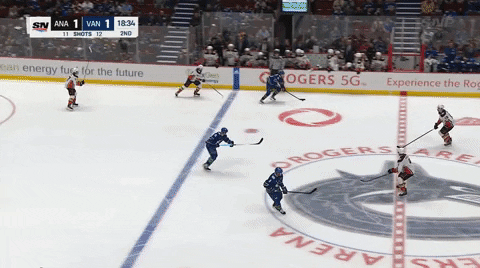 All of which led to…
Hey, when you watch your Reinhardt charge off the map time and time again, sometimes you just have to move the cart yourself: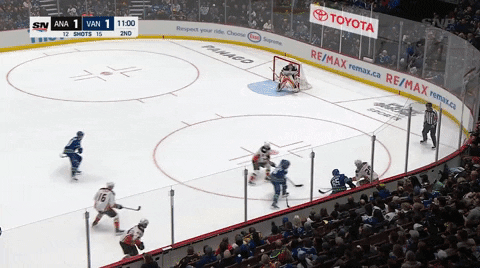 When I play hockey and I make a pass that doesn't get intercepted when someone is closing in on me, I tell myself "good job old chap, you've done it again!"
I get a post game beer and avail my teammates with stories about that time I didn't crack under pressure and I managed to push the puck away from myself and not directly pass it to the other team.
So I am unsure of where to start to understand how Elias Pettersson has the time and skill to grab the puck, bop it to his feet, kick it back to his stick, then rifle this puck home.
For Coach Boudreau, it was all about positioning.
"That was all body position. He got it the good body position and the great hands because there wasn't much room to make that play and there wasn't much room to put the puck in the net. But he seems to have that innate ability to find those small areas and sees the ice so well."
Pretty good for someone "too small to play in the NHL", I guess.
That's simply an elite level of scoring that not many have and is reason number 328 why he is an alien sent from another planet to set up what will eventually be a Space Jam-like scenario for hockey.
Like, Ilya Mikheyev blind shovels that puck in EP40's general direction, and the best part is, that is absolutely the right play to make.
You can keep cycling the puck to create room, OR, you can just blindly throw the puck at Petey and watch him do his dekes.
Easy choice.
Best keeping the price tag down
Just for posterity's sake, there was a point in which the outcome of the game was in question, and John Gibson was still making big saves for some reason:
Horvat was denied, but it's kind of soothing to watch another team struggle to break the puck out of their own zone and have it countered down their throat. It's not just a Vancouver thing.
Again, I have to remind you, the Canucks have not been very good this season, so often times I prepare gifs of some nice scoring chances assuming that will be the highlight of the night for everyone.
"The Canucks lost 8-1 to the Hawt Dawgz in ASHL action, but did you see this nice shot on net from Kuzmenko?"
So there was a time in which Kuzmenko doing fun things on the ice was potentially our highlight of the night.
You want to see The Kuzmenkshow steal Conor Garland's spinning gimmick? Of course you do: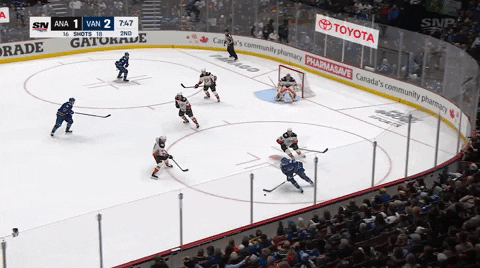 He didn't even get a shot on net, but hey, he was spinning, and at one point that might have been the best thing on the night.
One thing to note on these clips, however, is how the chemistry between EP40 and Kuzmenko is continuing to grow. There is something to be said about skilled players seeing the ice in a way that others cannot. They see open ice and where the puck should go in optimal conditions, like here, where EP flips a backhander to Kuzmenko, who then spins, as is tradition, and finds Quinn Hughes at not the greatest angle if we're being honest, but still manages to hit the post: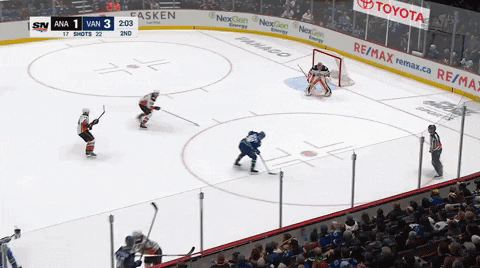 And since I'm assuming EP40 wanted Kuzmenko to know the pain of setting someone up for what should be a sure goal, he shoots the puck right into John Gibson's pads on this high-danger chance:
I think this was a very big Nelson Muntz moment for Kuzmenko who got to experience what it's like to suffer through that. It's what spurred on his hat trick, if we're being honest.
JT Miller didn't curse once in this game, which felt a bit odd, but he did cash in on this nice pass from Bo Horvat: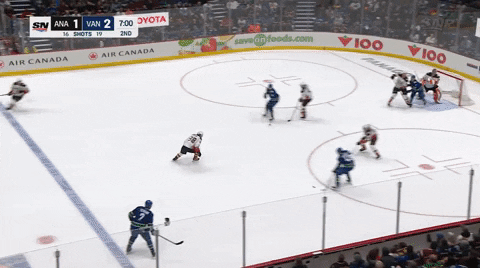 What emoji did Pat Morris send Allvin after that great pass from Bo? Clearly the halo emoji.
I've long maintained that JT Miller is a secret agent of chaos, a partner in crime with Tyler Myers if you will, because no matter what happens he will get a bunch of points on the season. Whether he is playing great or playing poorly, somehow he always finds the score sheet.
He now finds himself with 10 points through 11 games because this is what chaos does. JT Miller could light his stick on fire and score two goals next game and I wouldn't even blink an eye.
At this point in the game, the Ducks had two high-danger chances, so I wanted to highlight one of them: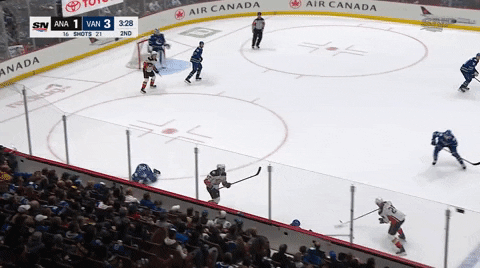 So high.
So dangerous.
The Ducks ended the game with five high-danger scoring chances, as the Canucks did a good job of keeping the Ducks away from their goalie.
Despite the fact 5 goals were scored.
Look, Spencer Martin produces points, nobody asks how he got them. Just that he gets them.
I made the rookie mistake of assuming the period was done, but Vancouver excels at giving up goals early or late in periods, so of course Anaheim scores on what looked to be a very stoppable shot: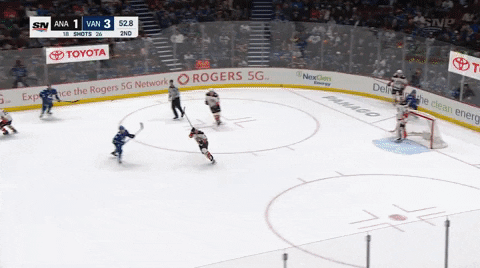 When you look like Kevin Woodley in net, then something has clearly gone wrong. Spencer Martin gives up an awful lot of net to shoot at, and even Felix Potvin was wondering if it was too much.
Can I answer why three Canucks players fold in on Troy Terry on this play?
Bees.
Best here come the sad stats
This feels like the punchline for the "Doctor, my hand hurts every time I do this" "Well stop doing that, then!" joke.
Best surely it won't come to this
Best franchise alien stud
If Elias Pettersson was on the Great British Bake Off, he would win pastry week every time. Look at this soft buttery pass that has absolutely no soggy bottom at all: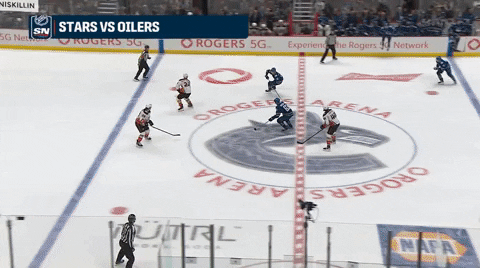 Worth every single calorie.
I will say that if you play with EP40, just shoot the puck. I don't know why Mikheyev holds and goes wide with the puck, but I do appreciate the Hank Sedin attempt to make Gibson look foolish by almost finding EP40 for the easy tap-in.
Best squeezing the juice out
Dakota Joshua earns every inch of this goal by driving in hard on the forecheck, making a pass off of his back, then getting back up to smash in the rebound: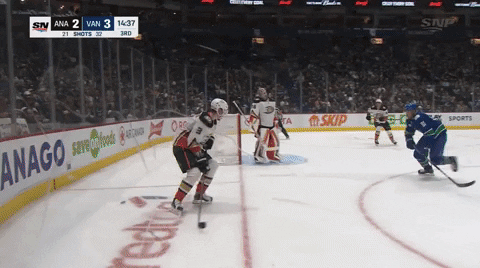 That's greasier than a 2-for-1 Teen Burger sale.
The Ducks would challenge this for goaltender interference, and I was honestly shocked they didn't get the call. Studnicka drives into the crease pretty hard and without any Duck player guiding him, turns Gibson around in the net by running into his arm.
But this is the NHL, where the rules don't matter and are arbitrarily assigned after consulting with a magic 8-ball, so I assume it simply said "ask again later" and they just didn't have the patience to wait it out.
That effort level on that goal alone should rocket Dakota's DAWG rating up.
There is something to be said about being a smart guy who knows where to go on the ice: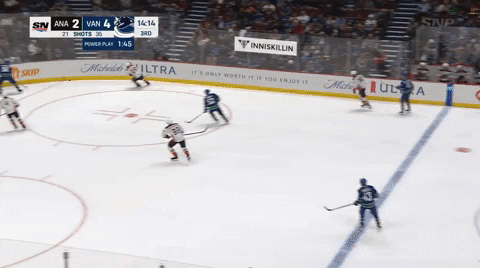 As Jay always screams at me in Overwatch 2, it's all about flanking and line of sight now, so give Kuzmenko credit for leaning into his inner Sombra and magically appearing behind enemy lines, hacking their goaltender.
The best part is Elias Pettersson makes one of the best passes of the season here, in which I feel like it was a bank shot all along from Petey. That's a Trent Klatt special right there where you just put your stick on the ice and let the Sedins do their thing.
And this is without me getting into EP40 showing off the patience of Cameron Poe trying to get home to his daughter by outwaiting Kulikov and the microsecond Kulikov opens his legs to get back up, Pettersson has fired the puck through his legs and found a wide open Kuzmenkshow.
I feel like Kuzmenko is Patrick Stewart from Extras this season.
"I'm riding my bike in the park, and this policewoman says "Oi! You can't ride your bike on the grass!" and I go "Oh no?" And her uniform falls off, and she goes "Ahh!" and she's trying to cover up, but I've seen everything anyway. And I get on my bike and I ride off."
By the time he scores, he's seen everything anyway.
The Canucks won't blow this game, come on.
Safe to say this was not a banner night for Riley Stillman, who my fever-addled brain really wants to call Cory: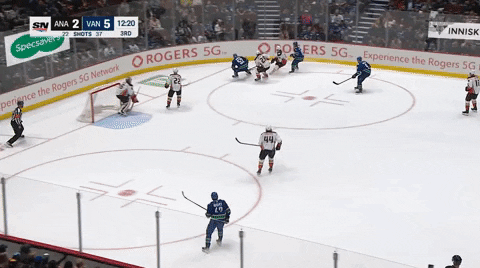 Stillman doubles down on this play by one, making an ill-timed aggressive pinch, and two, going all in on a lunging poke check like he's President James Marshall defiantly kicking people off of his plane.
Give Max Comtois credit, he cuts around Quinn Hughes nicely to tuck this puck in, but something tells me Stillman isn't going to enjoy breaking down the video with the coaching staff tomorrow.
Also, after a game in which Stillman got burned pretty badly on several goals, it's going to bring up the questions of Run Home Jack. When does Rathbone get back into the lineup? Now I know when a team starts off this poorly, re-arranging the furniture in a burning building seems like a lost cause. But it does beg the question, do the Canucks value Jack Rathbone if he can't get back into the lineup if the guy in line in front of him has a night like this?
Best showcasing that hockey IQ
Honestly, half of the clips from this game are just me muttering to myself "you smart son of a bitch" as Elias Pettersson did something cool.
My favourite thing about EP is he always puts himself in the area to make a play on the puck. A lot of people might shoot out of the zone, or take their eyes off the play, but with EP, he's always circling around like the vulture that he is.
A perfect example of this is here, where he tracks the puck along the boards, which allows him to then be in position to make a play to get by the Duck defender and gets off a nice shot as a result: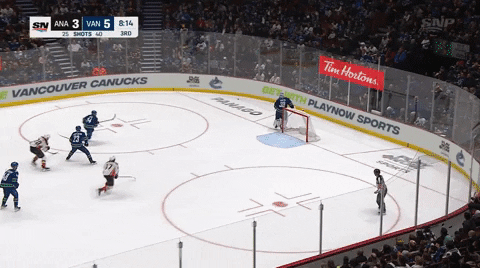 He makes that look so incredibly easy.
If Elias Pettersson was floating on a piece of a door from the Titanic, he would have found room on it for Jack as well.
That's all I'm saying.
With Moe Tilden screaming in my ears, I honestly wondered if the Canucks were going to blow another one.
It had the perfect recipe for it.
Multi-goal lead? Check.
Penalty kill giving up a late goal? Check.
Vancouver Canucks hockey not letting you have nice things? Check.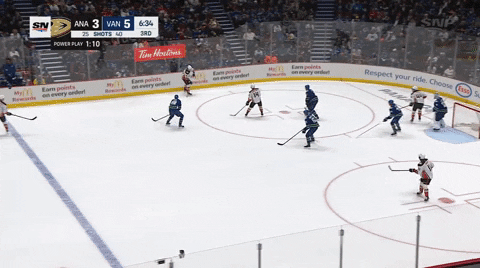 That's a lucky shot that goes through roughly 49 guys before finding the back of the net, but this is Vancouver, so all of a sudden that shot feels like the most planned-out, well-executed goal of all time. Exactly how they wrote it up.
Best grinding Cody's gears
Luckily for Vancouver, The Kuzmenkshow wasn't going to let Kevin Bieksa down.
Oh you like shots from the point going in, Anaheim?
Well so does Kuz: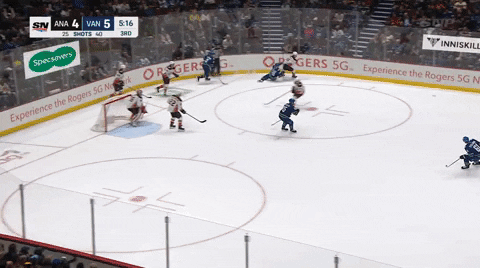 When a Chaos Giraffe rips a shot from the point, all eyes are on him. For all they know, the Chaos Giraffe could tumble to the ground and give up a breakaway, just as much as he might get a shot off.
Knowing this, Kuzmenko casually walks into the slot and oh look at that, wouldn't you know it, tips the puck in past Gibson.
And if the tip was casual, the celebration was anything but. If we know one thing about The Kuzmenkshow, we know he loves scoring in big moments, as he unleashed some Sparta energy on this celly: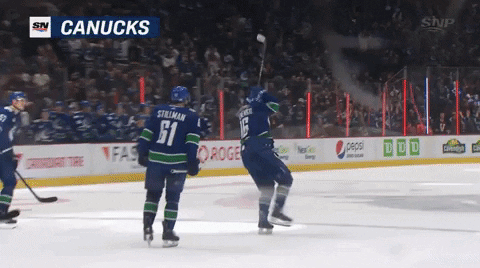 He snaps an invisible stick and then drops a Lyoto Machida leg kick all in one motion, then finishes it off with the Bo Horvat fist punch before allowing himself to be cuddled.
The key to this celebration, according to Luke Schenn, is that it isn't pre-planned chicanery, it's just pure raw Kuzmenko emotion.
"He's a celebration King that guy. He gets pretty fired up and the thing I like about it too is it's not like a pre-planned thing, it's just pure emotion and spur of the moment so I mean, he's obviously got a lot of energy as you guys can see. And, you know, that emotion obviously wears off on guys and, and so happy for him to get his first career hat trick. I mean, guys play a long time and never get one in their career. And for him to get out of the gates like that. It's pretty special and, you know, helps our team but obviously, it's going to only build his confidence going forward."
Best filling out the scoresheet
Elias Pettersson, stop me if you've heard this one before, makes this goal happen.
How you ask?
At this point EP40 is haunting the dreams of every single Ducks player, so when they see him rev up behind his own net like an oddly sentient Plymouth Fury, they panic and try to shut him down: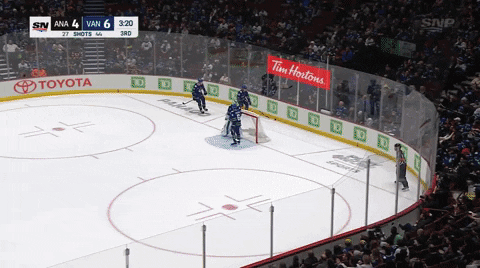 Three Ducks converge on Elias, who then finds Kuzmenko, who doesn't need a lot of time and space to get his shot off. That's what the good players do, they create with very little.
Count Boudreau as one of the people who felt EP40 was an offensive juggernaut on the night.
"I mean, almost every time he was on the ice, there was an opportunity that he made a play or he was the recipient of a play in an offensive situation."
If the Kuzemnko and EP chemistry is the real deal, and if the Canucks need to find cap space to fix their defence, I will say that this does bring up the interesting question of if the Canucks now view Brock Boeser as a tradeable asset.
Again, this is very early days as Love Island always tells us, but at the next re-coupling, I am intrigued to see where things go.
Because this is Vancouver, the Ducks of course had to score another goal just so people could have another round of "No wait, they couldn't possibly blow this game, right?"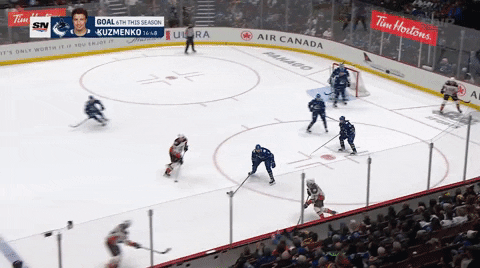 After getting caught chasing the puck in their zone, Luke Schenn's attempt at murdering Max Jones in the crease simply creates a corpse for Nathan Beaulieu to bank the puck in off of, giving the Ducks their fifth and final goal.
After the game, Schenn confirmed that yes, trading chances wasn't the optimal strategy.
"I don't think we should try to, you know, repeat that recipe — exchanging chances and stuff like that in the third period and giving up some goals, but at the end of the day, it's a win and feels good, but I mean, we definitely got to continue to work on our defensive play to lock things down."
Best Pat Morris emoji update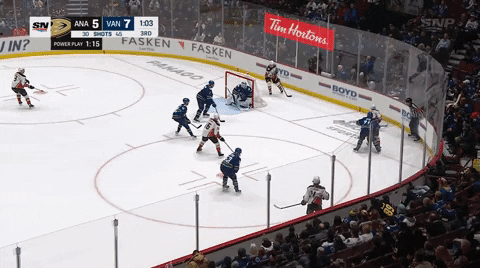 They don't ask how it went in, they just ask how many, right Pat?
Kudos to Sportsnet by the way for the dramatic camera angle chance and random zooming in of the puck on the empty net goal. Full on Michael Bay style right there.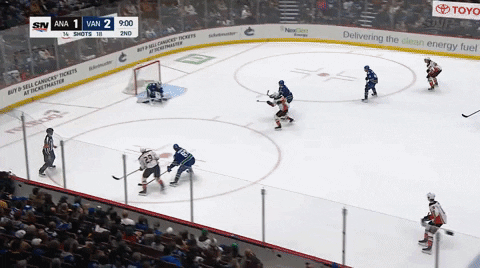 In true Wentworth tradition, Elias Pettersson maintains his Bea Smith status as the top DAWG for the Canucks, which should come as no shock after reading and watching what he did in this game.
The top DAWGs were:
Elias Pettersson – 115.85
Nils Aman – 85.76
Dakota Joshua – 80.56
Jason Studnicka – 79.86
EP's rating is self-explanatory, and the DAS Sound Machine line got the majority of their DAWG rating on the goal they scored.
Mid-range DAWGS were:
Luke Schenn – 69.69 (nice)
Ethan Bear – 65.10
Andrei Kuzmenko – 64.18
Bottom end DAWGs were:
Sheldon Dries – 25.00
Oliver Ekman-Larsson – 24.31
Tanner Pearson – 23.00
Ilya Mikheyev – 22.00
Sheldon Dries is doing spot duty, so he's most likely just trying to make the safe plays out there. Oliver Ekman-Larsson, whose skating has been under the spotlight all season, had another rough night, despite telling Patrick Johnston that
he never felt better physically
. Tanner Pearson's rough season continues as we're seeing less of the smart board work of last year and more of the "hey should I take a penalty here? Yeah, I'll just take a penalty here." strategies he's employing this year.
And Mikheyev, I'm just not sure his game will ever be a DAWG-based game. He's got that Mason Raymond in him, he has the high-end speed, but I'm not sure it lends itself to finding the DAWG in ones self.
The ugly DAWG was:
Riley Stillman – -3.57
I didn't hit the dash button twice there, that's indeed a negative ranking. Riley's DAWG rating was so poor that his DAWG was completely outside of him.
Again, his reads just felt off all night. Here is another example of him being overly aggressive, and pushing hard to the right side of the ice and as a result, he gives up his side of the ice and can't get back in time to prevent the scoring chance: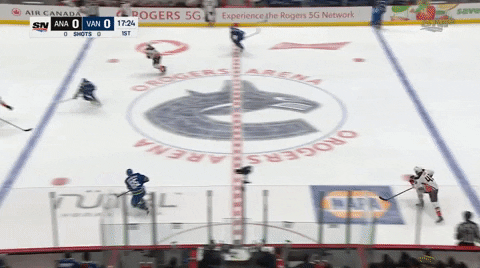 It was not a great night for Cory Riley.
Who amongst us hasn't hit the emote button in a game at an inopportune time and had no way of cancelling it?
One of the main things this season has been the lack of puck support on zone exits, so I do want to hand out credit to the Canucks for tightening that up this game. Which tends to be easier when it's not New Jersey smashing the turbo button all night long.
A good example of this is this zone exit in which four Canucks are in close proximity of each other and each time there is a puck battle, a Canuck player is within feet of the action to give a controlled outlet pass: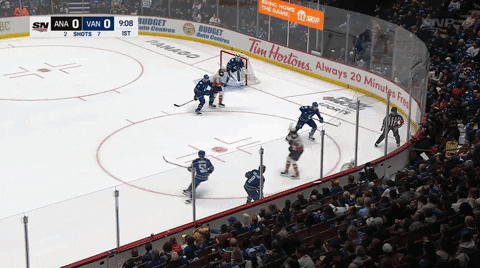 This is the most CG57 thing of the night for me: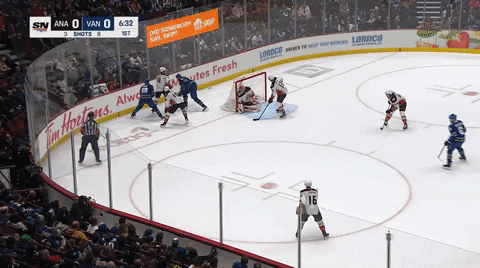 Not only does he land the biggest hit of the night, but he then ends up face-planting himself on the glass for good measure. Just total chaos.
Even better? The Budweiser Beer vendor's reaction to the huge hit: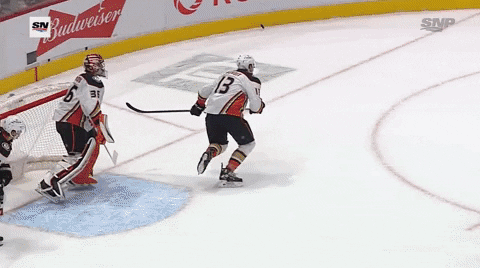 Buddy is out here clapping on his beer tray, that's the good stuff.
Best fight for your right to party
It wouldn't have been a proper Bieksa night without at least one fight: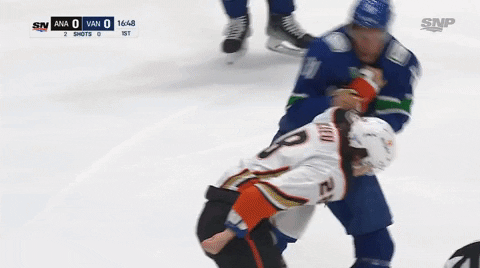 When asked about channelling his inner Bieksa after the game, Dakota gave him a shoutout.
"Yeah, a little energy boost. Shout out to Bieksa, I hope he watched that one," said Joshua with a smile. "Just a good way to get the crowd into it and get the boys going early."
Boom Boom Bieksa jersey, oh baby!
Bang Bang Bartowski jersey, oh baby!
Canucks Legend Mats Sundin is always an automatic inclusion in the Stanchies.
Never forget 2016. The year where Tryamkin was truly a highlight of the season. That's how bleak things were.
Burn it.
Burn it with fire.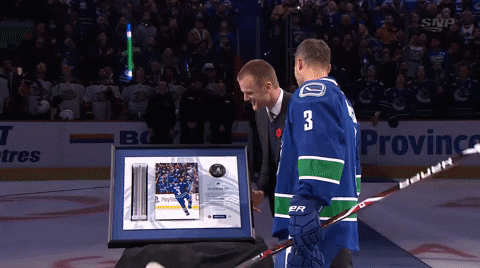 The Canucks have their ups and downs, but give them full credit for nailing this gift to Kevin Bieksa.
The stanchion goal is part of Canucks lore now, and as Bieksa will tell you, is the most famous goal in Canucks history (give or take a dragon slaying goal).
The fact they held onto the stanchion, and then gave a part of it to Bieksa, is honestly perfect.
Move over Gary Roberts, Kevin Bieksa might be moving in on your territory if Luke Schenn has anything to say about it.
"[He's in] better shape than most of us in here. I mean, yeah, he's crazy. I would like to get his workout plan and his routine, or whatever he's doing. It seems to be working and might have to take his advice. You know, for the old retirement down the road to make sure you keep it tight like that."
Not to take away from The Point Maker Spencer Martin's night, but Kevin Bieksa signing a one day contract to retire a Vancouver Canuck was the biggest news of the day.
I know some people aren't fans of players signing one day contracts to retire with a chosen team, but those people are objectively wrong and you should feel bad if you're one of them.
Look into the eyes of Quinn Hughes and see the happiness shining through as he talks to Bieksa, and tell me this wasn't a fantastic idea. Normally Quinn Hughes looks like he's buried in student loan debt and just failed a midterm, but here he is, smiling away, basking under the learning tree that is Kevin Bieksa.
And honestly, it would be a miscarriage of justice if Bieksa didn't retire a Vancouver Canuck, because this guy was one of the greatest heart and soul players that this city has ever seen. With the culture of the current Canucks team coming under fire over the last several years, Kevin Bieksa stands as a bastion of a time in which team culture was the driving force of a Stanley Cup run.
Clearly, winning tends to paint everything in a positive light, so it's easy to say that the 2011 core is a prime example of locker room accountability. But with the staggering amounts of personality on that team, it says something that they never got derailed by any antics. From the stoic professionalism of the Sedins, to the heel tactics of Kesler and Burrows, to the saddest eyes in hockey in Dan Hamhuis, to the goofy laid-back nature of Kevin Bieksa, they managed to come together as a team and make their differences in personalities work to their advantage.
Not that Bieksa wasn't above antics, mind you. He was in fact the king of antics, a man who looked like he had as much fun off the ice, as he did on it. Not everyone can handle the Vancouver market, but Bieksa not only knew how to handle it, he thrived in it.
One of my first memories of working the Canucks locker room was heading in after a loss, and Kevin Bieksa was standing there, holding court. Ed Willes asked a question and Bieksa pushed back on it. They then began a back-and-forth that felt like sparring, the kind of terse conversation your divorced parents have when they talk about having to sell the house.  As I watched this unfold, all I could think of was "If I don't have the right question to ask Bieksa, I am a dead man." As the questions ended, Bieksa smiled and laughed and headed to the back, and it was then that I realized that Bieksa was just playing the media game at a higher level than most.
In fact, you could probably put Bieksa's antics resume up against anyone in the league and you'd be hard-pressed to find someone who could beat him.
Where do we begin?
I could go on and on but I do want to focus on a couple of things to close this section out.
One, for all the laughs and jokes Kevin had ("Casual" Kevin for those that remember), he had an inner fire hotter than anyone on the team. He would go to bat for any teammate, and would throw down to defend anyone. When games got competitive, he never shied away from battle, and was always one of the first players to embrace tough, hard hockey games. That balance between having fun, and rage quitting games by throwing his controller through the TV, was a staple of his hockey career.
Now, he has an impressive list of fights on his dance card, but for me, the best fight I saw was in the 2011 playoffs. Patrick Marleau, trying to spark his team, threw down with Bieksa, and Kevin beat him liked he owed him money. The Canucks bench was amped, you could see how jacked they were. The Sharks? Well, they looked like Dad just told them he was starting a new career as a keytar musician and they had to pretend they still respected him.
I know the debate of the role of fights in hockey is a murky one, but I will say if there was ever evidence to be used that a fight could give a team momentum, I would use this fight as an example.
Another thing I want to point out is how it's far easier to master the Vancouver market than anyone realizes. You can either go the Sedin route and say nothing offensive ever, and just answer every single question politely. Or you can go the Bieksa route which is to do everything with a bit of a wink and a nod. He knew he could blend being serious with sassiness and self-awareness, which is the key to conquering Vancouver.
Remember Roberto Luongo? He was standoffish and had an acrimonious relationship with the media in Vancouver for years, until the Strombone Twitter account was exposed. All of a sudden the power of the wink and nod, the "Hey I know we all have a job here, and that sports can be very serious stuff, but like, I shit my pants during a game once, lol.", elevated Luongo to God-like status in this market. With one tweet, Luongo could deflate a scathing article being written about his play. Why write 2,000 words on how poorly he played when he just tweets out a picture of him letting in a breakaway goal and claiming he "almost had it.", and the fans laugh and embrace him. That's the kind of thing Bieksa did his entire career, that ability to deflate and deflect with jokes and winks.
If you want a master class in how to run a scrum in Vancouver, watch this video:
If I'm the Canucks I show that video to all players who join the team to show them how you can handle the press in this market. You can blend serious answers, but can also push back if you think people are trying to direct you to a narrative. You can hold your ground and still have some laughs. Honestly, if you've ever been in a scrum, you know that a player saying anything even remotely funny is met with some of the loudest Thomas Drance-esque booming laughs you'll ever hear in your life. There's something about the mundane nature of post-game scrums that lends itself to reporters laughing like hyenas if they even think you made a funny.
I would also be remiss if I didn't showcase the stanchion goal.
This is a goal that will always be tied into my career because my Twitter account started off as a parody account of the infamous stanchion. It quickly got me more followers than it deserved and I was able to platform that into a career in sports writing, something that still seems surreal to this day.
Clearly Kevin didn't score this goal just to help me out, but you know what, maybe he did?
Either way, who else but Bieksa would have one of the weirdest ways to send a team to the Stanley Cup Finals?
And finally, perhaps the most important thing of Bieksa's career, has been the work he has done being an advocate for mental health. After the tragic passing of Rick Rypien, Bieksa's work to shine a light on mental health struggles, and to try and let people know about resources available to them, is one of the strongest legacies he left behind in Vancouver.
So to come full circle, to anyone sitting there asking themselves "Why is a player signing a one day contract to retire a Canuck?", the answer is simple: Kevin Bieksa always was and always will be, a Vancouver Canuck.
To retire with any other team just wouldn't make any sense.