The Stanchies: JT Miller calls Canucks "immature" in 5-1 loss to the Florida Panthers
Photo credit:© Bob Frid-USA TODAY Sports
Coming off of the most serious Stanchies of the season, I was tempted to lean into the most zany Stanchies of the year, filled with joke upon joke upon joke.
For example, what do you call a can opener that doesn't work? A can't opener!
Hey Quads, did you hear about the Italian chef who died? He pasta-way!
What kind of tea is hardest to swallow? REALITY.
And here's the reality. The Florida Panthers just kicked the ever-loving crap out of the Vancouver Canucks to the tune of Sweet Child of Mine. With Axl Rose wailing in the background, the Panthers put up five goals to the Canucks' one goal, and the most concerning part about this game wasn't the result. No, no, it was the fact that I — like so many of you — am becoming kind of used to it.
I'm not even fazed by this any longer. It's like getting stuck in traffic when it snows in Vancouver. You just accept the chaos and try and tweet out sad funny thoughts to try and get you through the next four hours.
Instead of wondering if this was bad luck, just a random one-off, or if Thomas Drance jinxed the team again, I am now just starting to accept the fact that this is life with the 2022/23 Vancouver Canucks.
Is the team tired after playing four games in six nights? Probably.
Does that excuse the fact that they had zero pushback and once again showed a complete lack of structure in their defensive game? Probably not.
And boy, if you thought four games in six nights was rough, I have bad news for you, because soon it's going to be seven games in twelve nights. If this team is serious about being a playoff team, they are going to have to find a way to play much better than they did on Thursday night.
For those who want to save time, here is a short summary of how the day went for the Vancouver Canucks:
People had a huge debate over Roberto Luongo's number being retired vs. being put in the Ring of Honour
Thatcher Demko got injured late in the first period and did not return.
The Canucks let in around 57 goals in under two minutes at the end of the first period (give or take a goal).
The Buffalo Bills won against the New England Patriots and I had to stop watching that game to cover this one, so I am a little miffed.
The amount of time it took you to read this intro was how much time it took on average for JT Miller to back check on a shift.
My buddies want to play DMZ in Warzone but I'm still going to write way too much about a horrible game because I have issues my therapist hasn't helped resolve yet.
So in the infamous words of Pete Campbell, not great, Bob!
For the rest of you sickos who ride or die with this team and follow along with The Stanchies through thick and thin, let's dive into the gifs, shall we?
I respect you sticking around for this, but you know there's something wrong with you, right?
Best those were the days my friend
I'm going to pull back the curtain on The Stanchies and let you in on a secret. Sometimes I actually think I am in store for a fun game, so I grab some early tweets and look to see if it becomes a thing. This is how the Chaos Giraffe was born.
So a small but powerful line being formed for the first time? To quote Mr. 305, Mr. International himself, I love that.
When the team goes on to lay an egg and ruin any chance of creating gif money off of a new concept?
I'm off that.
Now here's a really underrated catchy song to help carry you through the rest of this. It speaks to 2011.
Best deep diving for a Bear
"Ethan Bear has been the Canucks' best defenceman at preventing the opposition from recovering pucks, and it isn't particularly close,"
Cam Charron wrote
recently. And yes, you guessed it, I prepped this under the hopes of watching a good game with plenty of opportunities to showcase exactly what my fellow Legion of Blog member Cam wrote about.
Then, well.
*waves hand around*
Cam is much smarter than me, and his analysis is spot on. Whereas I go "THAT'S WHAT SALO USED TO DO" Cam will be all "Using a blend of body positioning and keen eye awareness, Ethan Bear body blocks his foe and is able to quickly turn the puck and find his teammate for the controlled zone exit."
To which I say, that's exactly what Salo used to do, so we're both right.
And Cam is correct, Ethan is very good at not letting his size get in the way of making a smart defensive play. He does this by being aware of his surroundings and using angles and body positioning to make smart efficient plays. A good opposite of this is Riley Stillman smashing the puck furiously down the centre of the ice because reasons. Bees? Bees.
Here is a good example of Ethan Bear tracking a dump in and then making a quick cut to intercept the puck before it slides around to a Panther: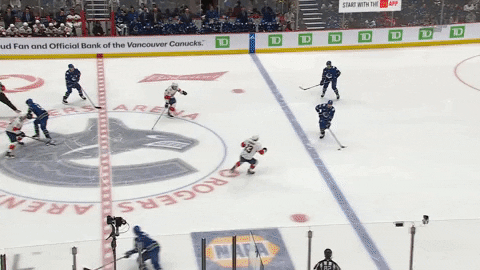 He then takes an extra stride or two to gain control, find an outlet, and gets the puck around the boards to someone not dressed in orange and white, which was a nice change of pace, to be honest.
Another example of his smart play is on this dump in where he offers support to Oliver Ekman-Larsson and is able to snake the puck when the two players lock up. He then skates behind the net before spinning and finessing a pass to the boards for the zone exit: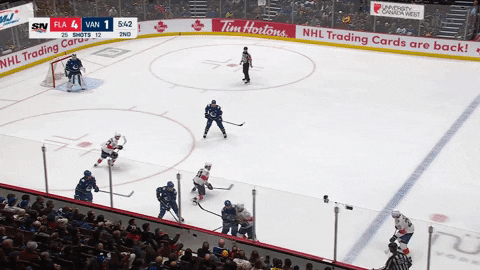 This is legitimately one of the best highlights of the game. I tried to warn you.
Best getting back to business
The game started out as they often do, with the Canucks giving up multiple high-danger scoring chances to make sure their goaltender knows what they're in store for. I'm still trying to work out the end game of this strategy, but the point remains that the Canucks once again had to rely on timely saves: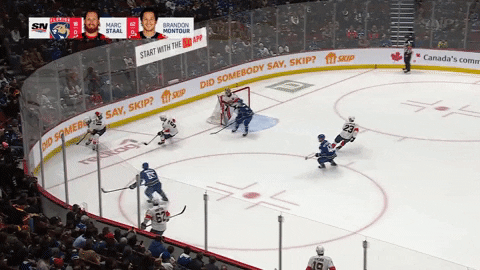 Luke Schenn gets beaten when he can't bat down the no-look backhand hail mary pass from Keith Tkachuk's son, but Demko is there to deny it like that family member on your Facebook page ranting about climate change not being real.
Mere moments later, the Panthers, perhaps sensing weakness, tried to lob it in behind the Canucks, and it almost worked again: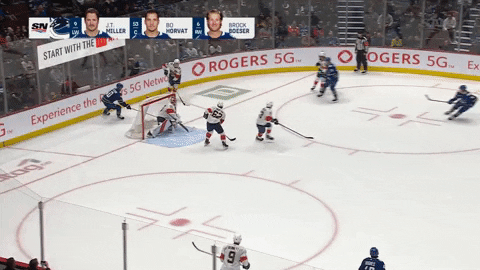 The play was whistled offside, but it was a solid indicator of how the night was going to go.
With the Canucks on the power play after Radko Gudas attempted an illegal act with a hockey stick, the bad JT Miller showed up to work and clocked in:
You know this JT, right? The one that makes a pass where even if you analyze it a hundred times you still have no idea what the optimal outcome was going to be? At best it gets intercepted and sent down the ice, at worst it's a breakaway goal against. Like, what are we doing here JT?
These are the passes where I just envision Miller going full Austin Powers at the poker table and proclaiming his love of living dangerously while making passes right to the opposition.
Best example of a good pass
Best rare example of proactive hockey
Before the game was lost, there were a few moments where the Canucks did some plays that felt good! You watched them and didn't feel like someone played a cruel joke on you and forced you into a fandom that would do nothing but chip away at your soul, mirroring your experience at post-secondary education.
Here Andrei Kuzmenko sees the puck go around the boards and skates hard at Anton Lundell and instead of engaging him, cuts quickly to the boards to intercept the outlet play: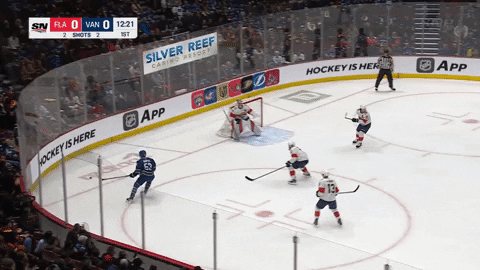 I get it, it's probably sad that these are the things I am clinging to as high points of the game for Vancouver. But when you watch the Panthers do an entire game of these small things — or little things for all 36 of you Loui Eriksson fans out there — you start to wistfully ponder what it might look like if Vancouver attempted to do these things all the time.
Best sign of things to come
The Canucks relied on Demko going full bubble mode and to his credit, he did his best to keep the Canucks in the game.
As usual, it felt a lot of the chances against the Canucks came off of counterattack rushes after a failed foray into the offensive zone: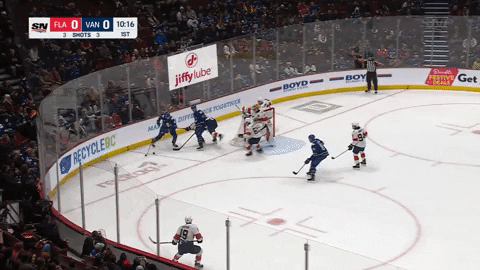 The Canucks try and create offence, the moment's too big, they've never faced real athletes before, and before you know it Brandon Montour is shooting his shot like Zack asking Kelly to prom.
The Panthers then almost got a tap in after the Canucks failed to get the puck out of the zone, and before you know it, Eetu Luostarinen shoots his shot like AC asking Jessie to prom: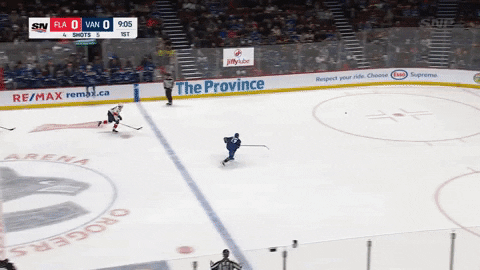 If you notice a lack of offensive highlights from the Canucks so far, then congratulations, you've cracked the case.
Best felt cute, might delete later
A 360 no-scope shot block is pretty tantalizing, and sure, cute as well, why not: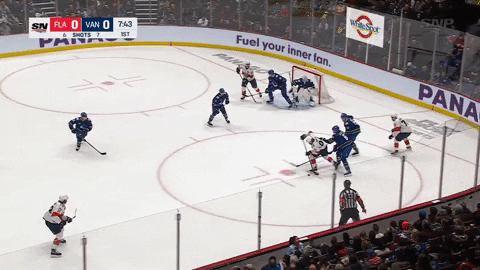 There was a giant debate about whether the Canucks were trying but were just too gassed, or were broken mentally by the upcoming three goals, and I honestly can't think of a more depressing debate.
Well, aside from Auld vs Cloutier.
We've had some dark times in this city.
Best here comes the cursing
Ironically the one nice JT Miller dangle of the game was whistled dead after Brock Boeser swept the leg and put a Panther in a body bag:
Brock gives the universal shrug of "what did I do?" but you can tell his heart wasn't into it. That was more of a Flinstone "it's a living!" sort of acceptance more than anything.
On the ensuing power play Riley Stillman collected the puck, wound up, and fired the puck off the glass and out RIGHT UP THE MIDDLE OF THE ICE: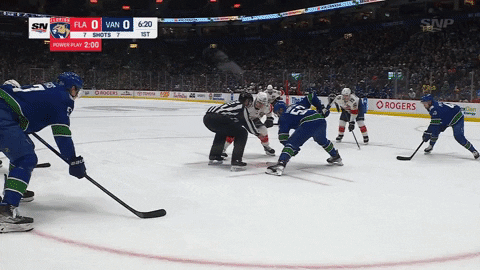 I honestly don't quite know what to make of Riley Stillman. He has now played 12 games for the Canucks, and I could not for the life of me make an argument as to why he should be in the lineup over Kyle Burroughs.
He doesn't hit, he doesn't really fight, he doesn't pass, he doesn't score, and he offers up token resistance at the best of times. He honestly seems as lost as Keith Ballard did when Alain Vigneault melted his brain and made him question everything about himself as a player. Quite simply, he looks lost out there.
Sometimes you watch a player try to make a play and it fails, but you can still see what the general idea behind it was. Like when Screech asked Lisa to the prom, it seemed crazy at the time, but you understood the core concept of it.
There is zero reason to try and slap that puck through multiple bodies down the ice when you have all the time in the world to knock it off the glass and out. That, in fact, should be his bread and butter. Oscar Fantenberg had a delightful 36-game stint in Vancouver utilizing that very technique. It is a technique I use all the time in beer league.
Someone trying to check me? Off the glass and out.
My legs are feeling a bit heavy? Off the glass and out.
I think someone might be looking in my direction? Off the glass and out.
It's a tried and true go-to move for us bottom-of-the-roster players.
If you look at Stillman's underlying stats, it doesn't paint a pretty picture. His career average of Corsi is 41.5. Puck possession just does not seem to be his bag, baby.
So then you have to ask, what are the little things he brings? Whatever they are, it feels like Kyle Burroughs brings all of them and more.
I just find it odd that Bruce Boudreau can come out here and cut an Iron Sheik promo about Burroughs being nothing more than a 7th d-man, yet Riley Stillman isn't talked about the same way.
It's strange, bubba.
Best enigma wrapped in a riddle
The legend of JT Miller continues. This is the part where he will straight up give the puck directly to the opponent on one play, then turn around and do a dipsy-doodle Sedin-like give and go on the next: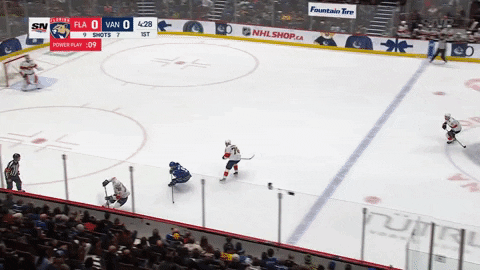 It's like dating someone who will spontaneously go white water rafting at the drop of a hat but then complain about not being given enough time to get ready to go to Canadian Tire.
Best here comes the rain again
The mighty fall of Carthage occurred in the last two minutes of the first period.
Scipio Africanus led the charge and took first blood when Josh Mahura wearing the stolen number of Claude Giroux makes a nice pass to Keith's son, who fools Demko with a change of pace and finds the net with a solid backhander: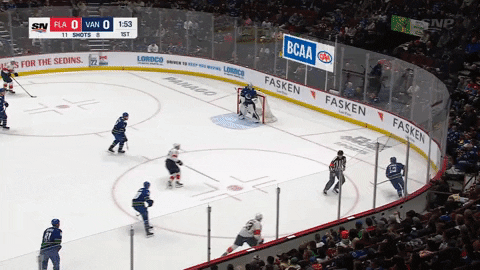 The main failure on this play occurs when Quinn Hughes is getting harassed in the corner so he feeds it quickly to Luke Schenn who also has someone on top of him, so he throws it to where Shoulder Check Safety King Dakota Joshua normally would be. Alas, his stick was broken so he was circling in his own zone pondering trying to get into UBC by applying to Forestry, and before you know it, the Panthers are up 1-0.
The Panthers then made it 2-0 mere seconds later when Gustav Forsling was left with so much space it was like he was taking the Skytrain at midnight: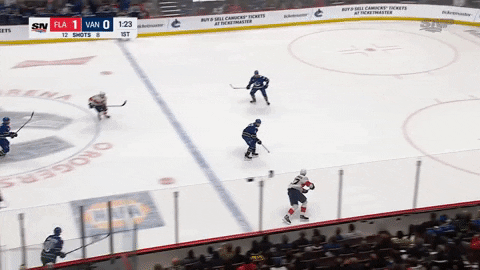 You'll notice in the clip that the Canucks are playing neither man-to-man nor zone defence, but instead are utilizing a hybrid version in which nothing is being defended. File this one under bold moves, Cotton. For some reason, all three forwards sort of clump together and watch how things are going to play out, which is how Forsling ends up with so much time to unleash his rocket.
If we rewind a few seconds earlier, we will see how Brock Boeser tries to make a pinch at the blueline that fails, which leads to the Panthers taking the puck and setting up shop at the other end: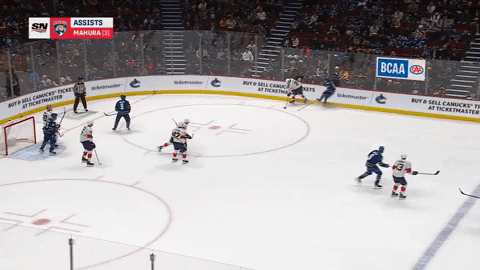 The last two games have felt like a constant stream of these lost puck battles and mistimed plays, all of which either end in goals or extended time in their own end. It honestly feels like you're watching failed attempts from Magica De Spell to capture the number one dime, minus the whimsy and Beagle Boys.
The game didn't officially end until two periods later, but by all intents and purposes, the Panthers' third goal iced this game: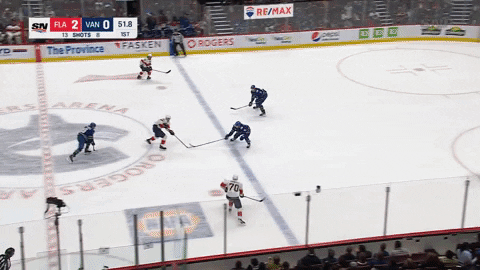 Not only did it see the end of Thatcher Demko's night, but it felt like the Canucks had nothing left to give after the three quick goals.
Now I'm no doctor, but I have watched an awful lot of House, so I can comfortably say Thatcher Demko either has lupus or he has a lower-body injury: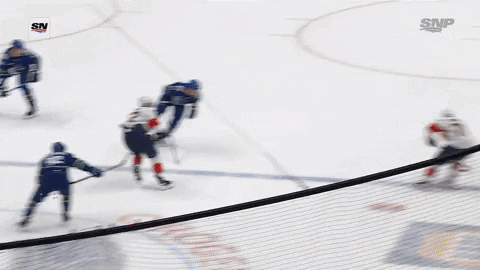 With the way Demko left the ice, unable to put much weight on his right leg, it feels like we might be looking at an extended look at the Spencer Martin era coming up.
As for the Canucks, after the game, JT Miller talked about how immaturity seems to be at play when the team falls to the canvas and never beats the 10 count.
"Immaturity…we weren't having our best period, there's three minutes to go, to get it into the house and reset. and [we] give up three consecutive goals on shifts back to back to back…We don't show enough maturity as a group."
It feels like he's veering dangerously close to hot dog suit trying to find the guy who did this territory, but if the label they want to put on it is group immaturity, so be it.
I was more concerned by his assessment of the offensive chances of his team, on a night in which they had five high-danger chances compared to Florida's 16:
"We had tons of chances I think…could have scored a lot of goals, a lot of shots from the point that aren't having seeing eyes right now."
Colour me skeptical of an offensive game plan that is centred on flinging the puck in from the point and hoping it has some peepers.
In the end, though, he saved his most insightful commentary for his last statement.
"Obviously, last game, we didn't compete and then we come out in the first and turn the puck over a ton and get our chance the way we did. Now, we should be a little bit embarrassed about that to be honest with you if we're being accountable."
We will see shortly some of that lack of compete, but it's safe to say that if the Canucks want any chance of gaining points in the division, they will need to find a way to consistently tap into a high compete level.
Best checking in with old friends
Ah, that's a shame.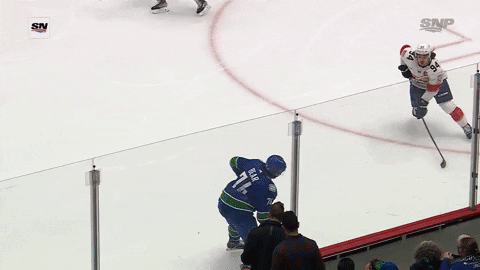 I guess this was one of those shots that almost had eyes, until JT Miller gouged them out and threw them in the corner.
Another good example of the Canucks making passes that can't afford the cost of living in Vancouver, here's Dakota Joshua making a soft bank pass off the boards that gets easily intercepted and leads to him taking a penalty: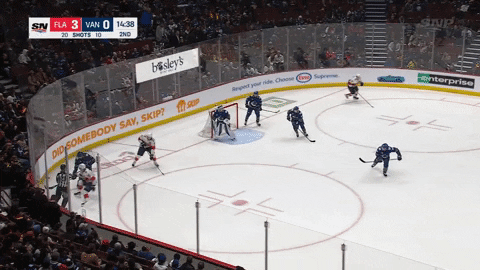 On the ensuing power play, Tyler Myers, who has taken up emphatically pointing on the ice as of late, emphatically points to Carter Verhaeghe streaking in behind him: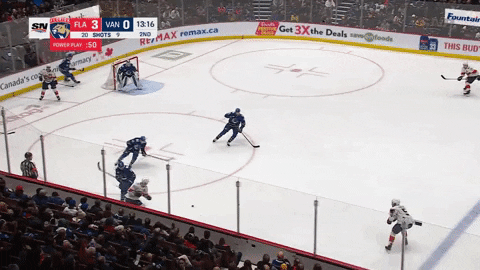 Quinn Hughes arrives as quick as he can, and Carter just misses out on tapping in the back door pass.
I must admit, if Spencer Martin is the Phoenix Wright of the team, then clearly Tyler Myers is the Miles Edgeworth of the team, trying to point out inconsistencies on the defence, even if it ultimately amounts to nothing.
JT Miller got into a fight with Radko Gudas because he delivered a clean but big hit on Nils Höglander, and the code demands blood: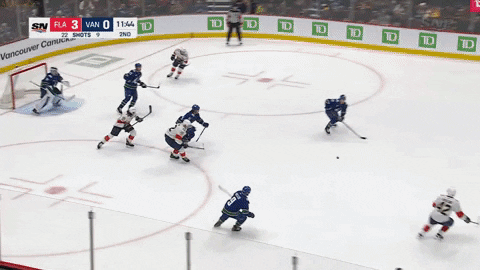 Give the decision to the man wearing Rhett Warrener's old number 7.
We're at the point in the article where we've only covered one period of hockey and I am so desperate for a positive Canuck highlight to show you that here's a nice pass from Elias Pettersson:
Look how the puck goes from EP40's stick right to where he intends it. Almost as if he wants the puck to go somewhere, so he sends it there.
Best if wishes were fishes
This hit didn't count, but it was probably the loudest the building got on the night: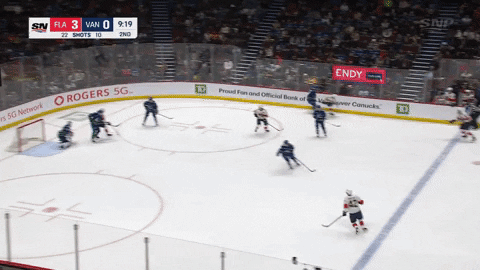 If you poke the goalie once, you get a shove. If you poke twice, you get a headlock. If you lunge backwards to try and poke one last time, Schenn Daddy magically appears and sends you to the shadow realm.
Best how much longer is this going to take
The Panthers made it 4-0 when Tyler Myers and Riley Stillman combined their powers to form into that feeling your parents get when you tell them your plans to go to art school: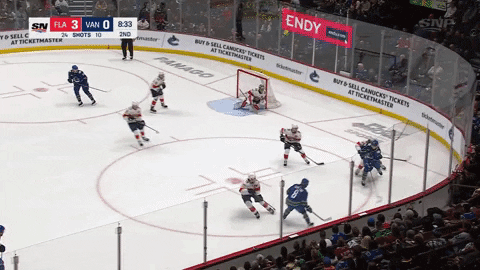 For reasons I cannot being to comprehend, Tyler Myers watches his team's best defensive forward cover Brady's brother and decides to join him on this adventure, as if Gandalf came to town and he's jumping up into the wagon to go see the fireworks display.
Upon realizing his folly, Tyler Myers spins around and draws himself like one of Jack's French girls, and helicopters his legs in the crease, which while tantalizing, doesn't offer up much in the way of resistance.
Meanwhile, while this is going on, Riley Stillman takes himself out of the play by also skating behind the net with his check instead of sticking in front to deal with the impending two-on-one.
So to summarize, in the course of a few seconds, Stillman and Myers both decide to swing wide and deep, allowing Verhaeghe to pass it over to Sam Bennett on what is by now essentially a 2 on 0.
Then at the last second Conor Garland briefly swoops in on one knee like he's pledging his services to Gandalf to help Frodo with the quest for the ring, before exiting stage left.
The end result? 4-0 Panthers.
The Canucks got a goal from Dakota Joshua after a failed pass ended up deflecting into the net past Spencer Martin, which on a night with Luongo in town, felt like a nice homage to blow shutouts in dominant wins: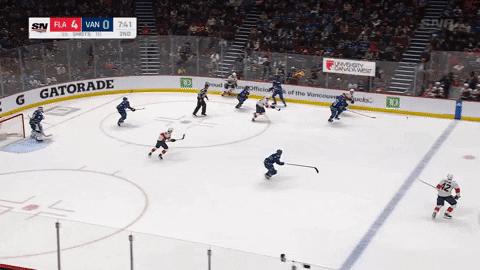 We could probably spend some time breaking this goal down, or we could just go check out Josh Allen in a huge hat?
At this point the Canucks weren't interested in the game of hockey.
Case in point? Bo Horvat wins the faceoff, all three forwards are bottled up, and Tyler Myers just refuses to give an outlet for Bo and sets up a gentle soft little pick instead: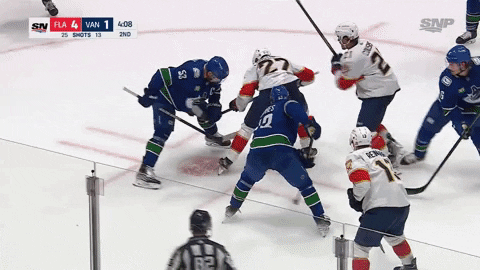 Bo sizes this situation up and then tries to force the puck on the glass and out (Riley take notes) and it ends up being an offside play. It kind of encapsulates the night the Canucks had.
I used to think Tyler Myers was being less chaotic this season, but now I'm starting to worry that he simply just isn't giving as much as he used to.
Where is our chaotic giraffe trying to go end to end to score goals?
Best checking in on old friends part two
Best you get a puck and you get a puck
Again, JT Miller can talk about immaturity all he wants, but if he's truly being accountable, he needs to focus in on that accountability about compete levels because fam, this ain't it: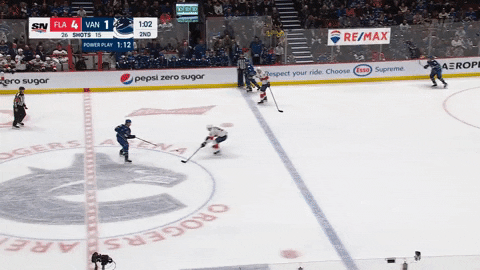 If I didn't know any better I'd think Miller looked Sam Bennett right in the eyes, winked at him, then mouthed the words "I am going to give you the puck now" before making that pass.
Just straight tape-to-tape pass from JT Miller, who for odd reasons saves his worst passes for when he's on the power play.
Which I guess to be fair, that's a very nice pass. It's just. You know. What's the ultimate plan here fellas?
Best checking in on old friends part 3
That's just a solid Luongo homage from the Scrum Lord.
I feel like this game was an extended version of Office Space and we just kept asking people "what exactly is it that you'd say you do here?"
OEL gets paid a lot of money. He isn't very good on the power play anymore. He doesn't produce a lot of points. His five-on-five defence is shaky on the best of days. And now he's out here missing easy pucks along the boards: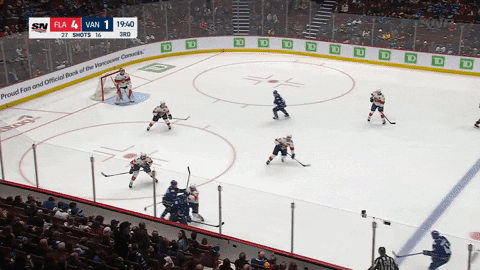 Again, as a one off, sure, maybe you just go "hey that's just a bad game." But it feels like we're saying that an awful lot lately.
This was the play I officially checked out of this game on: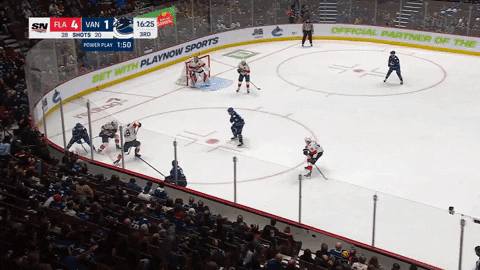 JT Miller tries to bat the puck down, but can't get it. The puck then rolls out of the zone and turns into a two-on-two rush. Okay, fine, no worries.
The problem is JT then takes two strides and then just lets up. He just goes full voyeur mode and the last we see of him is a glowing red cigarette from the chair in the corner.
This very easily could have been a shorthanded goal, and JT Miller is just content to let life happen as it happens.
Compare that to Elias Pettersson and how many clips we've seen of him racing back and tilting the odds in his team's favour by being the extra guy on the scene. If JT Miller rushes back there, he can help harass the trailer or go try and double-team the puck carrier, all of which often leads to positive outcomes.
He says the right things about accountability and compete levels, but this is hardly the first time this sort of play has happened with JT.
The man is an offensive wizard at times, we all know that.
But for a guy who got PAID this summer, this is straight-up unacceptable hockey from JT Miller.
Nils Höglander's 100mph pass to Quinn Hughes fails and on the resulting turnover, the Panthers tap in their fifth and final goal:
Just moments earlier JT Miller was skating slowly pointing his stick at people — which I assume was some defence he learned from the Coquitlam Express — and he ended the shift by giving no outlet to Nils and instead just slowly skated into double coverage. Nils of course didn't need to hammer that puck to Quinn like he was trying to hit a thermal exhaust port, but again, it just felt like the Canucks were shooting themselves in the foot all night long.
Blowing the zone early, looking for the cherry-pick pass behind the defence, not getting back, not moving their feet to get open, it was a night of ineffective and lazy hockey from the Canucks.
Best closing statement from Bruce Boudreau
"It's pretty mind-boggling. I would have put us against anybody after playing Colorado and Vegas."
J-Mac was my editor at the Province when I worked there and I want to give a giant shout-out to an absolute gem of a guy. I learned a lot from this man, and I miss our talks about the Vancouver Grizzlies. Benoit Benjamin tried his best, okay?
Best first ballot hall of tweeter
Best if I could be serious for a minute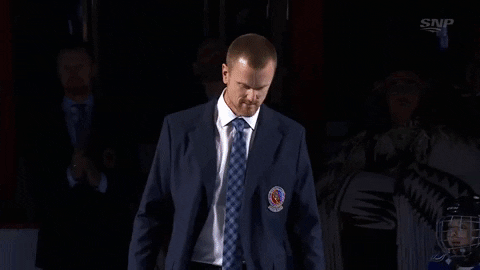 I know everyone has probably had their fill of the Roberto Luongo number vs ROH debate, so all I will say is this:
It was nice to take a moment to sit back and watch three Canucks legends who have meant so much to this city get some recognition from the fans. Not so much the Sedins, who probably get hugged by Vancouverites every day of their lives, but specifically for Roberto Luongo.
It's clearly tough sharing custody with Florida over Roberto, and it's much easier to talk about the Sedins, who spent their entire careers in Vancouver. Roberto's legacy here often gets hit with talks about "well he loves Florida more" even though he goes out of his way to talk about how much this city meant to him and how the best years of his professional career were spent here.
Watching Luongo deliver the pre-game speech, his voice full of emotion, his eyes glassing over with tears, you could tell how much this city and the fans meant to him. He talked about becoming a better person during his time here, and it didn't feel like lip service. You could tell that despite the ups and downs of his time in Vancouver, it clearly left a huge mark on his life, one that he clearly cherishes.
So maybe it ultimately doesn't matter how the Canucks honour Luongo, and if he's fine with it all, so be it.
What's important is to remember to take a moment from the debates, the arguing, and the yelling, and to give yourself time to have a non-cynical moment, and appreciate the time and memories we had with a hall-of-fame goalie of Luongo's calibre. Look up some of his saves on YouTube, and remember how good it felt to hear an entire stadium screaming "LUUUUUUUUUUU" after a big save. It still remains one of life's greatest mysteries that the 2011 team and a goalie of his skill level, didn't win a Stanley Cup.
Well, we know why. The Hockey Gods hate Vancouver.
But regardless. It was an absolute treat to watch Luongo ply his trade in the city of Vancouver.
And that doesn't change, no matter how the Canucks choose to remember his legacy.